Sea water temperature
Ever find yourself caught out by chilly sea temperatures when on holiday? Well no more - welcome to your complete guide to finding idyllic warm water, perfect for any holiday. Read on to see how the world's oceans warm and move, and where to go on holiday with truly delightful conditions for swimming, snorkelling and more.
Understanding sea temperatures: the basics
Factoring in the sea temperature is often overlooked by those planning a holiday, and it's easy to see why: if you're heading to a warm and sunny coast, it's fair to assume that the sea will also be warm enough to swim in. However, what goes on under the waves greatly affects the temperature of the sea - of course, the weather above water plays a part but everything from the currents, wind and location, to the time of year and your choice of ocean contribute to the temperature of any given sea.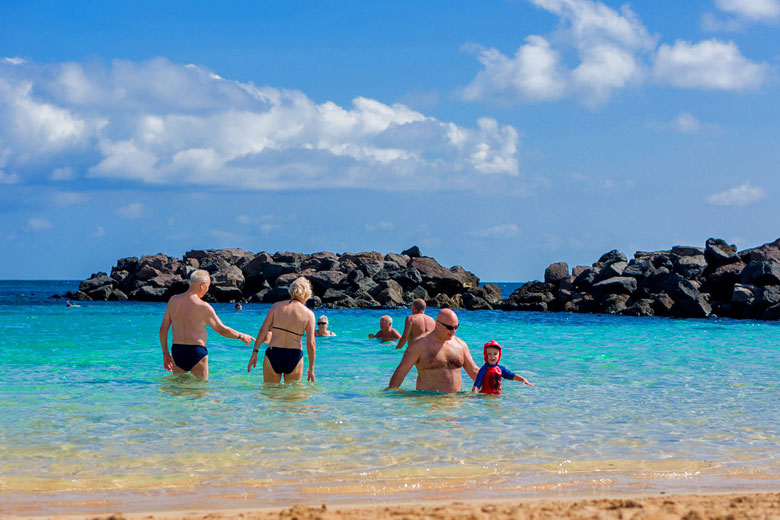 The average sea temperatures given in our climate guides, which come from satellites that continuously monitor the world's oceans, refer to the sea surface temperature, which includes the top few metres where you're likely to swim and snorkel. Naturally, sea temperatures vary around the world, with highs of around 34°C in the Persian Gulf and lows in the region of -2°C (the temperature at which water freezes) near the poles.
If you're planning a holiday and trying to work out what the ideal sea temperature is for you, typically anything between 18°C and 26°C is considered to be comfortable for swimming, although this is somewhat down to preference. It's also worth remembering that while it may be warm at the surface, the deeper you go, the colder it gets. Read on to find out more about how sea temperatures are governed, and where in the world you can find the warmest seas for your next holiday.
Understanding sea temperatures: map, facts & figures
Unsurprisingly, the majority of the sun's energy is focused on those parts of the earth that most directly face the sun - the equatorial regions - and it is here that the warmest air and sea temperatures are found. If there was no atmosphere this is the way things would stay but with air able to flow so freely a natural pattern of rising and falling streams of air is established from equator to poles that gradually redistributes thermal energy from the tropics to higher latitudes, and vice versa.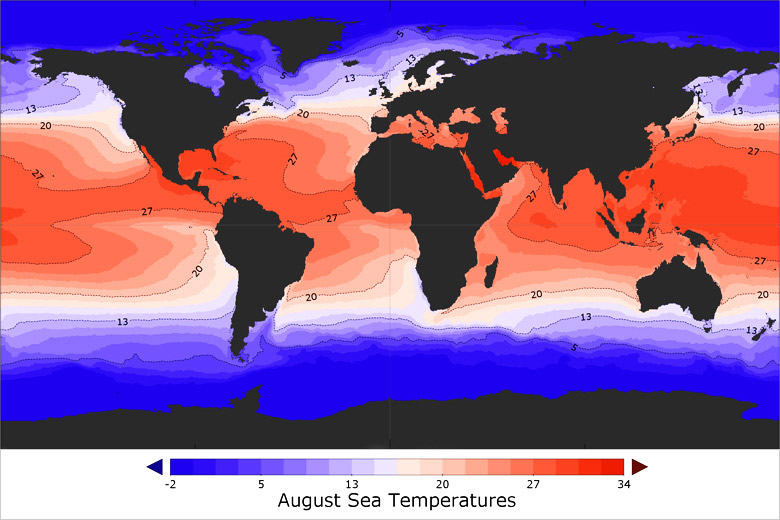 It is the prevailing 'trade winds' near the equator and the 'mid-latitude westerly winds' that do most of the work, and they in turn drag surface seawater with them in the same direction as they blow.
In the North Atlantic, northeast trade winds blow off the coast of West Africa, dragging the warm sea surface waters of the tropics westwards until they start to flow up the east coast of the United States. Here, they eventually meet the prevailing westerlies at around 45° north that push the waters eastwards, and finally southwards back towards Africa.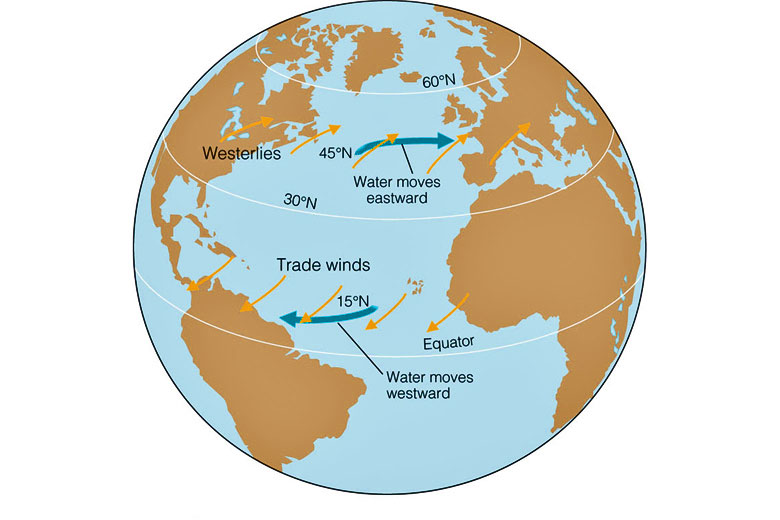 Importantly by this stage, much of the energy of the warm water has been absorbed by the cooler waters and atmosphere of the North Atlantic, so the returning waters are much cooler than they were. This circular pattern occurs in most oceans of the world with the direction of flow mirrored in the southern hemisphere. What is most noticeable is that the western boundaries of the world's oceans tend to be warmer than the eastern.
These currents are well established and operate much like clockwork. There are however, times when the natural flow is interrupted, such as during El Nino years, when sea temperatures in the tropical Eastern Pacific are as much as 3°C warmer for a season or two, and those in the Western Pacific a touch cooler. If you are travelling to the Pacific coast of Costa Rica or Mexico during an El Nino event you will notice it, as the ocean is unusually warm.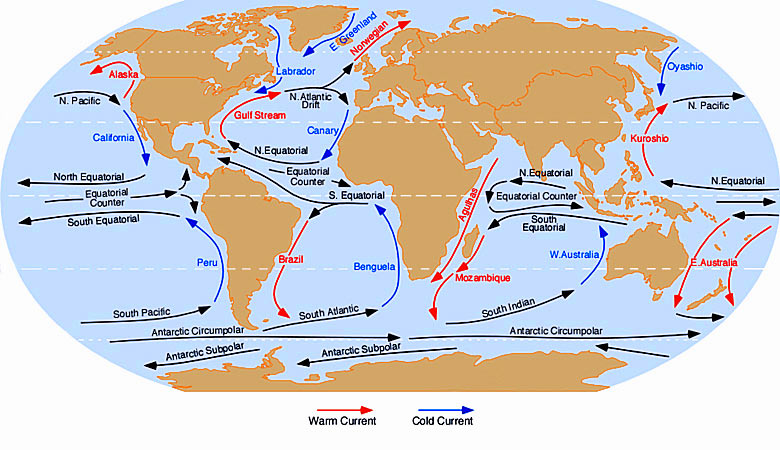 When it comes understanding sea temperatures for your holiday, it's best to check which of the world's currents you'll be faced with, especially if you're hoping to go swimming in the sea. There are a few good examples of popular holiday destinations where the current is cooler than many expect:
Algarve & Canary Islands - both sit in the cold Canary Current, which flows south from the North Atlantic
California - it doesn't put surfers off, but the eastern Pacific is surprisingly chilly thanks to the cold California Current, especially in the north
Cape Town - you may see plenty of African Penguins but you're unlikely to take a dip as the cold Benguela Current flows round this point of South Africa
Finding the perfect sea temperature
What really matters when it comes to planning your holiday is where in the world you will find truly warm sea temperatures, ideal for swimming, snorkelling and making the most of your precious time off.
As we mentioned, it is generally accepted that the most comfortable temperature for swimming is somewhere between 18°C and 26°C. A look at the annual averages for a few of the most popular European holiday destinations at the height of summer quickly shows you where you will find the warmest sea temperatures in this region: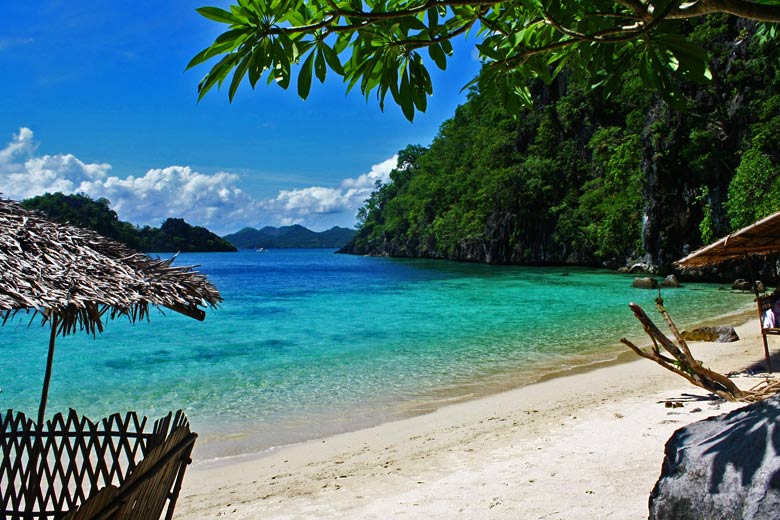 If you're hoping for even warmer sea temperatures, you will have to consider travelling further, typically to destinations in the tropics. Popular places to go with truly inviting sea temperatures that surpass 28°C, and that can be booked at an affordable price, include:
Of course, these destinations aren't specific to summer holidays (in fact, we wouldn't recommend Dubai at the height of summer as it's simply far too hot), however this clearly shows the jump in sea temperature that you can expect to find at different times of year when you travel to the tropics.
Snorkelling
Warm waters and ideal snorkelling conditions don't always go hand-in-hand. While shallow water reefs flourish in warm sea temperatures, corals also require the very clearest seas to thrive; they won't grow if there is sediment in the water, or if conditions are too acidic. So if you're hoping to combine warm seas with some tip top coral and marine life on your holiday, look no further than these destinations which offer some of the finest conditions for catching a glimpse of colourful life in the ocean: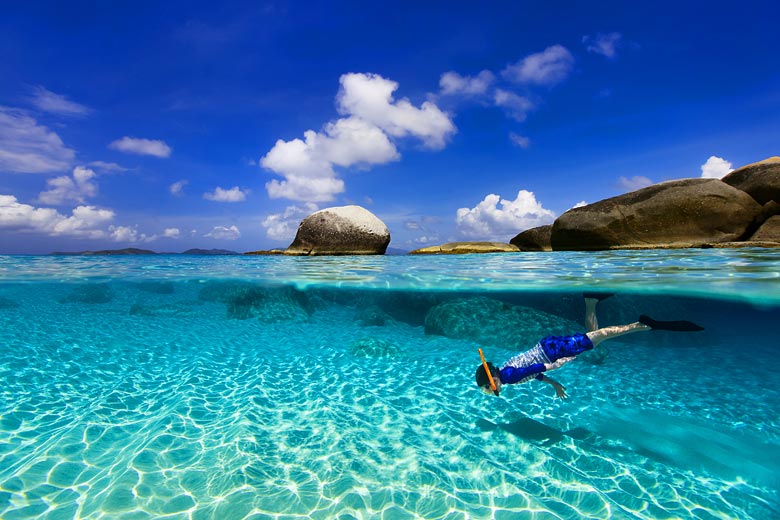 There's no way round it: understanding sea water temperatures is a complex issue, and we've barely scratched the surface of what influences the movement and temperature of water around the globe. However, hopefully you're now armed with a enough information to ensure that when it comes to planning your next holiday, you aren't caught out by cold sea temperatures that keep you from enjoying the beach.
More holiday weather parameters:
Sea water temperatures by month
Below is the Sea water temperatures levels for popular holiday destinations around the world by month. Select a destination to see more holiday weather parameters.
Sea water temperatures in January
Sea water temperatures in February
Sea water temperatures in March
Sea water temperatures in April
30

Seychelles
Sea water temperatures in May
Sea water temperatures in June
Sea water temperatures in July
Sea water temperatures in August
Sea water temperatures in September
Sea water temperatures in October
Sea water temperatures in November
Sea water temperatures in December
Be inspired
Get your weekly fix of holiday inspiration from some of the world's best travel writers plus save on your next trip with the latest exclusive offers
We promise not to share your details
Related posts
Popular travel offers
*affiliate links: find out how we are funded and why this helps us remain free to use.