Weather in August 2019
The weather in August is, in many ways, very similar to that of July, with places close to home offering some of the best conditions worldwide. Although August is typically Europe's second warmest month of the year after July, you'd struggle to notice any real difference, while sea temperatures actually peak during August, so it's the warmest month to take a dip - in Europe at least.
Popular holiday destinations in August
Best holiday weather in August
As the weather in August is so favourable close to home, you don't need to travel far to soak up some serious sun, however, should you be after a long haul jaunt with the promise of good weather, there are plenty of places offering just this further afield as well.
We've pulled together a list of some of the best holiday destinations near and far, explaining a bit about what you can expect to find and just why we believe they have some of the best weather in August. Keep reading to find out where to go with great weather in August: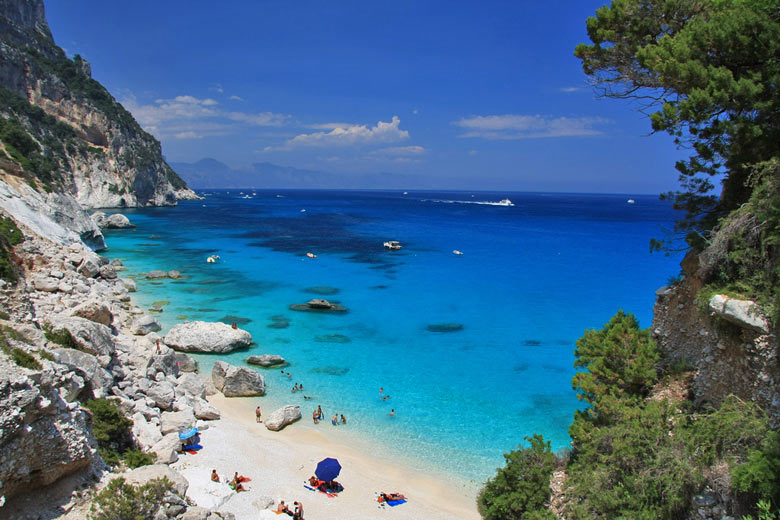 Short haul
Just about everywhere in Europe enjoys hot weather in August, but some places are hotter than others. To highlight the main differences between the likes of Tenerife in the west and Cyprus in the east, we've divided the short haul destinations by temperature.
Hot: Costa del Sol, Tenerife, Majorca and Crete
From the Canary Islands in the Atlantic to the Algarve in Portugal, and Costa del Sol in southern Spain, conditions are excellent with fine weather in August. These destinations tend to have between nine and 11 hours of sunshine a day, while temperatures, moderated by the cooling effect of the Atlantic Ocean, reach the high twenties, possibly 30°C, during the day.
Atlantic sea temperatures are coolest in the Algarve at around 21°C, but a degree or two warmer in Tenerife and on the Costa del Sol. There's also little chance of rain, so plenty of opportunities to enjoy the pleasant weather in August.
Moving east towards the Balearic Islands of Majorca, Menorca and Ibiza, the weather in August is similar, as daytime temperatures are prevented from rising too high by the surrounding sea. When compared with the Costa del Sol, it's a touch cooler temperature wise, although the sea is warmer around the Balearics, sitting comfortably in the mid-twenties in August.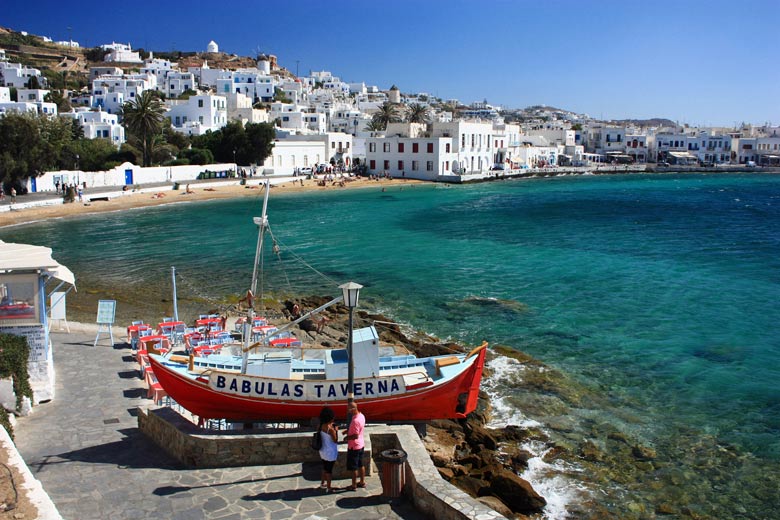 Heading further east still, it might surprise some to know that centrally located islands in the Aegean Sea such as Mykonos, Santorini and Crete, see temperatures no higher than the Balearic Islands, although they are a touch sunnier with 12 to 13 hours of sunshine a day, with only moderate heat and humidity.
The reason for these cooler temperatures is that during the height of summer the Greek islands lie in the path of the 'meltemi' winds, a relatively dry northerly wind that brings cooler air and clearer conditions from higher latitudes that affect the weather in August. These keep temperatures lower than they would otherwise be but can be a bit of a pain if they blow too strongly.
They can disrupt ferry schedules, and sunbathing in the wind can be more difficult, though they're great for windsurfing. Overall they keep temperatures in check and offer relief from high heat and humidity even when blowing lightly.
Hotter: Malta, Zante, Corfu and Benidorm
The weather in August further west in the likes of Malta sees no cooling north wind at this time, so it's slightly warmer than the Greek islands. Daytime temperatures in August usually reach 30°C with 11 hours of sunshine and high heat and humidity, although there's often a good breeze from the sea to moderate temperatures.
In the Adriatic, Zante and Corfu are also hotter than the Aegean islands, and even a touch hotter than Malta with daytime temperatures reaching 31°C or 32°C, although again with high heat and humidity, and up to 12 hours of sunshine a day in Zante. Sea temperatures here are 26°C.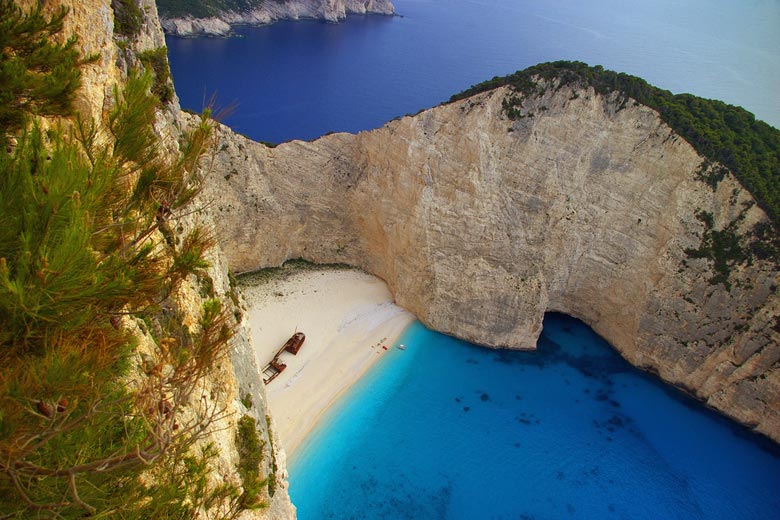 Although further north than the Costa del Sol, conditions on the Costa Blanca are generally warmer as it's that bit further away from the Atlantic Ocean. In Benidorm for example, the weather in August includes temperatures up to 32°C with high heat and humidity, compared with 30°C in Malaga where heat and humidity is only moderate. Sea temperatures in Benidorm are also warmer than Malaga by a couple of degrees.
Hottest: Turkey, Rhodes, Cyprus and Sharm el Sheikh
Although long hours of sunshine (up to 13) are a feature of the weather in August in eastern Med regions such as Turkey and Cyprus, it's also very hot in August, not just in terms of maximum daytime temperatures but also owing to the high levels of heat and humidity, which a lot of people may find very uncomfortable.
Destinations such as Bodrum and Marmaris in the southwest of Turkey generally have more sunshine than anywhere else in the Med with 13 hours a day, closely followed by some of the nearby Greek islands of Rhodes, Kos and Samos. You can expect the weather in August to see daytime temperatures up to 33°C in Bodrum and Marmaris coupled with high heat and humidity. In terms of sea temperatures, Bodrum and Marmaris see around 25°C, while further east you can expect 27°C to 28°C in Cyprus and around Antalya in Turkey.
Hotter still is Sharm el Sheikh where the weather in August sees the hottest month of the year in the Sinai - too hot for many. The average maximum temperature is 35°C each day dropping only 10°C at night. Heat and humidity is very high, though it's still a fairly dry heat being a desert climate.
The sun is very strong, however, and it's not advisable to lie out in the heat of the day, at least not without some serious SPF. Expect the sea to be a balmy 28°C.
Long Haul - up to 10 hours: New York, Florida and the Caribbean
After the Mediterranean, the east coast of the United States would be the next closest region with fine warm weather in August. From Florida to New York daytime temperatures normally reach the low thirties, with eight to nine hours of sunshine. However, it's the heat and humidity that you have to watch out for on the east coast as it's higher than in the Med, in fact it's normally very high in August, which some people may find rather uncomfortable. There's also a chance of a tropical storm affecting things in and around Florida, something to be aware of.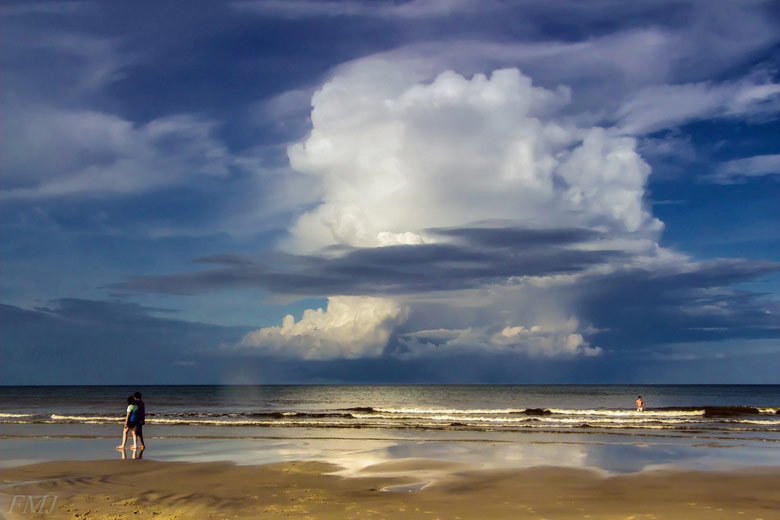 Further south in the Caribbean the weather in August is also good even though it's the middle of the wet season. Typically the wet season is made up of short sharp showers, not prolonged periods of rain, so there's normally quite a lot of sunshine (eight hours on average on most Caribbean islands) with mornings generally sunnier than afternoons.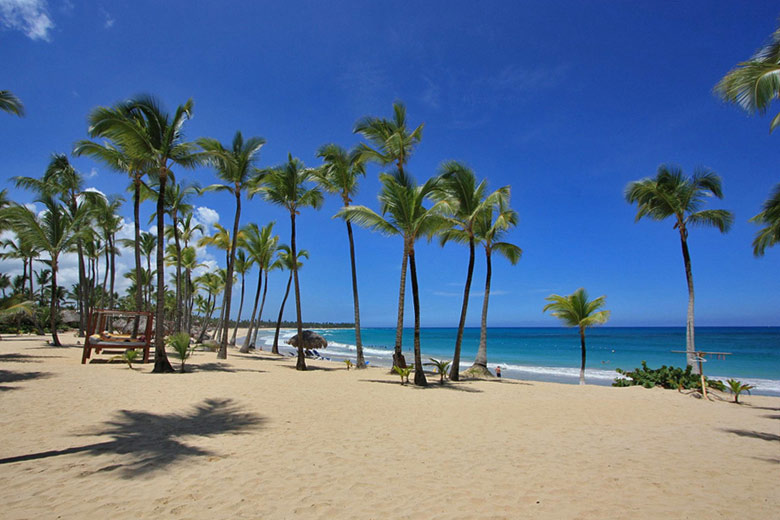 The disadvantage for those that don't like it too hot, is that there's very high heat and humidity at this time of year, and, similar to Florida, there's always the risk of a storm affecting the weather in August. On average Antigua is affected by just one storm a month in August, while Barbados only experiences one storm in August every four to five years. As a general rule, the further south you are in the Caribbean in August, the less likely you are to have your break interrupted by a passing tropical storm.
Long haul - 10 hours or more: California and Indonesia
As for longer haul routes, looking west the weather in August in California is beautifully sunny and warm. Most of California has a climate similar to the Mediterranean, with clear sunny days in August and very little chance of any rain.
For example, the weather in August in Los Angeles usually has 11 hours of sunshine a day and daytime highs ranging from the mid-twenties on the beach to the high twenties inland. There are masses of beaches along the coast but the sea temperature is pretty chilly at around 20°C, while heat and humidity on the coast is low rising to moderate inland.
If you're thinking of travelling inland to the Central Valley or Mohave Desert, conditions are a lot hotter. In Palm Springs the weather in August sees temperatures rise above 40°C on a daily basis, and heat and humidity is extreme. The Central Valley is less hot but you can expect temperatures above 35°C most days with very high heat and humidity. At least everywhere in California cools off a lot during the night so there is some respite after the sun has set.
If you fancy heading east towards Asia, you need to know that the monsoon season is still in full swing over India (where it is very hot and often wet) and the northern Indian Ocean, while north of the equator in Southeast Asia it's very hot and humid, with the possibility of tropical storms affecting the weather in August from the South China Sea.
The story is quite different south of the equator in Indonesia, however, where Bali and Lombok continue to experience delightful weather as it's the drier, slightly cooler season. Temperatures rise to 30°C most days with 10 hours of sunshine on average and little chance of rain.
While the weather in August in Dubai is very sunny (around 10 hours of sunshine) and extremely hot (average high 40°C) it's also very humid. This produces some of the most uncomfortable conditions found anywhere, and afternoons can be particularly uncomfortable as humidity levels rise, so do beware. Unlike some desert areas such as those in California, the humidity persists through the night so it can still be incredibly hot and humid after dark.
Much like July, Europe and the Med offer a multitude of destinations with fantastic weather in August nice and close to home. If however, you're keen to explore further afield, there are some beautiful places with a real variety of conditions from similar to the Med, to scorching hot and more tropical.
If you'd like to find out more about destinations with the best weather in August, visit our where to go on holiday in August section, and don't forget to check out the very latest travel deals and discounts from major holiday providers.
Get FREE travel offers
Sign up to receive the latest deals and exclusive discounts on holidays, flights, hotels and more, plus inspiration on where to go when
We promise not to share your details
Related posts
Popular travel offers