easyJet to launch new routes from Belfast & Manchester in 2023
Low-cost airline easyJet* has announced that it will launch new routes from both Manchester and Belfast for summer 2023.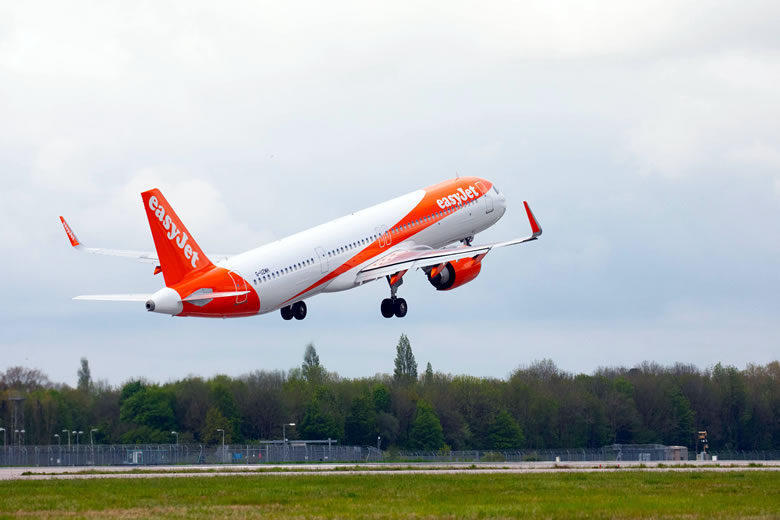 Manchester is set to welcome a new route to Murcia* in southeast Spain*, which will launch on 2 May 2023 and operate twice weekly on Tuesdays and Saturdays.
Meanwhile, For those travelling from Belfast International, there will be new flights to Rhodes*, Greece*, which will launch on 3 June 2023, and will operate on Tuesdays and Saturdays throughout the summer months.
Both bases will receive an additional aircraft for the summer season to facilitate these new routes.
Holidaymakers will also be able to book complete breaks with easyJet Holidays*. Flights and holidays to both destinations will go on sale from 7 December 2022.
easyJet's UK Country Manager, Ali Gayward, said: "The addition of another aircraft will help us to deliver growth in Belfast and offer customers an even wider range of destinations, like our new route to Rhodes, which will provide our customers in Northern Ireland a direct connection to one of Europe's most popular beach destinations this summer, all with low fares and great service."
Before continuing,"The addition of another aircraft will help us to deliver growth in Manchester and offer customers an even wider range of destinations, like our new summer route to Murcia in Spain, which will provide our customers in the North West with a direct connection to a region which offers a variety of rich culture and beautiful beaches in abundance, all with low fares and great customer service."
Ready to book with easyJet? Check out the latest deals on flights with easyJet as well as beach and city breaks with current offers from easyJet holidays.
easyJet releases summer 2023 flights
easyJet has put its collection of summer 2023 routes on sale with more than 133,000 flights set to depart between 9 May 2023 and 30 September 2023.
The airline's summer routes include more than 100 much-loved destinations including holiday favourites Spain*, Cyprus*, Portugal* and Egypt*.
easyJet's UK country manager, Ali Gayward, said: "With seats now available across hundreds of thousands of flights, serving 19 UK airports on over 400 routes to Europe, North Africa and the Middle East, now is a great time to book for next summer with easyJet."
easyJet holidays launches its winter 2023/2024 collection
easyJet holidays has released its winter 2023/2024 packages to more than 30 destinations for holidaymakers keen to secure their seasonal sunshine in advance.
The collection offers* a bit of everything with city breaks to the likes of Paris, Rome and Reykjavik as well as beach destinations in Cyprus, Spain, the Canary Islands and Turkey.
Crucially, the launch enables anyone booking a holiday access to flights* that are not yet available to those looking to book flights only during the same period.
Paul Bixby, easyJet holidays Commercial Director, said: "It's so important to have something to look forward to as summer comes to an end and autumn sets in, which is why we're really pleased to launch our winter 2023 holidays to over 30 destinations.
"We've got holidays to suit every style and budget, whether it's an all-inclusive week in the sun, or a sightseeing trip to Europe's most historic cities, we're providing unbeatable value to help beat next year's winter blues.
"We want to make it as easy as possible for our customers to plan and budget for their breaks, which is why all of our holidays can be booked now for a deposit of just £60 per person and paid for in instalments that best them."
easyJet offers lounge access to FLEXI fare passengers this autumn
easyJet is offering all passengers who book FLEXI fare tickets* from London Gatwick* free pre-departure access to The Gateway Lounge this autumn.
Passengers who book a FLEXI fare ticket departing from London Gatwick will, from now until 30 November 2022, be able to make the most of up to three hours of lounge access before their flight.
The Gateway Lounge gives travellers the chance to unwind in a calm, relaxing atmosphere before their flight with free wifi, charging points, magazines as well as complimentary food and drinks.
Ali Gayward, easyJet's UK Country Manager said: "We are always looking for new ways to offer travellers more choice and great value, so we're delighted to have launched this trial, offering FLEXI fare customers travelling from Gatwick access to The Gateway Lounge between now and November, in addition to the great range of extras our customers enjoy when they book a flexifare."
Other benefits of booking a FLEXI fare ticket include fast-track security access, priority boarding, up-front seating, large cabin bag, 23 kg hold luggage, free flight changes and an Eat.Drink.Shop voucher worth £7.95.
easyJet holidays increases free child places for summer 2023
Affordable escape specialists, easyJet holidays*, has added even more free child places* to its summer 2023 collection* to help families hoping to get away plan even further ahead.
Thousands of free child places will be available at more than 200 hotels in popular holiday destinations like Spain and Greece.
easyJet Holidays' commercial director, Paul Bixby, said: "As the weather starts to cool and children return to school, we're seeing an increase in families booking ahead to next summer, making the most of the great value we offer and getting something in the diary to look forward to.
"We know how important holidays are for quality family time and we want our holidays to be affordable and accessible to all, so we're really pleased to have added thousands of free child places for holidays taking off next summer."
easyJet releases spring 2023 schedule
easyJet* has put its spring 2023 schedule live with flights* and holidays* on sale from Thursday 19 May 2022.
It's now possible to book travel between 1 March and 8 May 2023 with over 50,000 flights to and from the UK. easyJet flights* depart from 22 UK airports with popular destinations including Amsterdam, Alicante (Costa Blanca), Faro (Algarve) and Palma (Majorca).
Beach holidays* and city breaks* can also be booked for spring and summer 2023 to destinations across Europe, Africa and the Middle East via easyJet holidays*.
Ali Gayward, easyJet country manager, said of the spring schedule: "We are delighted to be putting our spring 2023 schedule on sale today (19 May 2022), so that customers can book early and enjoy low fares on flights for a spring break or Easter getaway."
easyJet reveals new summer routes for 2022
The orange tails of easyJet are set to depart from various UK airports for a number of new destinations from May 2022.
Of the 16 exciting new routes that can now be booked for summer 2022*, you can choose from the likes of London Luton to Crete in Greece, Liverpool to Izmir in Turkey, Edinburgh to Malaga and Belfast to the Balearic Island of Menorca, among many others.
In addition, easyJet has announced that it will reinstate flights from London Southend* to Malaga and Palma in Majorca next summer.
Ali Gayward, easyJet's UK Country Manager said: "We are delighted to announce more new routes from the UK for next summer and provide our customers with an even wider range of fantastic beach and city destinations to enjoy.
"We remain committed to strengthening our unrivalled short-haul network and providing more affordable and easy connections to our customers across the UK, by offering low fares and more choice when they travel."
As well as offering great value fares on seats, easyJet Holidays* has packages all sewn up for these and many more summer 2022 holiday destinations.
easyJet to fly from Manchester to Red Sea resort of Aqaba, Jordan
Low-cost carrier easyJet has revealed details of its latest exciting new winter sun route for 2021/2022. Starting on 6 December 2021, easyJet is offering flights and holidays to the Jordanian Red Sea resort of Aqaba.
It will operate twice-weekly on Mondays and Fridays throughout the winter for anyone after some seasonal sunshine.
Ali Gayward, easyJet country manager, said of the new route: "We know our customers can't wait to go on a long-awaited and well-deserved holiday, so this new route will prove popular for customers wishing to get away for some winter sun and further strengthens our Manchester international network, providing customers with great value fares and ever more choice this winter."
Find out more about flights* and holidays* to Jordan with easyJet.
easyJet releases summer 2022 early
easyJet has launched its summer 2022 campaign, making it the earliest it's ever released fares for the following summer.
With pent-up demand meaning plenty of people are looking to book trips for next year when there's likely to be more certainty around travel with far fewer restrictions, the airline, which also offers hotel-stays, city and beach breaks, felt it was the right time to make the fares available.
You can now book flights departing between 1 June 2022 and 30 September 2022 from £24.99 one-way to more than 100 destinations across Europe including the Canary Islands, Greece, Portugal and Spain.
Of the early launch, Paul Bixby, easyJet holidays commercial director, said of the launch: "We were really pleased with the response to our summer 2022 launch and we've seen first-hand how much demand there is for booking holidays to look forward to for when it's safe to travel again, so it's fantastic that we've been able to add even more to our summer 2022 selection."
More about easyJet holidays >>

Updated on Tuesday 29 November 2022
More stories
Be inspired
Get your weekly fix of holiday inspiration from some of the world's best travel writers plus save on your next trip with the latest exclusive offers
We promise not to share your details
*affiliate links: find out how we are funded and why this helps us remain free to use.