Where to go at Easter 2019: Holiday ideas for the best weather
Deciding where to go at Easter for great weather can be somewhat of a challenge. How far do you need to travel to reach your dream conditions? Are you after a resort with all the family friendly trimmings? Perhaps you fancy staying somewhere a bit special just for two? We've picked six of the very best places to go this Easter, each with fantastic weather and something to suit every type of holidaymaker, no matter how far you want to travel or how much you want to spend.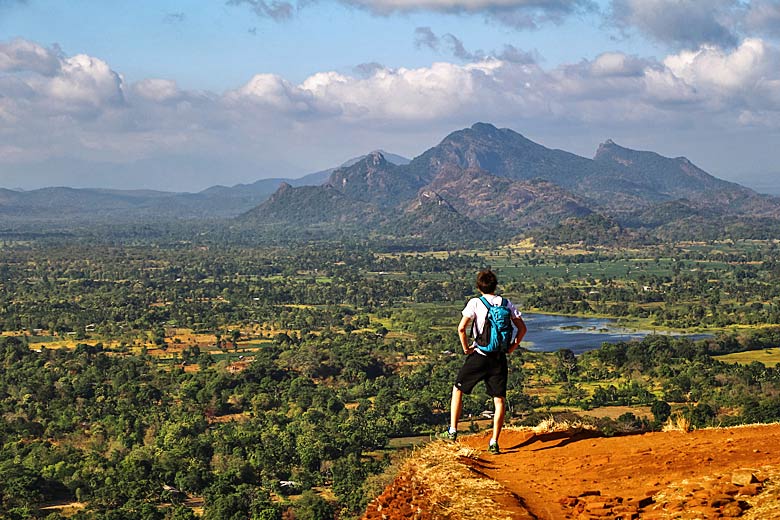 Where to go at Easter 2019: Top 6 places with the best weather
For inspiration on where to go at Easter in 2019 for great weather, you've come to the right place. Choose the category that suits you from the list below or browse them to all to see if a place you hadn't considered catches your eye. Don't miss the links to various deals on holidays to each destination, which could help you reach any of the following places for less.
1. On a budget: Algarve, Portugal
Daily high: 19°C
Daily hours of sunshine: 8
Holidays from: £150
Flight time from London: 2 hours 50 minutes
The Algarve, on Portugal's southern coast, is known for its huge variety of resorts and facilities, many specially geared towards families. Whether you head for the luxury surroundings of Vilamoura, Albufeira with its wide range of attractions or somewhere quieter such as Alvor with its sheltered lagoon and dramatic scenery, families can look forward to splashing about in water parks, exploring walking trails and biking routes, and making the most of various playgrounds and kids' clubs. There are also many child friendly restaurants and cafes that make dining out together easy.
Weather wise, the Algarve is ideal for those looking for somewhere to go at Easter that promises a bit of warm sunshine. The sea is really too cold to enjoy at 16°C, unless you're suiting up for some water sports. Days are sunny and pleasant with no heat and humidity, and little chance of seeing any rain, while evenings are cooler, so layers are needed. When compared with the weather in the UK, the Algarve is truly pleasant at Easter, great for families with young children, keen to keep amenities near, and not wanting things too hot.
Top tip: book accommodation with a heated pool as the sea is really far too chilly for swimming, especially for kids
The best thing about visiting the Algarve is that it's generally easy on your wallet. The Algarve came top of the Post Office's annual Holiday Money Report 2016 in January, and even though the pound has fallen against the euro (and the dollar) since it was published, you'll still find not only cheap holidays to the Algarve but a low cost of living once you arrive, making it a great option if you're deciding where to go at Easter on a budget.
Search for holidays with Jet2holidays >>

Read more: Top 10 beaches in the Algarve & Vilamoura on a budget
2. Splashing out: Maldives
Daily high: 32°C
Daily hours of sunshine: 9
Holidays from: £850
Flight time from London: 10 hours 10 minutes
It's hard to imagine a more dreamy destination than the Maldives: platinum beaches and coconut laden palms; the crystal clear water of the Indian Ocean, alive with fascinating marine life; and some of the world's finest hotels, all enjoyed under ample sunshine with temperatures that rarely dip below 30°C by day throughout the year. If you're hoping for somewhere to go at Easter with every luxury included, where you'll find fabulously hot and sunny weather to boot, then the Maldives is for you.
Easter is typically sandwiched between the region's two major monsoon seasons that greatly affect conditions in the Maldives between May and November, and December and March. That's not to say you won't encounter any rain if you go at Easter, although it's more likely to move on quickly, along with the clouds, in true passing tropical rainstorm fashion.
Top tip: even though April is one of the hottest months of the year, you'll find sea breezes help keep things fresh
Daytimes are lovely and hot, never sinking below 25°C at night, and the very high heat and humidity keeps things intense. There's loads of sun to be had but if you're lying out, be aware that there's also extreme UV at this time, so you will need plenty of the good strong stuff - SPF. Then there's the sea, which is delightful at 30°C, making snorkelling and water sports an absolute joy.
Search for holidays with Mercury Holidays >>

3. Family fun: Orlando, Florida, USA
Daily high: 28°C
Daily hours of sunshine: 9
Holidays from: £600
Flight time from London: 9 hours 50 minutes
It sounds cheesy (well, it is), but Orlando is the stuff of dreams, especially for kids. Whether you hit the theme parks and meet familiar faces such as Mickey Mouse and Gru's minions, make for the water parks to slide and twist on some of the world's best rides, or get up close with nature's giants from giraffes and lions to whales, Orlando is crammed full of fun for everyone, and should be high on the list of families deciding where to go at Easter with a bit of time on their hands.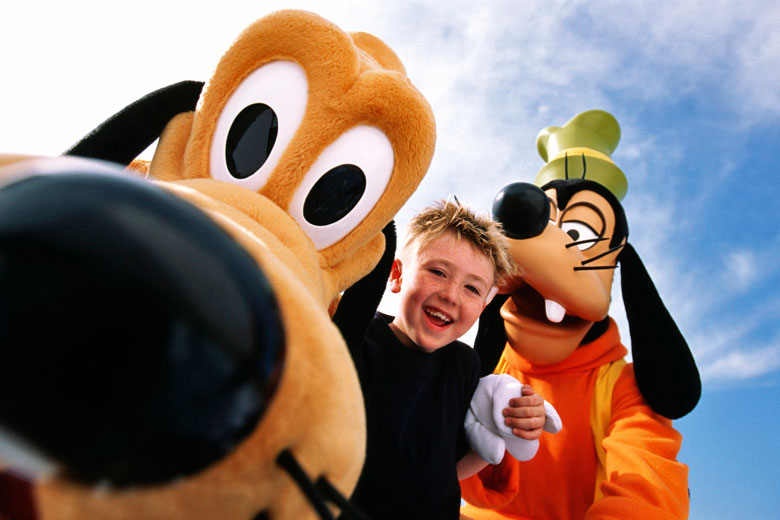 Early April sees temperatures continue to climb into the high twenties, although evenings are much cooler at around 15°C - that's a significant drop of more than 10°C. There's loads of sunshine about with only a slim chance of seeing any rain. Moderate heat and humidity is starting to kick in, and the UV is also on the up at very high, so you will need to protect yourself and your little ones from exposure to the sun. Generally, the weather in Orlando at Easter is hot, sunny and ready to be enjoyed.
Top tip: if you're hoping to swim, you'll find that the sea is generally warmer on the east coast than the west, and that the sea is warmer than any of the big lakes - of which there are many!
Although there's enough in Orlando to keep any family busy for weeks on end, you may want to combine your trip with a visit to other parts of Florida. There's so much to choose from - the Keys in the south, the Everglades National Park, and the retro sights of Miami Beach being just a few. Wherever you go at Easter, it's worth remembering that the weather is likely to be a little different nearer the coast than in Orlando, which sits inland. Typically, Miami is a degree or two cooler but with an hour's more sunshine, and warmer evenings. The sea is also thoroughly pleasant at 25°C.
Search for holidays with Thomas Cook >>

Read more: First timer's guide to Walt Disney World
4. Romantic retreat: Barbados
Daily high: 30°C
Daily hours of sunshine: 9
Holidays from: £750
Flight time from London: 8 hours 50 minutes
Is there anywhere more romantic than the Caribbean? Known for its immense islands, pretty colonial towns, white sandy beaches, and unrivalled selection of luxury resorts from the likes of Sandals, it's hard to think of a place to go at Easter that offers more pampered seclusion and relaxation with great weather thrown in.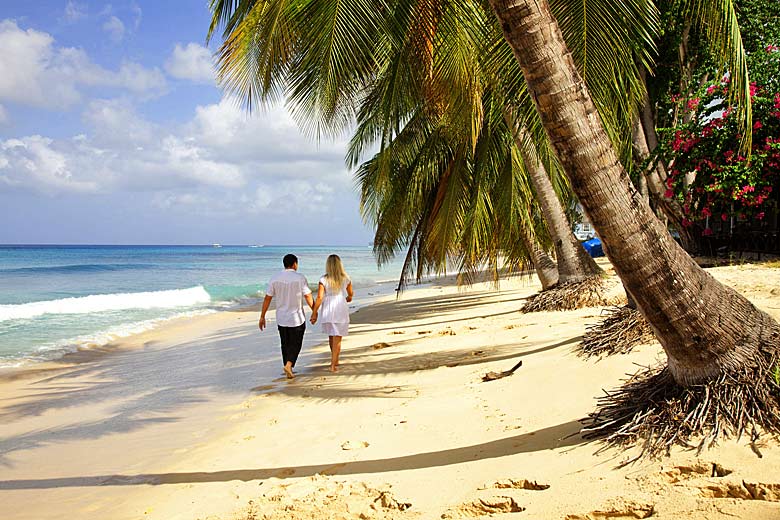 Sitting to the east of the Caribbean with nothing between it and Cape Verde except the vast expanse of the Atlantic Ocean, Barbados has long been favoured by couples and honeymooners. Whether you're lying on a lounger, cocktail in hand, sipping champers on a sunset cruise, or dining out on gourmet seafood at Daphne's or The Fish Pot, Barbados is the place to unwind and reconnect.
Top tip: for warm, calm waters, stick to the beaches on the west of the island, as those to the east are more exposed to the cooler currents and elements of the Atlantic
For those after somewhere to go at Easter for real heat without excessive stickiness, Barbados is a great option. Temperatures are lovely and high, evenings stay warm dropping no lower than 22°C, and there's oodles of sunshine with very little chance of rain. There's high heat and humidity but compared to the likes of the Maldives or even Sri Lanka, it's less ferocious. The UV however, is extreme, so you will need plenty of SPF if you're out and about, especially in the midday sun. The sea is warm at 26°C, ensuring swimming, snorkelling, or just lolling about is like soaking in a nice big bath.
Search for holidays with TUI >>

Read more: Day trips in Barbados
5. Stay short haul: Fuerteventura, Canary Islands, Spain
Daily high: 22°C
Daily hours of sunshine: 8
Holidays from: £250
Flight time from London: 4 hours 20 minutes
No list claiming to show where to go at Easter for the best weather would be complete without at least one mention of the Canary Islands. A firm favourite, the Canary Islands feature time and time again, and that in itself is testament to the reliability of finding truly lovely weather there all year round.
Of course, it depends what you want: if it's serious heat, then consider the likes of the Maldives or Barbados, but for sunshine to warm your face and water to dip your toes in, you can't go wrong with the Canaries. Out of all seven islands, Fuerteventura has taken the top spot for two reasons: its warm, dry weather in April, and the fact that you can find great value holidays if you're looking for somewhere to go at Easter that's not too far from home.
Top tip: stick to beaches in the east for calmer waters, as this side of the island avoids swells from the Atlantic Ocean
Expect highs in the low twenties with long periods of intense sunshine as the UV level is very high, although heat and humidity is nonexistent. Evenings are chilly at around 14°C, and you'd be incredibly unlucky if you encountered any rain. The sea is a far cry from the temperatures of the Indian Ocean or Caribbean, but at 18°C, you could swim or, preferably, don a suit and try some water sports - kayaking and surfing are especially popular.
Search for holidays with On the Beach >>

Read more: Things to do in Fuerteventura for all the family
6. Go long haul: Sri Lanka
Daily high: 32°C
Daily hours of sunshine: 9
Holidays from: £650
Flight time from London: 10 hours 30 minutes
Sri Lanka ticks a number of boxes when it comes to deciding where to go at Easter. Not only is it ideally located for some fabulous weather, it's also a relatively cheap destination to explore. Sitting under 600 miles northeast of the Maldives, the weather in Sri Lanka is unsurprisingly similar at this time of year, although you could see a touch more rain. Days are long, hot and humid, while evenings remain warm and close, dropping to around 24°C. There's lots of sunshine to be had, and the sea is perfect at 29°C by April.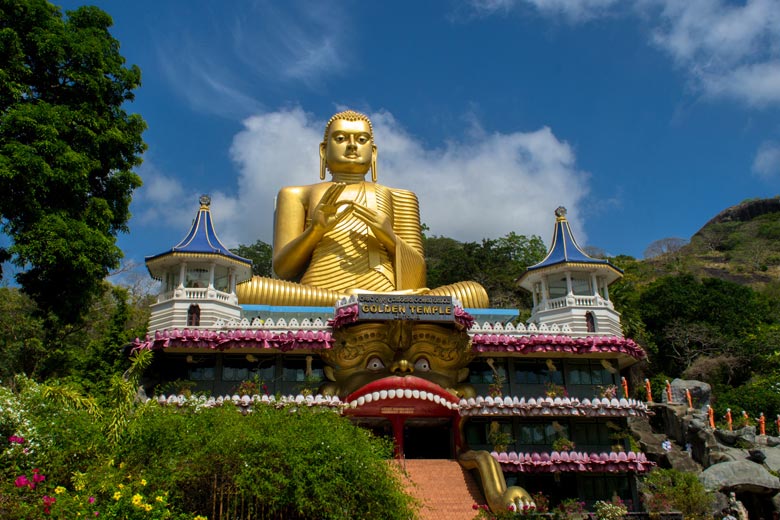 Sri lanka is blessed with a little bit of everything. Whether you want to go walking, get to grips with the island's history, head off leopard spotting, or simply sunbathe and relax by the pool, you will find it in Sri Lanka. The tea plantations offer a glimpse into a world gone by, while the national parks (no less than 26) give you plenty of opportunities to get up close with wildlife.
Top tip: avoid the serious heat by the coast by heading inland where the days are still lovely and warm but evenings much cooler
As for the beaches, well, they're just as varied, from the powerful waves at Tangalla and Mirissa, to the calm waters and laid back vibe of Unawatuna, and fish-rich corals off Hikkaduwa, you won't struggle to find somewhere to go at Easter here.
Search for holidays with First Choice >>

Read more: Sri Lanka's best beaches
As you can see, there's a real choice of places to go at Easter with great weather, be it close to home or further afield, luxury or budget, child friendly or romantic. If you're feeling inspired to book your Easter holiday but haven't seen the right deal, don't miss our complete collection of travel offers on holidays, flights, hotels and more.
If you're still deciding where to go at Easter in 2019 based on the weather, try our compare tool, and pitch your favourites against each other to find the winner. You can also read more about where to go holiday in April and the weather in April worldwide right here.
Get FREE travel offers
Sign up to receive the latest deals and exclusive discounts on holidays, flights, hotels and more, plus inspiration on where to go when
We promise not to share your details