Orlando weather
Get the latest coronavirus (Covid-19) updates for Florida with current travel advice and statistics on new cases per 100,000 and vaccine.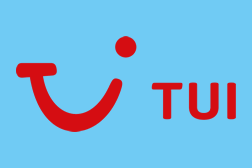 Discount Code
Save £100 on summer 2021 holidays to Florida
Min spend £800 per booking
Travel before 31st October 2021 (inclusive)
Show discount code
******INE
Recommended for Florida
Jan Feb Mar Apr May Jun Jul Aug Sep Oct Nov Dec
The weather guide for Orlando, Florida shows long term weather averages processed from data supplied by CRU (University of East Anglia) & today's weather forecast provided by MeteoBlue. Find out more about our data sources.
Which is the hottest month in Orlando?
The hottest time of year in Orlando is normally July. Expect maximum daytime temperatures to reach 33°C with very high heat and humidity.
Which month has the most rain in Orlando?
In terms of rainfall, July is usually the wettest month in Orlando with 196mm on average. There are normally 16 days in July with some rain.
When is it sunniest in Orlando?
The sunniest time of year in Orlando is normally March with bright sunshine on average for 75% of daylight hours; that's 9 hours of sunshine per day.
Top 10 summer sun: Orlando in June
Looking for some summer sunshine? We've handpicked 10 of the very best places to go for a sunny holiday in June, and Orlando in the Sunshine State of Florida is fourth thanks to its variety of attractions, hours of sunshine and hot daily temperatures.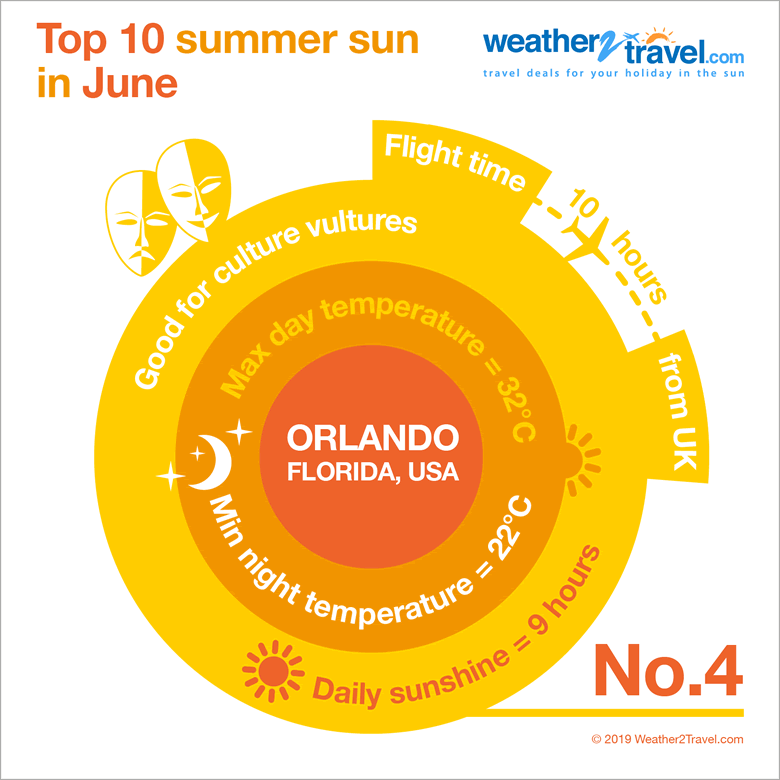 Metric (°C / mm) | Imperial (°F / inches)
Orlando's weather - an overview
Orlando has just two seasons, a hot and rainy wet season that runs from May to October and a dry, cooler season between November and April.
Orlando during the wet season
Don't be put off by the term 'wet season' however: there's still plenty of sunshine, which is why there's never really a bad time to visit Orlando - unless you're particularly averse to high levels of heat and humidity (more about that below).
Each month sees bright sunshine for more than 60% of the time, while in March, which is typically the sunniest month, 75% of daylight hours are usually cloud-free - that's an average of nine hours of sunshine per day.
With all that sunshine, UV is also quite high especially from April to September, so sun protection is essential when visiting Orlando in the summer and advisable generally all year round.
Temperatures & humidity
The hottest time of year in Orlando is during the summer period of May to September. Daytime temperatures normally reach the low thirties and fall by about 10°C to the low twenties overnight.
However, it is not just the temperature; the thing you have to watch out for is the humidity which, from the beginning of June to the end of September, generates levels of discomfort that are usually 'very high' when combined with those high daytime temperatures.
In short, if you are a heat-loving sun-seeker then the summer months will suit you just fine but if you're sensitive to very high levels of heat and humidity, you might want to consider visiting in spring, autumn or winter instead.
Rainfall
The other summer phenomenon is rainfall. There is a lot of it; in fact, in the four months from June to September, there is more rain in Orlando than most places in the UK receive in a whole year - but fear not! The good news is that unlike in the UK, it does not rain for days on end in Orlando; summer rainfall is usually something that passes quite quickly.
The clouds that produce this rain often appear over Orlando at the same time from both the Atlantic to the east and the Gulf Coast to the west. When they meet, the resulting collision of unstable air produces hundreds of thunderstorms with some of the most spectacular displays of lightning that can be seen anywhere in the world.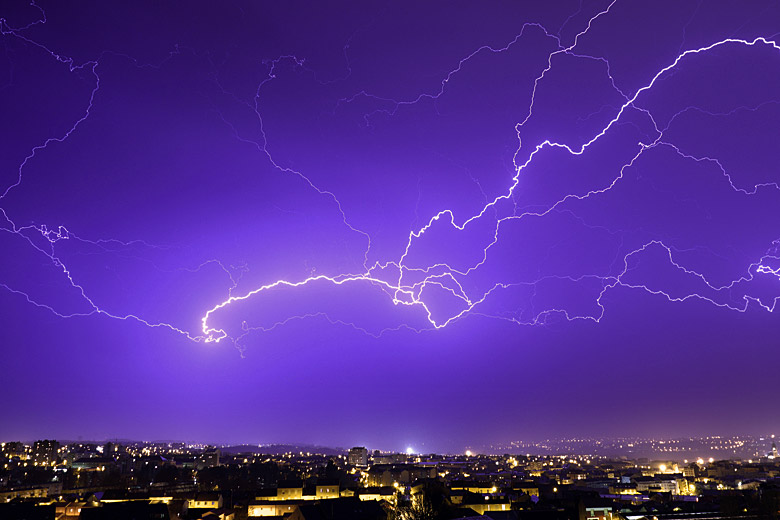 If you're out and about during the day or early evening, just make sure you have some kind of wet weather gear to hand, and remember: even in June, July and August, when rainfall in Orlando is at its peak, there's still an average of nine glorious hours of sunshine per day.
Hurricanes
The southern state of Florida is subject to tropical storms in summer, and hurricanes are the most severe of these storms.
Located inland, Orlando is not affected by storm surges in the same way as coastal areas such as Miami but there can be a lot of rain and winds that gust to over 125 mph near the centre of a storm.
The passage of a hurricane over the state, even if you are not directly in its path, can cause disruption for a day or two. It is also important to listen to storm warnings via the news.
However, the most important thing to remember when considering going to Orlando during the hurricane season is that your chances of being affected by a passing storm remain very low, as you can see below.
Tropical storm risk: Orlando, Florida hurricane season
% of month affected by tropical storms
Jan
Feb
Mar
Apr
May
Jun
Jul
Aug
Sep
Oct
Nov
Dec
The Orlando, Florida tropical storm risk chart above shows the hurricane season. The chart was processed from data supplied by the US Meteorological Agency (NOAA). Find out more about our data sources.
What to pack: it's hot in summer, so you don't need to worry about taking lots of extra layers to keep you warm. Thin, loose-fitting cotton is always good in hot weather and a hat to keep the sun off your face, along with something to protect you from any passing rain.
Orlando during the dry season
By the beginning of October cooler weather makes an appearance with temperatures rarely rising above 30°C during the day and almost always falling to just below 20°C overnight.
As a consequence, the number of days with rainfall drops to around half that of the height of summer, and the heat and humidity subsides to moderate at worst - this is what makes the 'dry season' the best time to enjoy the weather in Orlando.
The term 'dry season' is a relative one because it never stops raining completely, unlike many European holiday destinations during the summer months. There are normally six to seven days per month with some rain through this cooler period but plenty of sunshine with them.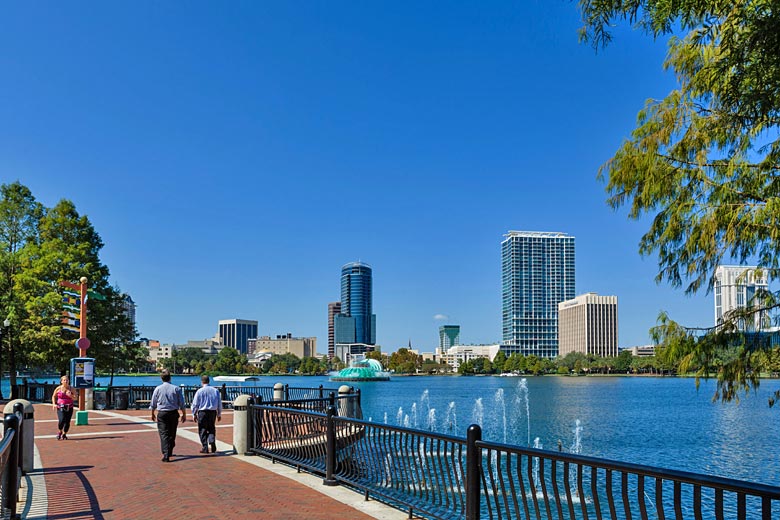 By the beginning of December, any lingering discomfort from heat and humidity has disappeared completely and doesn't reappear again until April.
There's also some residual warmth from the sun throughout the dry season, with daytime highs - even in the coolest month, January - rising to above 20°C most days.
For comparison, this is about the same as the daytime weather averages for July and August over much of the south of England with a similar amount of sunshine - seven to eight hours a day.
This fine weather culminates in March and April with even warmer and sunnier days, probably the best months to visit Orlando in terms of the weather, before the rains begin once again in June.
What to pack: while daytime temperatures are similar to parts of the UK in summer, at night it is a lot cooler with temperatures even falling below zero on occasion. Make sure you pack layers to keep you warm in the evenings and early mornings before the sun gets going.
Top tips for visiting Orlando
1. Buy your park tickets in advance
Save time, money and hassle by checking out the likes of FloridaTix and Attraction Tickets Direct to buy your passes in advance.
You'll skip the queues on arrival plus save on face value gate prices. Look out for FastPass options for even more park perks including queue jump at specific rides.
2. Prepare for the weather in Orlando
Understanding more about what the weather will be like in Orlando during your visit will help you go at the right time of year and pack the right clothes. Find out more above!
3. Stay at a theme park hotel onsite
Have you considered staying at a resort or hotel onsite? There are many advantages, such as early admission and extended hours, free shuttles, front-of-the-line access and special discounts.
4. Take advantage of free transportation
Many resorts, hotels, and theme park properties provide complimentary transport to and from major Orlando destinations, including Orlando International Airport. Be sure to do your research and see if you could save by taking advantage of this service.
5. Download the Visit Orlando app
Get the most out of your visit by downloading the Visit Orlando app, which can help you squeeze the most out of your holiday with expert tips and loads of ways to plan your perfect itinerary and find out what's on.
6. Stop by the official visitor center
It's always a good idea to start at the official tourist office in any destination, and Orlando is no exception. Located on International Drive in the heart of the tourism district, it offers useful information such as maps and expert advice, currency exchange and even a free goodie bag.
7. It's ok not to see and do it all
It can feel a bit overwhelming trying to see and do everything in Orlando - so don't! There's no pressure to do it in one go, so start with your top picks and save the rest for another trip!
Planning your holiday to Orlando? Head to our dedicated Orlando deals page for the latest offers on park tickets, flights, hotels, car hire and much more.
Compare Orlando weather with the USA
Below the Orlando weather chart shows average maximum daytime temperature for Orlando and the USA (Washington).
Maximum daytime temperature (°C)
Jan
Feb
Mar
Apr
May
Jun
Jul
Aug
Sep
Oct
Nov
Dec
Metric (°C / mm) | Imperial (°F / inches)
Compare more Orlando weather >>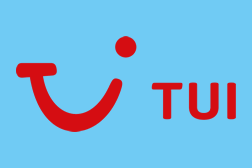 Sale
Book online & save on TUI holidays in 2021/2022
Pay £0 deposits on holidays with direct debit
Plus free child places available
TUI deal finder
Be inspired
Get your weekly fix of holiday inspiration from some of the world's best travel writers plus save on your next trip with the latest exclusive offers
We promise not to share your details
Related posts
Popular travel offers
*affiliate links: find out how we are funded and why this helps us remain free to use.