8 reasons the Florida Keys should be your next sunshine break
*affiliate links: find out how we are funded and why this helps us remain free to use.
The Florida Keys makes for a fantastic holiday. This collection of coral islands is less than two hours' drive from Miami yet feels worlds away from fast-paced Florida. In fact, its relaxed island mentality is what attracted writers, authors and leaders looking for escapism here in the early 20th century.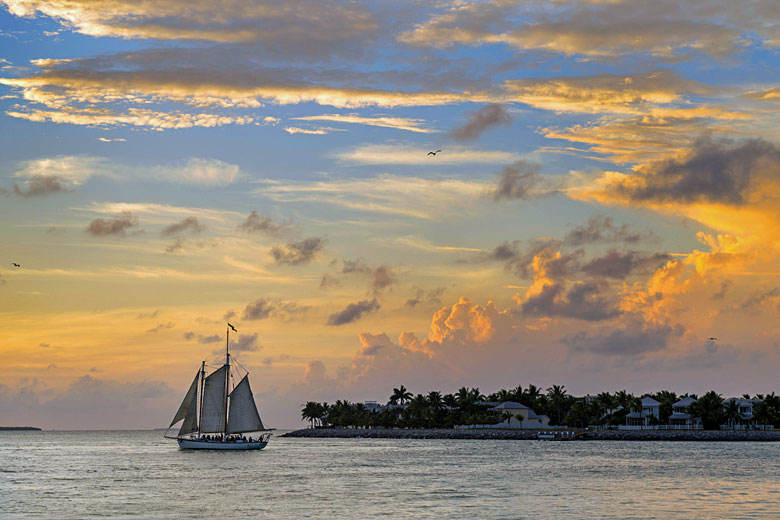 Today, this idyllic archipelago hasn't lost its appeal, as families, diving enthusiasts, sunseekers and foodies all continue to holiday here - and with great value breaks from Virgin holidays direct to the Florida Keys*, there's never been a better time to get booking. Read on to find out why the Florida Keys should be your sunshine destination of choice in 2019.
1. It's one of the most scenic road trips in the USA
Look up the most scenic road trips in America, and chances are the Florida Keys will feature. This 120-mile route, known as the Overseas Highway, links hundreds of islands via an array of bridges and causeways, and many parts of it are stunning.
The pièce de résistance is, of course, the famed Seven Mile Bridge, whose aerial images have appeared in travel photography worldwide. As you cruise over this great feat of engineering, swathes of turquoise ocean stretch either side of you.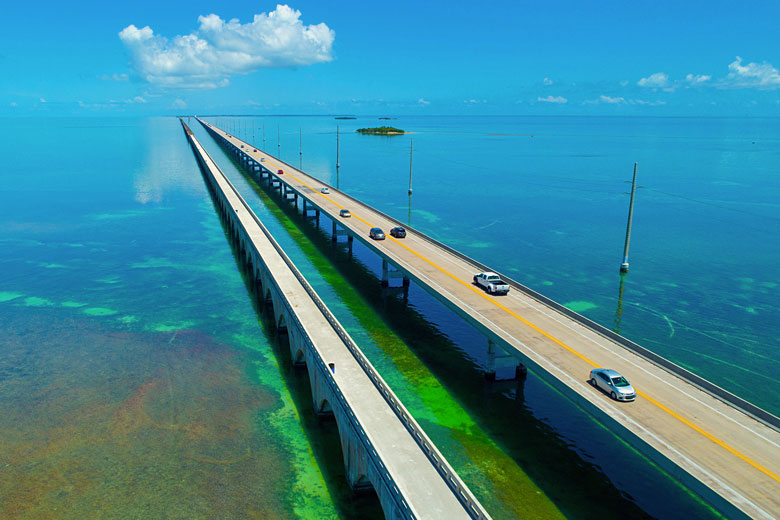 The other great thing is it's a really easy route to navigate. The Overseas Highway is one (single-laned) straight road, with regular mile markers, so you're never going to get lost. Just put the car into cruise control and take in the views.
2. It's more diverse than you might think
There's far more variety in the Florida Keys than you might expect. Key Largo* is perhaps the most connected to upstate Florida, but you'll find it also has some kitsch American diners and artist shops beyond the big chains.
Plus, you're in the so-called 'Diving Capital of the World', with the John Pennekamp Park and Key Largo National Marine Sanctuary on your doorstep.
Meanwhile, Islamorada*, or the 'Purple Isle', is famed for its sport-fishing heritage and excellent seafood, while the Middle Keys has all sorts of family attractions, waterfront restaurants and maritime heritage. Don't miss the Turtle Hospital in Marathon.
3. It has an intriguing history
Once an uninhabited chain of marshy islands, the Florida Keys became a holiday destination* after the great industrialist Henry Flagler connected it to the Florida East Coast Railway.
Make sure you stop at Bahia Honda State Park. Not only to enjoy the lovely beach, but to admire the now-derelict Bahia Honda Rail Bridge, which offers a glimpse of the Keys' history.
After Flagler took the first train down to Key West in 1912, US presidents, filmmakers, novelists and artists followed suit. The Harry S. Truman Little White House, Ernest Hemingway Museum and Custom House Museum in Key West are just a few other places that will offer a glimpse of the region's colourful past.
4. It's a little bit quirky
The further you head down The Keys, the more you'll notice its quirky and offbeat character. But it's not just about the risqué bars along Duval Street; you'll find all sorts of endearing quirks across the town.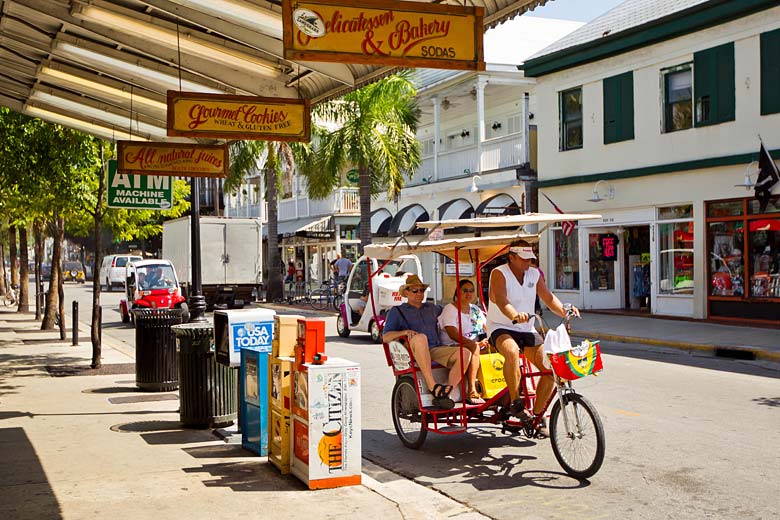 The clapboard houses are an attraction in themselves with many locals displaying various knick-knacks and ornaments across their porches. You'll also spot many 'Conch Republic' flags, which hark back to the historic day in 1982 when the people of Key West* attempted to become an independent nation.
Meanwhile, discover the six-toed cats at the Ernest Hemingway Museum and - if you're interested in the supernatural - an array of clairvoyant shops and ghost tours.
5. It has a fascinating Caribbean vibe
Thousands of Cubans fled to the Florida Keys in the mid 19th century, and again after Fidel Castro came to power. Similarly, the 19th century saw a huge influx of people from the Bahamas, looking to work in the fishing industries.
What that means today is that the Keys (Key West in particular) have a fascinating mix of Cuban and Caribbean cultures. Bahama Village boasts colourful gingerbread-style houses and roosters freely roam the streets, a nod to the Cuban symbol for power and strength. At Bohemian café Blue Heaven, they even have a cemetery for these treasured birds.
Seek out the various historic plaques that mark the locations of former cigar factories, harking back to the 1800s when Key West was the 'cigar capital of the world'.
A cultural tour will also touch on the island's pirating and rum-smuggling history, and point you in the direction of authentic Caribbean and Cuban cuisine.
6. It has an excellent food scene
Speaking of food, the culinary scene in the Florida Keys is top-notch and a trip with Key West Food Tours is well worth looking into. If you like seafood, the stone crab, spiny lobster, hogfish sandwiches, conch fritters and shrimp are just a few things you might like to try.
Make sure you book a table at El Siboney restaurant in Key West for authentic Cuban pork, known as Puerco Asado. Or, drop by the no-frills 5 Brothers for a traditional Cuban sandwich and super-strength coffee.
Key Lime Pie is, of course, the most famous dessert you'll have in the Florida Keys, and you'll find it served in all shapes and sizes across the region. Try Blue Heaven's take on this meringue-topped sweet in Bahama Village; or head to Old Town Key West where you'll find a clutch of Key Lime Pie shops. It would be a shame not to try them all.
7. It's the perfect place to get out on the ocean
The Florida Keys island-chain has some of the most diverse marine and coral life in the world. Aside from the excellent diving and fishing, it's also the perfect place to head out onto the open water. Robbie's Marina in Islamorada offers various boat tours through the backwaters and mangroves where you'll spot manatees, giant tarpon, frigate birds and crocodiles.
There are also many wildlife-spotting and sunset boat trips to take from Key West, including sunset trips in traditional tall ships with Danger Charters and Fury Adventures' dolphin-watching tour.
8. The weather's beautiful
Last but not least, the great weather is a top reason to take a holiday in the Florida Keys. Thanks to its tropical location, the region enjoys a temperate climate year-round, and with highs of 32°C in the height of summer, and sunny days that almost always rise above 20 °C, this is a great holiday destination for when the weather's not being so kind to us in Blighty.
Does the sound of the Florida Keys have you dreaming of white sand beaches and warm water for swimming? Check out the latest deals on holidays to the Florida Keys with Virgin Holidays. Remember, you can also find out more about the weather in the likes of Key West, and see when we think is the ultimate time to go.
For more information and inspiration, check out the dedicated Florida Keys and Key West tourist board, which has loads of tips and ideas for making the most of your time there.
More about Florida
Jan Feb Mar Apr May Jun Jul Aug Sep Oct Nov Dec
Explore holidays in the sun for less
Be inspired
Get your weekly fix of holiday inspiration from some of the world's best travel writers plus save on your next trip with the latest exclusive offers
We promise not to share your details
Related posts