Best holiday destinations in September
*affiliate links: find out how we are funded and why this helps us remain free to use.
September (and October, for that matter) has loads to offer those hoping to go on holiday at this time. Destinations are quietening down, there are lots of deals to be had, and the weather is still warm enough close to home to avoid any really long flights if you prefer.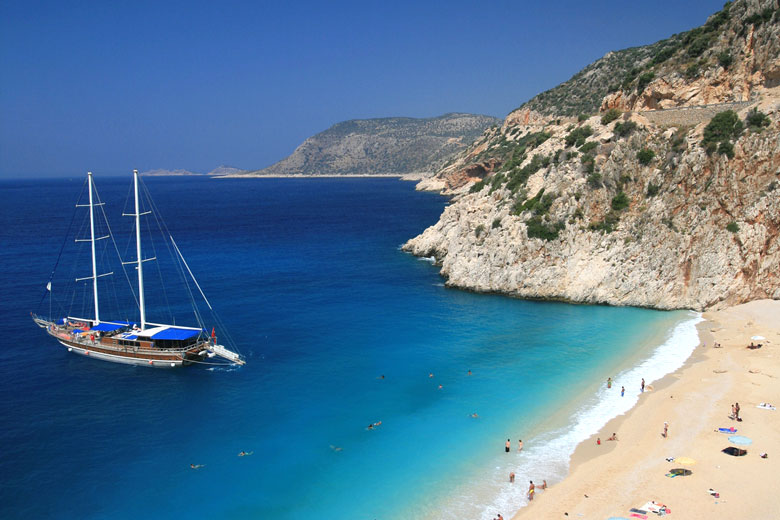 Best five destinations to visit in September
The end of September marks the end of summertime in the UK, which means it's the last month you can realistically expect a good old beach break within Europe or the Med region.
Even then, you don't have to look too much further for some serious heat with North Africa and the Middle East providing plenty of roasty-toasty holiday destinations.
1. Marmaris, Turkey
Flight time from London: 4.5 hours
Daily high: 31°C
Daily hours of sunshine: 11
Sea temperature: 27°C
While the sun's summer ferocity may have abated in Turkey by September, it's still pleasantly hot with plenty of sunshine, and with only moderate heat and humidity all along the Turkish coast.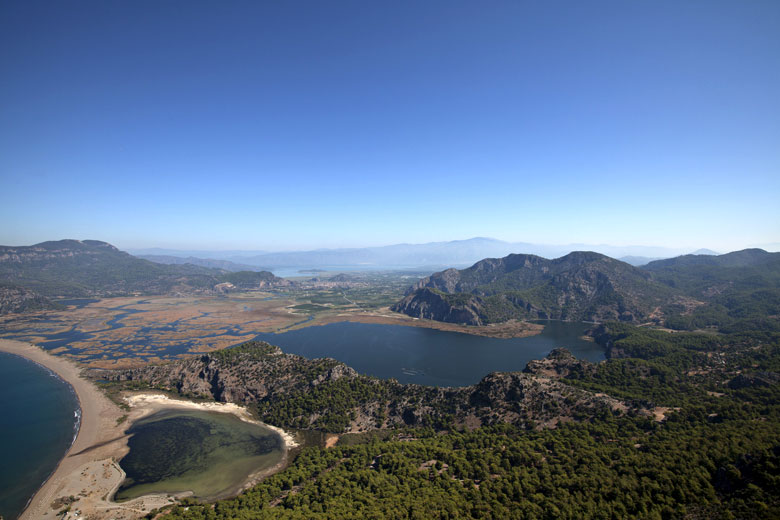 Turkey ticks every box when it comes to its beaches as there's so much variety, from the golden sands of Olu Deniz to the black sand of Bodrum.
However, Marmaris gets our vote for its lively Icmeler Beach, range of activities such as full-day boat trips including snorkelling, and sights such as a turtle sanctuary, and the mud baths at Istuzu Beach in Dalyan, among others.
Recommended for the Dalaman & Marmaris
More about the Dalaman & Marmaris Coast
2. Santorini, Greece
Flight time from London: 4 hours
Daily high: 29°C
Daily hours of sunshine: 11
Sea temperature: 26°C
Another September-favourite is Greece with its reliably warm weather and varied selection of destinations to choose from depending on what you want from your break.
Lying relatively close to the UK, Greece is easy to get to, with long days, and only low to moderate heat and humidity in September depending on where you are.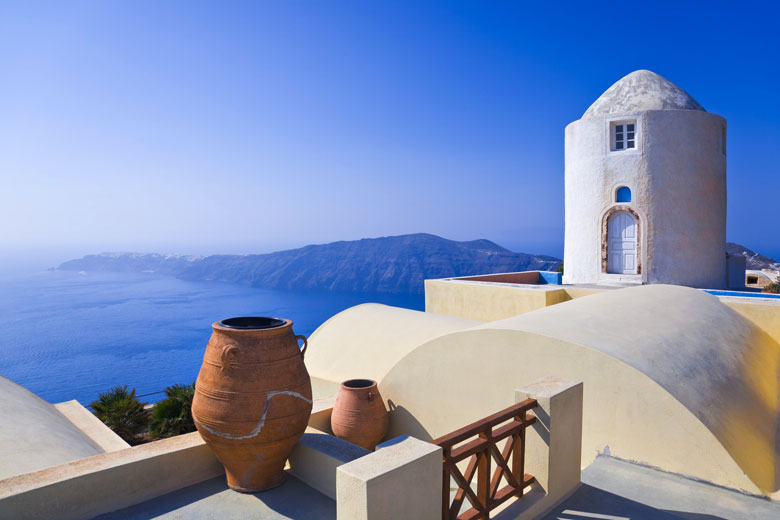 While the sheltered beaches of northeast Rhodes and shallow waters of Psili Amos in Samos are attractive, why not head to the volcanic island of Santorini with its pebbly beaches and splendid views?
Make your way to the scenic towns of Imerovigli, Firostefani or Thira, and relax with a cocktail in hand while gazing over the Aegean Sea.
Recommended for Santorini
More about Greece
3. Cyprus
Flight time from London: 5 hours
Daily high: 31°C
Daily hours of sunshine: 10
Sea temperature: 27°C
After the scorching heat of July and August, Cyprus welcomes a slight drop in temperatures from September. It's still lovely and hot, but heat and humidity is less restrictive at moderate, although the UV rays can be very high.
Expect nice sunny days with barely a cloud in the sky - ideal for sunbathing and water sports.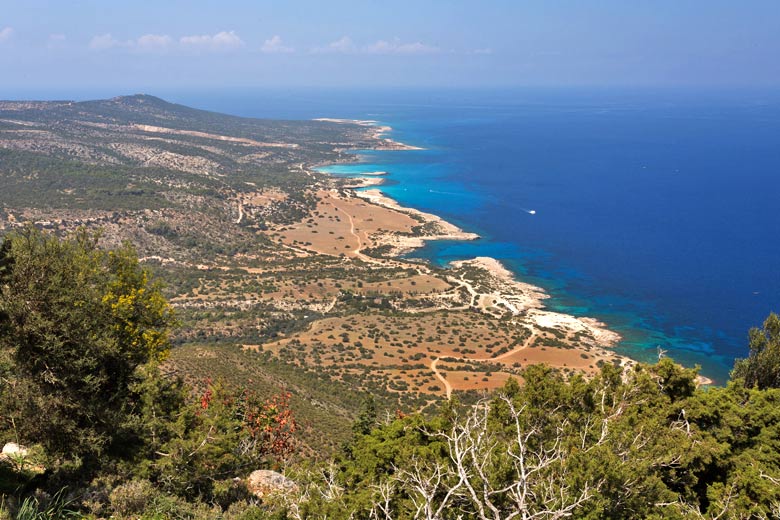 Ayia Napa is well known as a party destination, however, away from the renowned nightspots such as Nissi Beach, it has much to offer those after something more relaxed.
Paphos, meanwhile, has a bit of everything, including beautiful Coral Bay, and the dazzling Blue Lagoon on the Akamas Peninsula, which is a haven for snorkelling.
Recommended for Cyprus
More about Cyprus
4. Malta
Flight time from London: 3 hours
Daily high: 28°C
Daily hours of sunshine: 9
Sea temperature: 25°C
Malta is a real gem of a destination with something for all ages and interests. Whether you want to look beneath the surface snorkelling, explore the winding streets of old Valletta, or head inland on foot to get to grips with the landscape, Malta has it all.
What's more, you'd struggle to go anywhere further west in the Med with better conditions.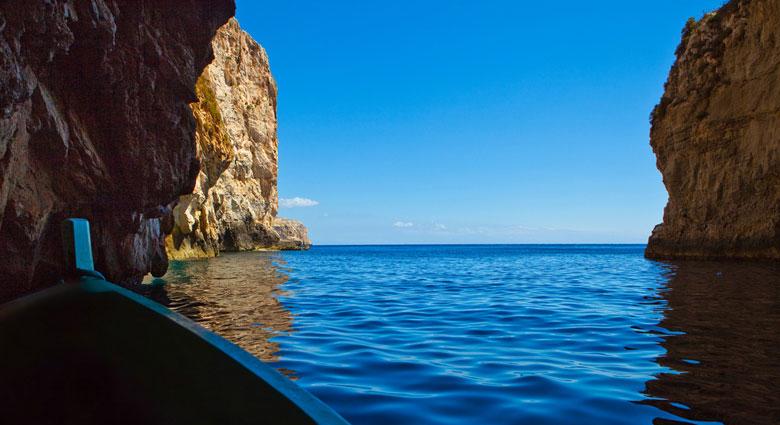 Days are pleasantly hot with loads of sunshine, and the sea is warm enough to delve into the deep. There's no real threat from any rain, a shower at most, and heat and humidity remains moderate.
September is also the month rain makes an appearance once more, although you're unlikely to be affected until the end of the month when thunderstorms mark the end of summer.
Recommended for Malta
More about Malta
5. San Francisco, USA
Flight time from London: 11 hours
Daily high: 22°C
Daily hours of sunshine: 9
Sea temperature: 14°C
The colourful city of San Francisco may see its warmest month of the year in September, but is also one of the freshest destinations in our collection.
Days are largely cloud-free with plenty of sunshine and only a few drops of rain if you're unlucky. There's no heat and humidity to worry about, and conditions are ultimately incredibly pleasant - think southern Portugal in springtime.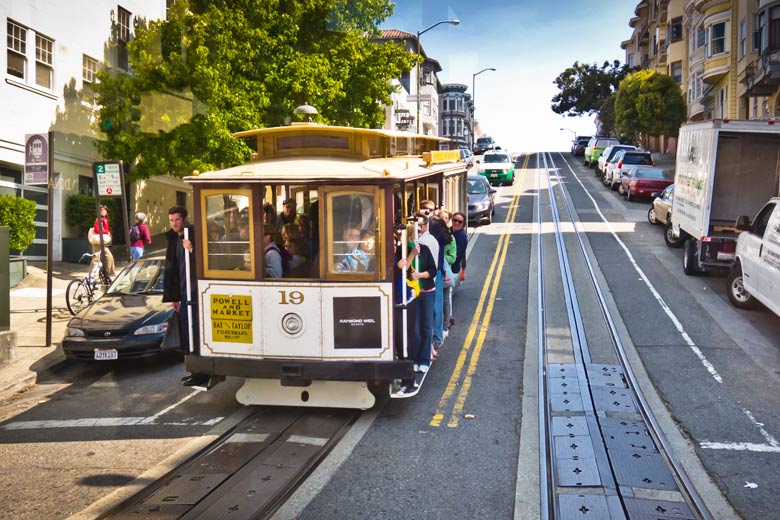 True to form, this side of the Pacific coast remains chilly and not really suitable for swimming. However, with so many exciting attractions and sights both in and around San Francisco, you won't have time to miss bathing in the sea.
As well as the many museums and iconic landmarks, you could head into the wine producing areas of Napa Valley and Sonoma to the north of the city and check out the wineries at harvest time.
Alternatively, head into the Sierra Nevada mountains towards Lake Tahoe for some hiking and water sports where the weather is also great in September.
Recommended for California
More about California
Alternative places to visit in September
While the Med remains truly appealing in September, you shouldn't rule out exciting destinations slightly further away.
For something nice and hot, Bali is still a real stunner with long sunny days, temperatures in the thirties and warm seas, although heat and humidity is high, and UV extremely high.
On, then, to the archipelago of Hawaii, which has a flavour of the exotic in September. Temperatures peak at around 30°C with moderate heat and humidity, and warm seas at 27°C, although there is a chance you'll encounter some rain.
Evenings are balmy but UV is extreme, so whether you go for the incredible hiking, surfing or sunbathing, remember your SPF.
While San Francisco is wonderful in September, Los Angeles is also a winner: you can expect around 28°C with moderate heat and humidity, although the sea temperature is chilly at just under 20°C.
Of course, there's so much to see and do in LA, from visiting studios to hiking in the Hollywood Hills, where you'll enjoy spectacular views across the city.
As you can see, the world is very much your oyster when it comes to choosing a holiday destination in September. Decide what you want to do, how far you're happy to travel and the rest will follow...
Hopefully you've found some inspiration for where to go on holiday in September in our selection, and if you're in the market to get booking, do check out our latest travel deals and discounts to see what offers could help you save.
Still struggling? You can always get in touch or tweet us for more advice about when and where to go for great weather.
Best holiday destinations by month
For more ideas on where to visit in September, read our weather in September page for a more comprehensive look at conditions or browse more months below.
Destination ideas for September 2024
Month: September
Daytime temperature: 22 - 28°C [remove]
Sunshine hours: 8 hours or more [remove]
Sea temperature: 25°C or warmer [remove]
| Rank | Rating | Score | Destination |
| --- | --- | --- | --- |
| 1 | | 100% | Bodrum and Izmir Coast, Turkey |
| | | 100% | Brazil |
| | | 100% | Calabria, Italy |
| | | 100% | Costa Blanca, Spain |
| | | 100% | Crete, Greece |
| | | 100% | Cyprus |
| | | 100% | Dalaman and Marmaris Coast, Turkey |
| | | 100% | Formentera, Balearic Islands, Spain |
| | | 100% | French Polynesia |
| | | 100% | Greece |
| | | 100% | Hawaii, United States |
| | | 100% | Ibiza, Balearic Islands, Spain |
| | | 100% | Kefalonia, Greece |
| | | 100% | Kenya |
| | | 100% | Majorca, Balearic Islands, Spain |
| | | 100% | Malta |
| | | 100% | Menorca, Balearic Islands, Spain |
| | | 100% | Peloponnese, Greece |
| | | 100% | Rhodes, Greece |
| | | 100% | Seychelles |
| | | 100% | Sicily, Italy |
| | | 100% | Spain |
| | | 100% | Zante, Greece |
| 24 | | 97% | Guadeloupe |
| | | 97% | South Carolina, United States |
| 26 | | 96% | Albania |
| | | 96% | Campania, Italy |
| | | 96% | Corfu, Greece |
| | | 96% | Costa Almeria, Spain |
| | | 96% | Costa Dorada, Spain |
| | | 96% | Hierro, Canary Islands, Spain |
| | | 96% | Halkidiki, Greece |
| | | 96% | Italy |
| | | 96% | Kos, Greece |
| | | 96% | La Gomera, Canary Islands, Spain |
| | | 96% | La Palma, Canary Islands, Spain |
| | | 96% | Lefkada, Greece |
| | | 96% | Madagascar |
| | | 96% | Mozambique |
| | | 96% | Paxos, Greece |
| | | 96% | Queensland, Australia |
| | | 96% | Santorini, Greece |
| | | 96% | Sardinia, Italy |
| | | 96% | Skiathos, Greece |
| | | 96% | Skopelos, Greece |
| | | 96% | Tenerife, Canary Islands, Spain |
| 47 | | 94% | Antalya Coast, Turkey |
| | | 94% | Egypt |
| | | 94% | Israel |
| | | 94% | Puerto Rico |
| | | 94% | Samoa |
| | | 94% | Tanzania |
| | | 94% | Tunisia |
| 54 | | 93% | China |
| | | 93% | Madeira, Portugal |
| | | 93% | Turkey |
| 57 | | 92% | Fiji |
| | | 92% | Georgia, United States |
| | | 92% | Indonesia |
| | | 92% | Japan |
| | | 92% | Maldives |
| | | 92% | Martinique |
| | | 92% | South Korea |
| | | 92% | St Vincent and the Grenadines |
| 65 | | 89% | Bali, Indonesia |
| | | 89% | Barbados |
| | | 89% | Florida, United States |
| | | 89% | St Lucia |
| | | 89% | Texas, United States |
| 70 | | 88% | Corsica, France |
| | | 88% | Croatia |
| | | 88% | Fuerteventura, Canary Islands, Spain |
| | | 88% | Gran Canaria, Canary Islands, Spain |
| | | 88% | Mauritius |
| | | 88% | Montenegro |
| | | 88% | Mykonos, Greece |
| | | 88% | Naxos, Greece |
| | | 88% | Paros, Greece |
| | | 88% | Samos, Greece |
| | | 88% | Skyros, Greece |
| | | 88% | Syros, Greece |
| | | 88% | Thassos, Greece |
| | | 88% | Virginia, United States |
| 84 | | 86% | Bahamas |
| | | 86% | Bermuda |
| | | 86% | Cape Verde |
| | | 86% | Costa Rica |
| | | 86% | Goa, India |
| | | 86% | Grenada |
| | | 86% | India |
| | | 86% | Jamaica |
| | | 86% | Kerala, India |
| | | 86% | Oman |
| | | 86% | Panama |
| | | 86% | Papua New Guinea |
| | | 86% | Sri Lanka |
| | | 86% | Trinidad and Tobago |
| 98 | | 85% | Italian Riviera, Italy |
| | | 85% | Lanzarote, Canary Islands, Spain |
| | | 85% | Tuscany, Italy |
| 101 | | 83% | Anguilla |
| | | 83% | Antigua |
| | | 83% | British Virgin Islands |
| | | 83% | Cuba |
| | | 83% | Dominican Republic |
| | | 83% | Lombok, Indonesia |
| | | 83% | St Barthelemy |
| | | 83% | St Kitts and Nevis |
| | | 83% | Virgin Islands |
| 110 | | 81% | Dominica |
| | | 81% | Gambia |
| | | 81% | Hong Kong |
| | | 81% | Malaysia |
| | | 81% | Philippines |
| 115 | | 80% | Bulgaria |
| | | 80% | Costa de la Luz, Spain |
| | | 80% | Costa del Sol, Spain |
| | | 80% | France |
| | | 80% | Lesbos, Greece |
| | | 80% | Morocco |
| | | 80% | New Jersey, United States |
| 122 | | 79% | Azores, Portugal |
| | | 79% | Costa Brava, Spain |
| 124 | | 78% | Cayman Islands |
| | | 78% | Curacao |
| | | 78% | Pakistan |
| | | 78% | Red Sea, Egypt |
| | | 78% | Western Australia, Australia |
| 129 | | 77% | Monaco |
| | | 77% | Slovenia |
| | | 77% | South Africa |
| 132 | | 75% | El Salvador |
| | | 75% | Mexico |
| | | 75% | Palau |
| | | 75% | Singapore |
| | | 75% | Thailand |
| | | 75% | Turks and Caicos |
| | | 75% | Vietnam |
| 139 | | 72% | Algarve, Portugal |
| | | 72% | Aruba |
| | | 72% | Gibraltar |
| | | 72% | New South Wales, Australia |
| | | 72% | Venezuela |
| 144 | | 71% | Venetian Riviera, Italy |
| 145 | | 70% | Cambodia |
| | | 70% | Ecuador |
| 147 | | 69% | Caribbean Coast, Mexico |
| | | 69% | New York, United States |
| | | 69% | Peru |
| 150 | | 67% | California, United States |
| | | 67% | Cook Islands |
| | | 67% | Jordan |
| | | 67% | Massachusetts, United States |
| | | 67% | Portugal |
| | | 67% | Tonga |
| | | 67% | UAE |
| 157 | | 63% | Romania |
| 158 | | 61% | South Australia, Australia |
Metric (°C / mm) | Imperial (°F / inches)
Be inspired
Get your weekly fix of holiday inspiration from some of the world's best travel writers plus save on your next trip with the latest exclusive offers
We promise not to share your details
Explore holidays in the sun for less