*affiliate links: find out how we are funded and why this helps us remain free to use.
Best holiday destinations in April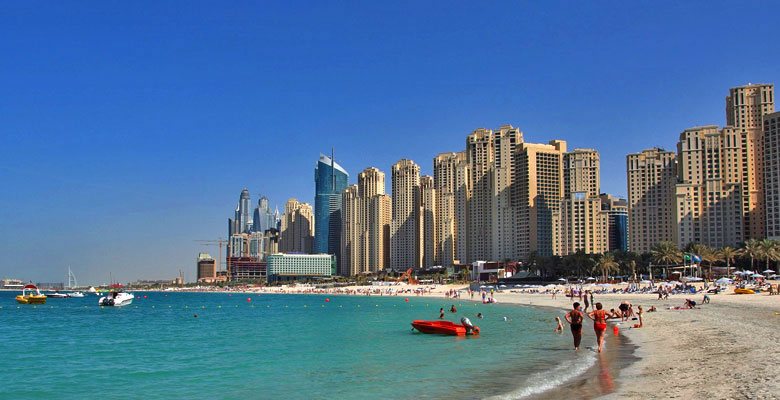 April is an excellent time of year to holiday: things start to heat up closer to home and it's before the madness of summer and school holidays, making it that much more affordable to getaway.
Looking for April holidays in the UK? Check out our handpicked list of destinations to consider for staycations in England, Scotland, Wales and Northern Ireland.
Top five destinations in April for the best weather
The prospect of longer days and rising temperatures, particularly in the Mediterranean, heralds the start of the European holiday season. Although warming up and very pleasant, it's not yet hot in April, so those looking for a real beach holiday will still have to fly that bit further.
1. Agadir, Morocco
Flight time from London: 4 hours
Daily high: 21°C
Daily hours of sunshine: 9
Sea temperature: 17°C
One of the closest warm and sunny destinations to the UK in April is Morocco. While people often flock to Marrakech, Agadir, on Morocco's Atlantic coast, is becoming more popular with holidaymakers after a mix of sea air, sunshine and souks.
Agadir sits in a crescent bay lined with cafés and restaurants overlooking the sea, backed by the Atlas Mountains, and with ample to do nearby from golfing to hiking.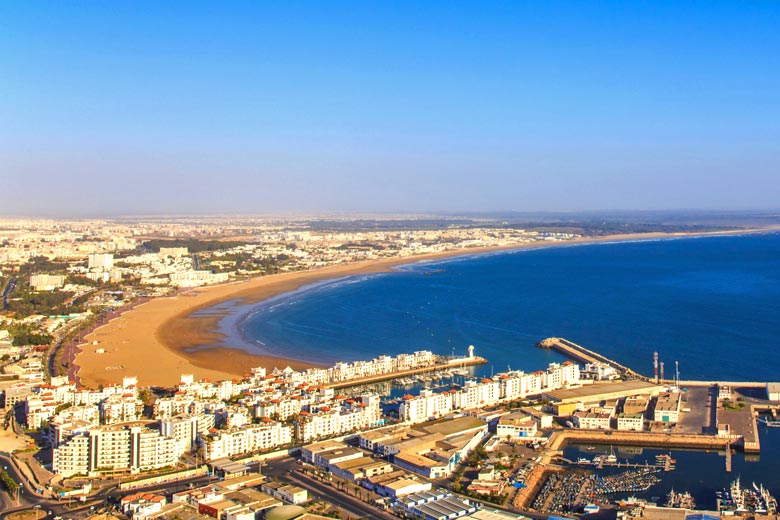 Weatherwise, Agadir offers warm days with loads of sunshine and no heat and humidity to battle. You can expect almost unbroken sunshine, just watch out for the very high UV rays.
The sea is perhaps a little too cold for swimming, so look for accommodation with a heated pool if you fancy taking a dip, and bring an extra layer or two for evenings when temperatures can drop to around 12°C.
Recommended for Morocco
More about Morocco
2. Cyprus
Flight time from London: 5 hours
Daily high: 22°C
Daily hours of sunshine: 9
Sea temperature: 18°C
From the beginning of April, many destinations in the Mediterranean are really warming up with plenty of sunshine, especially in the east.
A reliable option is Cyprus. It's comfortable at this time of year, feeling slightly warmer and sunnier than the average summer's day in the south of England. It's also only the start of the holiday season so remains uncrowded.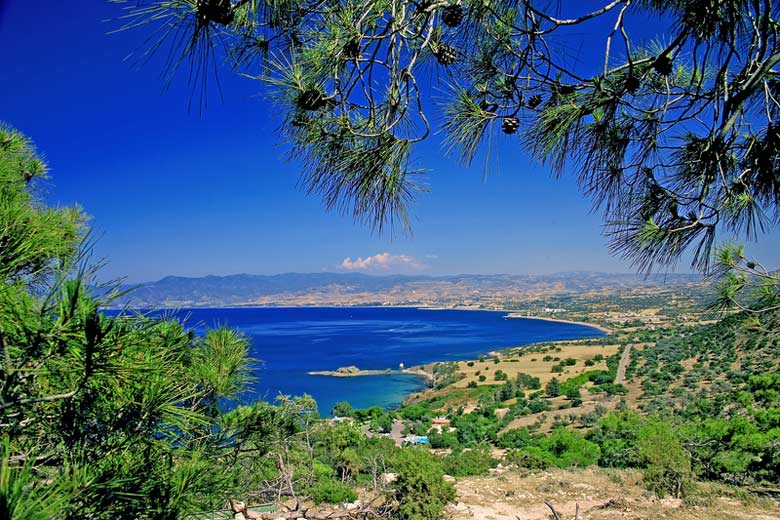 It's probably a bit early to be swimming in the sea, although there's plenty of hotels with pools, not to mention loads of other things to see and do in Cyprus. Be cautious of the high UV rays at this time - make sure you slap on the sun cream.
Recommended for Cyprus
More about Cyprus
3. Dubai, UAE
Flight time from London: 7 hours
Daily high: 32°C
Daily hours of sunshine: 10
Sea temperature: 25°C
If you're yearning to feel sand between your toes and enjoy a full-on beach break, then Dubai is arguably the closest destination to the UK with sufficiently warm temperatures - by warm, we mean hot; gloriously hot without the burn of the later summer months.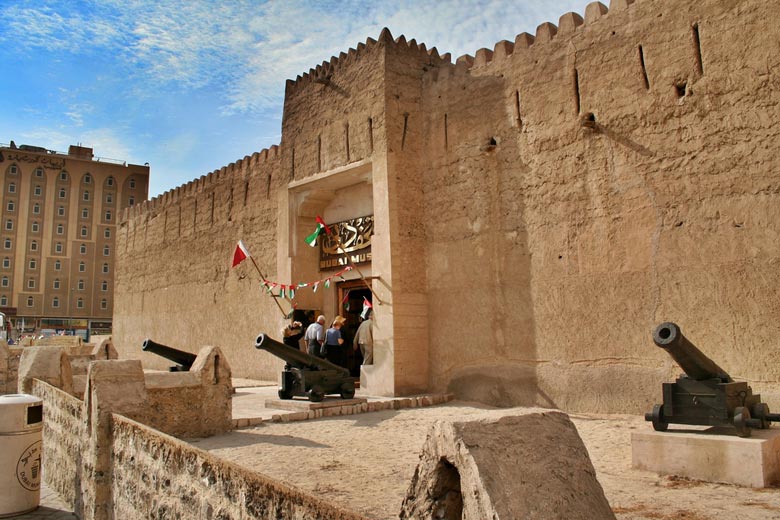 Beach holidays aren't for everyone though; thankfully Dubai has a wealth (literally) of shops and restaurants, theme and water parks, not to mention galleries, museums (the Dubai Museum is a real highlight), aquariums, and plenty to do for all the family.
Recommended for the UAE
More about the UAE
4. Orlando, USA
Flight time from London: 10 hours
Daily high: 28°C
Daily hours of sunshine: 9
Orlando is a firm favourite with families and theme park enthusiasts, not to mention great at this time of year. If you want somewhere with great weather and an endless list of things to do, then Orlando should definitely be on your radar, as should much of southern and central Florida, which has long sunny days with little chance of rain.
You'll need a good SPF to battle the high UV, but there's only moderate heat and humidity to contend with and, as Orlando is inland, it does cool at night dropping to around 15°C.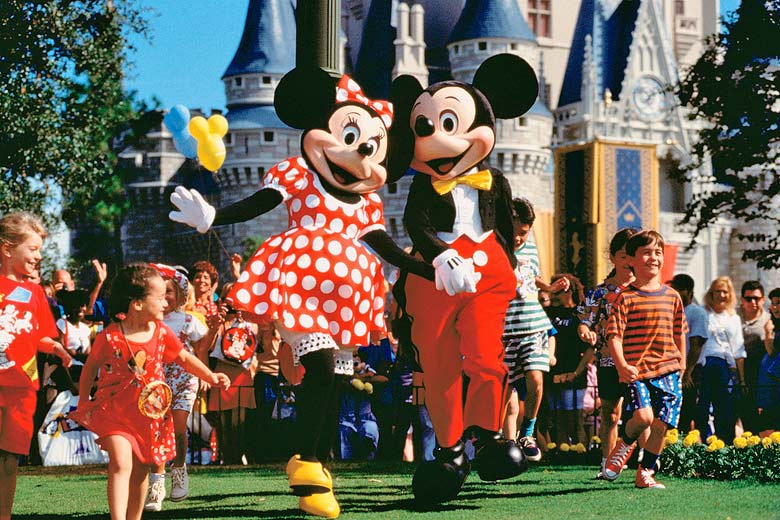 If you're thinking of heading stateside to visit ride the roller coasters of Walt Disney World Resort or scour the sets of Universal, don't forget to check out FloridaTix, which has some fantastic offers on entry to the biggest and best theme parks.
Recommended for Florida
More about Florida
5. Cancun, Mexico
Flight time from London: 10.5 hours
Daily high: 32°C
Daily hours of sunshine: 8
Sea temperature: 27°C
Cancun is known for its long white beaches, pristine waters and lively nightlife. Perched on Mexico's Caribbean coast, it's a popular choice with holidaymakers after a touch of the exotic without breaking the bank, and April's a great time to visit.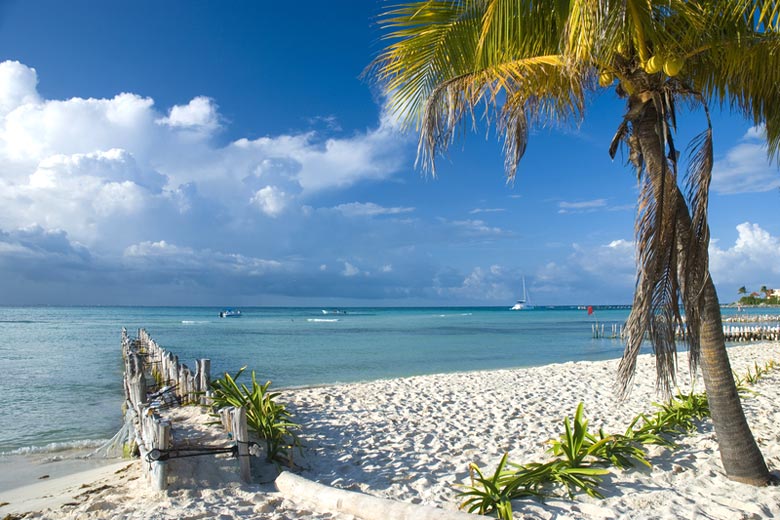 Just about everywhere in the Caribbean has very good weather in the spring, so it's definitely one for the list. April's the last month of the dry season not to mention one of the sunniest of the year with the rains generally holding off until May. Cancun enjoys hot and sunny days, making it the ideal beach holiday destination.
Recommended for Mexico - Caribbean Coast
More about Mexico's Caribbean Coast
Alternative destinations for April 2024
If you're yet to find somewhere that really floats your boat in April, we have a few long haul suggestions up our sleeve. To start with, Los Angeles resembles a good summer's day in the UK with daily highs of around 22°C, no heat and humidity, and 10 long hours of sunshine.
You might catch a shower but you'd be unlucky, and as this is the showbiz capital of the world, you won't be stuck for things to do. From visiting downtown studios to shopping, fine dining and hiking in the Hollywood Hills, there's something for everyone in the City of Angels.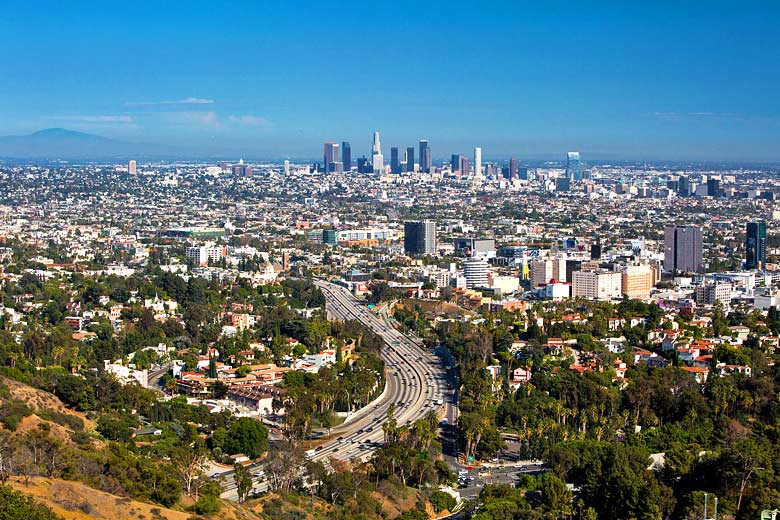 Looking again at the Caribbean, Antigua offers a taste of the tropics in April. Days are hot at up to 29°C with eight hours of sunshine, high heat and humidity, and warm waters at 26°C - great conditions for hitting the beach. Just remember to seek out some shade as the UV is extreme and therefore unforgiving at this time.
If you're after a bigger dose of beach, you might want to consider the Indian Ocean. Here, island paradises such as Mauritius and the Seychelles are bathed in exotic conditions as their hot and humid summer seasons come to an end.
In Mauritius, things are similar to Antigua with daily highs at 29°C and warm water at 27°C with perhaps a higher chance of seeing some rain and only moderate heat and humidity.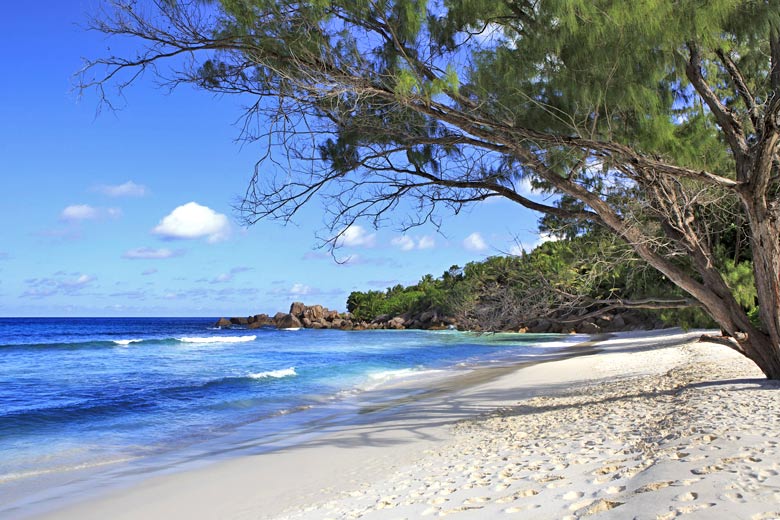 In the Seychelles, things are even hotter with daytime temperatures reaching 30°C matched only by the water that can also peak at 30°C, which is incredibly inviting. The high heat and humidity can make it feel even hotter, while UV is set to extreme, so pack your best SPF.
In true tropical style, there's also more chance of seeing a passing shower here, but don't be put off. If you're looking for somewhere a little luxurious like this, splash the cash and indulge in a stylish resort with every amenity, from spas to private infinity pools.
As you can see, April provides plenty of options, preceding summer with plenty of holiday spots both near and far away.
If you're still wondering where to go on holiday in April, have a look at our weather in April page for a more detailed breakdown of conditions and destinations, while our holiday deals and discounts show you the best ways to get there for less.
Destination ideas for April 2024
Month: April
Daytime temperature: 22 - 28°C [remove]
Sunshine hours: 8 hours or more [remove]
Sea temperature: 25°C or warmer [remove]
| Rank | Rating | Score | Destination |
| --- | --- | --- | --- |
| 1 | | 100% | Bahamas |
| | | 100% | Florida, United States |
| | | 100% | French Polynesia |
| | | 100% | Guadeloupe |
| | | 100% | Hawaii, United States |
| | | 100% | Jamaica |
| | | 100% | Martinique |
| | | 100% | Puerto Rico |
| | | 100% | Turks and Caicos |
| 10 | | 97% | Brazil |
| | | 97% | Madagascar |
| | | 97% | Mauritius |
| | | 97% | New South Wales, Australia |
| | | 97% | Queensland, Australia |
| | | 97% | South Africa |
| 16 | | 94% | Antigua |
| | | 94% | British Virgin Islands |
| | | 94% | Cuba |
| | | 94% | Mozambique |
| | | 94% | St Kitts and Nevis |
| | | 94% | St Lucia |
| | | 94% | St Vincent and the Grenadines |
| | | 94% | Virgin Islands |
| 24 | | 92% | Indonesia |
| 25 | | 90% | Western Australia, Australia |
| 26 | | 89% | Anguilla |
| | | 89% | Bali, Indonesia |
| | | 89% | Barbados |
| | | 89% | Curacao |
| | | 89% | Dominica |
| | | 89% | Dominican Republic |
| | | 89% | Ecuador |
| | | 89% | Grenada |
| | | 89% | Panama |
| | | 89% | Philippines |
| | | 89% | Seychelles |
| | | 89% | St Barthelemy |
| | | 89% | Trinidad and Tobago |
| 39 | | 88% | Mexico |
| | | 88% | Red Sea, Egypt |
| 41 | | 86% | Fiji |
| | | 86% | Malaysia |
| | | 86% | Papua New Guinea |
| | | 86% | Samoa |
| | | 86% | Vietnam |
| 46 | | 83% | Cayman Islands |
| | | 83% | Kenya |
| | | 83% | Lombok, Indonesia |
| | | 83% | Maldives |
| | | 83% | Palau |
| | | 83% | Sri Lanka |
| 52 | | 81% | China |
| | | 81% | Costa Rica |
| | | 81% | Japan |
| | | 81% | Tanzania |
| 56 | | 80% | Cape Verde |
| 57 | | 78% | Aruba |
| | | 78% | India |
| | | 78% | Kerala, India |
| | | 78% | Caribbean Coast, Mexico |
| | | 78% | Oman |
| | | 78% | Thailand |
| | | 78% | Venezuela |
| 64 | | 77% | Texas, United States |
| 65 | | 75% | Singapore |
| 66 | | 72% | Cambodia |
| | | 72% | Goa, India |
| | | 72% | Jordan |
| | | 72% | Pakistan |
| | | 72% | UAE |
| 71 | | 71% | Peru |
| 72 | | 67% | Antalya Coast, Turkey |
| | | 67% | Bermuda |
| | | 67% | Cook Islands |
| | | 67% | Cyprus |
| | | 67% | Egypt |
| | | 67% | El Salvador |
| | | 67% | Fuerteventura, Canary Islands, Spain |
| | | 67% | Georgia, United States |
| | | 67% | Israel |
| | | 67% | Lanzarote, Canary Islands, Spain |
| | | 67% | Namibia |
| | | 67% | South Australia, Australia |
| | | 67% | South Carolina, United States |
| | | 67% | Tonga |
| | | 67% | Tunisia |
| 87 | | 61% | Algarve, Portugal |
| | | 61% | Bodrum and Izmir Coast, Turkey |
| | | 61% | California, United States |
| | | 61% | Costa Blanca, Spain |
| | | 61% | Costa de la Luz, Spain |
| | | 61% | Dalaman and Marmaris Coast, Turkey |
| | | 61% | Gran Canaria, Canary Islands, Spain |
| | | 61% | Hong Kong |
| | | 61% | Morocco |
Metric (°C / mm) | Imperial (°F / inches)
Where to go on holiday for the best weather
Be inspired
Get your weekly fix of holiday inspiration from some of the world's best travel writers plus save on your next trip with the latest exclusive offers
We promise not to share your details
Explore holidays in the sun for less