Top outdoor activities in St Lucia
The island of St Lucia has always been most famous for its native banana plantations, but there's plenty of al fresco monkeying about you can do on holiday too with our list of outdoor activities in St Lucia for visitors. While many of the adrenaline-fuelled options for adventure seekers in St Lucia aren't for the yellow-bellied, excursions like zip-lining and rainforest hiking will leave your friends back home green with envy.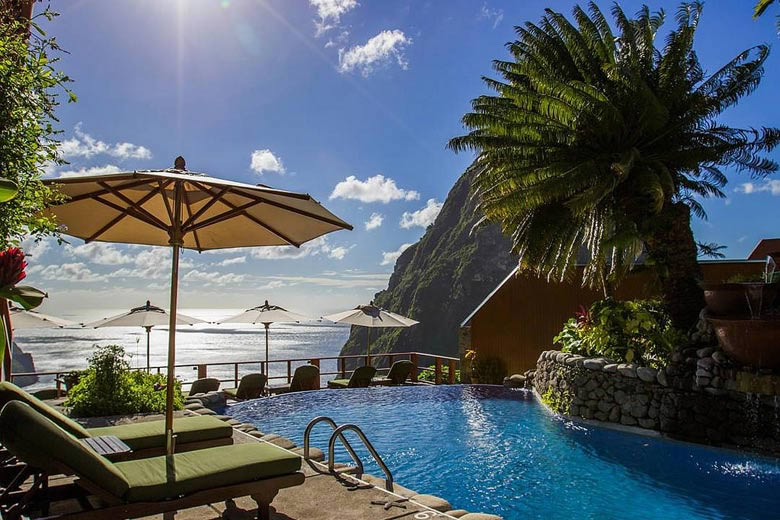 The good news is that St Lucia is also more accessible than ever, with likes of TUI offering great value yet luxurious breaks to the paradisiacal Caribbean island, direct from London Gatwick. If you plan on booking a holiday with TUI to experience everything St Lucia has to offer, you can choose from resorts located in the north of island around Rodney Bay, Smugglers' Cove, and Cap Estate.
Outdoor activities in St Lucia: the Caribbean island for adventurers
In this verdant country's amazing great outdoors you can do everything from reef diving and water sports to tackling rainforest trails on foot and by bike, and swimming in mineral waterfalls. If you're thinking of heading anywhere in the Windward Islands, chances are the outdoors are already the main lure - but this particular eastern Caribbean island is way more than just the classic white-sand beach idyll.
The dramatic scenery of this paradise isle contains the most impressive range of varied natural geographical wonders and outdoor pursuits in the entire Caribbean. So, for active adventurers seeking a sunny beach break as well as spectacular outdoor activities in St Lucia, the destination is simply unbeatable - especially armed with our guide.
Zip it all the way down on a ziplining excursion
This is an island synonymous with tropical rainforests, so the number one outdoor activity in St Lucia was always bound to be a fun-filled treetop adventure. You won't be disappointed if you want to fly through the trees while on holiday here as there are more than a couple of options to see the forest canopy by zipline.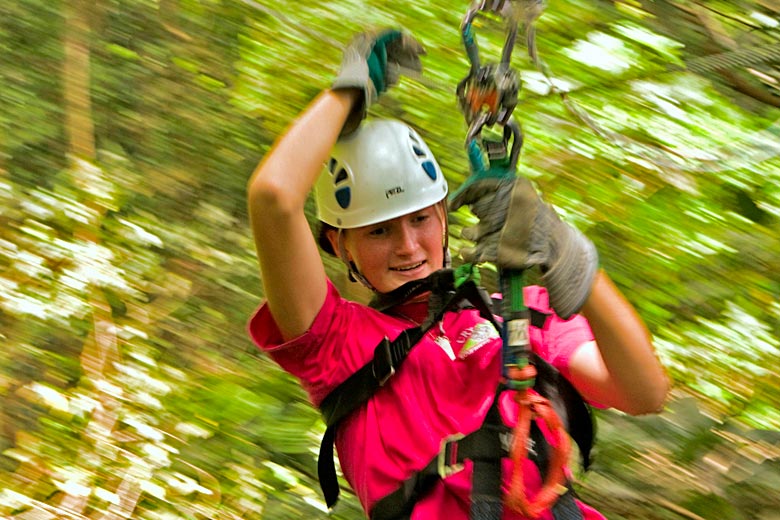 St Lucia Ziplining at Morne Coubaril Estate is a real once in a lifetime outdoor activity in St Lucia that's set on a plantation, which also offers estate tours and horseback riding, as well as eight ziplines. Meanwhile, Rainforest Adventures specialises in interactive canopy tours - the Adrena-line tour boasts 18 biplane platforms and a Tarzan swing.
Ramble your way to the top on a rainforest hike
The uninhabited and mountainous interior is the perfect place to take on one of the outdoor activities in St Lucia, which make this island in the Lesser Antilles totally unique: a 10k hike to the 1871 ft summit of the Piton Flore mountain. Not to be confused with the island's verdant twin peaks of Petit and Gros Piton, the Piton Flore trail is one of the more ambitious rainforest hikes in central St Lucia.
The local Forestry Department can give you advice, maps, and a permit to explore this route, which is teaming with natural protected flora, fauna, local birds, and mammals including the famed St Lucia parrot. The entire area is full of old trading paths, meaning there are plenty of less strenuous hiking routes available depending on your ability and mood, and a host of different excursions can be booked to suit your needs.
Get stinky at the sulphur springs
One of the must-do experiences that comes up in every guide to the best outdoor activities in St Lucia is a visit to the sulphur springs volcanic mud bath near Soufriere.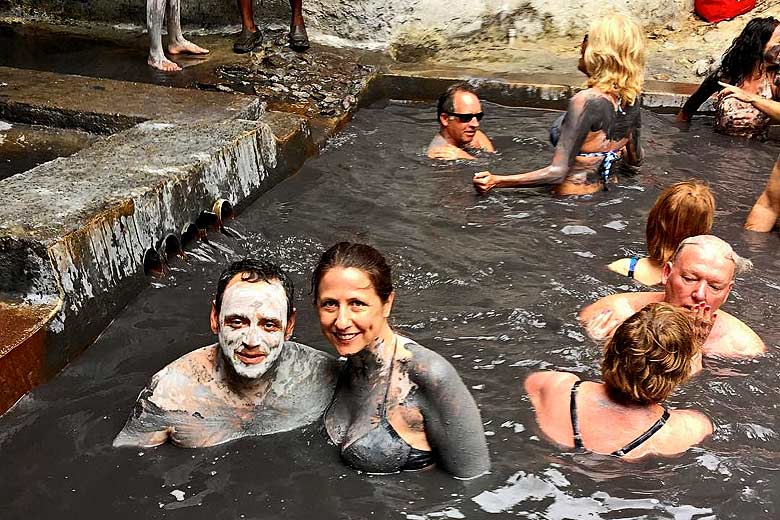 It's billed as the world's only 'drive-in volcano' due to its easy accessibility, and a day trip here involves learning a little about the area's unique volcanic properties then covering yourself in steaming volcanic mud to detoxify before jumping in a cleansing rainforest waterfall.
Make time for more monkeying about at Splash Island
Recently opened Splash Island Water Park in Rodney Bay Village on the island's northwest coast is the first sea water park in the Caribbean. This giant inflatable beachfront obstacle course makes a great outdoor activity in St Lucia for those on holiday with children who can jump about on the trampoline, climbing wall, monkey bars, and hurdles in safety, with parents knowing any fall would be into the warm turquoise waters of the Caribbean.
Try your hand at the St Lucia triathlon
If you're really up for the ultimate once in a lifetime outdoor adventure while on holiday here, how about trying your hand at a triathlon in the sweet setting of St Lucia? The St Lucia Triathlon, which is a relatively recent addition to the island, is held in late November, will help you get fit while taking tips from Olympians on hand to help competitors.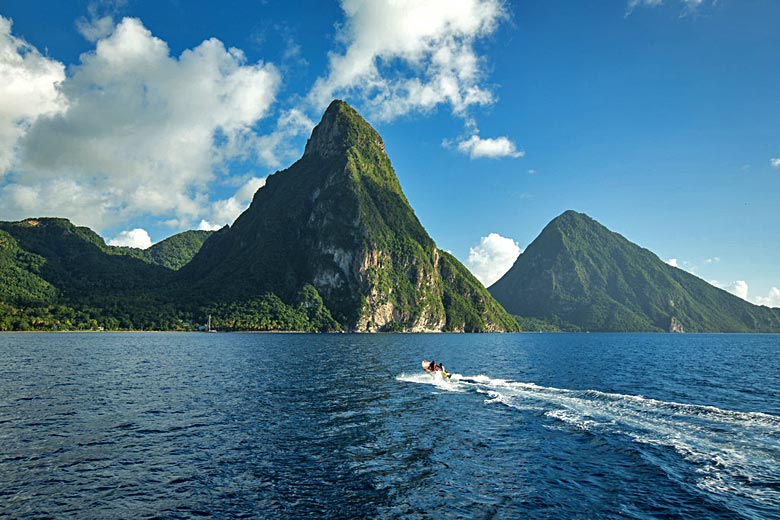 Of course this list of outdoor activities in St Lucia is just a start - there's volcanic beaches galore and National Parks to explore and between the picturesque bays, outlying islands and water sports you'll find outdoor activities in St Lucia are only limited by your own energy levels - and maybe the weather.
When to travel to enjoy outdoor activities in St Lucia
St Lucia is a truly tropical destination that generally benefits from reliably good weather all year round. July to November tends to see the highest concentration of rain, although don't let this put you off as it often passes after a short sharp downpour. Temperatures sit at around 28°C to 30°C on average throughout the year, although with the increased heat and humidity, and higher rainfall, August and September can feel like the hottest time of year. For those keen to swim, the water is delightful with a low of 26°C in February, ensuring every other month is even warmer at between 27°C and 29°C on average.
If you're looking for more info on the hurricane season, let us put your mind at ease with our guide to tropical storms, which highlights the low chance of your holiday being affected in any way even during the height of the season. Overall, St Lucia is a fabulous holiday destination at any time of year, as our guide for when to travel to St Lucia suggests.
If getting stuck into outdoor activities in St Lucia sounds like your kind of island escape, look no further than the latest online deals from TUI. You can also find out more about the weather in St Lucia to help you plan when to go in 2018.
Get FREE travel offers
Sign up to receive the latest deals and exclusive discounts on holidays, flights, hotels and more, plus inspiration on where to go when
We promise not to share your details
Related posts