7 reasons you should discover Santa Cruz de Tenerife
*affiliate links: find out how we are funded and why this helps us remain free to use.
If you thought Tenerife is just about the welcoming beaches and party zones of its wildly popular southern resorts then it is time to think again.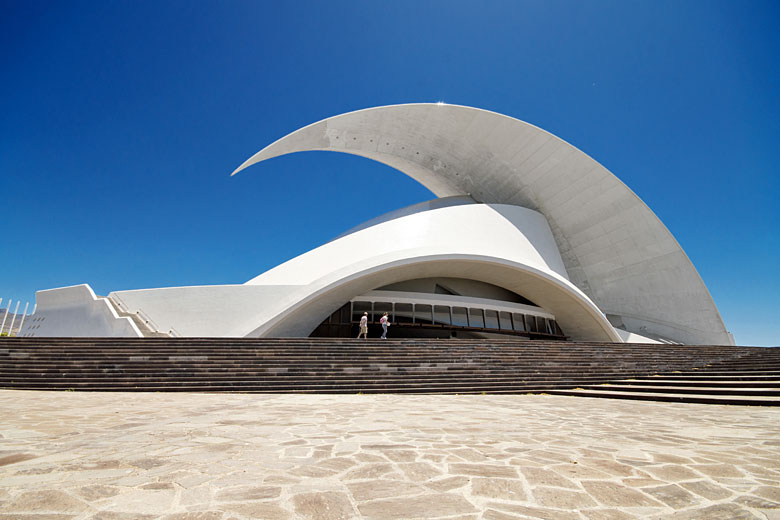 Seriously think again. In Santa Cruz de Tenerife* the island boasts not just a capital, but one of the liveliest Spanish cities, especially when its world-famous Carnival kicks off.
The city still dances for the rest of the year to a beat that is an eclectic, inspiring fusion between the sultry strains of Spain, the Caribbean and South America.
The sprawling port has, for centuries, been the scene of arrivals and departures to and from all three, each people melting their own cultures into the city's rich fabric.
This is also where Lord Nelson had his arm blown off, where sandy beaches rub shoulders with stately mansions, and where museums tempt alongside avant-garde auditoriums that evoke Sydney's finest. In short, Santa Cruz de Tenerife is an essential place to visit when you're in Tenerife.
Getting to Santa Cruz: arrive in style on a voyage to Santa Cruz de Tenerife with Marella Cruises*. Check out the latest deals on itineraries to the Canary Islands today.
Auditorio de Tenerife
This sparkling starched white eye-catcher is Santa Cruz de Tenerife's Sydney Opera House. Fashioned by creative Spanish architect Santiago Calatrava, its sleek curves echo a breaking Atlantic wave.
It gazes out over the ocean. Make time to ease around it, taking in its grace and grandeur, as well as exploring the landscaped surroundings.
It's well worth timing your visit to catch one of the multitude of events from pop concerts to opera and classical concerts that are staged here in one of Spain's most spectacular venues.
The acoustics really are superb. The best time to appreciate its exterior is in the warm light of sunset, with a bar on hand at the entrance for sundowners.
La Noria
Easily the most charming historical quarter in the city. Wonder at the pastel-hued buildings and ease around streets where the centuries peel back.
La Noria is also the epicentre of the annual Carnival (more on that later) with many of the vibrant Carnival societies housed here.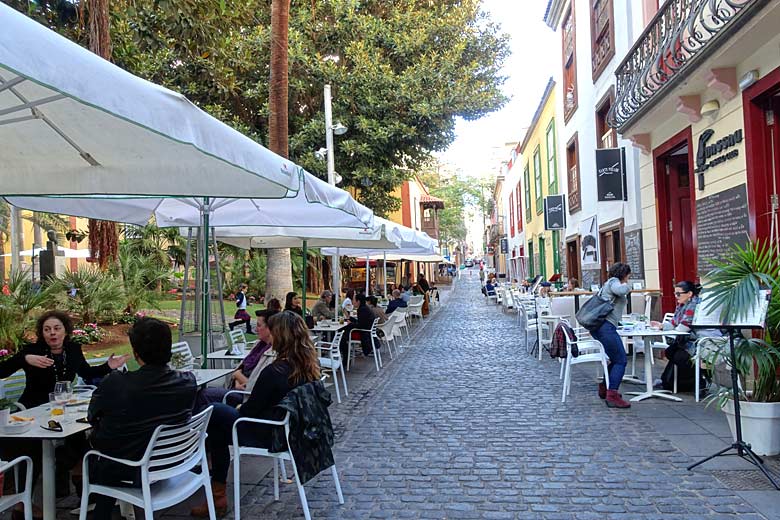 Ask politely and they may welcome you in for a coffee or, more likely, something stronger. To find where to go just follow the music billowing out from an ajar wooden door.
La Noria is alive with cafés, bars and restaurants too. Many visitors just pop here for a look and then linger on much longer.
Parque Maritimo Cesar Manrique
Manrique was the most visionary architect in the history of the Canaries, leaving his beguiling legacies all over the archipelago. This leisure oasis is a glorious alternative to a dip in the ocean.
Enjoy a swim in one of the beautifully designed pools, which work with nature rather than fight against it. It's a glorious place to just relax for a while right in the heart of the city.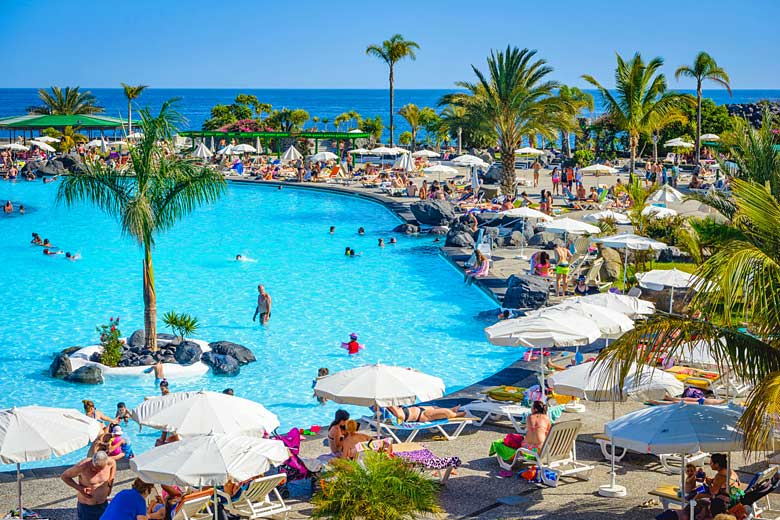 There are sun loungers and you can enjoy a glass of Tenerife's seriously improving wines. Pop into the adjacent Planetum, which has a collection of palm trees up there with anywhere else in the world.
This oasis spreads its green tentacles across 12 acres. Take time to check out the different species and idle on a bench as a waterfall splashes amongst the swaying palms nearby.
Museums to enjoy
As the island capital Santa Cruz de Tenerife is home to its best range of worthwhile museums. The Museo de Bellas Artes has a heritage stretching back over a century, with a classic collection of Canarian, Spanish and Flemish masters.
The Museo de la Naturaleza y el Hombre is another essential stop, spreading its collection across a trio of floors. The focus is on natural sciences with a liberal sprinkling of archaeology in the mix.
Some of the most fascinating exhibits tell the story of how Mount Teide, Tenerife and Spain's highest mountain at 3,718 metres, literally burst into life. What you learn about Tenerife's indigenous people, the Guanches adds a whole different perspective to a visit to this holiday island.
It is not just Tenerife you learn more about here as the inclusive archaeological collection sweeps around the other Canarian islands too.
Looking for an affordable city break? Don't miss our guide to the top 60 cheapest cities in Europe that you can visit in 2023/2024 for a great value escape.
Enjoy some TEA
If you visit one cultural attraction make it this one. Tenerife Espacio de las Artes is a joy, a sleek modern spaceship that looks like it has just landed in Tenerife's capital.
It uses a swathe of glass to sweep light around its triangular design. The Swiss architects who sculpted it (who also worked on London's Tate Modern) made it deliberately challenging and provocative, home for collections that are similarly avant-garde.
A trio of galleries have permanent delights, with an ever-changing roster of temporary exhibitions too. Look out too for arthouse showings in their cinema and also their on-site café.
Proper golden sand beach
Tenerife has more than its fair share of black sand beaches. Here just north of the city at Playa de las Teresitas the sands are golden, clean and inviting. It's said they are brought in from the Sahara.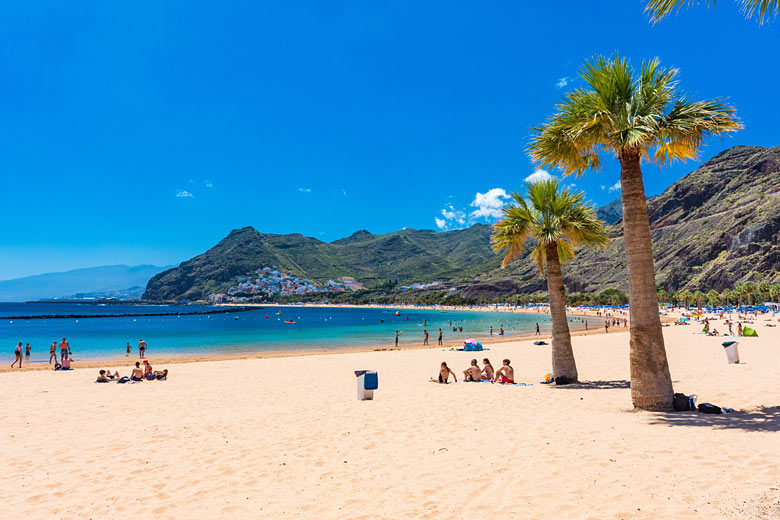 A favourite escape of city dwellers, the beach can get pretty crowded on a warm weekend afternoon: best head here midweek if you value your own space.
Snare one of the sunbeds early on as the authorities have made sure not too much of the beach is taken up by plastic loungers.
There is a small watersports section too. Families love it here as the breakwater not only helps keep the sands in place but fends off the roaring Atlantic breakers. The water is shallow a long way out, before dropping off sharply for swimmers.
The bus takes less than half an hour. Savour a seafood lunch overlooking the waters, before diving into that cobalt ocean. Bliss! The restaurants in the village of San Andres next to the beach are better than those on the sands.
Carnival!
Every year the island of Tenerife is taken over by serious Carnival fever in a tradition that probably has its roots way back beyond the days of written history.
The epicentre of the festivities is always Santa Cruz de Tenerife, which boasts the world's second-largest Carnival after Rio.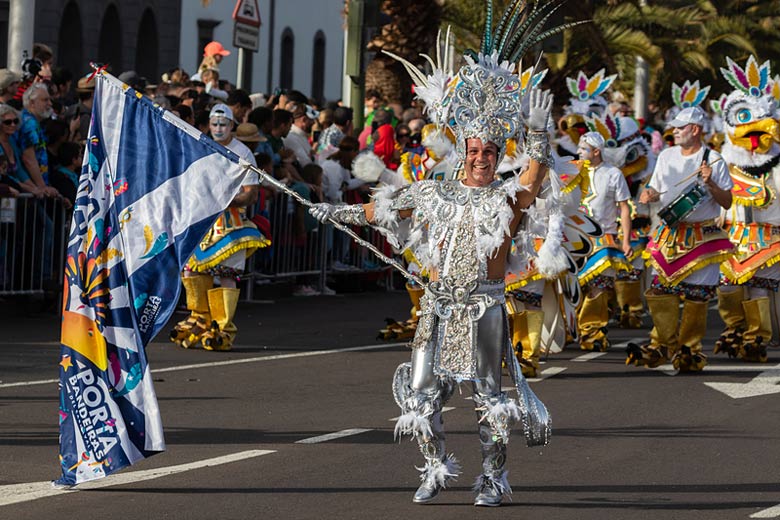 Even if you just experience it for a day, you won't forget the sheer frenetic energy and convulsions of it all; it's impossible not to get sucked in. Many locals party from dusk to dawn; you're more than welcome to follow suit if you've got the stamina.
Weather in Santa Cruz de Tenerife
| | Jan | Feb | Mar | Apr | May | Jun | Jul | Aug | Sep | Oct | Nov | Dec |
| --- | --- | --- | --- | --- | --- | --- | --- | --- | --- | --- | --- | --- |
| Maximum daytime temperature °C | 18 | | | | | | 26 | 27 | 26 | 24 | | |
| Hours of sunshine (daily) | | | | 8 | 9 | | | | 8 | | | |
| Days with some rainfall | | | | 5 | 3 | 2 | 1 | 1 | 3 | 5 | | |
| Sea temperature °C | | | | | | | 22 | | 24 | | 22 | |
The above guide shows the weather in Santa Cruz de Tenerife. Find out more about conditions across the island in our complete guide to the weather in Tenerife.
Ready to discover Santa Cruz? Check out the latest offers on itineraries to Tenerife and the Canary Islands with Marella Cruises today.
More about Tenerife
Jan Feb Mar Apr May Jun Jul Aug Sep Oct Nov Dec
Explore holidays in the sun for less
Be inspired
Get your weekly fix of holiday inspiration from some of the world's best travel writers plus save on your next trip with the latest exclusive offers
We promise not to share your details
Related posts