11 places to escape to in Hong Kong
Check the latest travel advice and current Covid-19 rules and restrictions by country.
Hong Kong is a city on steroids. It does 'city' like no other, with its constant hustle, looming skyscrapers, shiny malls, and almost-constant mass movement of businesspeople, shoppers, tourists and locals.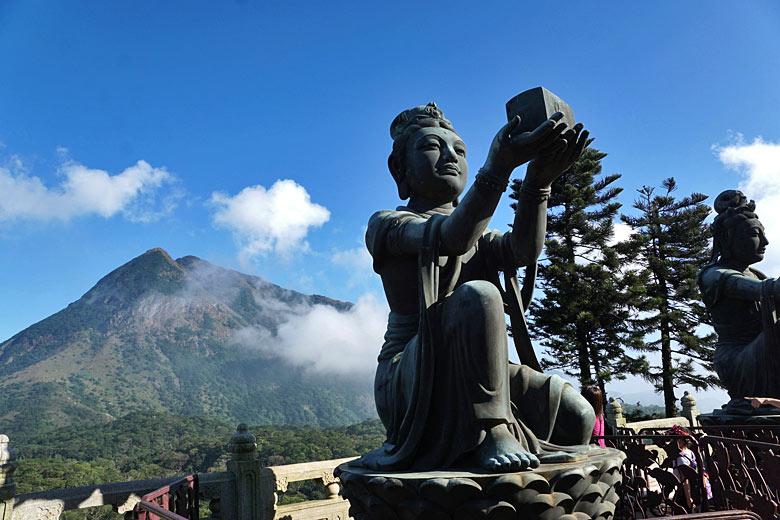 It's also one of the most accessible cities from London with flights from Virgin Atlantic* whisking business and leisure travellers to its bright lights in around 12 hours.
For all its high-end shops, luxury hotels, fine dining and rooftop bars, this is no glitzy metropolis without a heart, however. Ancient Chinese traditions still permeate Hong Kong life, and there's even a sense of calm and space - if you choose to look for it. Here are 11 places to escape the urban frenzy.
1. Go high, New Territories
At 957 metres high, Tai Mo Shan is Hong Kong's highest peak, although it's often obscured from city views by clouds, and the hike up is well worth it for the views. Start at Tai Mo Shan Country Park Visitor Centre, grab a map, make sure you have enough water (and time), and take the uphill path along Tai Mo Shan Road all the way to the lookout. It's the perfect spot from which to admire the countryside that surrounds Hong Kong.
2. Beach time, Lantau Island
It's hard to beat three-kilometre-long Cheung Sha Beach if you're after a long stretch of sand to relax on. On the southern section of Lantau Island, a rocky outcrop separates Upper Cheung Sha from Lower Cheung Sha, and the patch is home to a handful of beachside restaurants as well.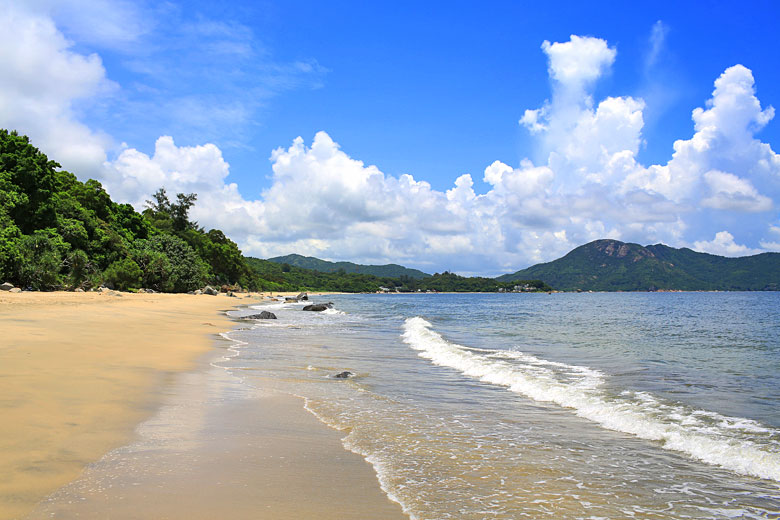 If you're heading to Lantau, you may want to combine a beach trip with visiting Big Buddha (Tian Tan Buddha), Tai O fishing village, and a scenic ride on the Ngong Ping 360 cable car.
3. Old Hong Kong, New Territories
If you really want to escape the city, take a trip to Plover Cove Country Park in the northeast New Territories. You can do a guided hike from the village of Wu Kau Tang and along the way, you'll even get views over mainland China.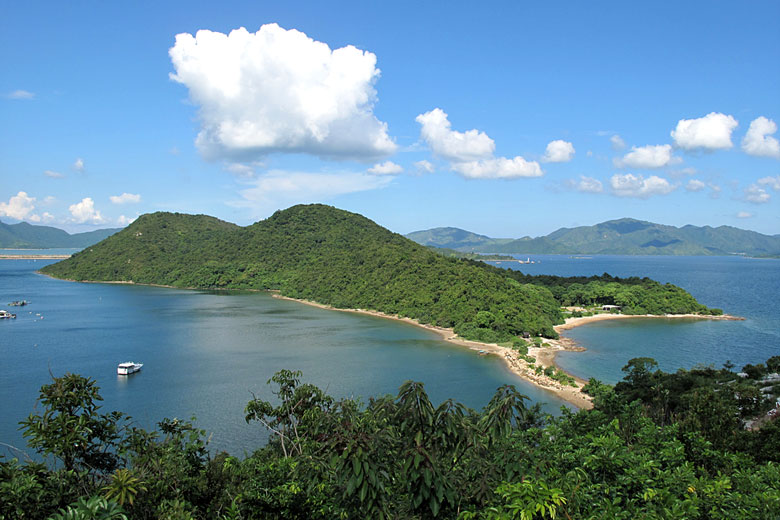 This is a chance to see old Hong Kong; the ghost village of Lai Chi Wo, now-abandoned rice paddies, Hong Kong's oldest feng shui woods, lush waterfalls and streams, and ancient geological formations. It's one of the best examples you'll find of Hong Kong at its most pristine and rural.
4. Green fix, Kowloon
If Kowloon and its buzzing neighbourhood of Tsim Sha Tsui becomes too frantic for you - after all, this is classic Hong Kong, packed with markets, shops and a relentless flurry of people - take time out in the green surrounds of Kowloon Park.
It has plenty of places to find respite, but the lotus pond and calm vibes of the Chinese Garden are particularly enticing. The park also has a long, sheltered walkway so you can get your green fix in almost any weather.
5. Hong Kong UNESCO Global Geopark, New Territories
Covering over 150 square kilometres of the eastern and northeastern New Territories, one of the best ways to appreciate the rocky coastline of this area is on a guided Geopark Boat Tour past the Sai Kung islands.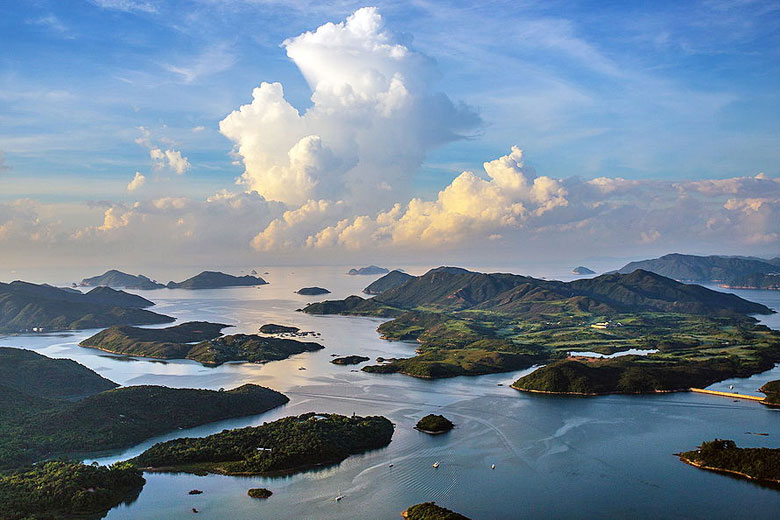 Those towering basalt sea stacks of the Sai Kung Volcanic Rock Region are what this area is famous for, and the volcanic rock formations, sea caves and spectacular scenery make it worth the trip out.
6. The Peak, Hong Kong Island
Most people head to The Peak, the highest point on Hong Kong Island, on the much-loved trolley tram and come back on it, but you can also hike down (you can hike up too, but it's quite the slog).
You'll enjoy fantastic views on the Peak Circle Walk, which winds around the highest point in town, or if hiking down isn't your thing, there are well-marked nature walks around the summit. Take a picnic, hat, shades and good shoes, and you can easily make a day of it. And of course, you'll enjoy thrilling views over the harbour and New Territories.
7. Victoria Park, Causeway Bay, Hong Kong Island
Hong Kong's largest public space, Victoria Park is popular with everyone from local office workers to early morning tai chi practitioners. In fact, there's always something going on here, be it an afternoon football match or markets galore during Chinese New Year celebrations.
At 19 hectares in size, you'll also find a spot that's crowd-free; try the walking trail or head to the lake to escape the noise of the city.
8. Island getaway, Cheung Chau
With traditional villages, bobbing fishing boats and no motorised traffic, the tiny island of Cheung Chau is the ultimate getaway from the city proper. It's also home to the 'Mini Great Wall' path, part of the Cheung Chau Family Trail, and walkers will love the coastal views and geology en route.
Many visitors who head this way also factor in time to see Cheung Po Tsai Cave and the giant rocks that stand nearby, the largest of which is Reclining Rock.
9. Dragon's Back hike, Hong Kong Island
Time magazine described the Dragon's Back as the 'best urban hike in Asia' for its accessibility from the city and coastal views.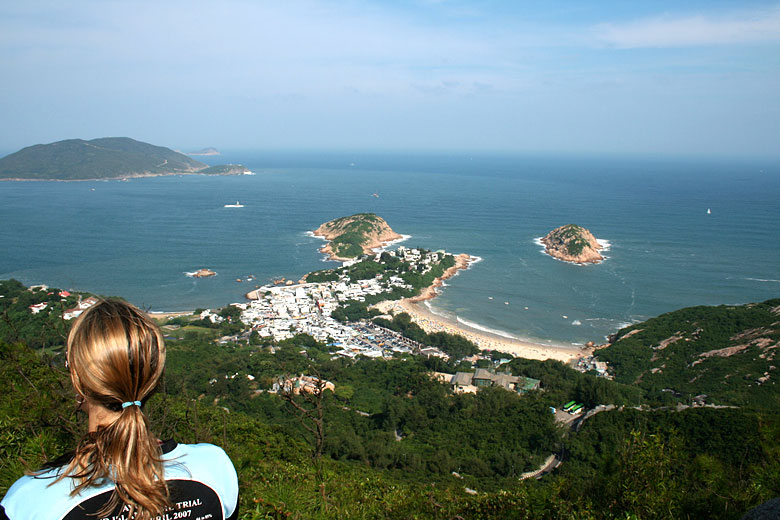 The 8.5-kilometre trail is wonderfully varied too, starting with bamboo groves and shaded woodland, before arriving at the first viewpoint over Shek O Peninsula as you make your way to the mountain ridge of Dragon's Back itself and ending at Big Wave Bay. Take plenty of water and a hat, as there's little by way of shelter or cafés en route.
10. Step back in time, Lamma Island
Lamma's fishing industry might not quite be what it once was, but the island's soul is inextricably tied to its seafaring history.
While it might sound twee, Lamma Fisherfolk's Village is one way of experiencing what life was once like on this pretty island of coastal villages and wetland reserves. Run by a Lamma resident and former fisherman, visitors can try their hand at fishing, weaving, and hauling a catch in on traditional fishing nets.
11. City respite in Kowloon
If you're exploring old Hong Kong in Kowloon, take a break in Nan Lian Garden, a Tang Dynasty-style garden in Diamond Hill. Beautifully landscaped over 3.5 hectares in the middle of the city, each and every plant, water feature and hill is in its place for a reason, according to strict aesthetics.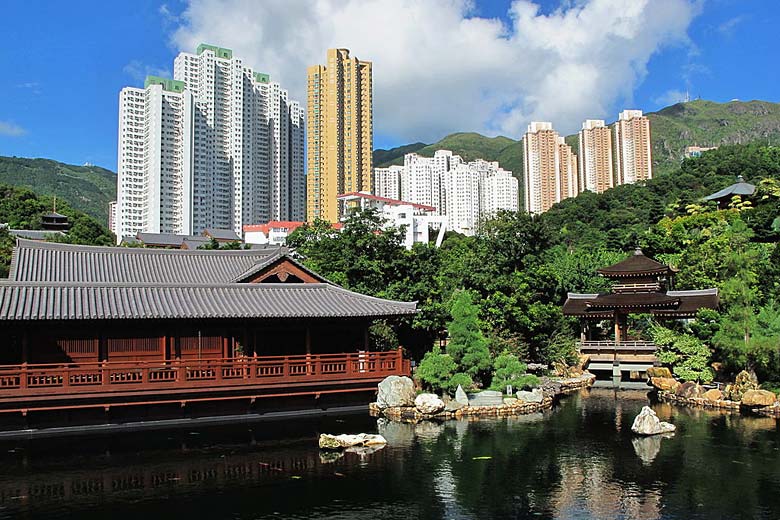 There are bonsai trees, a lily pond and plenty of sheltered spots for a moment of peace and quiet. Across the road is the Chi Lin Nunnery and Buddhist retreat.
Is Hong Kong on your hot list? Whether you're heading to this remarkable city for work or play, there's always time to get out and about in its precious green spaces. Check out the latest deals on flights to Hong Kong direct from London Heathrow with Virgin Atlantic, plus see what the weather in Hong Kong is like, and when we think is the best time to go.
More about Hong Kong
Jan Feb Mar Apr May Jun Jul Aug Sep Oct Nov Dec
Be inspired
Get your weekly fix of holiday inspiration from some of the world's best travel writers plus save on your next trip with the latest exclusive offers
We promise not to share your details
Related posts
*affiliate links: find out how we are funded and why this helps us remain free to use.