Finding adventure in South Africa's northwest frontier
*affiliate links: find out how we are funded and why this helps us remain free to use.
"The thing is," Mitch Lance, our reassuringly-unflappable, bush-hat-clad guide said as he unpacked one bottle after another, building a mini bar on the camping table he'd delicately covered with a cloth, "it's like this: if you throw a ball for a dog, the dog chases the ball; if you run from a lion, you become the ball."
Taken with the simplicity of this logic, I edged back towards the open-sided Land Cruiser clutching my glass of crisp Chenin Blanc, scanning the bushes for shifting shadows in the dusky light.
For we were standing deep in the wilds of Madikwe Game Reserve, the sun setting as we took a mid-game-drive leg stretch with a tipple, having just passed a cheetah tucking into an unfortunate springbok.
It was almost too much to believe that only 24 hours had passed since we touched down into the throng of Johannesburg; but that was also very much the point: to prove that you don't have to travel too far from South Africa's biggest city to feel a whole world away.
Getting to Johannesburg: check out the latest offers on flights to Johannesburg with Virgin Atlantic*, which operates daily flights from London Heathrow.
Setting the scene
Johannesburg has come a long way since gold was first discovered in 1886. From a ramshackle mining settlement to the continent's wealthiest urban centre, it's a thriving multi-cultural metropolis.
It's also the capital of Gauteng province, which is both the smallest of South Africa's nine regions as well as the most densely populated, thanks largely to Johannesburg.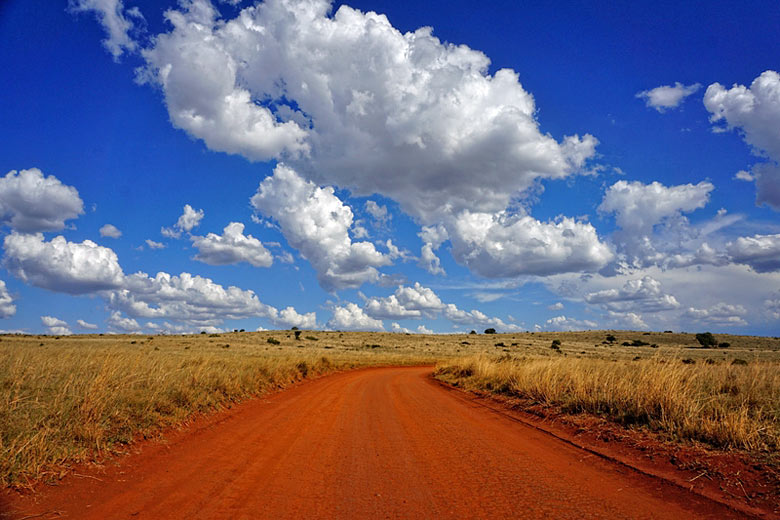 Mining remains big business here. In Gauteng alone, you'll find the world's largest gold mine as well as platinum mines, a huge diamond mine and one of the biggest uranium mines in South Africa. It's a similar picture in neighbouring North West province, too.
But away from the heavy industry, there's a patchwork of fields and open, fertile valleys where crops such as sunflowers and tomatoes grow and ranches rear livestock against the backdrop of gentle mountain ranges.
Then there's the pre-historic history, wonderful wildlife and stylish abodes that can be found in South Africa's northwest frontier. Here, we share just some of the life-affirming days out and adventurous experiences you can do from Johannesburg to discover it for yourself.
Soweto on two wheels
Technically, today, this is part of Johannesburg but with a population close to two million and a distinct cultural identity, it could be argued that Soweto is a city all of its own.
Soweto was established in the 1930s when the government began actively separating the black and white communities, with many blacks forced out of Johannesburg to the new township.
Despite growing into the largest black city in South Africa, its inhabitants were initially only given temporary resident status, regardless of the fact that many were relied upon as labour to mine the riches beneath the growing city.
It came to be a place of resistance and protest against apartheid, none more so than the Soweto Uprising of 1976, in which unarmed school children peacefully protesting against the government's plans to make Afrikaans the official language in schools were shot dead by police.
This was a seismic event not just within South Africa but internationally and it led to widespread condemnation and further sanctions against the apartheid government. While South Africa is a united country today, many social problems remain and Soweto is where you will see first-hand the inequality of wealth as well as the legacy of racial segregation.
While some of the township's finest houses have manicured lawns and fancy gated driveways, others, around three thousand households, are yet to receive running water and still share a toilet with their neighbours.
But Philly Malepa, our expert bike tour leader and brother of the founder of Lebo's Soweto Backpackers, grew up in Soweto and knew just where to take us behind the scenes.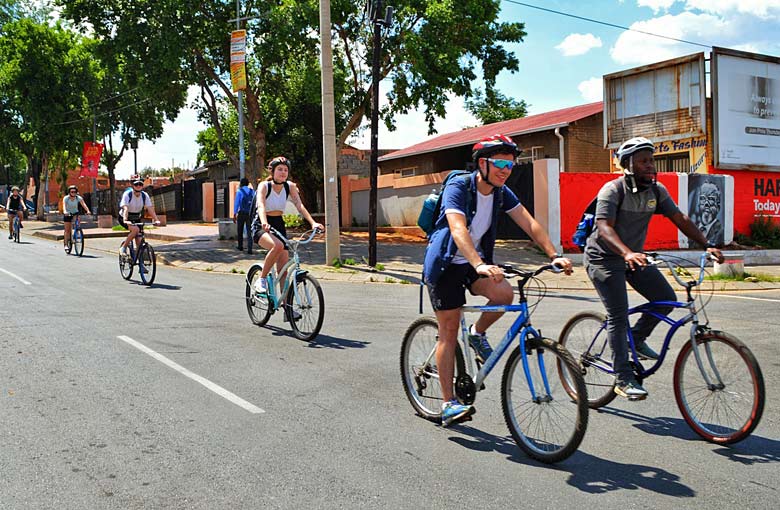 Follow him on two wheels to see what life in Soweto is really like. I confess to feeling apprehensive about peering into people's lives this way but Philly assured us that people in Soweto want their stories told and tourists are welcome; not just because they bring money and create jobs but because visitors can be ambassadors, too.
Warmth radiated from Philly as he described growing up in Soweto where, for all the hardships, there remains a palpable sense of community.
You'll pass enterprising backyard businesses, noisy nurseries and veggie patches as you cycle towards Mandela House, the former residence of the great Nelson Mandela, now a small museum, and past that of Desmond Tutu's as well.
The bike tour also includes a poignant stop at the Hector Pieterson Museum and memorial, which remembers the children killed in 1976.
The two-and-a-half-hour tour concludes with a tasting of the sharp, traditional beer and a hearty homemade lunch, well earned after all that pedalling.
Embark on a sunrise ascent
Set those alarms nice and early to reach Bill Harrop's Original Balloon Safaris. After a warming cup of tea on arrival, you'll soon be soaring high in the hands of an experienced balloon aeronaut (pilot, to you and me).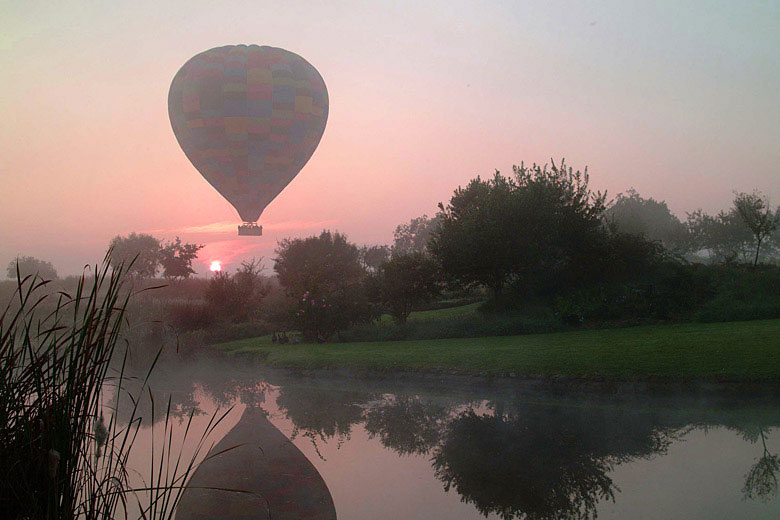 Surprisingly peaceful even with the fiery roar of the burner overhead, you'll glide through the open expanse of the Magalies River Valley as the sun glints off the Magaliesberg mountain range and skittish impala scamper below.
Once back down with the most gentle of bumps, you'll be treated to a glass of fizz, decadent at 7.00 am, and after the balloon is swiftly packed away by the waiting ground team, you'll be bounced back to the lodge for a filling breakfast to complete your morning.
Go back to the beginning
Travel just 35 km northwest of Johannesburg and you'll find yourself in what is thought-provokingly known as the Cradle of Humankind. This mind-boggling paleoanthropological UNESCO site really is as important as its name suggests.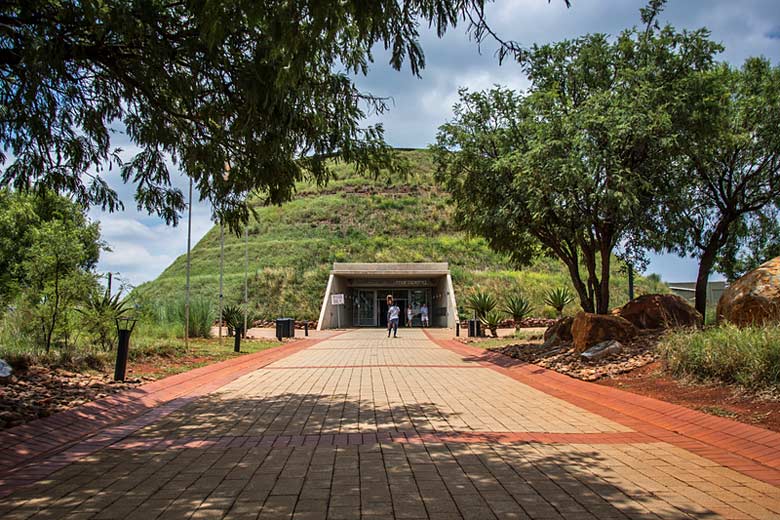 Made up of the Maropeng Visitors Centre, numerous fossil sites and underground limestone cave systems, it's where some of the earliest known pre-human life forms have been unearthed.
From hominids (our primate ancestors) and animal fossils to those of sabre-toothed cats, reptiles and birds, not to mention evidence of the world's earliest use of controlled fire, it is understandably considered to be the place to pay homage to the birth of humankind. No small feat.
Please note: tickets to visit the Cradle of Humankind must be booked online in advance.
Wander among great creations
Step into a world of creative curiosities at the NIROX Sculpture Park. This ultra-refined and immaculately-tended outdoor gallery sees exhibits merge among the woodland, spread across lawns and around waterways alongside the Blaauwbankspruit River.
The park showcases a collective of contemporary international artists with no fewer than 50 permanent sculptures on display. You won't find any signs explaining the meaning behind the installations here though; it's up to you to interpret what you see.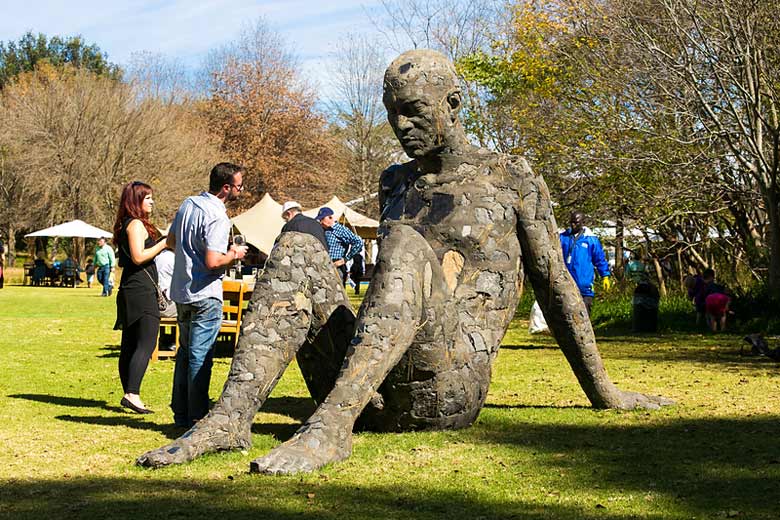 What's more, everything is left to naturally wither in nature. So, while the grounds are all beautifully looked after, the art itself is, quite symbolically, left to be reshaped by the elements.
Sit back on the grass with a picnic, enjoy lunch in the airy café or analyse every detail of each installation from rock art and statues to neon perspex, reflections and wooden constructions.
However you NIROX, keep your ears open for the birds whose calls fill the air and your eyes peeled for the monitor lizards that make their home among the artworks.
Stay: consider holistic hideaway Farmhouse58, just under an hour from Johannesburg. Less of a hotel, more of a lifestyle choice, this hillside residence grows its own produce and offers wellness workshops on yoga and meditation to name a few.
Rooms are all exposed brick, rattan lampshades and industrial bathroom fittings, while the communal areas, be it the music room or the hammocks slung around trees, encourage connectivity with others.
The restaurant plates up the finest fresh salads and grilled meat along with homemade juices and, of course, fine South African wines.
Swim in the resort that moved a generation
Much has changed since Artists United Against Apartheid sang "I ain't gonna play Sun City" in 1985.
In 1980, the United Nations slapped a cultural boycott on South Africa but many famous musicians, from Queen and Frank Sinatra to Status Quo and Elton John, were lured by the big bucks to play at this resort, which resided at the time in a nominally independent state of Bophuthatswana.
One of a handful of such states, it was pitched as a homeland for black residents but was not recognised internationally as it was a policy of the apartheid government. Sun City became a beacon of everything that was wrong with apartheid and the artists who performed there were seen as complicit.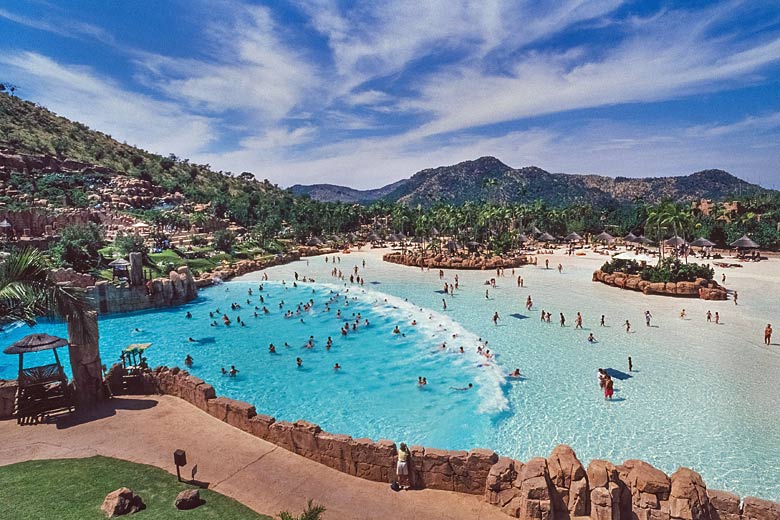 The band Artists United Against Apartheid was made up of some 50 renowned musicians such as Bruce Springsteen, Lou Reed and Ringo Starr, who came together to protest through music against what Sun City, and those who played there, represented.
Today, Sun City is a bustling luxury holiday resort, popular with locals and tourists looking to escape the city. There are four hotels, a giant water park and the chance to enjoy a spa treatment, go golfing and even see the Big Five in Pilanesberg National Park. Just spare a thought for the weight of history that Sun City also carries.
Getting around: hiring a car is always a good idea but if you'd prefer to let the locals take the wheel, get in touch with Aahaah Shuttle & Tours, which can organise excursions of any duration from Johannesburg.
Make for Madikwe
When it comes to taking a safari, most people head to the country's largest reserve, Kruger National Park. This vast expanse, close in size to Wales, pulls in more than 1.5 million visitors each year.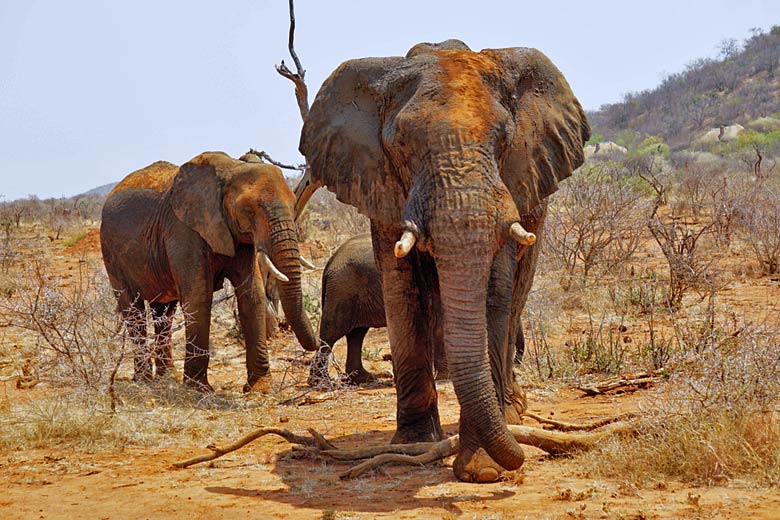 But why do the same as everyone else? Especially when there's a much quieter, more compact park where endangered wild dogs and some one thousand elephants are the stars of the show.
Madikwe Game Reserve is a privately-owned, hunting-free, conservation park. The fifth-largest in the country, it was founded in 1991 when it was decided that the land, previously used rather unsuccessfully for farming, should be given over to the protection of South Africa's Big Five, among many other species, while also benefitting the local area through tourism.
Sitting tight against the border with Botswana, Madikwe Game Reserve is a four-and-a-half-hour drive from Johannesburg and you'll want to plan ahead as day visitors are not permitted. Book your stay with one of the lodges and you'll be treated to both an evening and morning game drive.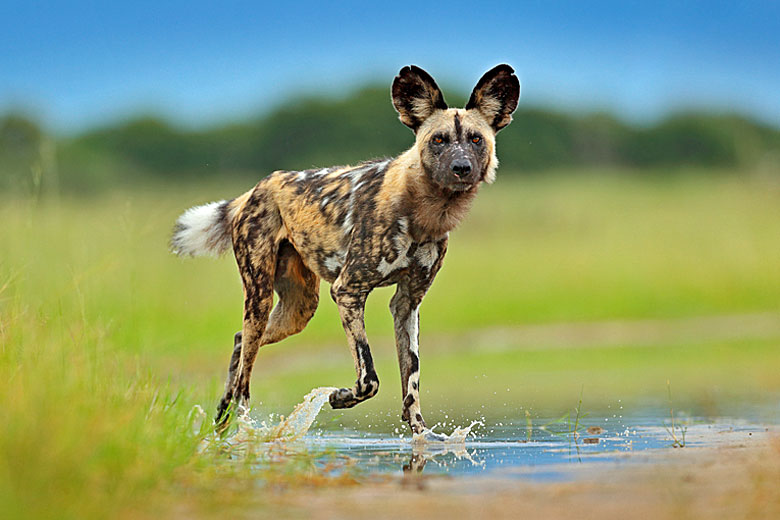 Cruise the scrubby bushland past wildebeest, warthogs and zebras while giraffes glide by on the horizon and kudu, springbok and impala watch on. Drives typically include stops where you can stretch your legs and enjoy a drink in the wilderness.
The best bit? You're likely to have much of it to yourself, the memory of which will linger long after you've left.
Stay: check in to Madikwe Safari Lodge, a mighty-fine family of three properties with something for everyone.
Families should head to the Lelapa, where children can delight in watching elephants splash and frolic in the watering hole metres from the pool.
Meanwhile, couples will want to aim for Dithaba, the refined adults-only arm of the lodge, where each of the four villas has its own private pool, outdoor shower and use of the laidback lounge, restaurant and infinity pool.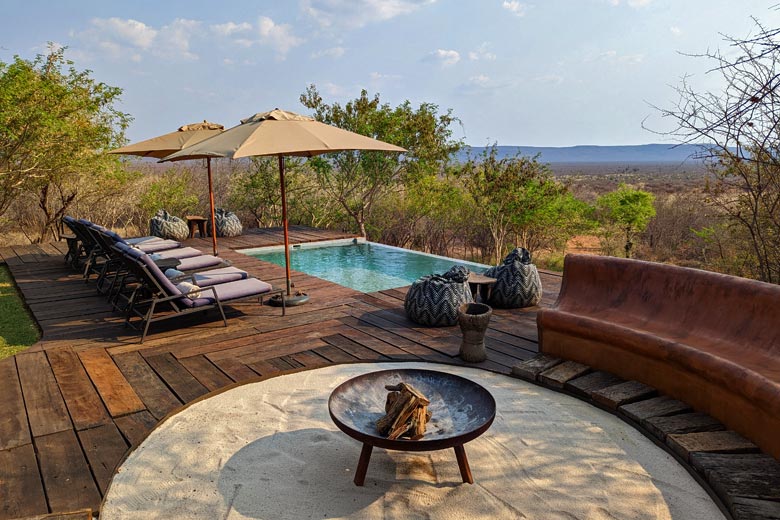 However you chose to explore South Africa's northwest frontier, you're sure to find a moment to remember, reflect and perhaps appreciate how brief our time is, especially if you were unfortunate enough to be in the unlikely event of being pitted against a fast-moving lion.
Weather in Johannesburg
| | Jan | Feb | Mar | Apr | May | Jun | Jul | Aug | Sep | Oct | Nov | Dec |
| --- | --- | --- | --- | --- | --- | --- | --- | --- | --- | --- | --- | --- |
| Maximum daytime temperature °C | | | 25 | 22 | 20 | 17 | 18 | 20 | 23 | 24 | 25 | |
| Hours of sunshine (daily) | | | | | | | | | | | | |
| Days with some rainfall | 14 | | 11 | | 3 | 2 | 1 | 2 | 3 | | 13 | 14 |
The above shows the weather in Johannesburg. You can find out more about conditions across the country in our complete guide to the weather in South Africa.
Ready to discover South Africa? Check out the latest offers on flights with Virgin Atlantic and book your seat today.
Please note: Weather2Travel.com visited South Africa with the support of South African Tourism in October 2022. All views expressed are those of the writer.
More about South Africa
Jan Feb Mar Apr May Jun Jul Aug Sep Oct Nov Dec
Explore holidays in the sun for less
Be inspired
Get your weekly fix of holiday inspiration from some of the world's best travel writers plus save on your next trip with the latest exclusive offers
We promise not to share your details
Related posts