10 things to see and do in Santiago, Chile
Check the latest travel advice and current Covid-19 rules and restrictions by country.
With British Airways' launch of direct flights between London and Santiago*, there is no better time to explore this South American gem. Located in Chile, the longest and thinnest country in the world, Santiago is a great winter sun destination, with its hottest months falling between December and February.
1. Visit La Chascona
Nobel-prize winning Chilean poet, Pablo Neruda, built this higgledy-piggledy house at the foot of Cerro San Cristobal for his lover, and named it La Chascona after her long, flowing red locks (chascona means "wild mane of hair" in Chilean Spanish). One of the poet's three houses, and the only one in Santiago, La Chascona is now run by the Pablo Neruda Foundation. Learn about the life of one of Chile's most famous literary sons and explore the house and its garden's quirky style, straight out of a fairytale.
2. Soak up some culture
Learn more about what life was like under the dictatorship of General Augusto Pinochet at the Museum of Memory and Human Rights, which commemorates the victims of abuses during his 17-year regime. At the Museum of Pre-Columbian Art, delve into the rich history of South America before the arrival of Europeans. The museum houses a wealth of artifacts from across Central and South America, including a vast collection from indigenous inhabitants of Chile, and relics from the Mayan and Incan civilizations.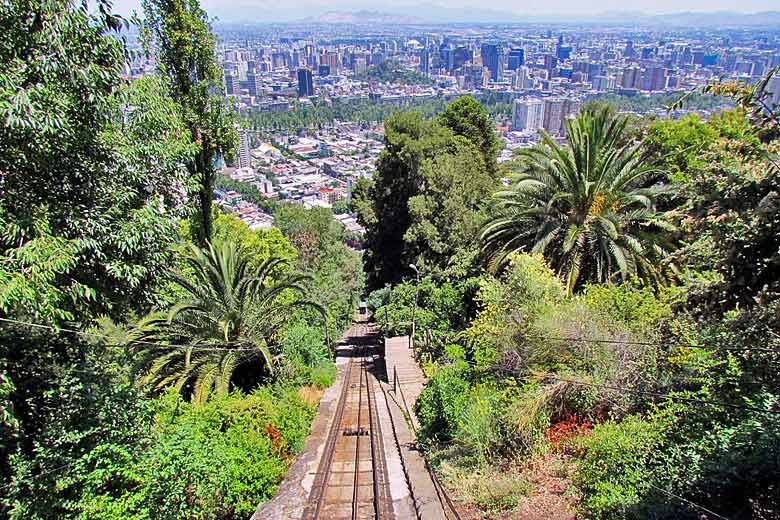 3. Enjoy the view
Take the 92-year-old funicular to the top of Cerro San Cristobal (St. Christopher's Hill), which soars 300 metres above Santiago. As well as spectacular views, the hill is home to the Chilean National Zoo, a Japanese-style garden, and two public swimming pools. From the base of the 22-metre statue of the Virgin Mary, which is lit up at night and visible from across the city, gaze out over downtown Santiago, the skyscrapers of the financial district - 'Sanhattan' - and the towering Andes just beyond.
4. Eat at Mercado Central
Santiago's wrought-iron central market, opened in 1872, is the ideal place to experience a Chilean lunch: fresh fish and seafood washed down with the country's signature cocktail, a pisco sour. Chile's long Pacific coastline gives it some of the world's best and most plentiful seafood, so you can sample everything from scallops, mussels and langoustines to huge tunas and hakes. Tourist restaurants populate the centre of the market, while joints more popular with locals are scattered around the edge.
5. Experience an earthquake
Chile is no stranger to earthquakes, but there is a much safer way to experience the earth tremble... and that is with one of Santiago's most infamous drinks. A mixture of white wine and grenadine with a generous scoop of pineapple ice-cream on top is a terremoto or earthquake, a favourite in the Santiago institution of La Piojera (The Flea Pit). Be careful, though, the pint-sized concoction really can make the earth shake... The more risk-averse might want to opt for a half-pint replica (after shock).
6. Shop for souvenirs
Los Dominicos craft market is set in the foothills of the Andes in the Las Condes neighbourhood of Santiago. Over 200 stalls offer a huge range of hand-crafted products, from beautiful leather bags and wooden trinkets to the famous alpaca wool ponchos and jumpers of the region. The intricate jewellery is particularly worth a look, especially the deep blue lapis lazuli, extracted from the Andes. It's a great place to pick up souvenirs, and sample some typical Chilean snacks at one of the food stalls.
7. Visit Mapocho Station
Built in 1905, the imposing station was for many years a bustling transport hub, with trains to the Pacific coast, the far north of Chile, and even as far as Argentina. It was declared a National Monument in the seventies, and in the 1990s was converted into one of Santiago's premiere cultural spaces, with the former tracks now a huge central space that hosts everything from operas and pop concerts to art exhibitions and markets.
8. Enjoy a walk in the park
Stroll through Parque Forestal, a central park that hugs the Mapocho River and snakes past the National Museum of Fine Arts. Make sure to stop off at Emporio La Rosa, one of the best ice-cream parlours in Santiago, where you can sample local flavours like chirimoya (a sweet, white fruit), and dulce de leche or more unusual fare like rose water and black pepper. A stone's throw from the park is the hip Lastarria neighbourhood, home to art house cinemas and galleries and a host of cool bars and restaurants.
9. Take a winery tour
Chile is world-famous for its wines, and you don't have to stray too far from Santiago to explore some world-class wineries for yourself. The Canjón del Maipo, to the southeast of the city, is home to the Concha y Toro winery, about an hour and a half away from central Santiago on public transport. Founded in 1883, Concha y Toro offers guided tours that encompass the vineyards, wine cellars and end with an all-important tasting. The vineyard also has its own wine bar and restaurant.
10. Head to the slopes
Valle Nevado is a mere 35 miles east of Santiago, and the city's local ski-resort. It can easily be done as a day trip from Santiago by car or public transport. Visitors to Chile during the UK's summer have hit the height of South America's ski season. The resort has a ski and snowboard school, equipment rental, and even a heli-skiing experience for adrenaline junkies. There are few more "pinch me" experiences than hitting the powder on the slopes of the Andes.
If Santiago sounds like your kind of winter sun city break, check out the latest deals on direct flights from Heathrow with British Airways. You can also keep an eye on the weather in Santiago, and see when we think is the best time to go.
More about Santiago
Jan Feb Mar Apr May Jun Jul Aug Sep Oct Nov Dec
Be inspired
Get your weekly fix of holiday inspiration from some of the world's best travel writers plus save on your next trip with the latest exclusive offers
We promise not to share your details
Related posts
*affiliate links: find out how we are funded and why this helps us remain free to use.