Best holiday destinations in November
*affiliate links: find out how we are funded and why this helps us remain free to use.
Craving a pre-festive-madness escape? Look no further. We've selected five of the very best places with loads of sunshine and great weather in November.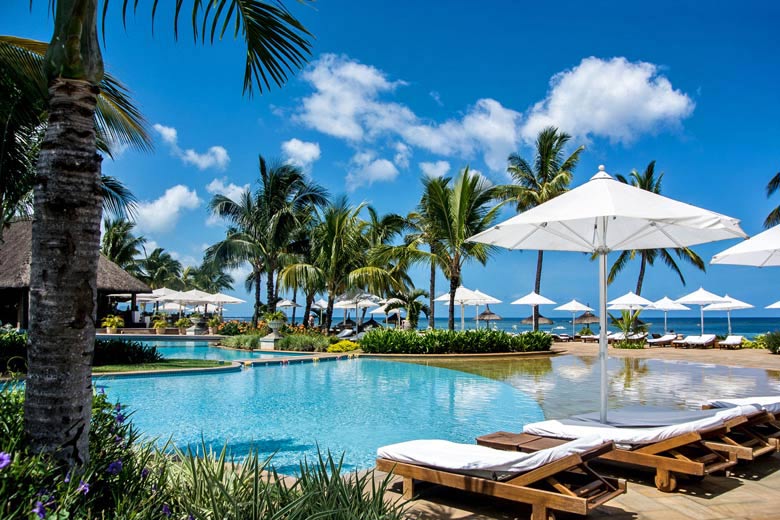 As any residual heat in Europe will have packed up by November, if you're after some really hot weather, you'll inevitably be in for a mid to long haul flight. There are, however, still a few destinations within four to six hours offering warm and sunny conditions.
Top five destinations to visit in November
In a bid to offer some variety, we've selected a few destinations with warm-to-hot and sunny weather at this time of year. Five of our favourites include:
1. Cyprus
Flight time from London: 4.5 hours
Daily high: 22°C
Daily hours of sunshine: 7
Sea temperature: 22°C
Cyprus in November is quite the delight with warm, sunny days but cooler evenings.
It's certainly not the place for a beach break or for swimming in the sea - although some might manage it! - but it is ideal for enjoying some finer conditions in under five hours from the UK.
The weather in November is comparable to Bournemouth in July and August, which gives you a good sense of what to expect.
Do pack extra layers for evenings, and if swimming is a priority opt for a hotel with a heated pool.
Given the ample supply of sunshine and warm temperatures, November is a great time for getting out and about, exploring the island.
Head for a hike in the Troodos Mountains or meander along the coastline sampling local fresh catches in some of the island's best seafood restaurants.
If the weather takes a turn check out the various mosques, monasteries, and castles that dot the island or head for the Paphos Archaeological Park to set your sights on ancient Roman ruins.
Recommended for Cyprus
More about Cyprus
2. Gambia
Flight time from London: 6.5 hours
Daily high: 34°C
Daily hours of sunshine: 8.5
Sea temperature: 28°C
This sliver of a west African nation is increasingly popular and by far the hottest destination in our pick of destinations with great weather in November.
Gambia is a vibrant, colourful place with lots to offer holidaymakers, from sights and activities to seaside resorts and some fantastic conditions.
By November, you can expect to find up to very high heat and humidity, but don't be put off: there's also plenty of sunshine, and warm waters ideal for swimming (although those with little ones or who aren't too confident may want to book a hotel with a pool as the Atlantic can get a bit choppy).
You'll enjoy long days with plenty of sunshine and only the odd bit of cloud cover.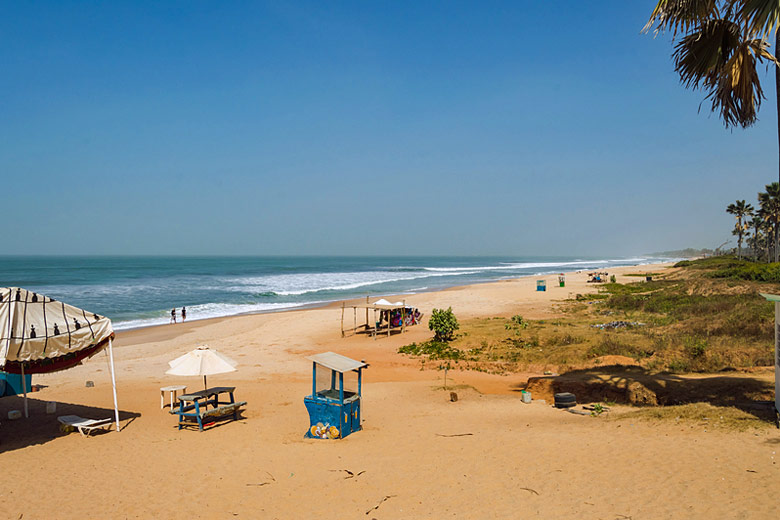 Get up close with the local inhabitants of the River Gambia National Park, made up of five islands and home to everything from baboons and birds, to crocodiles and hippos.
Consider a stay at the Chimpanzee Rehabilitation Project, where you can take boat trips to see the many resident chimps and so much more wildlife.
Recommended for the Gambia
More about the Gambia
3. Dubai, UAE
Flight time from London: 7 hours
Daily high: 31°C
Daily hours of sunshine: 8.5
Sea temperature: 28°C
November is quite possibly the best month to visit Dubai in terms of its weather. You'll revel in delightfully hot conditions, clear blue skies and balmy sea temperatures idea for getting stuck into the numerous water sports available.
Although heat and humidity remains high, it's not a patch on the extreme levels reached during the summer months, so if you're looking for some serious heat, this is probably the place for you.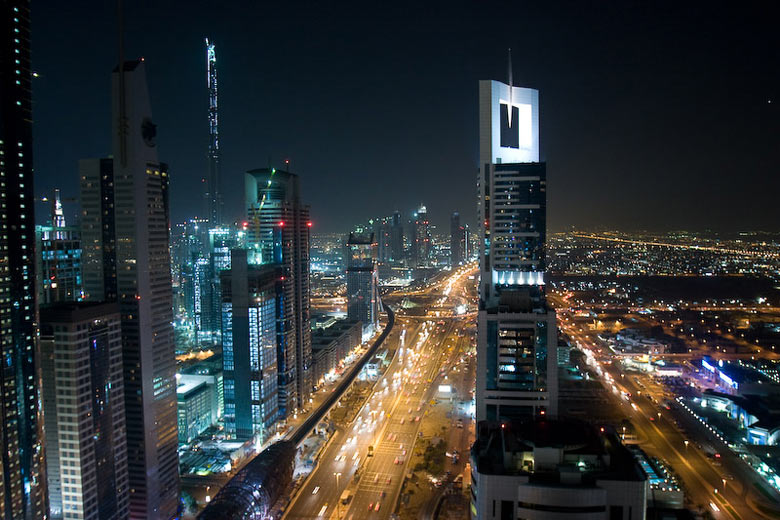 As well as being a world class beach holiday destination, you'll find a million-and-one other activities on offer for all travellers, be it couples, families or groups.
Check out Aquaventure water park at Atlantis The Palm Dubai for a fun-filled day out or hit the shops in Dubai Mall, the world's largest indoor shopping facility.
Recommended for the UAE
More about the UAE
4. Cape Verde
Flight time from London: 6 hours
Daily high: 28°C
Daily hours of sunshine: 7
Sea temperature: 26°C
Cape Verde is, quite simply, a wonderful holiday destination in November. The collection of 10 volcanic islands, nine of which are inhabited, all offer something a little different.
The great weather in November ensures it's a place you'll love: daytimes are hot dropping by no more than around 2°C after dusk, which means evenings are warm too.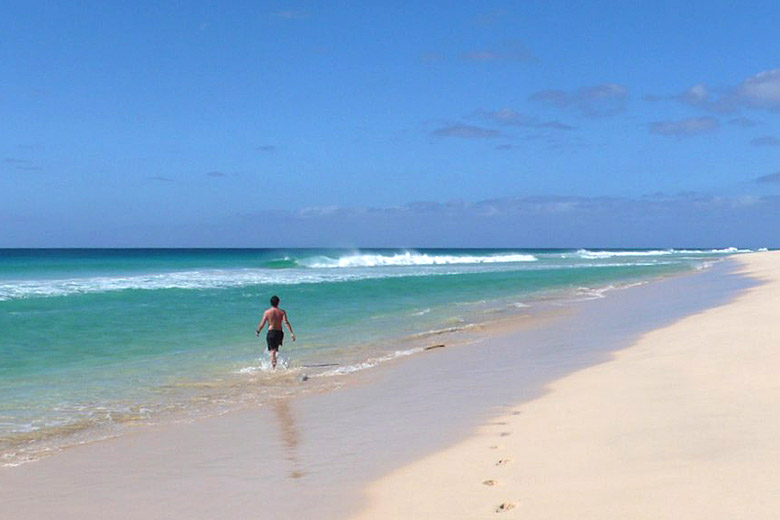 You'll also find that the sea is pleasant, there's hardly any rain, and only a moderate level of heat and humidity, although UV is very high, so think skin protection.
While there's loads of sunshine to be had, you could also see some high passing cloud, but thanks to the Atlantic Ocean breezes this doesn't tend to linger.
Overall, November is one of the best times to visit Cape Verde, and it is a truly delightful spot for a beach holiday.
Recommended for Cape Verde
More about Cape Verde
5. Gran Canaria, Canary Islands
Flight time from London: 4.5 hours
Daily high: 24°C
Daily hours of sunshine: 6.5
Sea temperature: 22°C
Located just over 90 miles off the coast of northwest Africa, Gran Canaria has long attracted holidaymakers all year round, and for good reason.
In the summer, it welcomes sun worshippers and party animals keen to enjoy the reliable weather, while everyone from hikers and water sports enthusiasts to golfers soak up the natural beauty and climate of this exciting island at other times of the year.
Gran Canaria is the warmest destination within easy reach of the UK, making it perfect for those not keen on long haul flights or who are perhaps travelling with young children.
Top tip: while there's no heat and humidity at this time, it's worth remembering that although Lanzarote and Fuerteventura may bask in a touch more sunshine, places such as Maspalomas in southern Gran Canaria, are easily a degree or two warmer, if not quite as sunny.
You'll experience some truly magnificent weather in November - not necessarily great for a beach holiday and if you fancy a swim, definitely look for a hotel with a heated pool. However, it offers idyllic conditions for walking, relaxing and sports.
Recommended for Gran Canaria
More about Gran Canaria
Alternative destinations to visit in November 2023/2024
Looking for somewhere with great weather in November that's completely family friendly? It's got to be Miami in Florida.
There's so much to see and do for all ages, not to mention the wonderful weather, which peaks at around 27°C each day, sinking no lower than around 20°C come evening.
There's virtually no heat and humidity to worry about, and just a slim chance of encountering some passing rainfall, although UV remains high. Crucially, the sea is warm enough for many to enjoy a good splash about at 26°C.
For a little more heat, consider visiting Oman. Its dry, hot and sunny weather makes it a real winner: temperatures hit 30°C, and you'll experience near-cloudless skies. The water is also warm at 27°C.
There's an abundance of luxurious resorts to choose from, as well as splendid sights to see such as the Sultan Qaboos Grand Mosque in Muscat.
Finally, for those after a relaxed, budget-friendly place with great beach weather, book a bargain fare to Goa in India, where you'll find temperatures up to 33°C, warm sea water at 29°C and only the slightest chance of seeing some rain.
Days are long, with very high UV and very high heat and humidity, so Goa is a fabulous place for that dreamy beach break.
Winter may be settling in across northern Europe by November, but there's still a few destinations within easy reach of the UK serving up some thoroughly delightful weather.
If you'd like to find out more, visit our weather in November section, and don't forget to check out our very latest deals and discounts to see if you could save on your hot and sunny holiday this November.
Destination ideas for November 2024
Month: November
Daytime temperature: 22 - 28°C [remove]
Sunshine hours: 8 hours or more [remove]
Sea temperature: 25°C or warmer [remove]
| Rank | Rating | Score | Destination |
| --- | --- | --- | --- |
| 1 | | 100% | Florida, United States |
| | | 100% | French Polynesia |
| | | 100% | Mauritius |
| | | 100% | Mexico |
| | | 100% | Red Sea, Egypt |
| 6 | | 97% | Bahamas |
| | | 97% | Cape Verde |
| | | 97% | Cuba |
| | | 97% | Guadeloupe |
| | | 97% | Hawaii, United States |
| | | 97% | Indonesia |
| | | 97% | Martinique |
| | | 97% | Puerto Rico |
| | | 97% | Vietnam |
| 15 | | 96% | Israel |
| | | 96% | Jordan |
| | | 96% | Madagascar |
| | | 96% | Queensland, Australia |
| 19 | | 94% | Barbados |
| | | 94% | Mozambique |
| | | 94% | St Lucia |
| | | 94% | St Vincent and the Grenadines |
| | | 94% | UAE |
| 24 | | 93% | South Africa |
| 25 | | 92% | Brazil |
| | | 92% | British Virgin Islands |
| | | 92% | China |
| | | 92% | Costa Rica |
| | | 92% | Dominican Republic |
| | | 92% | Fiji |
| | | 92% | Jamaica |
| | | 92% | Philippines |
| | | 92% | Seychelles |
| | | 92% | Virgin Islands |
| 35 | | 89% | Anguilla |
| | | 89% | Bali, Indonesia |
| | | 89% | Curacao |
| | | 89% | Oman |
| | | 89% | St Barthelemy |
| | | 89% | St Kitts and Nevis |
| 41 | | 88% | Egypt |
| | | 88% | New South Wales, Australia |
| 43 | | 86% | Antigua |
| | | 86% | Cambodia |
| | | 86% | Cayman Islands |
| | | 86% | Dominica |
| | | 86% | Grenada |
| | | 86% | India |
| | | 86% | Caribbean Coast, Mexico |
| | | 86% | Panama |
| | | 86% | Papua New Guinea |
| | | 86% | Samoa |
| | | 86% | Sri Lanka |
| | | 86% | Thailand |
| | | 86% | Trinidad and Tobago |
| | | 86% | Turks and Caicos |
| 57 | | 83% | Kenya |
| | | 83% | Lombok, Indonesia |
| | | 83% | Tanzania |
| 60 | | 81% | Japan |
| | | 81% | Kerala, India |
| | | 81% | Malaysia |
| | | 81% | Maldives |
| 64 | | 80% | Peru |
| 65 | | 79% | Bermuda |
| | | 79% | Hong Kong |
| 67 | | 78% | Aruba |
| | | 78% | El Salvador |
| | | 78% | Gambia |
| | | 78% | Goa, India |
| | | 78% | Pakistan |
| | | 78% | Venezuela |
| 73 | | 77% | Cyprus |
| | | 77% | Ecuador |
| | | 77% | Fuerteventura, Canary Islands, Spain |
| | | 77% | Tunisia |
| 77 | | 75% | Palau |
| 78 | | 74% | Western Australia, Australia |
| 79 | | 71% | Gran Canaria, Canary Islands, Spain |
| | | 71% | La Gomera, Canary Islands, Spain |
| | | 71% | Texas, United States |
| 82 | | 70% | Singapore |
| 83 | | 69% | Lanzarote, Canary Islands, Spain |
| 84 | | 68% | Hierro, Canary Islands, Spain |
| 85 | | 67% | Argentina |
| | | 67% | California, United States |
| | | 67% | Cook Islands |
| | | 67% | Namibia |
| | | 67% | South Australia, Australia |
| | | 67% | Tonga |
| 91 | | 66% | Antalya Coast, Turkey |
| | | 66% | Tenerife, Canary Islands, Spain |
| 93 | | 64% | Morocco |
| | | 64% | Victoria, Australia |
Metric (°C / mm) | Imperial (°F / inches)
Where to go on holiday for the best weather
Be inspired
Get your weekly fix of holiday inspiration from some of the world's best travel writers plus save on your next trip with the latest exclusive offers
We promise not to share your details
Explore holidays in the sun for less