Walking in Madeira: Discover the island's top five levada hikes
The dramatically beautiful holiday island of Madeira has long attracted people with its well equipped resorts, pebbly beaches, and tropical climate. It's also a haven for hikers, with many choosing to visit Madeira to tackle its famous levadas walks - one of the island's most popular activities for those on holiday.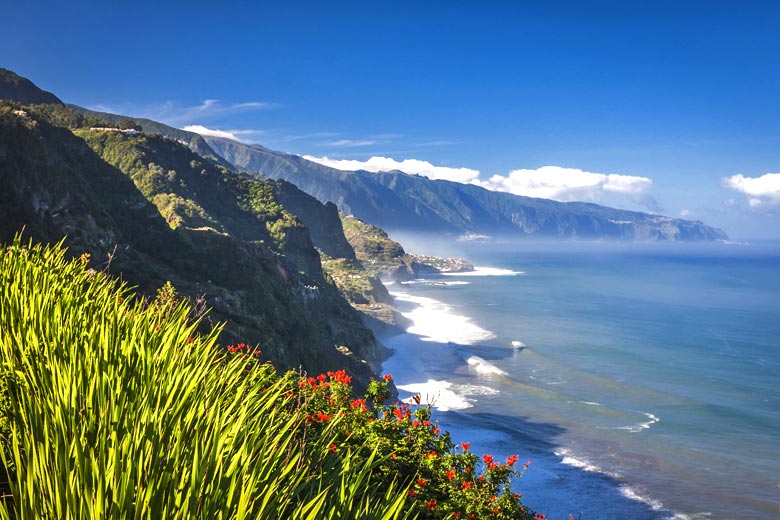 The term levada comes from the Portuguese word levar, which means 'to carry' - in this case - water. They are simple, man made, irrigation canals, which link the rainy regions on the north to the sunny regions in the south of the island, and offer a diverse trail network for those hoping to go walking in Madeira.
The good news is that there are more ways than ever to book a holiday to Madeira, letting you try out the routes for yourself. For example, find your ideal all inclusive base on a First Choice getaway to Madeira, and stay in a great value home-from-home with all the creature comforts for you to enjoy before and after your walk. The question is, where do you start? Keep reading to find out more about some of the best tried and tested levada walks in Madeira.
Walking in Madeira: introducing the levada trails
The levada walks are hiking trails along the maintenance paths beside the actual levadas. They were constructed primarily for agricultural and industrial use (the water is usually stored in tanks or captured directly from natural fountains to be redirected across these canals, delivering water to distant agricultural plantations as well as to hydroelectric power stations). They are now, just as important, for tourists and locals who want to enjoy the great outdoors with adventure activities such a walking in Madeira.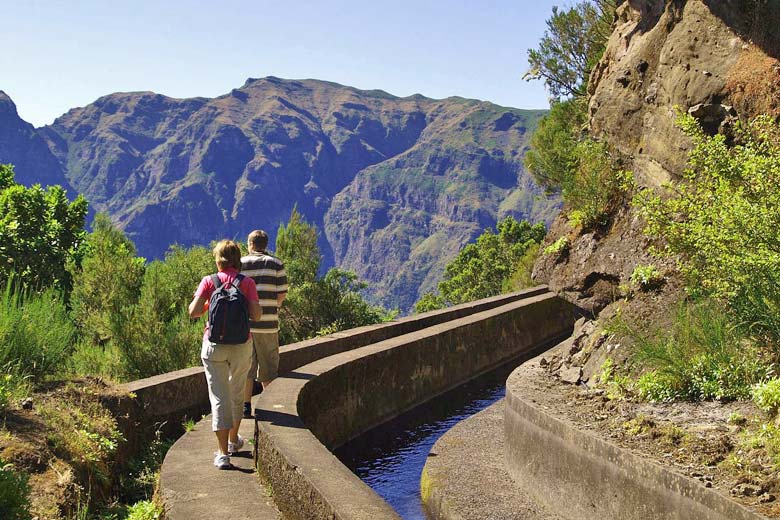 The levadas cover more than 2000 km of the irrigation system, and those walking in Madeira can do so fearlessly on these trails as there are no snakes, wolves, scorpions or anything threatening to watch out for - apart from the friendly native lizards but they're definitely not dangerous! There are around 50 different walks in Madeira with many varying levels of difficulty and length, but the most important thing to remember is to take your time in order to enjoy the surroundings.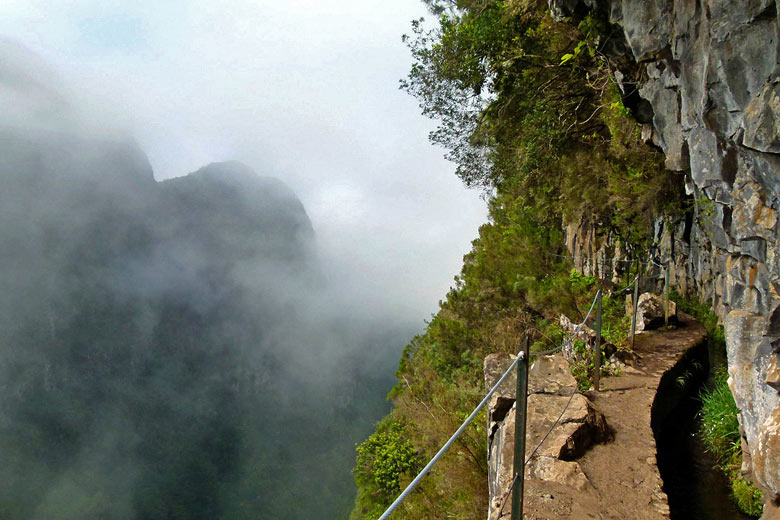 A levada walk is a healthy way to discover Madeira. A walking trip can be as easy or as demanding as you wish, it's just a case of knowing where to go however, there is a difference between walking in Madeira and the rest of Europe. Firstly, Madeira is a volcanic island and therefore, has quite steep terrain, which in general is fine but you can encounter more vertigo inducing landscapes here. Second, the walking surface can be rocky with tree roots invading path surfaces, so you need to be extra careful.
Tips for levada walking in Madeira
While walking in Madeira is perfectly safe, it's sensible to take some basic precautions. Make sure you have the latest information about the levada routes, and it's a good idea to find out how to get to and from your hotel, what the predicted weather conditions are, and calculate the total time you will be spending on that route, so that you can finish the walk before dark. It's also worth informing your hotel about the route you plan to navigate. As for what to take, it's best to include the following for a well stocked rucksack:
good walking shoes with excellent grip
a map or guide of your chosen walk
plenty of food and water
warm clothing
your mobile - dial 112 in an emergency
a torch for the many dark tunnels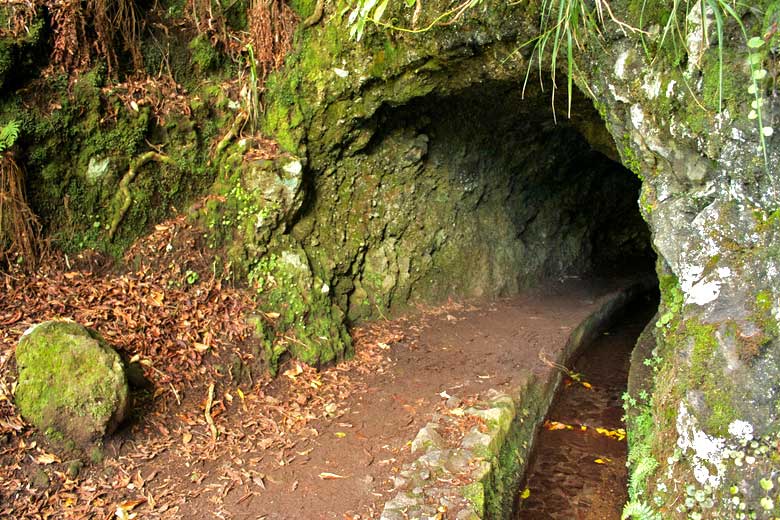 You can either join a guided walk or tackle a trail independently. If you choose to book a guided walk in Madeira you will be collected from and returned to your accommodation, and armed with a knowledgeable guide who will have plenty of insider information.There are also apps such as the WalkMe guide that can help you plan your trip, as well as local companies such as Nature Meetings, Madeira Explorers, and Madeira Adventure Kingdom.
Top five levada walks in Madeira
You're now armed with all the information and tips you need to get out and about on those levadas but how do you know where to start? Check out our pick of the top five levada routes to try when walking in Madeira:
1. PR9: Levada do Caldeirão Verde
Distance: 6.5 km
Time: approx. 4.5 hours
Best for: most walkers, moderate difficulty
This Caldeirão Verde, or green cauldron, path leads into one of the most beautiful regions of Madeira. At the starting point, Queimadas Park, you can see two thatched houses and a duck pond with a bridge pointing to the Caldeirão Verde path. There are narrow tunnels to walk through and waterfalls cascading from the mountains. This is a nice Madeira walk that allows you to catch a glimpse of the north coast but also takes you along small, narrow tunnels (this is where that torch comes in handy).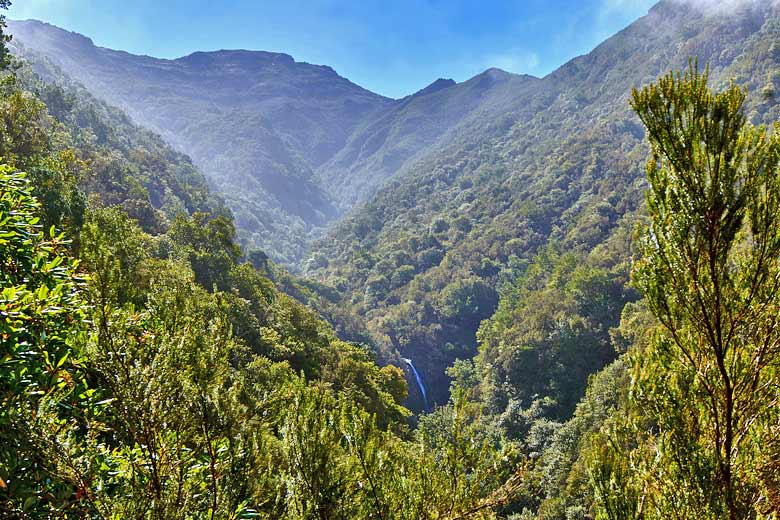 It's well protected with fences but there are some points that might induce vertigo. You will finally reach an impressive basin with high vertical green walls, where a waterfall fills a lake. This path takes about 4h30m to cover. From Caldeirão Verde you can continue to walk into the Caldeirão do Inferno, or devil's cauldron, but as the name suggests, the vertiginous path is unprotected and slippery from small waterfalls, so you might want to give it a miss.
2. PR6: Rabaçal to 25 fontes
Distance: 4.5 km
Time: approx. 3 hours
Best for: most walkers, moderate difficulty
This walk takes you along a dense forest to the most famous waterfall in Madeira called 25 Fountains. This watercourse drains the Rabaçal area and brings water to the Calheta Power Station. The 25 Fountains trickle down the rocks covered in green ferns into a large lagoon.
There is another route those walking in Madeira could take in the area to the Risco waterfall. Here water plunges down a smooth rock face from Lagoa do Vento, or the wind lagoon, from a height of 100m and keeps going until another 100m below the path. Keep in mind that while bursting in winter, this waterfall has little water in summer.
3. Pico do Arieiro to Pico Ruivo
Distance: 4.5 km
Time: approx. 5 to 6 hours
Best for: fit walkers & mountain climbers
This mountain walk takes you along the three peaks of Madeira finishing in the highest peak of all at 1870 metres up. The path runs for the most part over steps cut into the rock that were carved 40 years ago.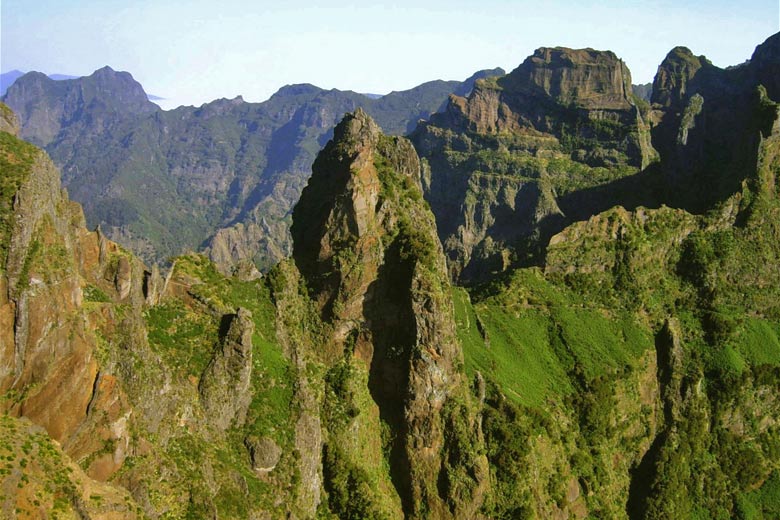 Along the way you can see the Miradouro Ninho da Manta (The Buzzard's Nest) that shows you a stunning view down into the valley below. Pico Ruivo is a good stopping point with a hut for shelter. Reaching the peak is well worth the effort, as you can enjoy magnificent views in all directions. Try to leave early in the morning to see the sunrise, start from Achadas do Teixeira at dawn.
4. PR10: Ribeiro Frio to Portela
Distance: 11 km
Time: 3.5 hours
Best for: all walkers
This one is a classic and has all the ingredients that make levada walking in Madeira interesting; a luxurious forest, dark tunnels, and every now and then, beautiful views of the mountain. Although this route is safe, it requires some care and good shoes, especially if it is or has been wet. Having reached Ribeiro Frio, you can visit the park where you will find a trout farm. You can then go on to Balcões, a relatively easy and flat path that can be easily completed in 45 minutes. If the sky is clear the view is magnificent.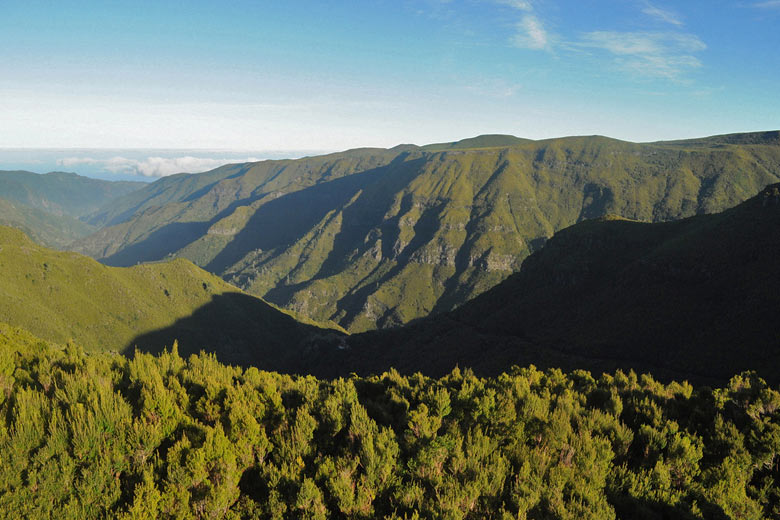 After that, you can recover in one of the cafes in Ribeiro Frio, before the start of the 11 km path that will take you to Portela. In the beautiful UNESCO site of the Laurissilva Forest you will see various species of flower and plant life and, if you're lucky, the Pombo Trocaz, the emblematic bird of this famous forest. When you reach Portela, reward yourself with a traditional tomato soup and a local espetada (beef kebab).
5. Levada do Norte (Cabo Girão to Boa Morte)
Distance: 12.5 km
Time: 3.5 hours
Best for: all walkers
Levada do Norte is the longest irrigation channel in the southwest of the island. Cabo Girão is one of the highest coastal cliffs in Europe, and drops vertically to the agricultural terraces at the edge of the sea. From the cape a road leads to Cruz da Caldeira. As you go down to the village follow the signs to Levada do Norte.
It runs along a wide valley (Campanário Valley) and crosses a narrow concrete bridge over Ribeira do Campanário. You will reach the dome-shaped Pico Alto (526 m) after which you arrive in the Boa Morte Village. This walk gives you stunning views of the fields at the edge of the sea.
Walking in Madeira is a must when you visit the subtropical island. While these five show you some of the variety on offer, there are countless to more to choose from and you will soon figure out which type of route best suits your ability. Drink in the scenic views, get a real understanding of the island's landscape and see wildlife in its natural environment, and nature in its purest state. Add to this the year round moderate climate and it's easy to see why so many people love to not only visit but go walking in Madeira.
If you fancy hiking any of these levada walking routes, check out the range of great all inclusive holiday deals to Madeira with First Choice. Breaks depart from airports across the UK, including Edinburgh, Manchester, Bristol and London Gatwick. First Choice has properties peppered between four locations on the island, leaving you with no excuse not to get started the second you unpack.
Get FREE travel offers
Sign up to receive the latest deals and exclusive discounts on holidays, flights, hotels and more, plus inspiration on where to go when
We promise not to share your details
Related posts