Illuminating Izmir: what to do in & around Turkey's third city
*affiliate links: find out how we are funded and why this helps us remain free to use.
While many holidaymakers zip through Izmir's airport on the way to the west coast, canny explorers take time to get to know this ancient port city.
In fact, Izmir* is Turkey's third-largest city and one of its busiest ports. With a history dating from the Neolithic period, it's a place where old meets new among the trendy bars, bustling bazaars and high-rise buildings.
Here, we share some of the ways in which you can make the most of your time in Izmir, be it admiring modern art, tasting creative twists on traditional recipes, day-tripping to ancient settlements or wine-tasting on the terraces of western Anatolia.
Getting to Izmir: browse great value holidays to Turkey's west coast via Izmir with TUI*, which departs from airports across the UK.
Stroll the Kordon seafront
Kordon, the pedestrian seafront promenade, is where Izmir comes to stroll. By day, fishermen and footballers cast and kick beside the Aegean Sea and the Kordon scene is cooled by a sea breeze that blows across Turkey's third city.
Come evening, another crowd descends on the seafront esplanade. Kordon welcomes diners, who can snack on street food favourite fried mussels before hitting one of the countless nearby restaurants.
Plus families, who dart between kiosks flogging balloons, popcorn and candyfloss, and lovers, who are serenaded by musicians and propositioned by flower vendors in the warm night.
Eat like a local
Izmir is a bad place to begin a diet. Delicious bites, from simit bagels and şiş kebabs (which translates as 'sword' or 'skewer' in Turkish), tempt from every restaurant terrace, street stall and hole-in-the-wall takeaway.
The city's favourite is Izmir köfte: spicy fried meatballs in a fresh tomato and pepper sauce. They're knockout.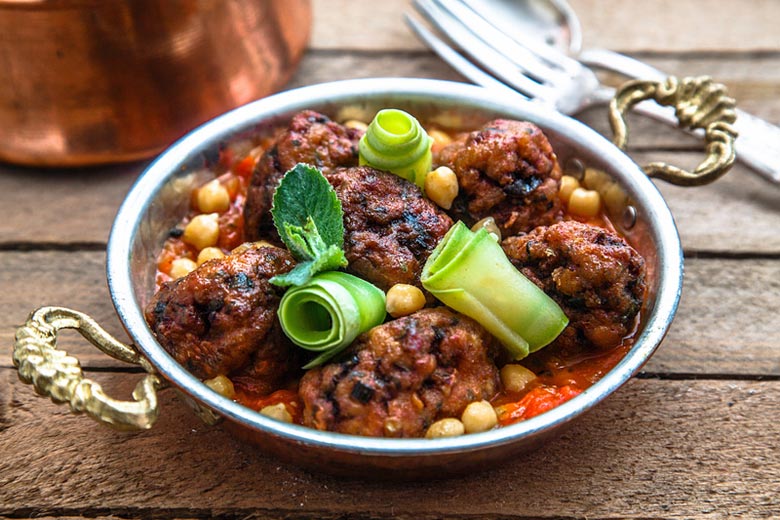 To sip alongside? Try ayran, a cooling kefir yoghurt drink best served on a hot day. Or sübye, an only-drink-here beverage made from melon seeds.
Go slow in Seferihisar
Seferihisar near Izmir is Turkey's first Cittaslow or Slow City. Here everything served, sold or sipped is sourced from the immediate vicinity.
The town is Turkey* back-in-time. Wander ancient streets while stuffing yourself with börek filo pastries and tangerine sherbet drinks.
The shopping is epic. Jewellery, bags and mobile phone cases are all certifiably homemade. While local restaurants serve sustainable fish and are illuminated by solar lights. Even the wine is 100% local, bottled in vineyards that date from Roman times.
Ride the Asansör for Izmir's best views
Izmir's Asansör, or elevator, was built in 1907 by a wealthy banker who hated climbing the 155 steps to the lofty neighbourhood above.
Over a century on, the lift still elevates passengers for the city's best views. Use your camera to snap the Kordon seafront boulevard and the glistening Aegean Sea beyond.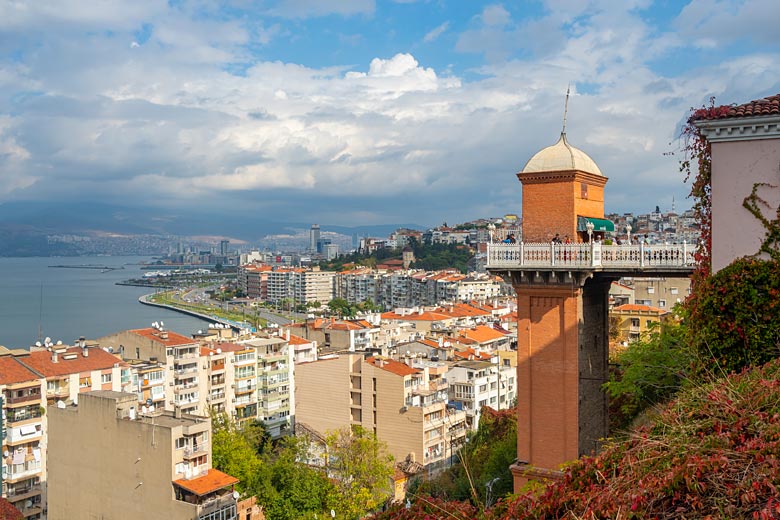 At the top visitors will also find big metal binoculars and a café for further urban gazing.
There's more. The Karataş neighbourhood where the huge elevator is sited is immensely telegenic. Promenade around for Instagram shots. Or grab a dondurma Turkish ice cream for a sweet pick-me-up.
Stay cool in Alaçatı
Alaçatı looks like the love child of Mykonos and St Tropez. The hip village is lined with boutiques, garlanded with bougainvillaea and sauntered by a shabby-chic Turkish elite.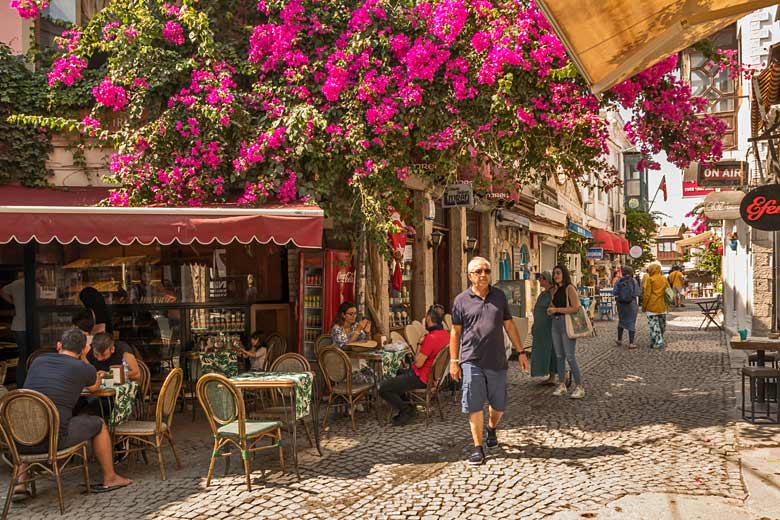 The dining here ranks among Turkey's best. Aegean recipes, like goat seared with pistachio nuts, are served in authentic eateries. The beaches are fab too. Like Altinkum, which translates as golden sands, and does exactly what it says on the tin.
Windsurfing? Also world-class. A range of windsurfing schools are set on the mirror-calm, yet wildly breezy, bay off Alaçatı Port.
Shop 'til you drop in Kemeraltı
The Kemeraltı bazaar has been flogging bargains for 400 years. Izmir's historic commercial centre is an endless warren of stalls and shops.
Products are varied: spices, metalwork, carpets, pots, gold, seafood, cleaning supplies - even the kitchen sink. Bring a camera and a credit card..
The most ancient sections of the Kemeraltı bazaar are hidden in 'hans', where caravans laden with silk once parked to sell their wares. The smallest pasajı, or passages, are best for books, leatherwork, shoes, jewellery and other gifts.
Hit the centre of art
In a handsome mansion that once housed the French consulate sits the Arkas Art Center. Nine exhibition spaces host contemporary shows dedicated to, among other subjects, Parisian street scenes, vintage Istanbul photographs and the canvases of Pablo Picasso.
Arkas Art Center is a block back from the Kordon waterfront. Peek out of the art centre windows for great sea views.
Tour Izmir's modern vineyards
People have been making wine near Izmir since the Bronze Age. Even Roman emperors adored the hefty reds and flinty whites produced in this searing, salt-licked location, nicknamed 'The Tuscany of Turkey'.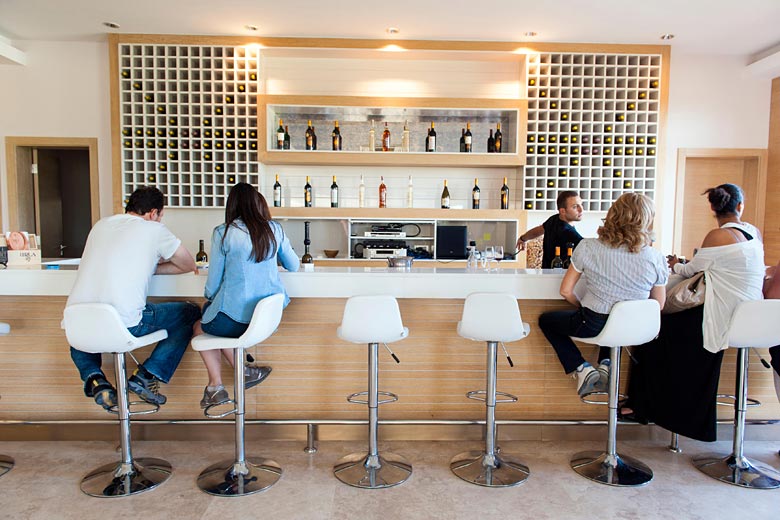 Today, a new breed of vintners have created a wine route around the region's modern vineyards like Urla, Urlice and Usca.
Each vineyard welcomes guests for lunch and wine tastings. Better still, each one is sited in bucolic countryside, a 40-minute drive from Izmir. The tongue-twisting grape varieties like Boğazkere and Kalecik Karası will leave you thirsty for more.
Weather in Izmir
The above shows the weather in Izmir. Find out more about conditions across the country in our complete guides to the weather along the Turkish coast and the weather in Turkey.
Ready to discover Izmir? Don't miss the current online savings on holidays to the Izmir area with TUI and book your break today.
More about the Izmir
Jan Feb Mar Apr May Jun Jul Aug Sep Oct Nov Dec
Explore holidays in the sun for less
Be inspired
Get your weekly fix of holiday inspiration from some of the world's best travel writers plus save on your next trip with the latest exclusive offers
We promise not to share your details
Related posts