9 weird & wonderful facts about the Grand Canyon
*affiliate links: find out how we are funded and why this helps us remain free to use.
In 2019, the Grand Canyon celebrated 100 years as a designated US national park. Unsurprisingly for a geological marvel of this size, there's a lot we don't know about it and if the following fascinating facts are anything to go by, we can't wait to see what discoveries are yet to be revealed.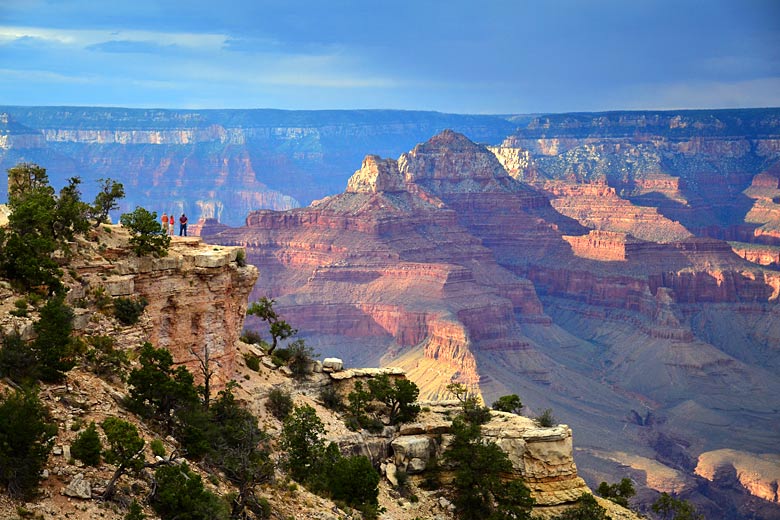 Getting to the Grand Canyon: get the most from any trip to Arizona's leading attraction with an escorted tour from well-known providers such as Titan Travel*, Newmarket Holidays* and Cosmos*.
It's bigger than an entire American state
Rhode Island is 1,212 square miles while the Grand Canyon covers 1,904 square miles. In some places, it's over a mile deep. Meanwhile, the elevation of other areas, the South Rim is around 7,000 feet above sea level, is the reason some of America's cleanest air can be found here.
But it's a common misconception that it's the world's deepest canyon; both the Cotahuasi Canyon in Peru and the Kali Gandaki Gorge in Nepal are deeper.
It's home to hardy fish species
The Grand Canyon is a tough place for creatures, especially fish. There's heavy silt, frequent flooding and temperatures range from sub-zero in the winter to extreme highs in the summer.
For these reasons, it's perhaps not surprising that the canyon's Colorado River has just eight native fish species, six of which can only be found here. This includes the weirdly-named Humpback Chub.
The inhospitable climate affects humans too and is the reason fewer people have completed a continuous length-wise hike through the Grand Canyon than have walked on the moon.
People live there
Contrary to popular belief, the canyon has a human population. Supai Village can be found in the Havasupai Indian Reservation. The village is inaccessible by road, mules, not motorcars are the main form of transport, and there are just 208 residents.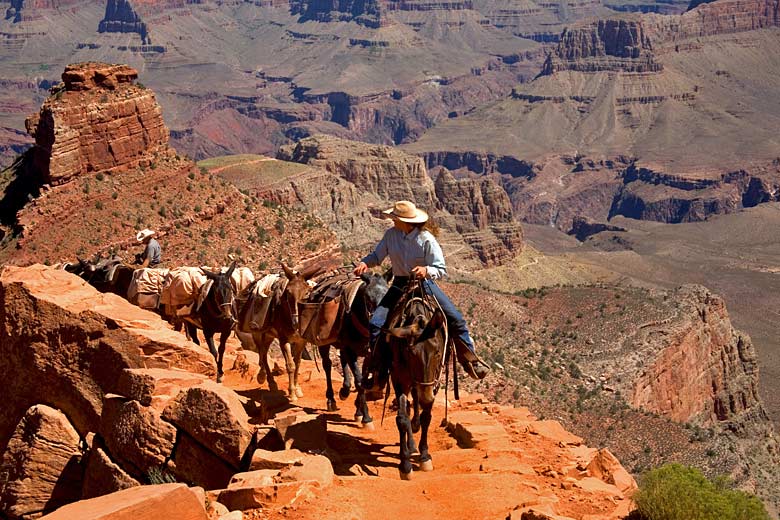 It's the most remote community in America's so-called Lower 48 States and the only place where the post is still delivered by mule.
Exploring it can take a while
Planning on visiting the North Rim and the South Rim in one day? It might be worth reconsidering. As the crow flies, they are only 10 miles apart but getting between the two by car involves a 215-mile, five-hour drive.
It's much older than people think
Until relatively recently, it was believed that the Colorado River started carving out the Grand Canyon six million years ago. However, a 2012 study revealed this process actually began 70 million years ago.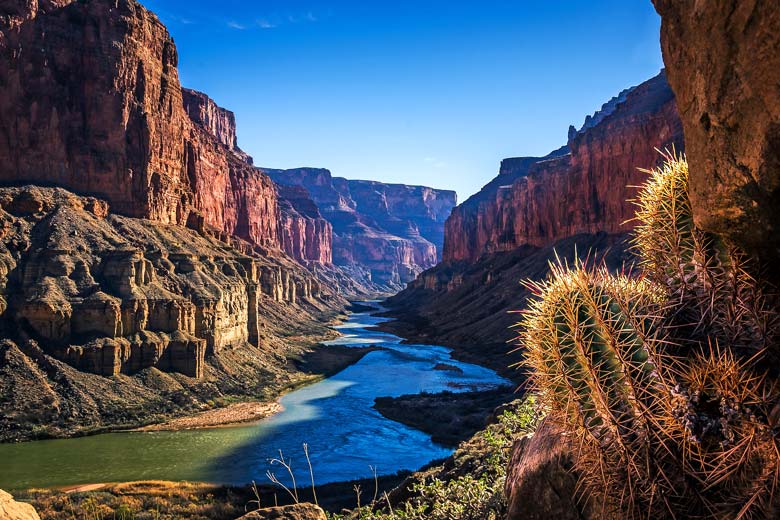 Experts suspect that this is when a series of smaller canyons formed, only becoming part of the wider Grand Canyon millions of years later. But there are more than just canyons - countless caves, too.
Today, the canyon has over 1,000 caves although only 335 have been recorded and only one, Cave of the Domes, is open to the public.
You can find one of the world's weirdest geological phenomenon
This phenomenon in question is referred to by experts as the Great Unconformity in relation to the discovery that layers of 250-million-year-old rock lie directly against layers of stone which are 1.2 billion years old.
Archaeologists and geologists alike have been unable, as yet, to work out what happened to the hundreds of millions of years of missing layers.
The FAA exists because of the Grand Canyon
In the 1950s, commercial aircraft regularly took unscheduled detours over the Grand Canyon to allow passengers a glimpse of this geological marvel. Until 1956 that is, when two passenger planes collided, killing all on board both aircraft.
The government realised there was a pressing need for an organisation that would have the final say on issues related to air traffic control and the Federal Aviation Administration (FAA) was created as a direct result two years later.
Watch out for savage squirrels & lizards spitting blood from their eyes
Residents of Arizona's most breathtaking natural wonder include Gila monsters (venomous lizards), notoriously grumpy bighorn sheep and the Grand Canyon Pink Rattlesnake, one of six species of rattlesnake found within the park's boundaries.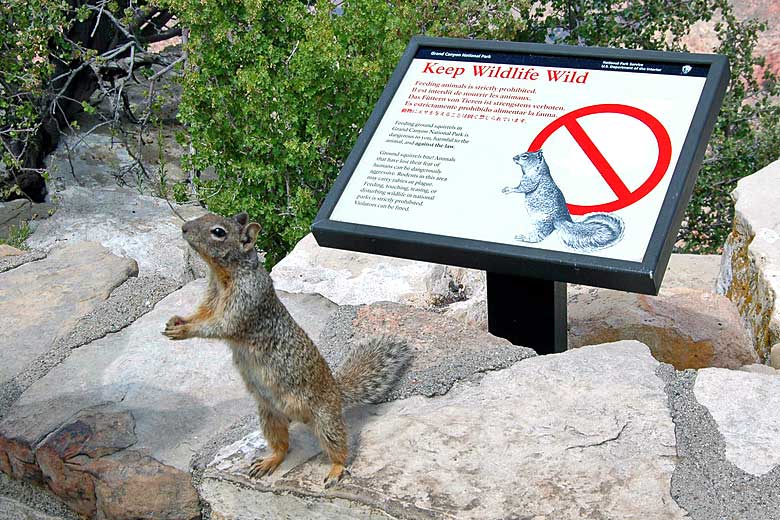 But it's the rock squirrel that you need to look out for; visitors are regularly bitten by this deceptively cute rodent.
And if you were wondering about those lizards, the species in question is known as the shorthorn, and they spurt blood from their eyes to scare away predators. We're pretty sure that would do the job.
Teddy Roosevelt helped protect it
In 1903 the then-president Theodore Roosevelt visited the Grand Canyon and was deeply moved by the stunning landscape.
So much so that in 1906, he signed a bill which saw the area become the Grand Canyon Game Reserve and, two years later, he made it a national monument, stating: "Leave it as it is. You cannot improve on it. The ages have been at work on it and man can only mar it."
Weather in the Grand Canyon
| | Jan | Feb | Mar | Apr | May | Jun | Jul | Aug | Sep | Oct | Nov | Dec |
| --- | --- | --- | --- | --- | --- | --- | --- | --- | --- | --- | --- | --- |
| Maximum daytime temperature °C | | | 14 | 19 | 25 | 31 | 33 | 32 | 28 | 22 | 14 | |
| Hours of sunshine (daily) | | | | | 12 | 13 | | | 10 | | | |
| Days with some rainfall | | | 6 | | 3 | 3 | 6 | | | | | |
The Grand Canyon is notorious for its dry to arid conditions. While it's sunny all year round, especially in summer, it can get very cold in winter. Find out more about the weather in the Grand Canyon and see when we think is the very best time to go.
Ready to discover the Grand Canyon? Give our bespoke holiday finder tools a go to search for escorted tours and adventure holidays to Arizona.
More about Arizona
Jan Feb Mar Apr May Jun Jul Aug Sep Oct Nov Dec
Explore holidays in the sun for less
Be inspired
Get your weekly fix of holiday inspiration from some of the world's best travel writers plus save on your next trip with the latest exclusive offers
We promise not to share your details
Related posts