7 unmissable natural wonders to see in Arizona
*affiliate links: find out how we are funded and why this helps us remain free to use.
From Wild West landscapes and underground caves to dramatic rock formations and the world's most famous canyon, Arizona serves up incredible scenery by the bucket load.
There's no better setting for an American road trip, and with escorted tours from Cosmos* you can pick from loads of diverse itineraries. Here are seven amazing natural sights you won't want to miss in Arizona.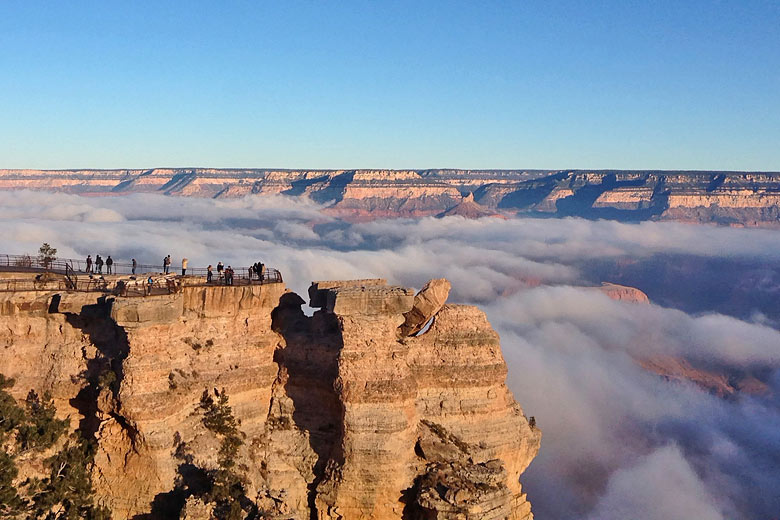 1. Grand Canyon National Park
No trip to Arizona would be complete without a visit to the Grand Canyon. One of the Seven Natural Wonders of the World, this gigantic valley is one of those needs-to-be-seen-to-be-believed kind of places.
It measures up at a whopping 277 miles long, 18 miles wide and over a mile deep in places, and is truly spectacular.
When it comes to exploring, you're spoilt for choice. Follow one of the many hiking trails, sign up for a guided horseback ride, or blow the budget on a helicopter tour.
Make sure you hang around until dusk, too. As the setting sun dips beneath the horizon, the whole canyon is illuminated in a bright orange glow.
2. Monument Valley
Straddling the border between Arizona and Utah, Monument Valley is a part of the Colorado Plateau that's characterised by clusters of sandstone buttes.
These steep rock formations, with flat tops and near-vertical sides, jut out from the ground at heights of up to 300 metres, creating a unique, otherworldly landscape.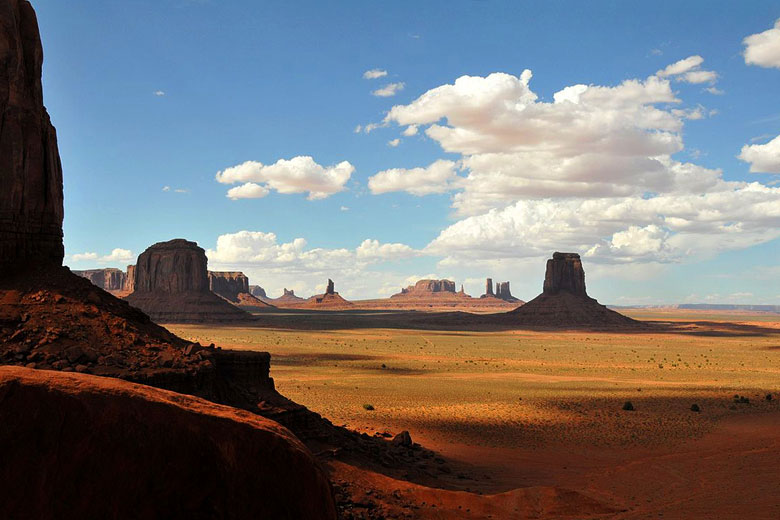 The best way to see the valley in all its glory is by road. As you drive through the pancake-flat plateau towards the park's entrance, the imposing reddish-brown structures stand tall in front of you.
Once you're inside, there's a 17-mile scenic drive, which weaves its way past all the main viewing areas and points of interest.
3. Kartchner Caverns State Park
Tucked away in southern Arizona, just outside Tucson, the Kartchner Caverns have a big claim to fame - they're home to the world's longest stalactite formation.
And that's just the start of their treasures. The caves, which were only discovered in 1974, boast all sorts of rare geological formations, many of which have been developing for tens of thousands of years.
The only way to explore inside is with a guided tour. Depending on the time of year, tours will either take you into the 'Big Room' or the 'Throne Room', or both.
You're usually banned from taking photos, but once a month there's a special two-hour photo tour.
Looking for the perfect tour? Give our dedicated escorted tour finder a go.
4. Saguaro National Park
You'll get a real taste of the Wild West at Saguaro National Park.
The rugged, desert-like landscape is dotted with giant saguaro cacti, which are native to the area. These iconic cacti can grow to heights of over 40 feet and have a lifespan of more than 150 years.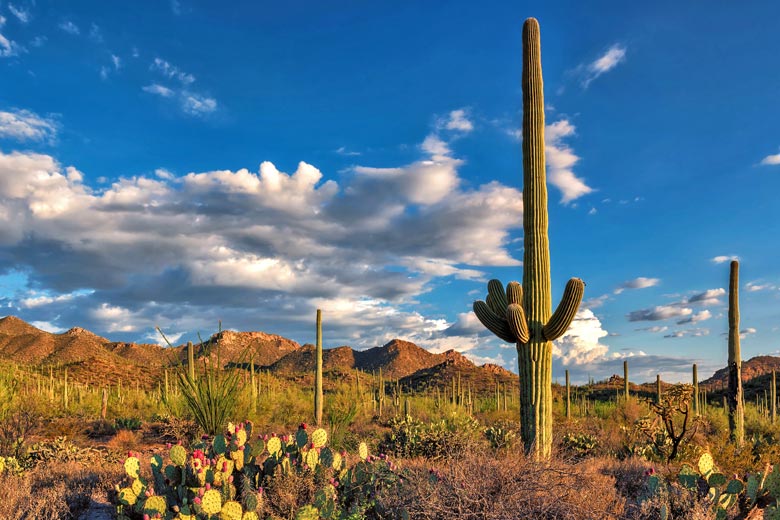 They're especially impressive at sunrise and sunset when they cast an imposing silhouette against the colourful sky.
Hiking is the most popular way to explore Saguaro. More than 165 miles of hiking trails weave their way through the park, ranging from short, beginner-friendly walks to longer, more challenging treks.
If you're short on time, you can opt for one of the scenic drives instead.
5. Antelope Canyon
All rippled orange sandstone bathed in beams of sunshine, Antelope Canyon is unlike anywhere else in the world.
The views here change minute by minute, as the sun moves across the sky causing light to bounce back and forth across the narrow canyon walls. The result is a dazzling display of colour, light and shadow.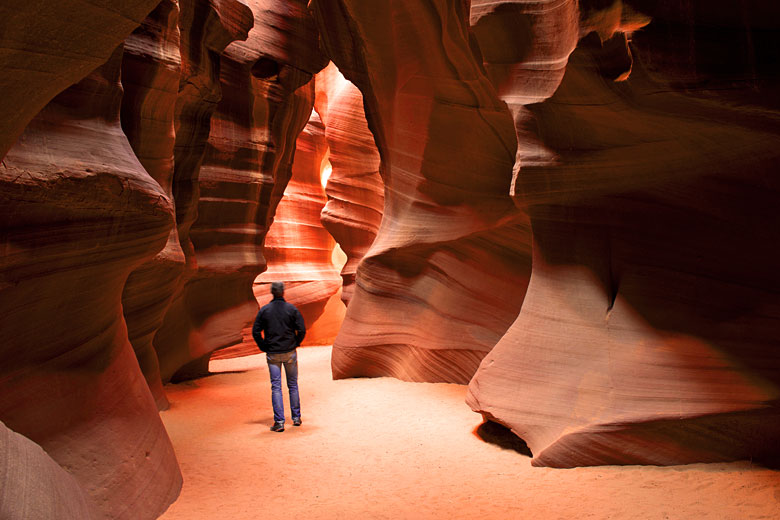 The canyon is split into two main sections: Upper Antelope Canyon and Lower Antelope Canyon.
Most visitors head for Upper Antelope Canyon, due to the fact it's at ground level and no climbing is required.
The light shows are also more impressive here, especially during the summer months when the sun is high in the sky.
Arizona weather: temperatures in Arizona can soar during the summer months, so if you're heading here between May and September make sure you pack appropriately and schedule plenty of downtime into your itinerary. Spring and autumn are ideal times to visit, with plenty of sunshine and more pleasant temperatures. Winters are very mild and come with the added bonus of fewer crowds.
6. Horseshoe Bend
This dramatic meander of the Colorado River has become an increasingly popular tourist attraction in recent years.
Part of its appeal is its accessibility; a short, gentle hike from the town of Page takes you to the top of a cliff, where you're greeted with spectacular vistas of the bluey-green river and striking sandstone banks.
It's no surprise this place is a favourite with photographers. Whether you're a seasoned pro or you're just after the perfect Instagram shot, Horseshoe Bend provides the perfect backdrop. Time your visit for late afternoon or early evening for the best lighting.
7. Petrified Forest National Park
This fascinating park, in northeast Arizona, has a long history. More than 225 million years ago, dinosaurs roamed the lush green forest that stood here.
Volcanic eruptions caused the trees to topple and become entombed, and eventually petrified, in volcanic ash and sediment. These days, the giant fossilised logs lie scattered throughout the park for all to see.
This is also a great place to check out Arizona's vast array of flora and fauna. More than 400 types of plants can be found here, along with 200 species of birds and all sorts of exotic animals, including snakes, lizards, coyotes and bobcats.
Fancy ticking off these natural wonders for yourself? Check out the latest offers on escorted tours from Cosmos, which has a wide range of itineraries to choose from. You can also find out more about the weather in Arizona and see when we think is the best time to go.
More about Arizona
Arizona by month
Jan Feb Mar Apr May Jun Jul Aug Sep Oct Nov Dec
Explore holidays in the sun for less
Be inspired
Get your weekly fix of holiday inspiration from some of the world's best travel writers plus save on your next trip with the latest exclusive offers
We promise not to share your details
Related posts