9 ways to be seduced by Curaçao
*affiliate links: find out how we are funded and why this helps us remain free to use.
Tempting as it is, we're not simply talking about vibrant Curaçao liqueur. Instead, we're delving beyond the bottom of your cocktail glass to uncover the secrets of the eponymous Dutch Caribbean island.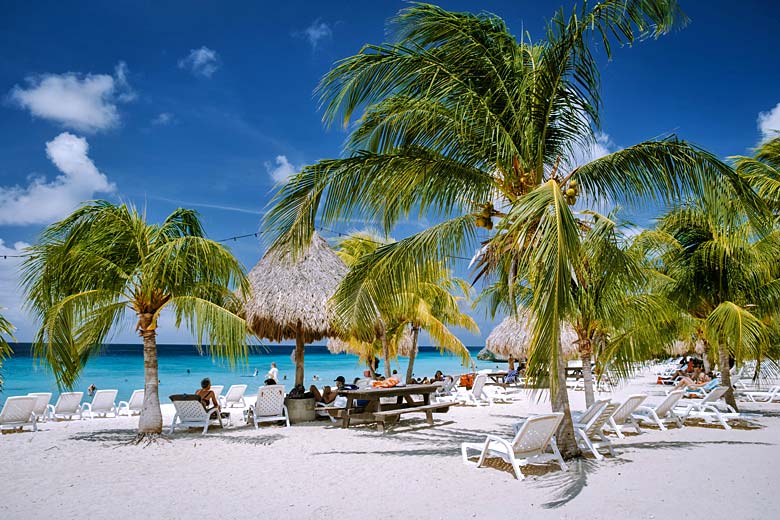 It looks like a brochure, all starched white sands and turquoise waters, and if you just want to hit the beach, it's hard to think of many places better to do it. But beyond the sandy shores, another Curaçao emerges; a fascinating and refined island where the Caribbean meets Dutch colonial history.
There are informative museums, cultural attractions, national parks, thrilling day trips and tasty dishes, not to mention plenty of opportunities to shop for everything from local souvenirs to luxury goods.
So, slip on your sandals and your sunglasses, pour yourself a long, cold Curaçao cocktail, and settle in as we introduce you to one of the Caribbean's most alluring islands, which surely won't stay such a life-affirming, off-grid, destination for much longer.
Getting to Curaçao: luxury Caribbean holiday specialists Sandals is due to open its first resort on the island in April 2022. Check out the latest deals on all-inclusive breaks to Sandals Royal Curaçao* and book your stylish suite today.
1. Hit the beach
The beaches on Curaçao really are as perfectly white and unspoilt as they look in the promo shots. Kenepa Beach is perhaps the most famous stretch of sand, a sweeping stunner with little development beyond a few relaxed shacks. Savvy beach bums slip around to the smaller and more exclusive Kenepa Chiki, meanwhile.
Other stand out sands include Cas Abdo, a private beach with lockers, restaurant and massage facilities; Playa Porto Mari, with its handy reef for snorkelling; and Playa Kalka, a quiet escape out west.
The smart money would be to plan ahead for a stay at the brand new, all-frills Sandals Royal Curaçao*, which enjoys its own gorgeous sandy beach on Spanish Water Bay.
2. Delve into the Dutch Caribbean
Like much of the Caribbean, Curaçao was subjected to centuries of colonial rule, first by the Spanish, intermittently by the British but predominantly by the Dutch. In fact, Curaçao remains a Dutch overseas territory today.
However, this now-beguilingly colourful port city not only grew on the land of native Arawak people but also played an unsavoury part in the slave trade, something that can be discovered in more detail at the fascinating Kura Hulanda Museum.
Following on from this, the Maritime Museum pays tribute to the island's seafaring heritage while Fort Amsterdam, which was fashioned by the Dutch West India Company in the 17th century, was seen as the most important of the eight Curaçao forts. Over the years it's woven in the pastel look so popular across Willemstad.
You can peek into the Fort's church, the oldest on Curaçao, to check out the original pulpit that has somehow survived centuries of reworking. Also surviving is the cannonball embedded in the church wall from an attack by the British in 1804.
3. Delight at Willemstad's architecture
A walk around Willemstad's old town to admire its pastel-hued buildings is a must. This UNESCO World Heritage-listed capital seems more like the work of a playful painter than the dark Dutch tones of Rembrandt.
Crisscross the unusual floating Queen Emma Bridge, which swings open to allow vessels in before losing yourself amidst the town's grandeur.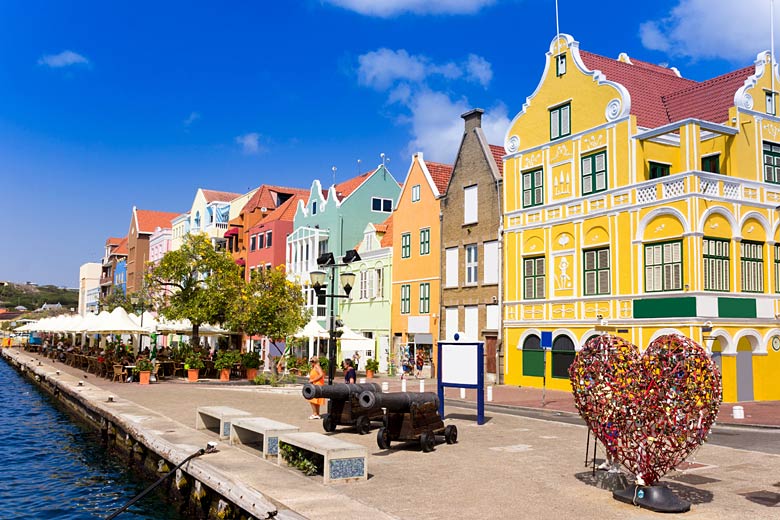 The local tourist office can set you up with a self-guided walking tour, but they can also book you a walking tour led by a local architect to get under the pastel skin of Willemstad.
4. Treat your tastebuds
One thing's for sure, you'll eat well on holiday here. There's a tastebud-tingling collage of local fusion cuisine and myriad other influences found in restaurants, hotels and resorts.
Look out for karni stoba (a type of beef stew spiced with plantains) and keshi yena (a delicious ball of Dutch Edam cheese stuffed with meat, usually chicken, and vegetables), plus the unusual iguana stew. Easy on that one, though, as the iguana meat is said to be an aphrodisiac.
5. Indulge in serious retail
With an eye to appealing to discerning visitors, Willemstad has lots of retail options geared towards well-heeled visitors. The Renaissance Mall & Rif Fort has eschewed its old military use and is now an oasis of high-end shops as well as local brands.
Top tip: make for the shops when the cruise ships depart and you'll have the boutiques pretty much to yourself.
6. Dive below the Caribbean
Curaçao's aquarium-clear waters and balmy temperatures make it ideal for snorkelling and scuba diving; in fact, it's one of the world's top dive destinations. There are well over 50 dive sites to choose from: we're talking reefs alive with all manner of marine life, from brightly coloured fish playing in the shallows to the bigger guys out in the deep.
A real joy is being able just to amble straight in rather than have to take a boat to get anywhere decent like on some other isles. There are superb wreck dives for more experienced scuba divers, too.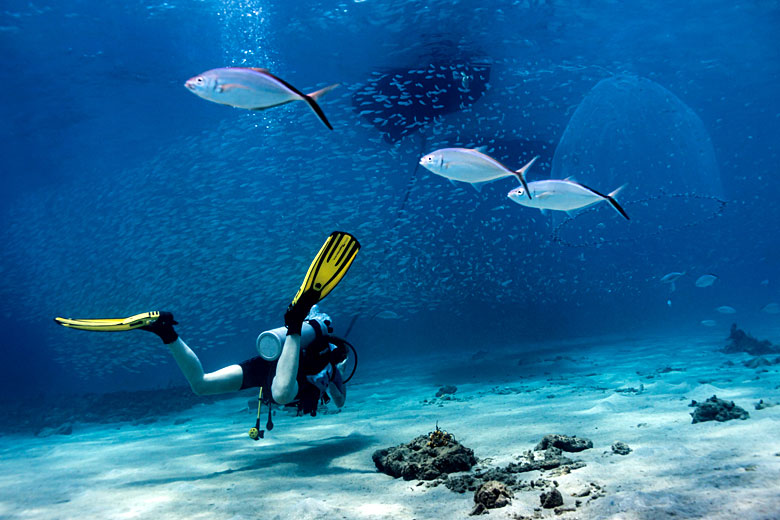 Being Curaçao, the Curaçao Sea Aquarium is no ordinary aquarium. Built around an innovative open water system, it allows the ocean current to flow through the site.
Another way to get up close with the island's marine life is to hop aboard the semi-submersible Seaworld Explorer.
7. Sip on Curaçao
Ah yes, that world-famous, utterly delicious bitter orange flavoured drink. Mercifully, marketeers didn't just steal the island's name, it is actually distilled on the island at the Landhuis Chobolobo where they've been conjuring up this distinctive blue-hued liqueur here since 1896.
No boring technical guided tour, you, of course, get to try it, but also learn how to work Curaçao into cocktails in their onsite cocktail workshop. You might be surprised to learn Curaçao-style liqueur can be orange, green and white, too.
8. Explore the island
There is much more beyond Willemstad and the beaches, as you'll soon discover if you bash out exploring. Sit back in the comfort of a taxi for a guided tour, or pioneer out on a rented 4 x 4 or ATV.
You'll be drawn to the much less developed, more rugged western shore. Two natural oases are the Sheet Boke National Park and the largest national park, Christoffel National Park.
Go for hikes to beaches where turtles lay their eggs. An unusual attraction is the South African-themed Curaçao Ostrich Farm, home to hundreds of ostriches, it's ace for big kids and little kids alike.
9. Visit another Curaçao
Yes, you can quite literally discover a whole other Curaçao, one many visitors don't even realise exists. Putter on a boat out of Willemstad and discover Klein Curaçao (or, Little Curaçao) on a day trip.
This sleepy uninhabited island makes Curaçao look like Manhattan; it's tiny too, only 1.7-sq km in area. There is little here bar a vaulting lighthouse, which has failed more than once in its mission judging by the wrecks around the island.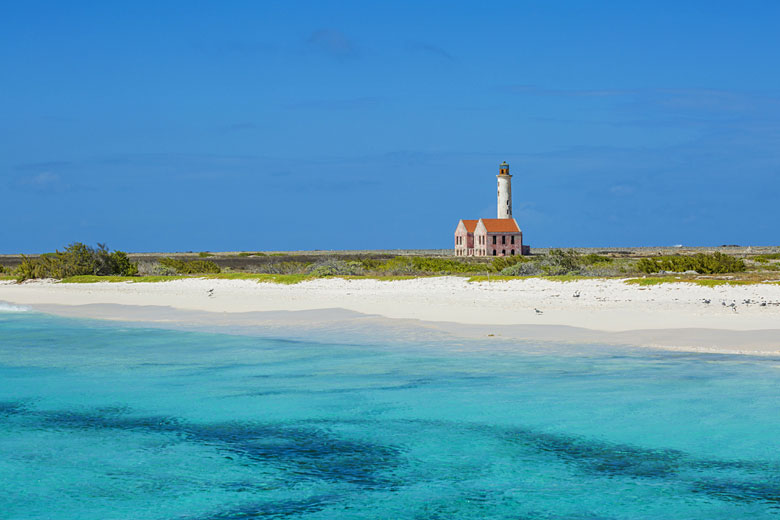 There is not much to do here, but that is the point. Just relax on the sands, maybe trouble yourself to go snorkelling for a bit, then kick back and congratulate yourself on choosing Curaçao for your well-earned Caribbean break.
Weather in Curaçao
| | Jan | Feb | Mar | Apr | May | Jun | Jul | Aug | Sep | Oct | Nov | Dec |
| --- | --- | --- | --- | --- | --- | --- | --- | --- | --- | --- | --- | --- |
| Maximum daytime temperature °C | | | | | | | | 32 | 32 | | | |
| Hours of sunshine (daily) | | | | | | | | | | | | |
| Days with some rainfall | 13 | | 7 | 4 | 4 | 7 | | | 6 | | 15 | 16 |
| Sea temperature °C | | | | | | | | | | | | |
One of the most appealing aspects of the weather in Curaçao is that it really is deliciously hot and sunny all year round. Located in the southern Caribbean, it sits outside the typical hurricane zone, so is rarely affected during the season, ensuring conditions remain steady from January to December.
Can't wait to get to Curaçao? Don't miss the latest savings on holidays to Sandals Royal Curaçao in 2023/2024.
More about Curacao
Curacao by month
Jan Feb Mar Apr May Jun Jul Aug Sep Oct Nov Dec
Explore holidays in the sun for less
Be inspired
Get your weekly fix of holiday inspiration from some of the world's best travel writers plus save on your next trip with the latest exclusive offers
We promise not to share your details
Related posts