Tenerife weather
Get the latest coronavirus (Covid-19) updates for Spain with current travel advice and statistics on new cases per 100,000 and vaccine.
Below are the temperatures expected today at popular destinations in Tenerife. Select a destination to compare today's forecast with average weather conditions.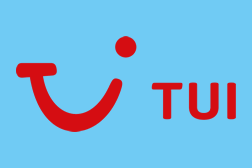 Discount Code
Save £100 on summer 2021 holidays to Tenerife
Min spend £800 per booking
Travel before 31st October 2021 (inclusive)
Show discount code
******INE
Recommended for Tenerife
Jan Feb Mar Apr May Jun Jul Aug Sep Oct Nov Dec
The weather guide for Tenerife shows long term weather averages processed from data supplied by CRU (University of East Anglia) & today's weather forecast provided by MeteoBlue. Find out more about our data sources.
Which is the hottest month in Tenerife?
The hottest time of year in Playa de las Americas, Tenerife is normally August. Expect maximum daytime temperatures to reach 26°C with moderate heat and humidity.
Which month has the most rain in Tenerife?
In terms of rainfall, December is usually the wettest month in Playa de las Americas, Tenerife with 75mm on average. There are normally 6 days in December with some rain.
When is it sunniest in Tenerife?
The sunniest time of year in Playa de las Americas, Tenerife is normally July with bright sunshine on average for 71% of daylight hours; that's 10 hours of sunshine per day.
When is the sea warmest in Tenerife?
The sea is usually at its warmest in Playa de las Americas, Tenerife in September when the water temperature reaches 24°C.
Metric (°C / mm) | Imperial (°F / inches)
Gran Canaria weather overview
For a relatively small island, Gran Canaria packs one hell of a punch, and Gran Canaria's weather plays no small part in its enduring appeal.
As (if not more) popular in winter as it is in summer, this Canary Island has a diverse offering, from beaches to mountains, lively resorts to quiet villages, luxurious hotels to independent B&Bs.
It really is a holiday destination with something for everyone, and the fantastic weather in Gran Canaria from January to December is the cherry on top.
The reason the weather in Gran Canaria is so good has everything to do with its position in the Atlantic Ocean, just off the coast of North Africa.
The island lies north of the equator and spends most of its time under an area of high pressure, where it's mainly dry and skies are typically cloudless. But cloudless skies aren't everything; there are plenty of these in the nearby Sahara Desert with scorching temperatures to match.
The difference with Gran Canaria, and indeed all the Canary Islands, is that because sea temperatures vary by only 4°C throughout the year, the ocean helps to regulate air temperatures, preventing them from rising too high in summer or falling too low in winter.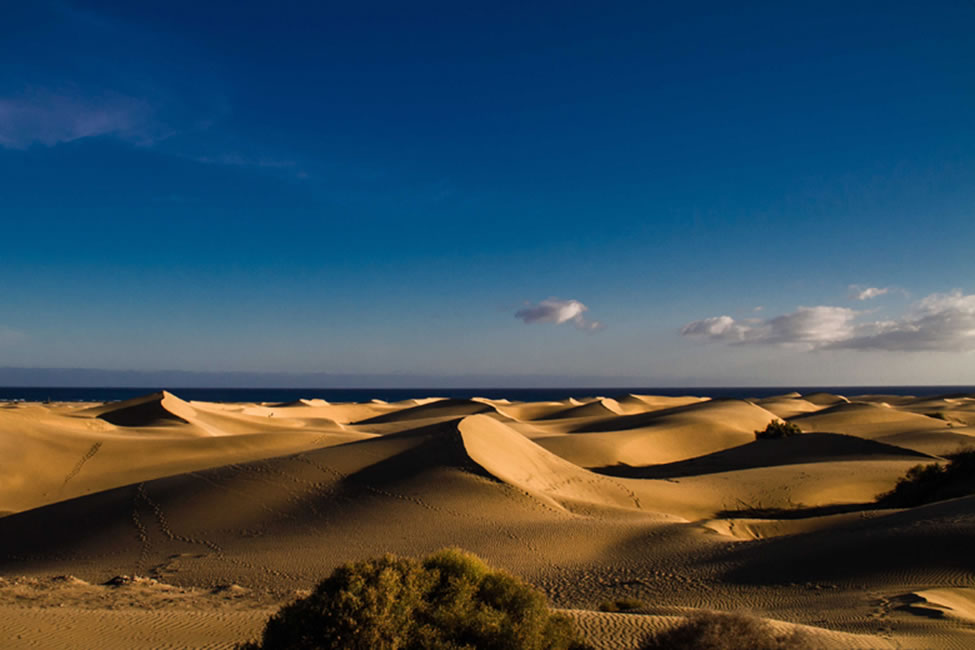 When visiting Gran Canaria, you'll find that most of the resorts are located in the southern part of the island where the weather in Gran Canaria sees more sunshine, less rainfall and temperatures are slightly warmer.
It's also where you'll find some of the best beaches, notably at Maspalomas, Puerto Rico, and the Playa de Amadores (Lovers' Beach).
As with the other Canary Islands, Gran Canaria's weather is pretty consistent with only marginal variations in temperature, rainfall, sunshine and more throughout the year.
With this in mind, you can see why we have referred to summer and winter periods, as the distinction between the seasons isn't significant enough to include spring and autumn as well.
Gran Canaria's summer - May to October
Gran Canaria weather is at its finest during the summer season. Temperatures reach their highest of the year, there's lashings of sunshine, and virtually no rainfall. While the distinction from the winter months is clear, it is a gentle climb to these peak conditions from May onwards.
Temperatures start at around 22°C in May reaching 27°C in August, before descending slowly from 26°C in September to 25°C in October.
Evenings remain pleasantly warm from July to October at between 18°C and 20°C, yet a little cooler up to June and from November when it can sink to 16°C or 17°C after dusk, when it's worth packing an extra layer or two for evenings.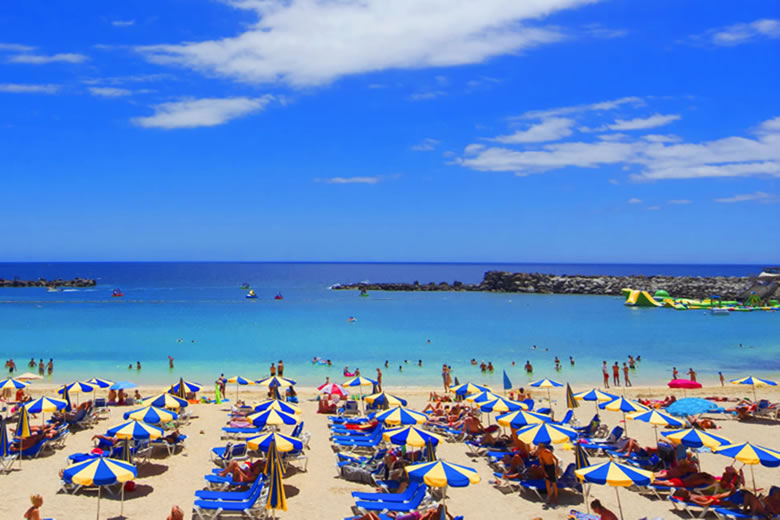 One of the best things about the weather in Gran Canaria, particularly in summer, is that you'll find no less than nine hours of sunshine each day from May to August, dropping only slightly to eight hours by September and seven hours by October.
As we already mentioned, on top of ample amounts of sunshine, you will also benefit from the clear skies, guaranteeing near-cloudless days, unless you're very unlucky.
There's no rain to worry about, especially at the height of summer, and only a maximum level of moderate heat and humidity to contend with from July to September. This helps keep things warm without getting too sticky or uncomfortable.
The wind also has a hand in this, as summer sees the strongest breezes blowing in from the Atlantic Ocean. Although the wind is generally stronger in summer, there is less chance of encountering the sort of dust storms that can affect the weather in Gran Canaria in winter.
You do have to watch out for UV rays throughout summer as, given its location, Gran Canaria weather is subject to high, very high and extreme UV exposure from May to October. It's most severe from June to August, so do take care in the sun and slap on a good strong SPF.
Finally, for those who like to take a dip and enjoy a splash about in the sea, the ocean around Gran Canaria is at its warmest from September to October at 23°C. By this time, it has benefitted from the sun's rays throughout summer, locking in any residual heat until temperatures start to drop.
It's important to note, whether you go in May (around 20°C) or October, that Gran Canaria's weather is not lauded for its warm sea. This is mainly due to the cold Canaries current that flows from the North Atlantic towards the equator, preventing temperatures from rising to the sort of highs you see elsewhere, in the Med for example.
In fact, compared with highs of 25°C in Marmaris and 27°C in Cyprus, the sea is noticeably cooler in Gran Canaria, which is fine for many but if you feel the cold or have very young children, you may want to seek out accommodation with a heated pool.
Back to top
Gran Canaria's winter - November to April
Gran Canaria's appeal doesn't dwindle in winter - far from it. In fact, more people visit the island during the winter months than in summer. March is especially popular, as people go to enjoy the warm weather in Gran Canaria before the higher heat and inflated prices of summer kick in.
One of the best things about Gran Canaria's weather in winter is its abundance of glorious sunshine. Even in December you will still enjoy around six hours per day, compared with a paltry one hour in the UK.
December also sees the most rainfall but with only four days seeing any rain at all, this total remains low, and unlikely to put you off visiting or making the most of the weather in Gran Canaria.
Temperature wise, November takes a noticeable hit after the warmth of October, dropping to 23°C with December sinking to around 21°C. January and February are the coolest months but with a high of 20°C it's never what you'd call cold.
Even after sunset, temperatures only drop by around 5°C or 6°C with an evening low of around 14°C from December to March. The weather in Gran Canaria starts to warm up gradually from March onwards.
The sea however, is where you will find cold temperatures, especially from January to April when it struggles to climb any higher than 19°C, which is bracing to say the least.
Some people find this no problem for water sports, but you will want a wetsuit! If you do fancy a swim, look for hotels with heated pools to give you that little extra warmth.
Although there's less wind about in winter, the sea is actually rougher thanks to the swell that tends to come off the Atlantic Ocean from the northwest.
Winter storms further out in the Atlantic also produce larger waves close to land, which create optimal surfing conditions, especially from November to January.
There's no heat and humidity from November through to May, and even the intense UV takes a break, dropping to moderate from November to January.
This leaves you with warm, largely clear conditions in winter, perfect for getting out and about and exploring the island in the very best of Gran Canaria's winter weather.
Although winds generally have less of an impact than in summer, Gran Canaria can fall victim to calima winds, particularly in February and March, which blow in from the Sahara bringing dust and sand that affect conditions.
When calima winds occur, expect the temperature to rise and visibility to drop. While lengthy storms are rare, they do happen, although you'd be unlucky if you were affected by calima winds for more than a few days, even in winter.
Back to top
Gran Canaria's weather summary
If you're wondering when to go to Gran Canaria for the best weather, the answer is pretty simple - anytime. June to September are the warmest and sunniest, but from November to March the island also has the best weather of anywhere within five hours flying time from the UK.
The island has such an excellent year-round record that whichever month you choose, it is unlikely that you will be disappointed with Gran Canaria's weather.
Whether you opt for relaxing on the beach at in the heat of summer or discovering the island's charms for some winter sun, there's no bad time to visit Gran Canaria.
There's plenty of opportunity to explore its diversity for yourself, be it on foot, on a bike, on horseback - you name it, you'll find it in Gran Canaria.
For more information on Gran Canaria's weather, head over to the climate page or check out the five day forecast. If you fancy booking your getaway, don't miss our detailed guide to Gran Canaria holidays, including travel deals and the top things to do.
Back to top
Compare Tenerife weather with the USA
Below the Tenerife weather chart shows average maximum daytime temperature for Tenerife (Playa de las Americas) and the USA (Washington).
Maximum daytime temperature (°C)
Tenerife (Playa de las Americas)
USA (Washington)
Jan
Feb
Mar
Apr
May
Jun
Jul
Aug
Sep
Oct
Nov
Dec
Metric (°C / mm) | Imperial (°F / inches)
Compare more Tenerife weather >>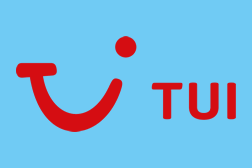 Sale
Book online & save on TUI holidays in 2021/2022
Pay £0 deposits on holidays with direct debit
Plus free child places available
TUI deal finder
Be inspired
Get your weekly fix of holiday inspiration from some of the world's best travel writers plus save on your next trip with the latest exclusive offers
We promise not to share your details
Related posts
Popular travel offers
*affiliate links: find out how we are funded and why this helps us remain free to use.