Malta weather
Get the latest coronavirus (Covid-19) updates for Malta with current travel advice and statistics on new cases per 100,000 and vaccine.
Below are the temperatures expected today at popular destinations in Malta. Select a destination to compare today's forecast with average weather conditions.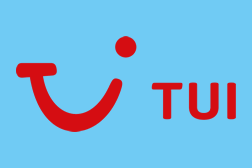 Discount Code
Save £100 on summer 2021 holidays to Malta
Min spend £800 per booking
Travel before 31st October 2021 (inclusive)
Show discount code
******INE
Recommended for Malta
Jan Feb Mar Apr May Jun Jul Aug Sep Oct Nov Dec
The weather guide for Malta shows long term weather averages processed from data supplied by CRU (University of East Anglia) & today's weather forecast provided by MeteoBlue. Find out more about our data sources.
Which is the hottest month in Malta?
The hottest time of year in Valletta, Malta is normally August. Expect maximum daytime temperatures to reach 30°C with high heat and humidity.
Which month has the most rain in Malta?
In terms of rainfall, December is usually the wettest month in Valletta, Malta with 99mm on average. There are normally 13 days in December with some rain.
When is it sunniest in Malta?
The sunniest time of year in Valletta, Malta is normally July with bright sunshine on average for 81% of daylight hours; that's 12 hours of sunshine per day.
When is the sea warmest in Malta?
The sea is usually at its warmest in Valletta, Malta in August when the water temperature reaches 26°C.
Top 10 summer sun: Malta in May
Looking for some summer sunshine? We've handpicked 10 of the very best places to go for a sunny holiday in May, and the Mediterranean island of Malta is in tenth place owing to the 10 hours of sunshine it enjoys on average per day plus its warm daytime temperatures.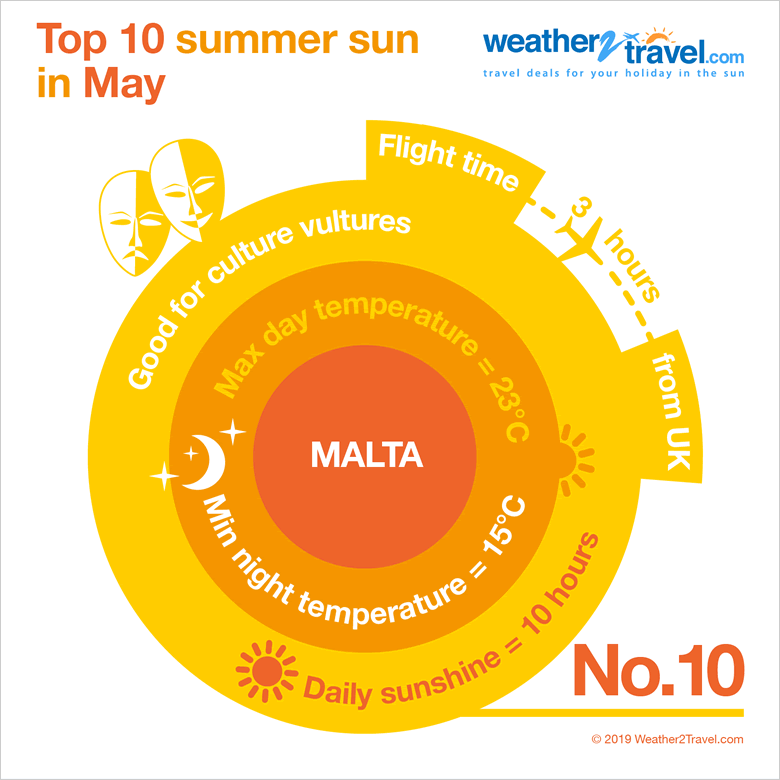 Top 10 summer sun: Malta in June
Looking for some summer sunshine? We've handpicked 10 of the very best places to go for a sunny holiday in June, and the historic Mediterranean island of Malta is in eighth place for its promise of long, sunny days and comfortably warm temperatures.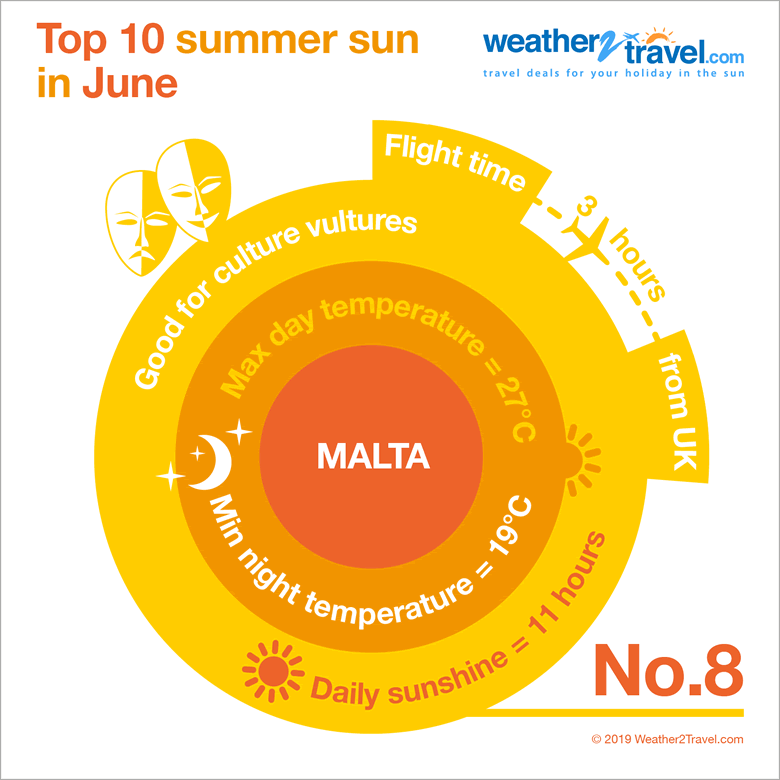 Metric (°C / mm) | Imperial (°F / inches)
Malta weather overview
Malta weather comes in two flavours, hot in summer with plenty of sunshine, and sunny but cooler in winter with some rain and occasionally strong winds.
Malta weather is some of the best in the Mediterranean with plenty of sunshine throughout the year and high daytime temperatures in summer often moderated by cooling sea breezes.
Malta has long been a popular holiday destination with Brits. Everyone in Malta speaks English and there are good flight connections from most major UK airports.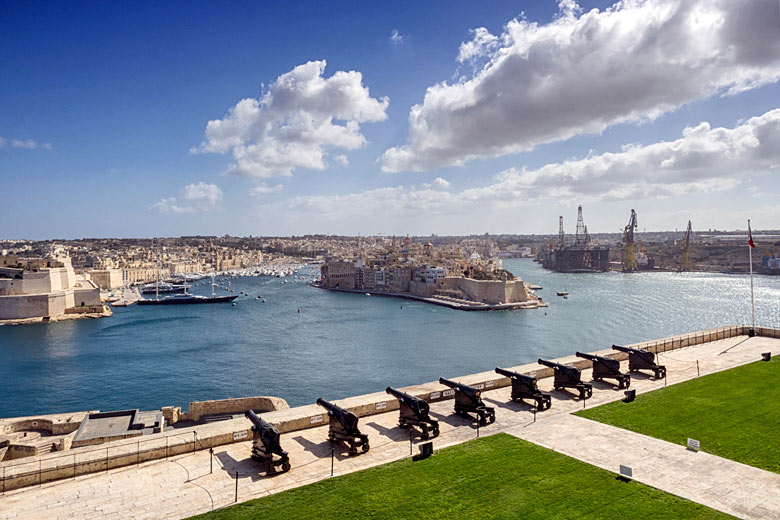 One of Malta's main attractions is the sheltered sandy beaches that make it so popular as a family holiday destination. For those who are more adventurous there are also many secluded coves along the rocky shoreline with safe swimming in clear blue Mediterranean waters.
Because of the fine weather, the summer season from June to September is the most popular time for people to visit Malta.
In June the weather is near to perfect. The days are long and 75% of daylight hours are usually sunny. Daytime temperatures do exceed 30°C on some days but heat and humidity is still usually only moderate.
Although this sort of weather is ideal for lazing on the beach, depending on what you are used to, some may find the sea still a little chilly at 21°C.
By the middle of July however the sea temperature has risen to 24°C and 12 hours of sunshine a day is the norm. This is the beginning of the hottest time of year when daytime temperatures rise into the low thirties Celsius and heat and humidity is usually high.
On the coast a sea breeze can help to alleviate the discomfort caused by high humidity and by nightfall temperatures are generally back to the low twenties Celsius.
August is normally quite similar to July - hot and dry, but when September arrives it becomes noticeably cooler and there is even a slight chance of rain showers.
Once the school holidays are over September is a great time to visit Malta. Although daylight hours are shrinking, there is still plenty of sunshine, temperatures are down a touch and the sea temperature is still 25°C.
Even in October it is still pretty warm with daytime temperatures in the mid twenties Celsius, although as the month progresses the number of days with rain increases as the season changes from the settled dry conditions of summer to more variable cooler weather with rain at times.
From the beginning of October to the end of January Malta usually has about the same amount of rain as most places in the UK. However there is also a lot of sunshine.
Rainfall in Malta comes mainly in short episodes, never lasting more than a day or two, and more normally falling over a period of a few hours. In fact the sun still shines for an average of at least 5 hours a day throughout the winter.
Daytime temperatures in winter are comfortable, in the mid to high teens Celsius, and a lot warmer in direct sun. They can however fall below 10°C at night, but never below zero.
Warmth and sunshine are not the only benefits Malta weather has to offer in winter. Because the island is relatively far south daylight hours are longer here than in Northern Europe. London has around 7.5 hours of daylight each day in December. Malta can boast an extra 2 hours a day at 9.5 hours.
Despite the generally fine weather winds can be strong at times in winter and spring when the 'mistral' blows off Western Europe towards North Africa, and on rare occasions when it blows from the north east it brings colder weather from the Balkans.
There is also a chance of 'sirocco' winds that blow from the Sahara desert towards Europe particularly in winter and spring, bringing dust, high humidity and warmer temperatures.
During February the first signs of spring start to appear as rain becomes less frequent and minimum temperatures rise a degree or two. Vegetation is at its greenest in March and from the middle of April when daytime maximum temperatures rise above 20°C the weather begins to warm up.
By May there are 10 hours of sunshine a day, no heat and humidity and little chance of rain - great weather for getting out and about before the heat of summer takes hold once again.
Overall Malta has a delightful climate, in some respects very similar to many other destinations in the Mediterranean.
Being a small island, air temperatures are moderated slightly by the temperature of the surrounding sea, making it cooler in summer and warmer in winter than places that are more affected by continental weather.
What to pack for Malta weather
In summer from June to September light cotton clothing is all you need to take to Malta. Even in the evening the temperature usually remains above 20°C.
However for the rest of the year an extra layer is advisable; and from December to February a warm sweater is essential. Malta weather can be cold windy and wet on rare occasions during winter so a raincoat and umbrella may also be necessary.
A brief introduction to Malta
Malta is an archipelago nation in the Mediterranean made up of seven islands, of which three - Malta, Gozo and Comino - are inhabited and popular holiday destinations.
Given its location in the Mediterranean Sea, almost touching Italy and a stone's throw from North Africa, Malta has long been a melting pot of cultures, which over centuries has evolved to create a strong identity.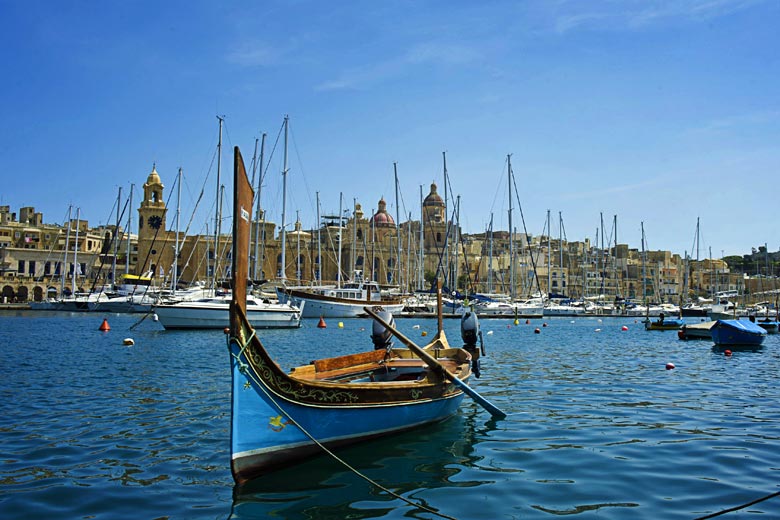 Malta has a rich and interesting history, having homed everyone from the Greeks and Romans to Knights, Napoleon and the British.
Today it's a flourishing holiday destination with so much to offer families and couples, from beautiful beaches and numerous UNESCO heritage sites, to museums, carnivals and fantastic snorkelling.
Family holidays in Malta
Malta welcomes families with ease thanks to its diverse selection of things to do and places to stay. As well as the family-oriented resort, you can look forward to experiencing a wide range of activities and attractions suitable for your little ones.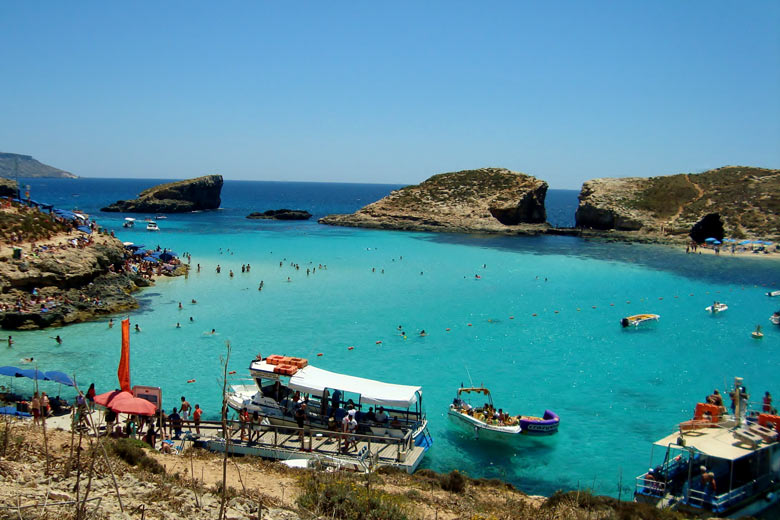 Take a dip in the sheltered waters of Comino's Blue Lagoon, book some water sports, make a base in one of the many beach clubs or splash about in a water park.
On dry land, you can go horse riding, mountain biking, and even visit a film set at Popeye Village Fun Park. Other family-friendly theme parks in Malta include:
Mediterraneo Marine Park
Playmobil Fun Park
Splash & Fun Waterpark
Bugibba Water Park
Then of course there's the enormous variety of museums (many with dedicated kids' areas or toys), sites, and events to choose from as well. With such a great deal for families to do together, if you're still deciding where to take your lot this year, a holiday to Malta could be just the ticket.
Best beaches for families: Bugibba Perched Beach, Mellieha Bay Beach, St George's Bay, Comino Blue Lagoon
Best resorts for families: Bugibba, Qawra, Sliema
Beach holidays in Malta
As a collection of islands, naturally Malta does very well in terms of beaches and bays. Although predominantly rocky there are a number of good sandy options, some man-made. There's plenty of choice, it just depends what type of beach you're after.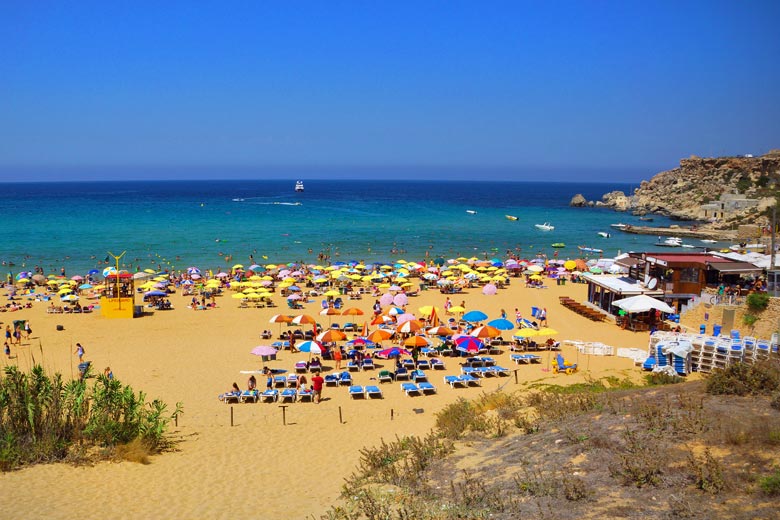 Sitting almost exactly in the middle of the Mediterranean Sea sandwiched between the north coast of Africa and Sicily, Malta is a true natural treasure with some striking stretches of coast, incorporating a mix of sandy and rocky beaches.
You'll find eight Blue Flag beaches across the three main Maltese islands of Malta, Gozo, and Comino, which are:
Mellieha Bay
Ghajn Tuffieha
Ramla L-Hamra, Gozo
Qawra Point
St. George's Bay
Bugibba Perched Beach
Fond Ghadir
Paradise Hotel Perched Beach
One of the island's biggest assets is the sea itself, providing endless opportunities for snorkelling and diving.
Three of the best places to dive in include Malta's Qawra Point, Hondoq Bay in Gozo, and all of Comino's coast, each giving you the chance to get up close and personal with a wealth of colourful creatures.
There's also numerous dive schools and centres offering courses and guided dives, such as to the shipwreck off St Julian's.
Best sandy beaches: Bugabbi Perched Beach, St George's Bay, Hondoq Bay Gozo, Golden Bay, Mellieha Bay
Best beaches for snorkelling: Blue Lagoon Comino, Qawra Point, Bugabbi Perched Beach, Hondoq Bay Gozo
Key facts about Malta and Gozo
To ensure you're prepared for you holiday to Malta in 2021/2022, we've compiled a brief rundown of the nation's vital stats:
Flight time from UK: 3 to 3.5 hours
Time zone: Central European Time (GMT +1)
Currency: Euro €
Driving: left-hand side
Major airports: Malta International Airport (MLA)
Compare Malta weather with the USA
Below the Malta weather chart shows average maximum daytime temperature for Malta (Valletta) and the USA (Washington).
Maximum daytime temperature (°C)
Malta (Valletta)
USA (Washington)
Jan
Feb
Mar
Apr
May
Jun
Jul
Aug
Sep
Oct
Nov
Dec
Metric (°C / mm) | Imperial (°F / inches)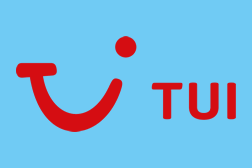 Sale
Book online & save on TUI holidays in 2021/2022
Pay £0 deposits on holidays with direct debit
Plus free child places available
TUI deal finder
Be inspired
Get your weekly fix of holiday inspiration from some of the world's best travel writers plus save on your next trip with the latest exclusive offers
We promise not to share your details
Related posts
Popular travel offers
*affiliate links: find out how we are funded and why this helps us remain free to use.