Summer in Japan: 11 unmissable things to do on holiday
*affiliate links: find out how we are funded and why this helps us remain free to use.
In Japan, summer is the season of festivals, fireworks, beaches, and beer gardens, making it an ideal time to visit. The hot weather and humidity are challenging, but the Japanese have invented plenty of ways to cool down. Here are 11 unmissable things to do when visiting Japan in summer.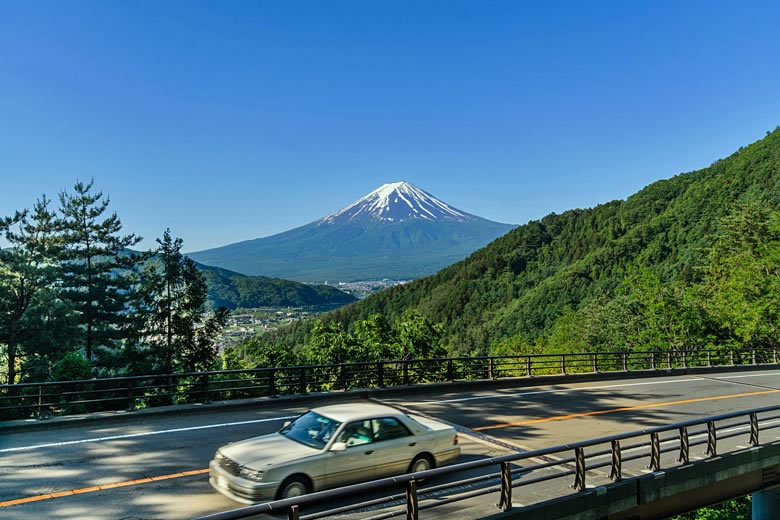 1. Check out the festivals
Annual local festivals (matsuri) occur in Japan all year round, and for many places, they happen in summer. Almost every Shinto shrine has one to celebrate the shrine's deity or a seasonal or historical event.
Some of Japan's biggest and best festivals occur in July and August. Most festivals last for a few days or more and involve street processions with huge floats, dancing, music, fireworks, food, and copious amounts of beer and sake. Get your yukata (summer kimono) on, and party with the locals at these festivals in summer.
Gion Matsuri, Kyoto
One of the three greatest festivals, Gion Matsuri in Kyoto, is one of Japan's most famous festivals. Taking place over the entire month of July, the main events kick off in the middle of the month.
Three days of raucous street parties are followed by two processions of lavish floats over 20 metres high. If you're in Kyoto, you won't be able to miss this amazing spectacle and celebration of the city's culture.
Tenjin Matsuri, Osaka
Tenjin Matsuri - another of Japan's top three festivals - takes place in Osaka on land and water. A street parade with music and traditional costumes precedes a torch lit river procession. Don't miss the spectacular fireworks display finale.
This is also one for foodies, as Osakans love nothing more than feasting on high-quality cuisine. The term kuidaore, meaning 'eat until you drop', is used to describe Osaka's food culture and there's no better time to see this than during Tenjin Matsuri.
Nebuta Matsuri, Aomori City
Dramatic, extravagant, and colourful floats featuring mythical figures parade around Aomori City. Flanked by large taiko drums, musicians and dancers create a striking spectacle. Aomori is best known for Nebuta Matsuri, and local teams take up to a year to design and build the stunning floats. If you're not in Aomori for the event, visit the excellent Nebuta Warasse a museum dedicated to the festival.
Kanto Matsuri, Akita City
The highlight of Akita City's festival is the skill and strength of the l performers balancing arrays of paper lanterns on long bamboo poles. Over 200 bamboo poles - each one up to 12 metres high and weighing 50 kg - are carried through the streets on the palms, foreheads, shoulders and lower backs of the celebrants. The crowd chant words of encouragement to the sounds of drums and flutes.
2. Be dazzled by fireworks
Fireworks (hanabi) go hand in hand with festivals, but in Japan, they're also parties in their own right. Originally used to ward off evil spirits, fireworks have evolved into elaborate displays.
Hanabi in Japanese translates as 'flower fire', as fireworks resemble flowers made from fire. The artistry and timing of firework displays are critical to making the fire flowers bloom. Craftsmanship and attention to detail - like many aspects of Japanese culture - are key to the success of firework shows.
Today, fireworks in Japan are so elaborate and sophisticated they can create drawings in the sky. Look out for cats, chicks, squid, deer, and other images that depict the local culture.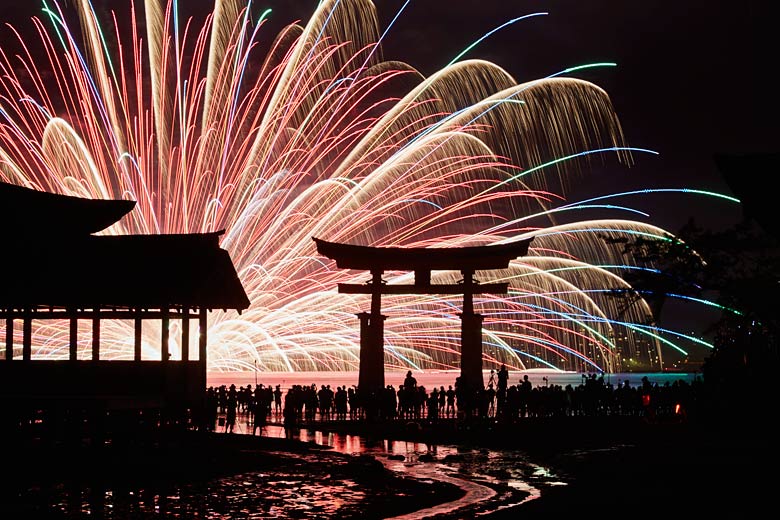 Sumida River Fireworks Festival, Tokyo
Sumida River Fireworks Festival stakes a claim as Japan's biggest show. Typically held in late July, over 22,000 fireworks launch from barges on the Sumida River between Asakusa and Ryogoku. Across Japan, there are hundreds of fireworks displays in summer.
3. Wear a yukata
No trip to Japan is complete without wearing a yukata, a casual, light garment like a kimono. Yukata means 'bathing cloth' and their original use was for visiting communal baths. Visitors to onsen (hot spring) resorts will get to wear a yukata and geta (wooden clogs) while strolling the streets. Yukata is also typical dress code when staying at ryokan (Japanese style inns). Wear your yukata on the way to the bath, during meals, and even in bed.
In Japan, younger women wear bright and colourful yukata, while more mature women tend to be less flashy. Men's yukata - you didn't think you'd get away without wearing one - are either black or subdued colours like dark blue.
You'll see locals wearing yukata during festive occasions and while visiting shrines and temples. Tourists often wear yukata for a day, and there's no better place to hire one than Kyoto.
4. Dine riverside
Dining on (kawadoko) or beside (kawayuka) a river is an elegant custom in Kyoto to beat the hot and muggy weather. Surrounded by mountains, the cool waters of Kyoto's rivers provide a natural respite from the heat.
On the banks of the Kamogawa River in central Kyoto, you'll see over a hundred restaurants with raised terraces. Here you'll find places serving local, Japanese, and international cuisine.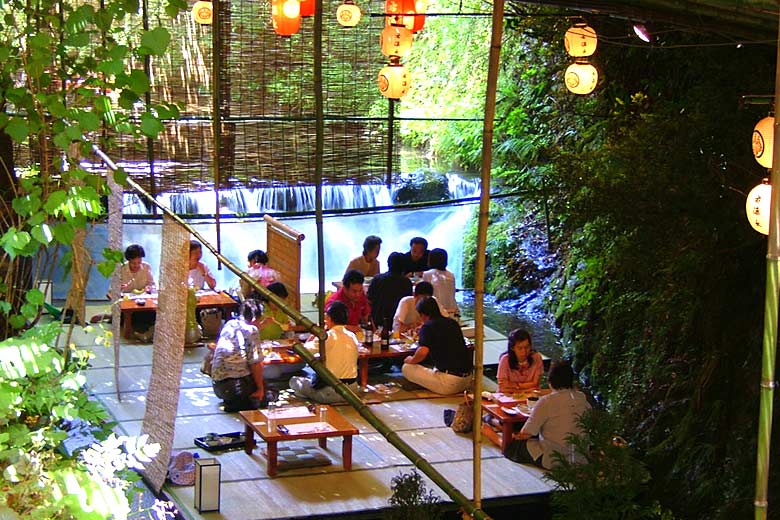 For a more intimate experience head to the picturesque village of Kibune, an hour north of Kyoto by train, where you can dine on the river. Kibune's restaurants have built tatami mat covered platforms over the river and waterfalls. The cool water from the flowing river and mountain air make it an ideal escape from the sweltering heat of Kyoto city.
Treat yourself to kaiseki ryori, Kyoto's traditional and delicious multi-course meal. Extravagant washoku (Japanese cuisine) dining like this comes at a price, but it's well worth it. Food lovers will be in their element in Japan. Discover food, drink and cooking experiences at Food Tours Japan.
5. Sample nagashi somen
Feeling a bit peckish now? A more affordable and fun meal to try at Kibune is nagashi somen. Somen are thin wheat flour noodles similar in taste to udon. A tasty summer dish, they're served with a cold dashi - seaweed and fish flake stock - based dipping sauce. Dished up in cold water - often with chunks of ice - somen is a refreshing summer meal to cool you down.
Nagashi somen (flowing somen) is an entertaining twist on this dish. The noodles get sent down a waterslide made from bamboo, and you have to catch them. It's great fun and a real test for even the most nimble of chopstick users. The ultimate place to try nagashi somen is Hirobun over the river in Kibune. After all that effort you must in need of a drink.
6. Chill out in a beer garden
Beer gardens are very popular in summer, not to mention a great place to meet the locals. Drinking ice cold beer to the sound of 'kanpai' (cheers) is a familiar sight in Japan's cities. Often perched on department store rooftops and surrounded by neon lights, you'll also find them in parks, where you'll have chirping cicadas to keep you company.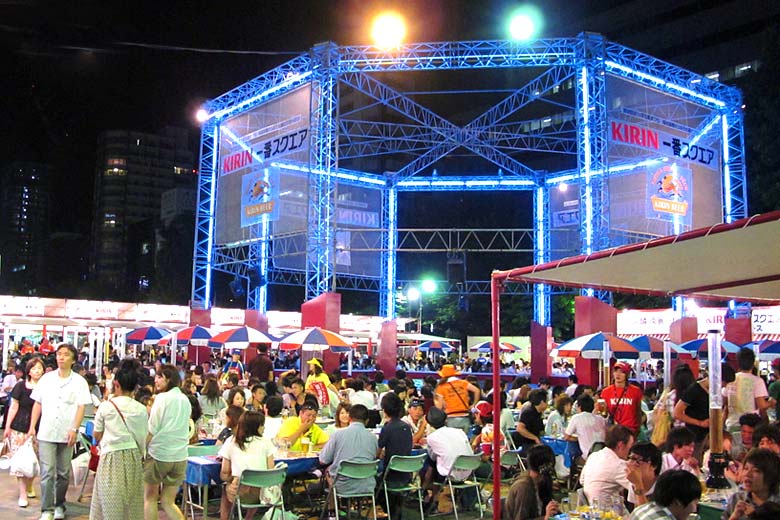 Most beer gardens offer all you can drink (nomihodai) and food for a limited time at a fixed price. For seasoned drinkers, this offer's good value. Beer gardens are not known for their gourmet experiences but you'll find a variety of food with BBQ a firm favourite.
7. Cool down with shaved ice
Shaved ice (kakigori) dessert is Japan's favourite summer food for cooling down. Shaved ice comes in all shapes and sizes from basic with flavoured syrup, to elaborate styles with lots of toppings.
Shaved ice's feathery, light texture is like fresh, fallen snow. In summer, you'll find it everywhere at restaurants, coffee shops, from street vendors, festivals and the beach. Classic shaved flavours include strawberry, melon, mango, strawberry and green tea. At restaurants, shaved ice is served with flavoured syrups, fresh seasonal fruit and condensed milk or cream.
Specialist shaved ice shops have sprung up all over Tokyo. Each one on a mission to outdo each other with deluxe toppings like rare cheese, sake, coffee, and natural ice from Mount Fuji. Eating your way around Japan is all well and good - well, fantastic, as the food is amazing - but you'll need some exercise too...
8. Climb Mount Fuji
Climbing Mount Fuji (Fujisan) is a rewarding and unforgettable experience. The pilgrimage to the summit of Japan's most sacred mountain - and active volcano - is a popular thing to do, and the mountain's official climbing season only runs from July and September.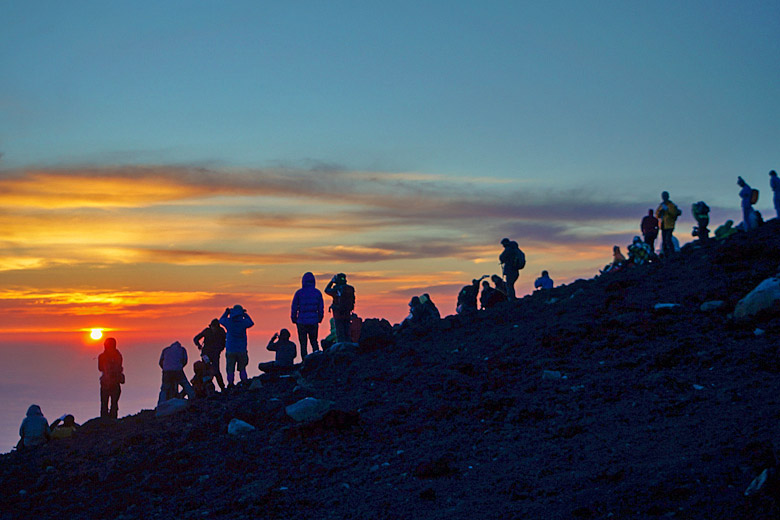 Most people time their ascent to see the sunrise from the summit, which starts from 4.30am. There's also less chance of clouds during the early morning hours. A good way of doing it is to climb part of the way, stay overnight in a mountain hut, and then make your way to the summit on the second day.
It's more of a hike than a climb, but there are tough, steep sections along the way. The changing weather and temperatures, from stifling hot to ice cold winds, are the biggest challenge for most people.
Make sure you're well equipped and bring plenty of layers of clothes. For advice and weather conditions, check the official climbing Mount Fuji website. If that sounds like hard work, there are other ways to enjoy Mount Fuji* from Tokyo with tours that combine a visit to the lower parts of the mountain, a trip on the Hakone Ropeway, and sightseeing cruise on Lake Ashi.
9. Lose yourself in beautiful Hokkaido
Beat the heat and humidity by escaping to the cooler climate of Japan's northernmost main island, Hokkaido, where the rainbow coloured flower fields of Furano and Biei are stars of the show. Furano's famous lavender fields bloom between late June and mid August. Don't worry if you miss them as all summer there's a kaleidoscope of colour.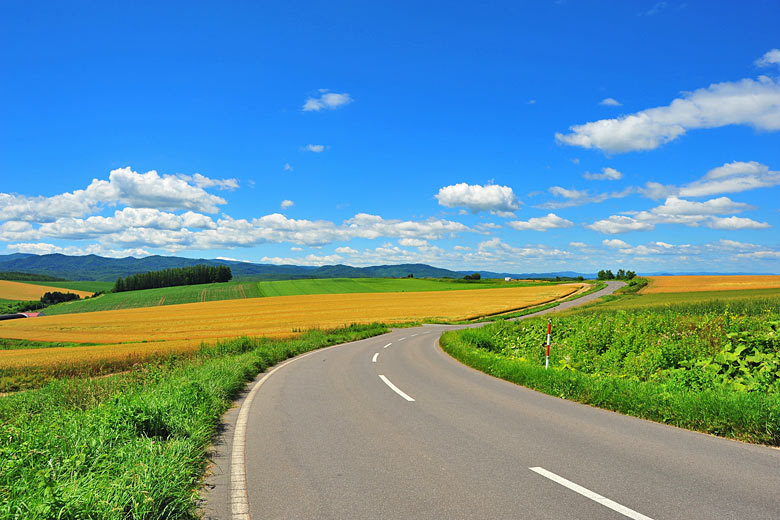 Hikers and nature lovers will be in their element visiting Hokkaido's national parks. Outdoor enthusiasts can enjoy spectacular mountain scenery and fauna and flora, including brown bears, foxes, deer and rare alpine plants.
Daisetsuzan is Japan's largest national park with 16 mountains over 2,000 metres. Located in the centre of Hokkaido, it's an ideal location for hikers and day trippers. And what better way to relax after a day on the trail, than a clean and soak in an onsen. Staying at an onsen resort near Daisetsuzan National Park is the ideal base to explore the area.
Travel to Hokkaido on one of Japan's most scenic and fastest train journeys. Japan Rail Pass holders travel for free on the recently opened Tokyo to Hokkaido Shinkansen. However, if it's sun, sea, and sand you're after you might want to skip Hokkaido and head to the coast.
10. Hit the beach
The best beaches in Japan are found in the Okinawa Islands Okinawa Shoto - also known as the Ryukyu Islands - off the south of Japan. Turquoise sea, subtropical climate, coral-fringed shores and white sand beaches anyone?
The Ryukyu Islands are ideal for sunbathing, swimming, and water sports. For the ultimate Japanese beach experience head to the islands of Miyako (pronounced Miyakojima) and Taketomi (Taketomijima) or one of the smaller islands off Okinawa Main Island (Okinawa Honto). ANA and Japan Airlines offer frequent flights to the islands. Check Skyscanner for the latest online fares*.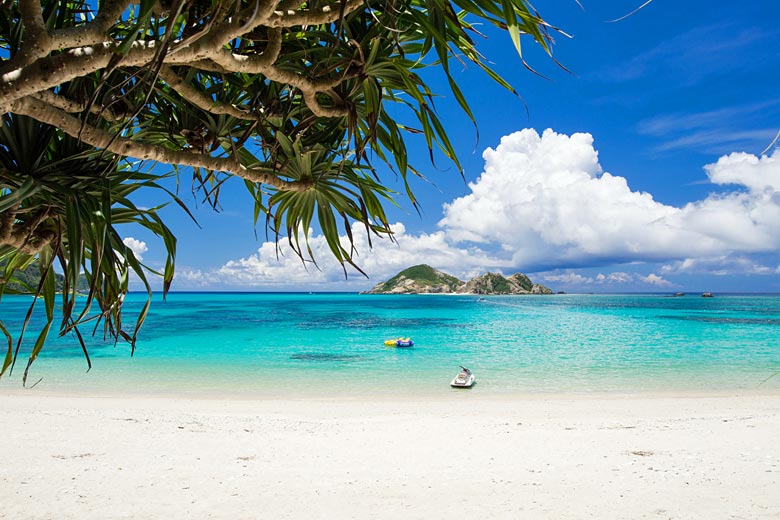 Japanese beaches are well-equipped with changing rooms, toilets, rental shops, beach and restaurants. The official beach season is short with lifeguards on duty from early July to mid August. Timings differ from north to south due to Japan's diverse climate range.
Beaches from the big cities
Day trippers from Tokyo can combine a trip to Kamakura with local beaches there and Enoshima. A bit further afield the beaches on the Izu Peninsula are better options.
From Osaka, Shirahama Beach and onsen resort is perfect for an overnight or long day trip. Closer beaches in Osaka Bay are okay for sunbathing but not suitable for swimming. Omimaiko Beach on Lake Biwa - Japan's largest freshwater lake - is 45 minutes by train from Kyoto.
11. Be terrified by J-Horror
Watching horror films is a good way of escaping the heat, and for the Japanese, catching a fright from a scary film is enough to chill them out in summer. If you want to experience the weird side of Japan, look no further than J-Horror (simply, Japanese horror).
J-Horror films are extremely frightening, outlandish, and gruesome. J-Horror films trace their roots back to horror and ghost story classics from folktales. The tradition continued into kabuki - Japanese style theatre - before hitting the silver screen.
Compared to the majority of Western horror films, J-Horror films are much darker, much scarier. J-Horror themes include psychology, unrelenting tension building, long silences, small spaces, folk religion, and often desperately unhappy endings. Settle down in one of Japan's air-coned cinemas to watch the latest J-Horror, and you're sure to have a memorable evening.
As you can see, there really is plenty to tempt you to Japan in summer - whatever you do, you're guaranteed a fantastic time enjoying Japanese culture. If you've not booked your flight yet, British Airways offers excellent deals on fares to Japan*.
Alternatively, check out these holiday offers to Japan or tours from companies such as Wendy Wu. You can also find out about the weather in Japan, and see when we think is the very best time to go if you can't make it in summer.
More about Japan
Jan Feb Mar Apr May Jun Jul Aug Sep Oct Nov Dec
Explore holidays in the sun for less
Be inspired
Get your weekly fix of holiday inspiration from some of the world's best travel writers plus save on your next trip with the latest exclusive offers
We promise not to share your details
Related posts