7 ways to sample Osaka
*affiliate links: find out how we are funded and why this helps us remain free to use.
Osaka may not be the first Japanese destination on most visitor's hit list, but this sprawling industrial city famed for its vibrant food scene offers plenty of culture, spirituality and history, not to mention excellent transport links connecting you with a multitude of other equally-stimulating towns and attractions.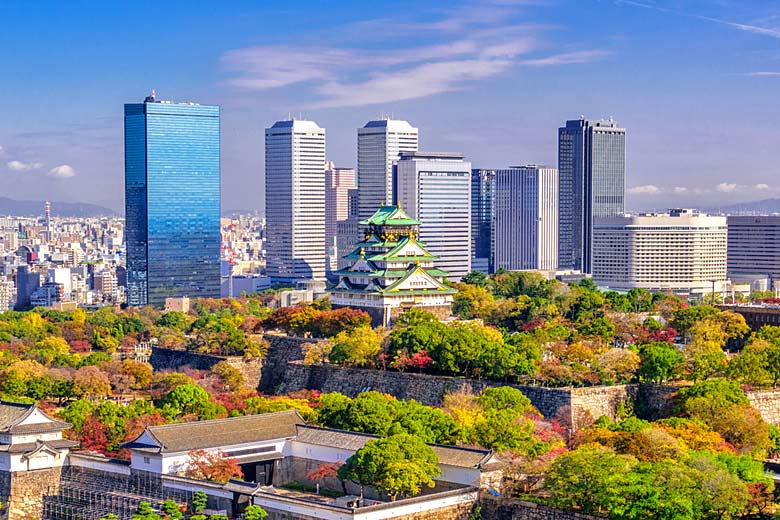 Osakans are known for their down-to-earth attitude and good humour, and some visitors find the city a slightly more relaxed place to sample Japanese culture than Tokyo.
Getting to Osaka: British Airways recently launched direct flights* from London Heathrow to Kansai International (four per week), which gives you the perfect excuse to explore Japan's second largest city.
Sample some authentic flavours
If there's one thing Osaka's known for, it's the city's exceptional food offering.
This ranges from high-end restaurants serving multi-course sushi banquets served by Geisha-dressed waitresses, to traditional 'oden-style' places like Takoume, (considered Japan's oldest restaurant, dating from 1844) where all the elements of your dish (typically tofu, fish, eggs and vegetables) are served in one big tasty pot of broth.
Even in the shopping malls you'll find fantastic culinary treats served at humble-looking modern buffet restaurants. At these, you can indulge in a huge array of tempting and exotic hot and cold dishes.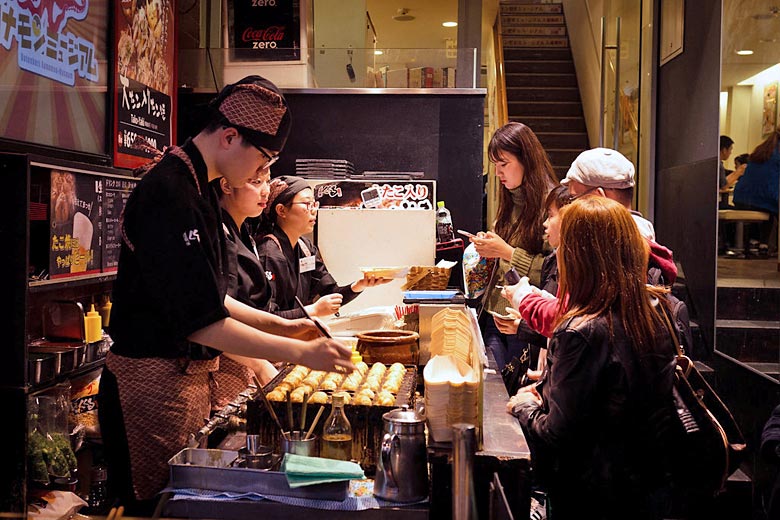 Then, of course, there's the sumptuous street food. Feast on fried oysters and scallops cooked on the street on little griddles and served simply with soy sauce, and you have to try takoyaki, the fried octopus balls the city's famed for, alongside some interesting 'frankenfoods', like the gyoza-hot dog combos, and curry-pan - deep-fried doughnuts filled with curry sauce.
Top off the evening with a flask of sake and some yakitori from one of the many Izakayas, cosy local inns selling food and alcohol, which are often packed with sozzled 'salarymen' kicking back after a long day in the office.
See Dotonbori by night
Osaka's downtown entertainment district of Dotonbori is not to be missed. It's one dizzying, multi-sensory onslaught of neon, sizzling street food, corner bars and shops selling all kinds of 'kawaii' (cute) souvenirs.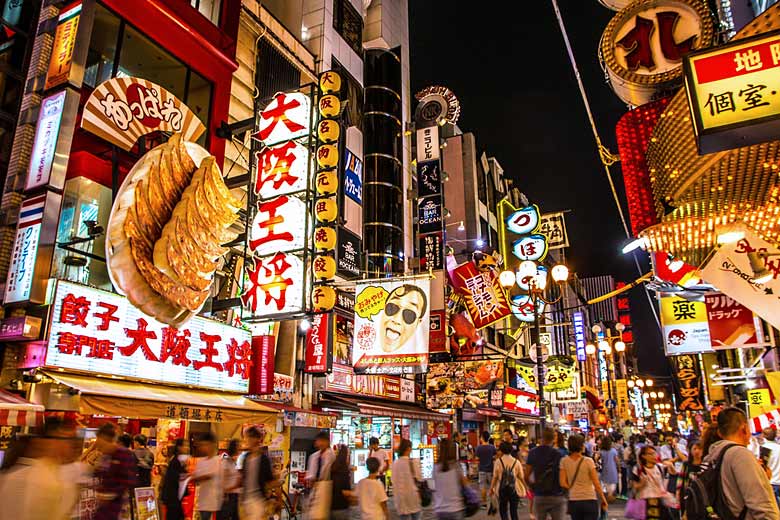 The Pachinko (amusement) arcades clatter and roar away, while groups of hyper-trendy youths idle around remarkably amiably in the pedestrianised areas, and the whole place never appears to shut.
The area's best seen by night of course, and you can take a boat cruise along the Dotonbori River to glide past all the giant, animated neon advertising signs here.
These boats also make regular stops at food stalls along the way. In particular, look out for the 50-foot tall 'Glico Running Man', 'the Moving Crab' and a giant 3D family tucking into their tofu, among many others.
Discover ancient theatrical traditions
Osaka covers historical stuff just as well as it does modernity. It's a good place to learn about Noh theatre. This highly stylised performance art form dates back to the 14th century and, while similar to Kabuki, Noh shows typically re-tell myths and legends.
Noh performers sing mournful love songs in an ancient Japanese dialect, wearing elaborate robes, costumes and delicately-painted wooden masks. They move in deliberately slow, choreographed routines, with emotions signalled using hand gestures and antique wooden fans.
The overall effect is quite eerie and unforgettable. The Yamamoto Noh Theatre is a fine place to get immersed in this theatrical form, with regular workshops and performances.
Scale a historic castle
For many first-time visitors, Osaka's castle will likely be an early port of call. The impressive structure is actually not quite as old it looks. The original castle was built in 1583 and reconstructed in the 19th century, after weathering various skirmishes and a devastating fire.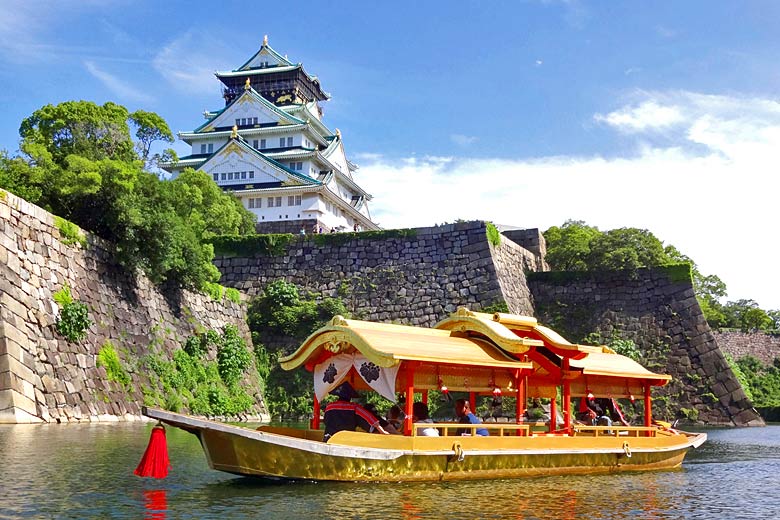 Surrounded by a colossal, moss-clad moat (it has the largest castle walls in the country), the beautiful tiered building is festooned with gold leaf and ornaments.
It's worth climbing the eight floors here, if only for the prime city view from the top, but do stop off in each gallery to peek at displays of military artefacts and uniforms - and best of all, a series of enchanting intricate animated dioramas depicting various legends and historical events.
The 15-acre grounds are worth exploring too, especially during the brief 'hanami season' when they're bursting with vivid pink cherry blossom.
Immerse yourself in an onsen
Another must-do here is the Japanese ritual of 'onsen' - essentially single-sex spas and bathhouses, where nudity is mandatory and quiet contemplation is actively encouraged.
And, as with many aspects of Japanese life, there's a fairly elaborate etiquette surrounding how to do it correctly, including how you wear your hand-towel (on your head) and which way you tie your robe (on the left side, the opposite way is reserved for burials!).
Some hotels here (and ryokans, more traditional Japanese inns) have an onsen onsite, with many coastal and tourist resorts essentially built and marketed around them. It's not uncommon to spy people wandering around town in their kimonos or yukatas on their way to and from the baths.
Onsens vary in size, style and setting, and for those who are too shy to disrobe for the full body experience, there are refreshing foot onsens too.
Take a pilgrimage trail
When you want to escape the city for a spot of 'forest bathing', you can hit the Kumano Kodo Trail. This ancient pilgrimage is one of only two in the world to have UNESCO status, which it shares with the Camino de Santiago in Spain.
The trail covers 70 km across the mountainous Kii Peninsula, but for an easy one-day version you can tackle the 7 km stretch between Hoshinomon-oji and the Kumano Hongu Taisha.
This fairly gentle hike will take you past little farms where monkeys steal the fruit, and through dense forests of tall cedars and cypress trees.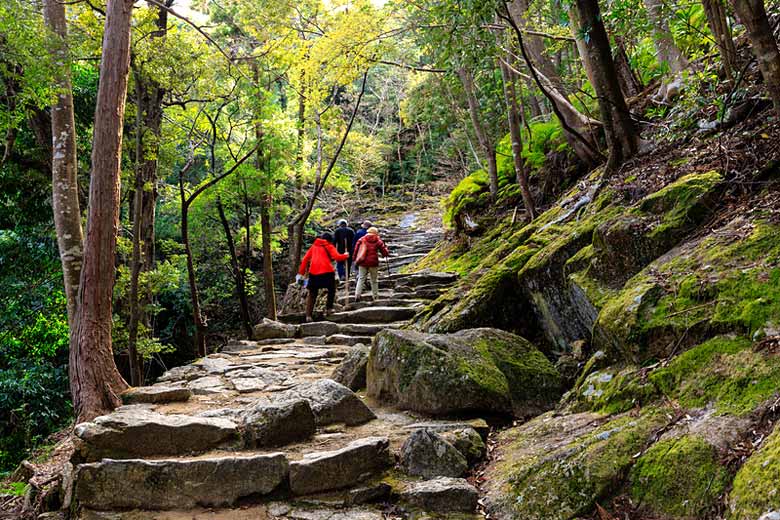 Look out for the many small Jizo shrines dotted along the way. You can leave a small offering and pray for specific things (like curing toothache or improving your career prospects, maybe), and there are also 'honesty shops' where you can buy locally-made craft items.
Going to the Rugby World Cup in 2019? Don't miss our dedicated guide to the weather in host cities with match info and top tips as well.
Get spiritual at a Shinto shrine
Besides Buddhism, Japan's other religion is Shinto, and Osaka is very much at the heart of this faith. There are many temples and shrines you can visit to appreciate the lore and rituals of Shinto.
An easy train ride on the plush Shimakaze Express takes you to the town of Ise. Ise is one of Japan's most sacred spots associated with the Shinto religion.
Seek out the Ise Jingu Shrine, framed by that classic Japanese scenography familiar from so many ink paintings: angular Japanese maple trees and lily ponds thick with koi carp.
Renewal is one of the Shinto's touchstones, and this is put into practice here as the shrine and temples are completely renovated every 20 years.
Branch out from a travel hub
Osaka sits pretty much at the heart of Japan, and as you might expect from the country's famously excellent rail network, it's easy to get around and explore the rest of the Kansai region from here.
Kyoto, Nara and Wakayama are all under an hour away by rail, while both Tokyo and Hiroshima can be reached on a day trip, too.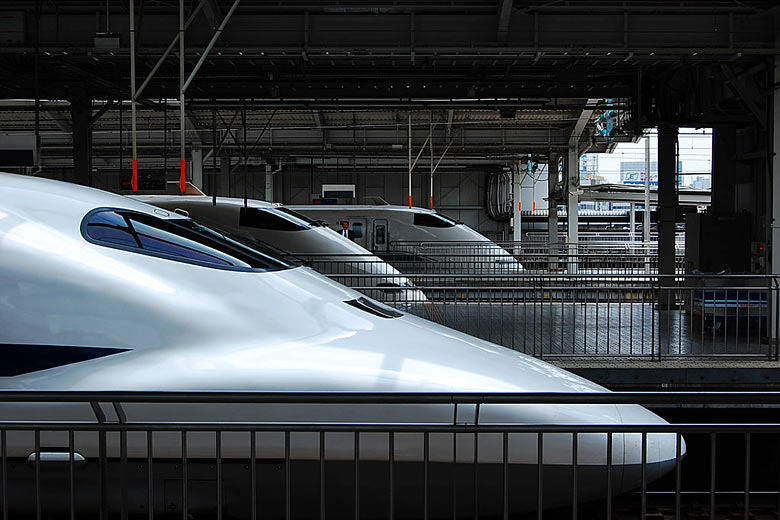 Japan has some of the world's most advanced trains including the famous Shinkansen bullet trains, and this less well-known service, the Shimakze Express run by the privately operated Kintetsu Rail Company is equally impressive.
Take the train from Osaka's Namba Station for a two-hour journey to Ise, where you can combine a spot of unique gift shopping with a visit to a sacred Shinto site.
Weather in Osaka, Japan
| | Jan | Feb | Mar | Apr | May | Jun | Jul | Aug | Sep | Oct | Nov | Dec |
| --- | --- | --- | --- | --- | --- | --- | --- | --- | --- | --- | --- | --- |
| Maximum daytime temperature °C | 9 | 9 | 13 | 20 | 24 | 27 | 31 | 33 | 29 | 23 | | 12 |
| Hours of sunshine (daily) | | | | | | | | 7 | | | | |
| Days with some rainfall | | | 19 | | | | | | | 14 | 13 | 14 |
| Sea temperature °C | | | | | | 21 | 25 | 27 | 26 | 23 | 20 | |
Find out about the weather in Osaka and see when we think is the very best time to go to make the most the city's - and region's - attractions.
Set to start sampling Osaka? Check out the latest BA sale deals on flights to Osaka, Japan direct from London Heathrow, and book your seat onboard today.
More about Osaka
Jan Feb Mar Apr May Jun Jul Aug Sep Oct Nov Dec
Explore holidays in the sun for less
Be inspired
Get your weekly fix of holiday inspiration from some of the world's best travel writers plus save on your next trip with the latest exclusive offers
We promise not to share your details
Related posts