A long weekend in Luxembourg: where to go & what to see
Please note: travel restrictions remain in place owing to the coronavirus pandemic. Be sure to check the latest travel advice and explore current covid rules and regulations by country.
Known for its small size, big business, enviable GDP and bargain petrol stations, the Grand Duchy of Luxembourg isn't typically top of the short break list.
Yet, with a compact capital that's easy to explore, oodles of history from Roman and medieval to modern, a taste for good food, locally produced wines, and ample ways to enjoy the great outdoors, it has plenty to rival its neighbours.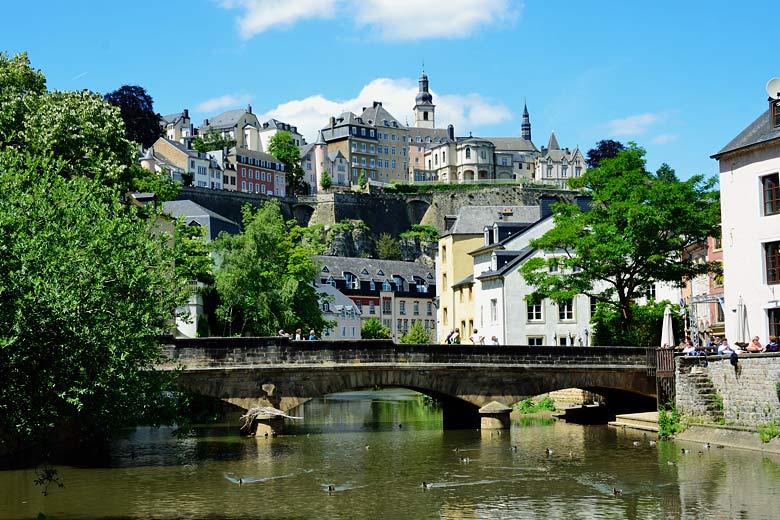 Top tip: get your hands on a Luxembourg Card, which includes access to public transport country-wide, free entry to many museums, attractions and tours, plus discounts on activities such as boat trips.
Luxembourg City
Your long weekend has to start in Luxembourg City - a capital like no other. Evolving at the confluence of the snaking Alzette and Petrusse rivers, it's developed around a series of deep gorges and valleys, ensuring a higgledy-piggledy layout that can play havoc with your legs.
As if aiming to confuse, it's also split four ways between the upper and lower, old and new. But this is part of what makes it such an interesting place: on top of the dramatic cityscape, you've got UNESCO-stamped fortifications, an impressive variety of museums, eclectic architecture, and a calendar full of public festivals and events.
Add the city's importance as one of the world's leading financial centres and as the third official capital of the European Union (along with Brussels and Strasbourg), and it's easy to see why Luxembourg City is the place to be.
What to see & do
Old Luxembourg City, known as Ville Haute, is a scenic mishmash of cobbled, hilly streets that plateau and converge around two main squares, Place Guillaume II and Place d'Armes.
Start wandering and you'll soon tick off some of the city's major attractions, from the ornate façade of the Grand Ducal Palais and revered Roman Catholic Notre-Dame Cathedral to the symbolic Monument of Remembrance in Constitution Square. The 'Golden Lady' is both a war memorial and representative of peace in a country ravaged by two world wars.
Stop and take in the view over the Petrusse Valley below and across to both the Adolf Bridge and Passerelle, or viaduct. It's also a good spot to really appreciate just what a green city it is.
Museums & galleries
Luxembourg City packs a punch when it comes to museums and galleries - there are plenty to choose from in the old and new, upper and lower parts.
Among them is the Luxembourg City Museum, which expertly charts more than a thousand years of urban history. Don't miss the enormous glass lift, which descends through the rock (and centuries of geology).
Without doubt one of the most fascinating historic haunts is the UNESCO-awarded Bock Casemates - a medieval system of fortifications, tunnels and once-upon-a-time defences.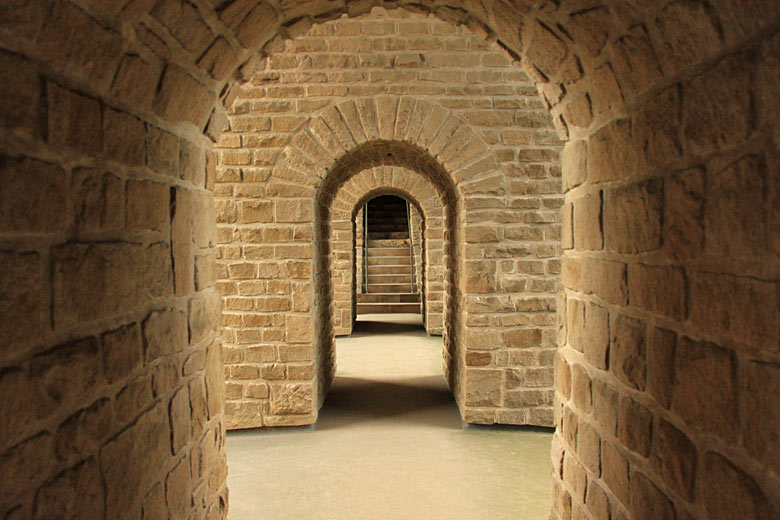 Dating from 963 CE, it formed part of the renowned Fortress of Luxembourg and saw countless extensions, attacks and restorations. Although demolished under the Treaty of London in 1867, it was put to good use as a bomb shelter during WWII.
Away from the old town, the Mudam - Museum of Modern Art is a treat for contemporary art lovers, while the Three Acorns Museum in the nearby Fort Thüngen complements the military history on offer at the Bock Casemates.
The oh-so-Luxembourgish Bank Museum, meanwhile, tells the tale of the nation's 150 years at the pinnacle of the finance industry, with a dash of grandiose architecture, located as it is within the head office of the State and Savings Bank.
Finally, if you're interested in WWII, you might want to visit the Luxembourg American Cemetery, around 5 km from the centre, where more than 5,000 American military personnel are buried, including General S. Patton.
Central neighbourhoods
While Ville Haute is the go-to historic centre, affluent Grund along the Azette River in the lower valley has award winning restaurants, the restored Neumünster Abbey (now a cultural centre), and more traditional architecture than you can shake a stick at.
Following the curve of the river, you'll come to busy Clausen, another lively area known for its bars and trendy Big Beer Company brewery.
Then there's Pfaffenthal, deep in the valley, which is incredibly pretty not to mention a joy to get to. Make your way to upper-lying Pescatore Park where you'll find the ingenious Panoramic Pfaffenthal Elevator - a fun and free way to get from upper to lower (or vice versa) without exhausting yourself.
Where to eat & drink
Luxembourgers love their food, which makes dining out a real treat. Expect to feast (and we really do mean feast - portions are more than generous) on seafood (surprisingly popular for a tightly-landlocked nation), elaborate salads, and all types of meat - lots of it cured, or smoked and slathered in a rich, creamy sauce.
For a light lunch: vegan beet, all smooth concrete and hanging filament bulbs, is where you'll get your fresh juice and healthy food fix. à la soupe does what it says on the tin with homemade soups, while tatties offers hearty baked potatoes.
For the sweet-toothed: Kaempff-Kohler is somewhat of an institution stocking arguably the finest posh chocs and fancy cake slices in the city.
For an afternoon pick-me-up: sink into the comfy sofas at arty Kaale Kaffi or sip cremant with a view on the terrace at stylish Ca(fé)sino in the Casino Luxembourg Art Gallery - just remember to look up to see the neon ceiling installation.
For the traditionalists: Brasserie Guillaume is a favourite, known for its decadent seafood platters and extensive carpaccio menu.
For an evening tipple: Palais Bar and Vinoteca Wine Bar & Shop take care of things in style in the upper part of the city, while Scott's Pub in the lower Grund area comes complete with riverside views from the terrace.
Day trips from Luxembourg City
If you want to fill your lungs with some country air on your weekend in Luxembourg, it couldn't be easier. Whether you hire a car or use the local buses, transport links are excellent and distances short.
For wine lovers: Moselle region
Luxembourgers are on to a good thing: unable to match the quantity of wine required to make an impact globally, the majority of wine produced from grapes draped along the sunny slopes of the Moselle is enjoyed within the country's own border.
Wine production in Luxembourg is generally small scale, often independent with various collectives that see growers pool their crops to create batches of mainly dry white wine, sparkling cremant the highlight among them.
Dropping into the region is simple: make for a family-run vineyard, such as Cep d'Or estate, where you can sip a drink or two on the terrace overlooking the Moselle River and stock up in the shop.
Make a night of it with a stay at nearby Hotel Ecluse. This sustainably revamped hotel has sleek rooms with a sun-drenched terrace where you'll also find some exceptionally good food and wines being served. There's a small spa and an outdoor pool to help you relax after all that wine tasting.
Top tip: check the events' calendar as festivals pop up across the country at various times throughout the year.
For hikers: Mullerthal Trail
More of a rural doer than a city slicker? No worries, there's a Luxembourg for you too. Located in the east of the country is the sizeable Natur-a Geopark (Nature Park) in Mullerthal, also known as Little Switzerland for its steep woodlands and interesting geology.
Here you'll find the 112 km-long Mullerthal Trail that passes through canyons, forests, fields, and orchards. It's easy to dip in and out of, with information on everything from a short walk to completing the whole route found via the trail's website.
Of course, there's more than just hiking in Luxembourg: cycling is hugely popular, while kayaking and canoeing can be tackled on the likes of the Moselle and Sauer rivers.
For historians: Schengen
Hands up if you knew Schengen was an actual place, not just the name of Europe's border-free zone? This tiny town tucked into the southeastern corner of Luxembourg, has a reputation that far outstrips its size.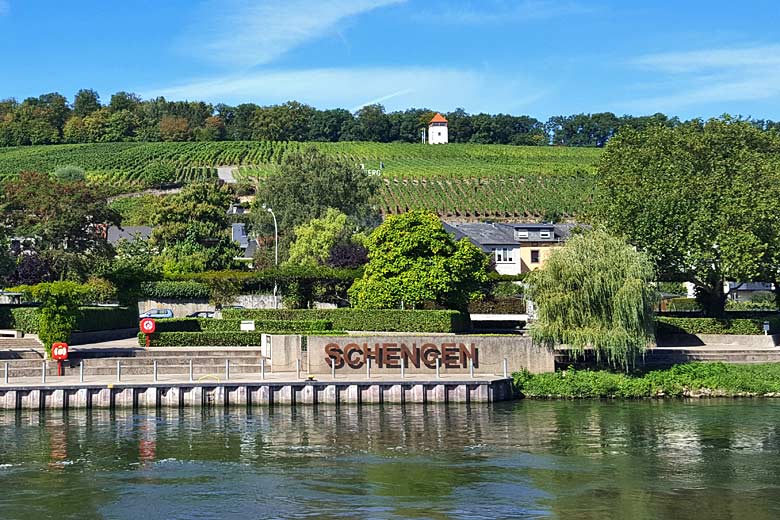 Located at the joining point of Luxembourg, Germany and France (and home to just over 500 residents), Schengen was the obvious place to gather the five initial signatories of the now renowned Schengen Treaty.
Did you know? The Schengen Treaty is a European agreement, not an exclusively EU one. Presently, four countries are part of Schengen that aren't part of the EU (Norway, Iceland, Liechtenstein and Switzerland) while six countries are members of the EU but not part of the Schengen area (Croatia, Romania, Bulgaria, Ireland, Cyprus and the UK).
Visiting Schengen today you'll see symbolism aplenty including two sections of the Berlin Wall. You can also visit the European Museum, which thoughtfully explains the history of the agreement, what it took to make it happen, and how it has helped to shape the movement of people in the Schengen area ever since.
Are you tempted to discover Luxembourg for yourself? You can fly from London City with LuxAir*, as well as from other London airports with British Airways (Heathrow), easyJet (Gatwick) and Ryanair (Stansted). Don't miss our range of deals on hotels and car hire to complete your long weekend in Luxembourg.
Weather2Travel.com visited Luxembourg with Visit Luxembourg in September 2018. All views expressed are those of the writer.
More about Luxembourg
Jan Feb Mar Apr May Jun Jul Aug Sep Oct Nov Dec
Be inspired
Get your weekly fix of holiday inspiration from some of the world's best travel writers plus save on your next trip with the latest exclusive offers
We promise not to share your details
Related posts
*affiliate links: find out how we are funded and why this helps us remain free to use.