7 best things to do in Sicily, Italy's sun-soaked island
*affiliate links: find out how we are funded and why this helps us remain free to use.
Roman ruins, rugged beaches and foodie finds, there's plenty to discover in sun-soaked Sicily*, Italy's largest island. Located in the heart of the Mediterranean, Sicily has a history, not to mention culture and dialect, that differ from mainland Italy*.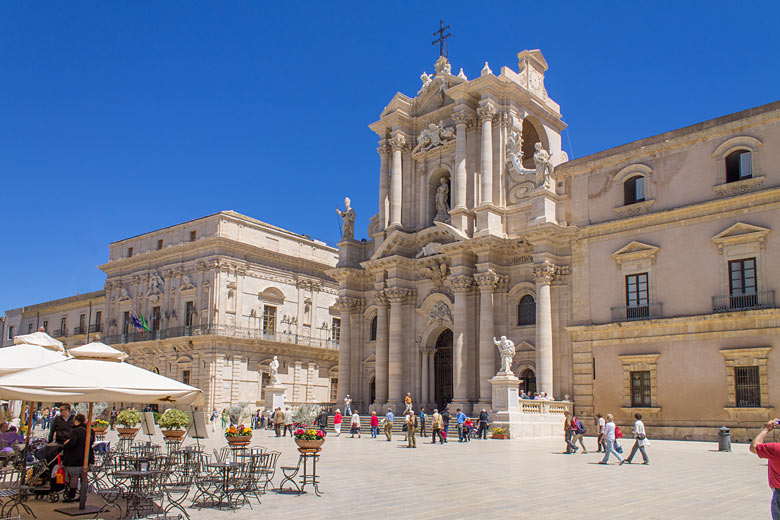 Inhabited since 12,000 BCE, you'll find Arab and Greek influences, a long timeline of multiple conquests and the rise and fall of empires with strategically located Sicily caught in the crossfire.
Today, it's a popular holiday destination with plenty of things to see and do as you embrace the laidback, la dolce vita lifestyle.
Getting to Sicily: find affordable breaks to resorts across Sicily with First Choice*, which departs from airports across the UK throughout the summer.
Drink volcanic wine at Mount Etna
You might not expect one of the most active volcanoes in the world to be a hot spot for wine tasting, yet the vineyards around Mount Etna yield impressive volcanic wines to slowly sip on.
While it seems improbable that anything could grow near a lava-spewing volcano, many charming, terraced vineyards produce beautifully complex Etna Rosso wines, packed with volcanic nutrients.
Nerello Mascalese is the principal red grape variety cultivated on Mount Etna and is typically usually grown at 3,500 feet above sea level, at some of the highest vineyards in Italy.
The distinctiveness of the wine has resulted in multiple wine-tasting tours and tastings being created to keep up with the high demand for quality plonk in mountainous surroundings.
Thanks to exploding wine tourism, you can now tour the numerous Etna wineries, carefully carved into the volcanic slopes, while learning more about local producers, tasting notes and growing methods.
Kayak around Isola Bella
Meaning 'Beautiful Island', Isola Bella is a tiny islet outpost and nature reserve that sits in an idyllic bay. Here, the pretty pebble beach is split in two with a narrow, sandy walkway to the island that disappears at high tide.
It's a wildly popular destination and the crowded pebble beach is often packed full of locals and tourists, with rentable sunbeds and umbrellas lining every inch of the small beachfront.
One of the best ways to explore the rocky shoreline in peace is by hiring a basic sea kayak from one of the beach vendors and paddling around the calm bay.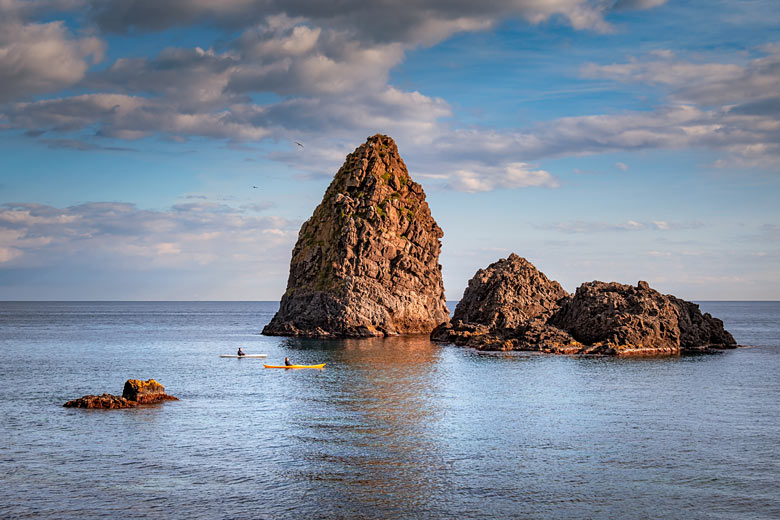 Out on the azure blue waters, you can appreciate the scenery of this splendid marine park without jostling for space.
Several tour companies also offer more comprehensive kayak tours that take you beyond the islet and out towards the Grotta Azzurra sea cave and Giardini Naxos's pristine coastline.
Watch opera in Palermo
Sicily's capital Palermo* has a thriving cultural scene and was awarded Italian Capital of Culture in 2018. Along with galleries and museums, the city is also home to the largest theatre in Italy, Teatro Massimo.
Built between 1875 and 1897, the historic five-storey theatre hosts a varied programme of concerts, opera and ballet events and also offers guided tours which take you backstage.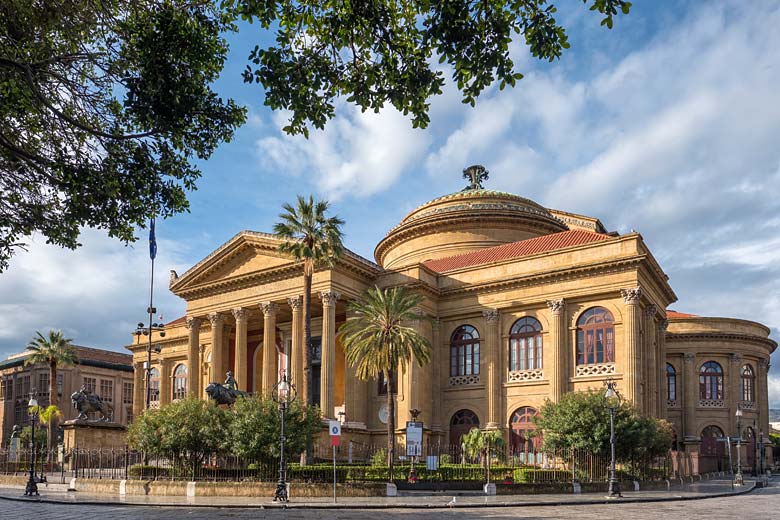 The 1,300-capacity venue is also well known for its prominent role in The Godfather: Part III, when Michael Corleone's daughter Mary is shot in front of him on Teatro Massimo's stairs.
If you're looking to catch high-quality opera here, the season runs annually from November to July, with a range of Italian classic performances with perfect acoustics.
Paraglide over the Sicilian coastline
Take a leap of faith and soar above Sicily's rugged coastlines when you do a tandem paraglide from Mount Venere in Taormina* to Letojanni Beach.
Paragliding has taken off in Sicily (literally and figuratively) and many adventure activity companies now offer exhilarating flights with professional pilots, so that you can view the island's panorama and deep blue Ionian Sea from a sky-high vantage point.
During a roughly 25-minute flight, you'll glide gracefully above historic Taormina before landing in the coastal resort of Letojanni, home to sun-trap piazzas, long shingle beaches and seafood restaurants.
Discover ancient Greek sites
The evocative landscapes of Sicily are dotted with numerous Greek ruins due to the early Hellenistic colonies that started to settle on the island around the mid-8th century BCE.
Step back in time and marvel at towering temples and oval amphitheatres where dramatic Greek performances gave way to gory Roman gladiator battles.
Many of the ancient Greek archaeological sites are in splendid condition with southern Sicily having some of the best-preserved Greek temples in the world.
The Segesta Archaeological Site is a popular choice for history-loving visitors and is thought to have Trojan origins.
Here, you'll find the fifth-century Doric Temple and an ancient amphitheatre that now hosts classical Greek dramas, performed in Italian, during the peak season.
The Valley of the Temples in Agrigento is another historically significant site with an impressive ensemble of Hellenic architecture including temples, a necropolis area and sanctuaries.
Taormina is also home to a Greek amphitheatre set against the backdrop of Mount Etna. Today, tourists flock here for guided tours and to take snaps of this incredibly well-preserved monument.
Live la dolce vita in Taormina
Around 200 metres above sea level you'll find upscale Taormina, one of the most popular Sicilian holiday resorts that oozes Sicilian style. This trendy hilltop town is where you come to practise 'la bella figura', an Italian concept that encompasses dressing well and creating a good impression.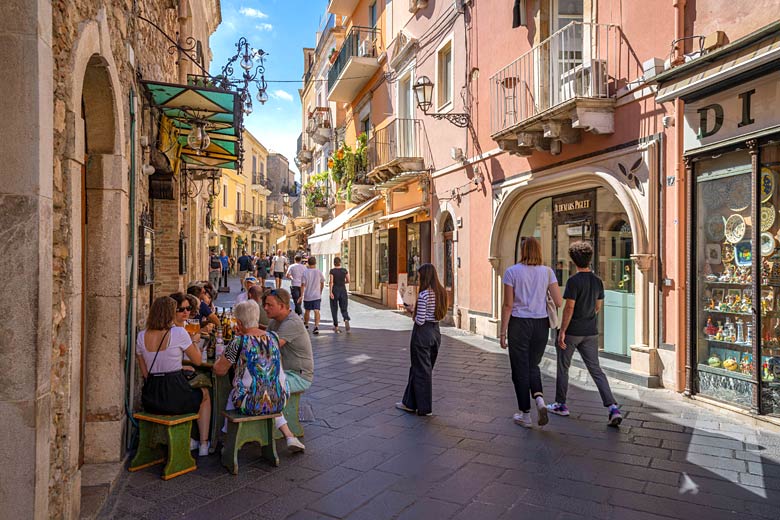 Dress in your finest garb and explore the town's glamourous bars and boutiques and its remarkable range of historical sites and landmarks.
Take your time wandering the historic centre, stopping periodically for freshly brewed Italian coffee and Sicilian granita (frozen dessert) from stylish pavement cafés and vendors.
Experience movie history
The Sicilian Mafia, also known as the called Cosa Nostra, was the world's most powerful criminal organisation and gained worldwide infamy, partly from The Godfather book and subsequent films.
Fans of the iconic gangster movie will recall that the third and final film was set primarily in Sicily and featured several locations across the island. Godfather fanatics can follow in Michael Corleone's footsteps and visit some of the most famous places from the movie on guided excursions.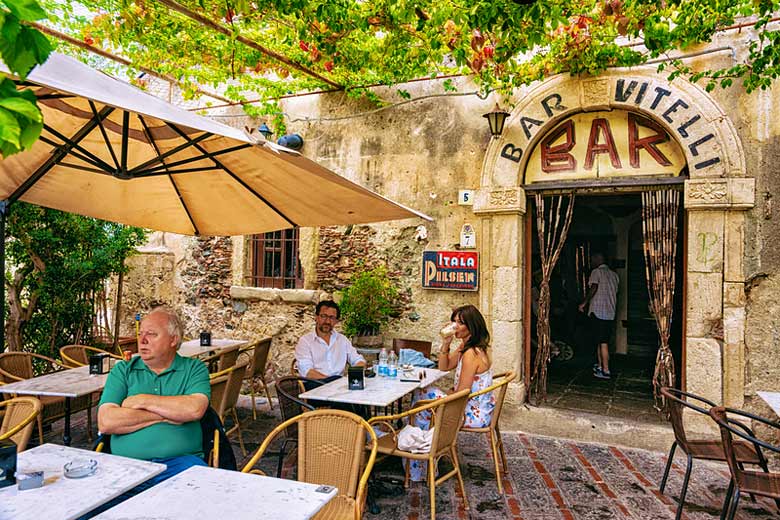 Most Godfather tours will take you to the locations of the most important scenes including Bar Vitelli in Savoca, where Michael asks Mr Vitelli if he could marry his daughter, St Lucy's Church where Michael married Apollonia and Castello Degli Schiavi, where Apollonia is tragically killed.
Weather in Catania
The above guide shows the weather in Catania. Find out more about conditions across the island in our complete guide to the weather in Sicily.
Ready to discover Sicily? Browse the latest great value holidays to Sicily with First Choice.
More about Sicily
Jan Feb Mar Apr May Jun Jul Aug Sep Oct Nov Dec
Explore holidays in the sun for less
Be inspired
Get your weekly fix of holiday inspiration from some of the world's best travel writers plus save on your next trip with the latest exclusive offers
We promise not to share your details
Related posts