Cape Verde's best beaches, island by island
Please note: travel restrictions remain in place owing to the coronavirus pandemic. Be sure to check the latest travel advice and explore current covid rules and regulations by country.
Cape Verde is made up of nine inhabited islands, which means simply loads of coastline. But if you're coming for a beach-based holiday, of any sort, you need to know which island to choose. For those after an all inclusive base from which to explore and experience Cape Verde's best beaches, don't miss the latest offers and online deals from TUI, which has a number of stylish properties across two of Cape Verde's most popular islands. Read on to find out more about Cape Verde's beautiful beaches and prepare to pack your bags for some warming winter sunshine.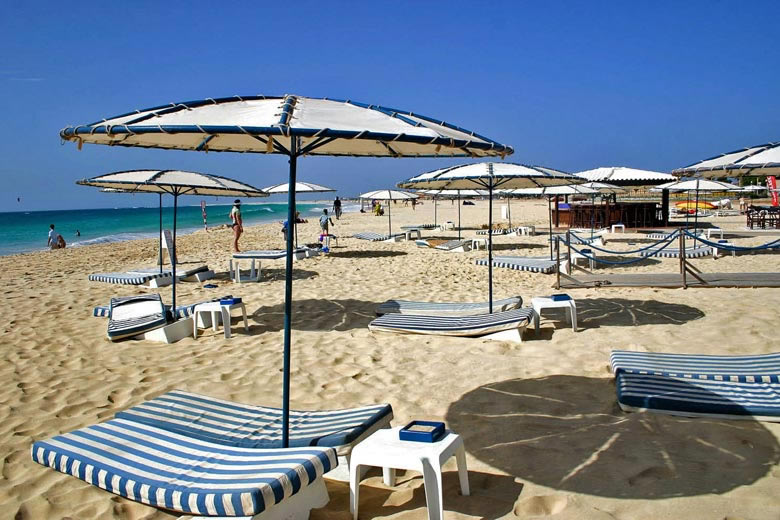 Sal
Sal is undisputed 'top island' when it comes to Cape Verde's visitor-friendly beaches. In reality, Sal means the town of Santa Maria, the booming resort that is nearly dropping off the island's southern tip and is rimmed with gorgeous white sands.
The town beach of Santa Maria runs for 3km from east to west, with the town itself plonked in the middle. This beach has something for everyone, so it's the archipelago's busiest and yet, it is never packed, even in the high season of November to April. For an all inclusive stay in Santa Maria, check out Riu Palace Cabo Verde*, Sol Dunas Resort* and Melia Dunas Resort*. Swim in sparklingly clear waters, or use the gentle conditions to learn to wind- or kitesurf, or take to the water on yachts, jet-skis, glass-bottomed boats or SUPs.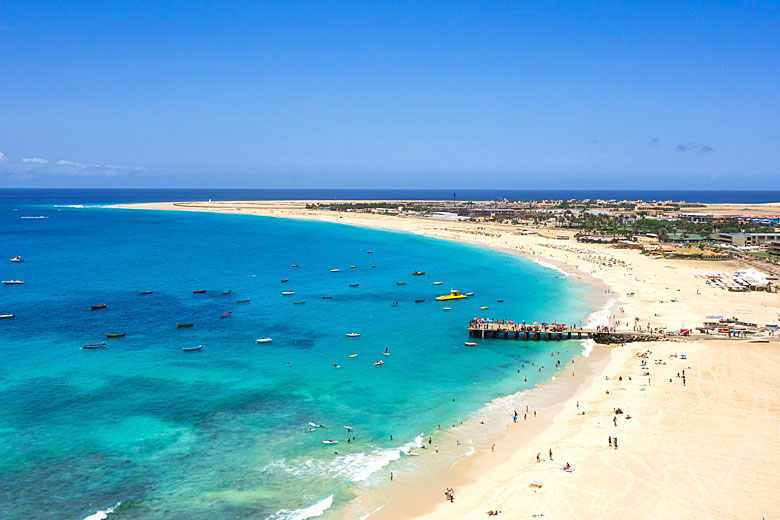 For sunbathers, the beach is deep as well as long, so you'll never feel hemmed in by other holidaymakers. Yet a full range of beach bars stretches along the promenade: choose between basic kiosks, popular with adrenalin-pumped water-sport fiends, and posh restaurants with fresh fish grilling on the BBQ. Santa Maria's pier is another attraction, drawing crowds of onlookers as young men land and gut fish, before the womenfolk carry them to market on their heads. No hands, perfect balance, pure Africa!
Just up Sal's west coast is Ponta Preta, firmly established on the international wave-jumping circuit and strictly for the experienced surfer. If that's not your level quite yet, a solitary wooden beach bar gives you the chance to kick back and watch the experts. More beautiful sands and a giant dune provide the backdrop.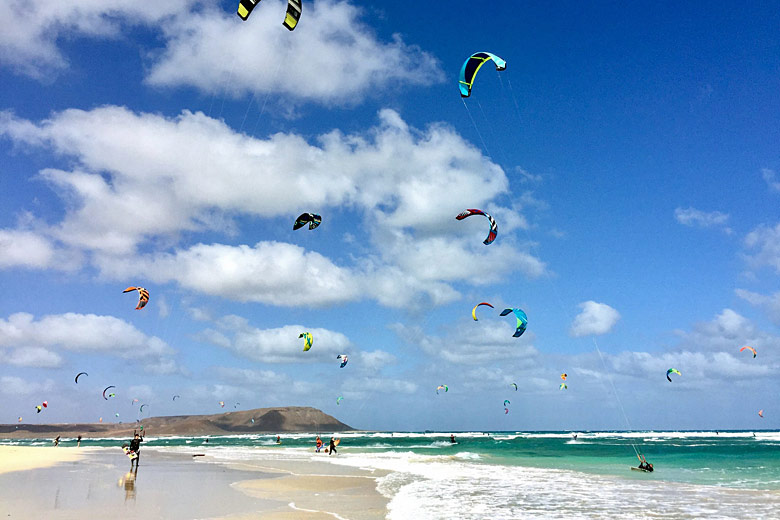 On the east coast, a bumpy taxi ride across the sands from Santa Maria is Kite Beach, a 2km long nature reserve. The clue is in the name, though it was once known as Shark Bay until the marketing gurus wisely rebranded it (there are no dangerous sharks here, by the way!). The wind is constant and onshore, dividing into a section for beginners and intermediate kitesurfers, and a part popular with experts. This is also a turtle nesting beach, and between August and December you can join the NGOs and volunteers who are busy at night warding off predators and relocating eggs to a safe hatchery. A worthy alternative to another all-night party in Santa Maria's nightspots!
Boa Vista
Boa Vista is the other island which lures beach-loving visitors from afar. Mile after mile of white sands, the island is like a part of the Sahara Desert, stranded in mid-ocean. Cabral Beach is the top venue for surfers, while novice wind- or kitesurfers should stick to the calm of the bay in Sal Rei, the principal town of the island.
Here you'll find Estoril Beach, just a stroll from the town centre and backed by a string of laid-back beach bar/restaurants equipped with sunbeds and parasols for that pre- or post-meal laze-about. Occasionally in high season there will be a theme night at one of these: reggae night, lobster dinner or something else. If your swimming is strong, you can splash out for the island a kilometre offshore, knowing that the water is never much more than two metres deep.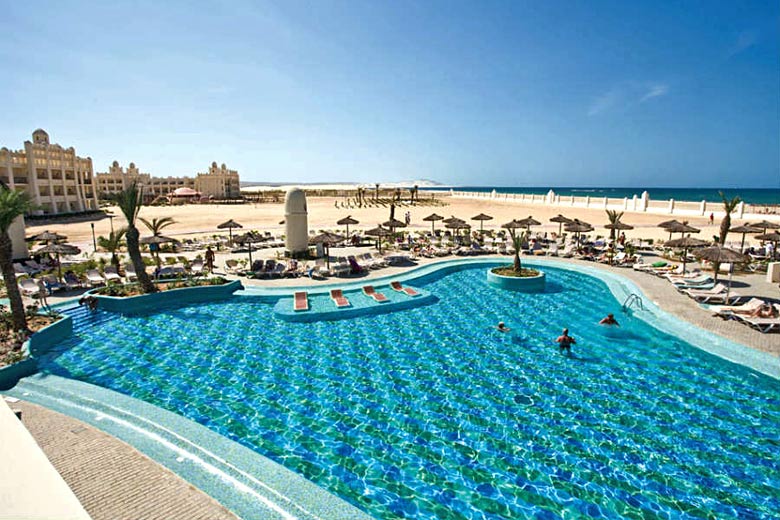 If you've chosen to stay in one of Boa Vista's all inclusive hotels, then you're likely to stay near Chaves Beach (check out Royal Decameron Boa Vista*) - a healthy half-hour walk from Sal Rei town, by the white sands of Praia de Salines (look up ClubHotel Riu Karamboa*) or in Lacação (see Riu Touareg*), which is a beautiful but isolated spot on the distant south coast. These huge expanses of perfect white sand are excellent to sunbathe on, but be warned that the red warning flag sees a lot of action, meaning that you might find you do most of your swimming in your hotel pool.
Maio
Maio is Cape Verde's third island with a white-sand beach or two, but it's rarely visited. Why? Unlike Sal and Boa Vista, it has no direct international flights, so logistics keep visitors away. It's capital town can boast the delightfully named Bitcharotcha Beach, where swimming can be enjoyed only with caution - take local advice. A short taxi ride up the coast, Bashona Beach is maybe the island's calmest and also host to a rare, sail-driven fishing fleet. Maio has little in the way of visitor facilities and makes for a peaceful getaway.
Santo Antão & Santiago
If black is your favoured colour of sand, Cape Verde can certainly oblige. On Santo Antão island, the beach at Porto Novo is put to good use during festivals for... horse-racing. There are no watersports here and swimming needs caution. In the west of the island, a bumpy two-hour pick-up ride will land you in Tarrafal, a beautiful stretch of black sand which offers swimming most of the time. You might have to share the sands with salted fish, drying out before being transported. You can snorkel here or dive, take a fishing trip or watch the fish eagles swoop for their lunch - a magical experience.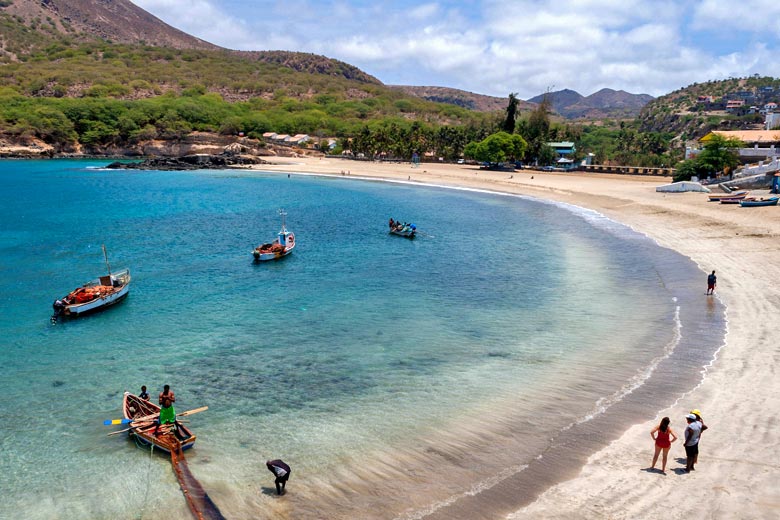 Another island, another Tarrafal. This time it's on Santiago, the most populous of the islands. Beach lovers here can join the locals on the capital, Praia's, modest beaches, but best to head north to Tarrafal, where fishermen and sunbathers share a golden arc of white sand. You can snorkel, dive, swim, fish and surf in this northern part of Santiago.
And the other four islands? Not really for beach-lovers, though you might enjoy the city beach at Mindelo on São Vicente island, which sports 'new' white sand (imported from Sal). Brava, São Nicolau, and Fogo islands are better suited for hikers, rather than sunbathers.
If you're tempted to try Cape Verde's beaches for yourself, you might be surprised at how affordable a holiday to Sal or Boa Vista can be with TUI*. Book online to get the latest deals, and choose to depart from Birmingham, Bristol, Glasgow, London Gatwick or Manchester. Don't forget to use our Cape Verde weather guide and see when we think is the best time to visit.
More about Cape Verde
Jan Feb Mar Apr May Jun Jul Aug Sep Oct Nov Dec
Be inspired
Get your weekly fix of holiday inspiration from some of the world's best travel writers plus save on your next trip with the latest exclusive offers
We promise not to share your details
Related posts
*affiliate links: find out how we are funded and why this helps us remain free to use.