8 unmissable day trips from Las Vegas
*affiliate links: find out how we are funded and why this helps us remain free to use.
Tell most people you're jetting off to Las Vegas and they instantly think of one thing. Yes, there are the neon skyscrapers, lavishly fun hotels and sheer urban drama, but it's that big 'G' word we're talking about.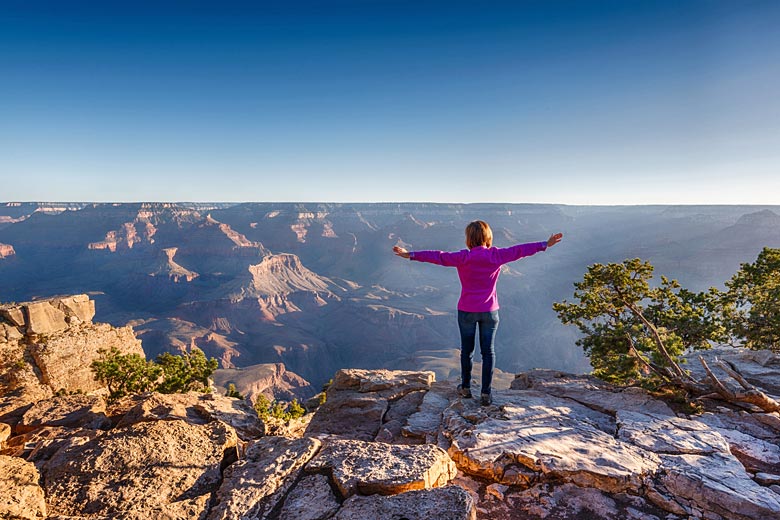 Las Vegas is synonymous with gambling, and on that score the world's most famous gambling destination always delivers in its compelling casinos. But - and here is a massive holiday but - I reckon you can have just as much fun even when you're not whirring away at the roulette wheel.
There is, of course, the other Big G, the Grand Canyon, one of the world's truly unmissable sights, but I've a whole treasure trove of day trips to tempt you off the Las Vegas Strip and out into some of the most spectacular landscapes in North America.
Did you know? Virgin Atlantic flies direct from London Gatwick (daily) and Manchester (twice weekly during summer) to Las Vegas in around 11 hours. Check out the latest great value fares with Virgin Atlantic >>*
1. The Grandest Canyon
I called the Grand Canyon the other Big G for good reason as this stellar attraction is massive! The canyon stretches for almost 300 jaw-dropping miles as it snakes around the Colorado River. There are myriad ways to explore the Grand Canyon National Park.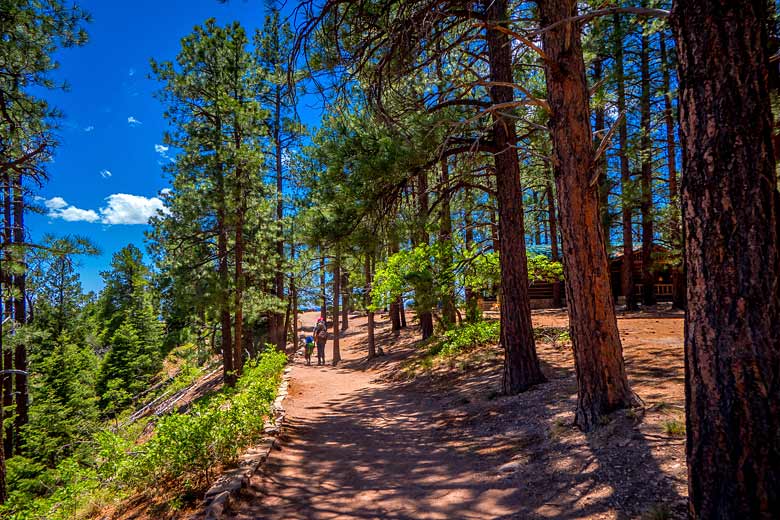 You can enjoy an adrenaline pumping plane or helicopter ride. If you opt for the latter I recommend descending down to the canyon floor at sunset. You can hike on a number of trails, or how about a mule trip? For something really unusual there are river rafting trips, where you get to savour a thrillingly different perspective.
2. Get active at Red Rock
Red Rock Canyon National Conservation Area is a real hub for lovers of the great outdoors in Nevada's Mojave Desert, named after its rugged red sandstone peaks. Hiking has long been the key draw with 26 official trails, but rock climbing is also now popular alongside mountain biking and horseriding.
If you're feeling less energetic you can just drive through appreciating the reserve's flora and fauna, such as gopher snakes, long-nosed leopard lizards and gray foxes, on a 13-mile self-driving tour. Less than 20 minutes from Vegas this natural oasis was designated a conservation area as far back as 1990.
3. Turn back time at Bonnie Springs Ranch
Fancy snatching a glimpse of life as it was in the 1840s? This oasis was once a key stopover on the old wagon trails with all the drama and intrigue that followed those more lawless Wild West times.
In 1952 it opened as a tourist attraction and today comes complete with cowboys, cowgirls, wee train rides and, er, 'zombie paintball'. You can even get married here, a much less glitzy option than a Vegas drive through hitch.
4. Into the Valley of Fire
Nevada's largest and oldest national state park has been massively popular since being set up in 1935 with good reason. As the name suggests it roasts here in summer. The most alluring man made attraction reconnects you with the ancient people of the state through two millennia old petroglyphs carved into the rock.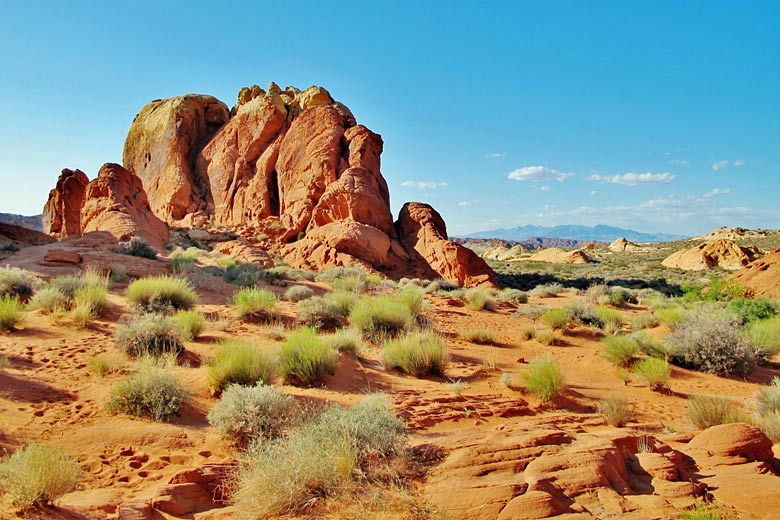 The setting is spectacular with the striking red 150 million year old Aztec sandstone rocks the star attraction. Hiking is the best way to get a feel for it all, with the visitor centre a handy base for planning trips and getting the lay of the land. If it looks familiar the park was used as a location in Arnold Schwarzenegger's Total Recall and Star Trek.
5. Snow, in Vegas!
What I most appreciate about Mount Charleston is that this natural beauty wears a different hat in winter than it does for the rest of the year. Your friends back home may rightly seem bemused when they say see you on social media 'in Vegas' chucking snowballs around or donning a pair of skis, or even bashing around on a snowboard.
When the snows melts the fifty miles of official trails come alive as well as mountain bike routes. If you want to extend your day trip you could even spend a cosy night camping under the stars.
6. Hit the beach - seriously!
Willow Beach is only an hour from Vegas, but it's a totally different world. Here you can enjoy a dip in Lake Mead or a simple sunbathing session. If you want to get more active you can also hire a canoes or a powerboat.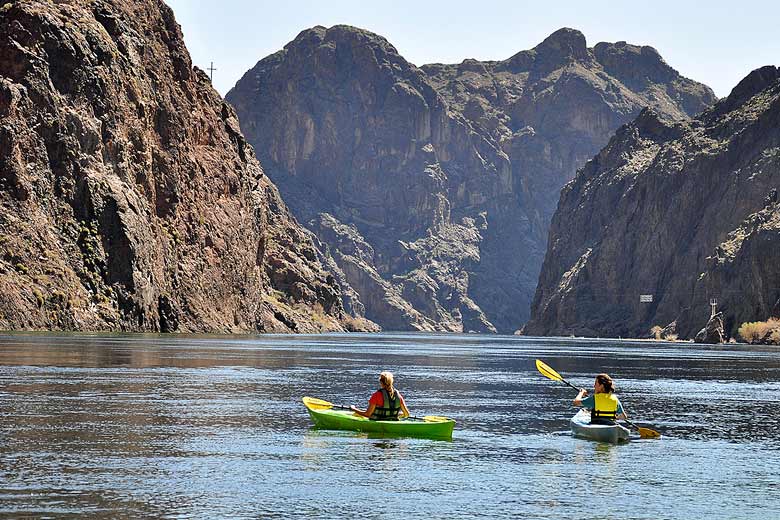 Forever Resort's boating rentals are on hand with a variety of craft, but check before you book whether you need a licence. You can head off whitewater rafting on the Colorado River too. If you want to snare your own dinner there is a trout hatchery that gives keen anglers a good chance of a catch.
7. Carve into a canyon at Zion National Park
Crossing into Utah we come to this remarkable national park, whose vaulting 3,000ft canyon walls were forged millions of years ago by the Virgin River. It's well worth the two and half hour drive from Las Vegas.
The visitor centre is the place to start - you can catch a shuttle bus from here deep into the narrow canyon. Spring is a great time to come when a blanket of wildflowers unfurls, with plenty of fauna too, with everything from peregrine falcons and hummingbirds, through to hulking elks.
8. Drop your jaw at the Hoover Dam
The epic Hoover Dam is part of American folklore, immortalised in films and in song, and is only 30 miles from Las Vegas. Designated a National Historic Landmark in 1985, it was built on the Colorado River way back in the 1930s at the cost of almost 100 lives.
The best way to appreciate not just its epic drama, but the effort that went into its construction and the important role it still plays today, is on a guided half hour Power Plant Tour or an hour-long Dam Tour. If you want to save a few bucks you can usually just walk or drive over the concrete arch of the dam for free.
Whether you opt for one or all of our suggested day trips, don't miss the latest online offers on flights to Las Vegas with Virgin Atlantic. Remember, you can also find out what the weather in Las Vegas is like all year round, and when we think is the best time to go.
More about Las Vegas
Jan Feb Mar Apr May Jun Jul Aug Sep Oct Nov Dec
Explore holidays in the sun for less
Be inspired
Get your weekly fix of holiday inspiration from some of the world's best travel writers plus save on your next trip with the latest exclusive offers
We promise not to share your details
Related posts