The other side to Skiathos, Greece
All but abandoning its agricultural roots, and one of the first Greek islands in the northern Sporades chain to be developed for tourism purposes in the mid-1960s, Skiathos is well known for its golden stretches of coastline offering a plethora of fine, pale sandy beaches and easily accessible by charter flights from many European destinations. Skiathos can also offer the visitor more than just a sunny beach holiday: lush countryside, monasteries, a castle, and scuba diving await those who wishes to discover the other side to this Greek island.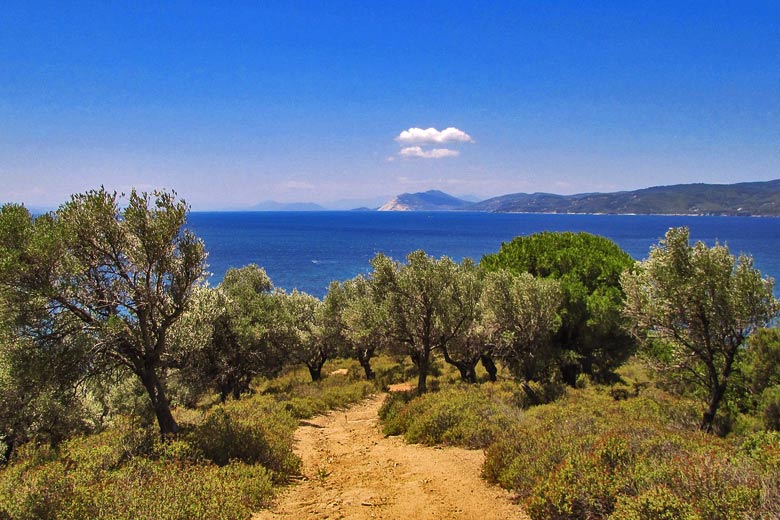 The other side to Skiathos: monasteries, markets & more
Europe is more accessible than ever thanks to affordable flights that whisk you away to destinations from the Canary Islands to Cyprus. If a trip to this magical Greek island sounds like your glass of ouzo, Thomas Cook Airlines can get you there for less than you might expect, leaving you free to organise where to stay and what to do. On that note, let's take a look at the other side of Skiathos with this pick of things to do across the island.
Picturesque harbour
Skiathos' natural harbour attracts many a yacht and sailing boat. The tiny peninsula neighbourhood of Bourtzi divides it into two parts. Built in 1207, Bourtzi itself was once a walled fort, ruined in 1660 but revived in 1906 with the building of a school. These days, the area is teeming with pine forest and the school serves as a cultural centre and summer theatre. With sweeping views over the Aegean, can you think of a better place to indulge in a theatrical or musical performance on a warm summer's night?
Skiathos Town
The island's capital is built amphitheatrically around a windless bay, and after its complete destruction in WWII by the Germans, was rebuilt and is now the focal point of the island. While away your time by relaxing in one of the many cafés or browsing the shops. Admittedly it caters mostly to the tourist crowd, but it's possible to escape this by meandering through the small cobbled streets, admiring the simple white houses and tiled roofs that are quintessentially Greek. Round off your day with the many nightlife options available, ranging from quiet bars to livelier night clubs.
Walking or hiking around Skiathos
Whilst Skiathos doesn't offer a lot of official walking paths, you can discover tracks up into the hills and mountains that take you to various monasteries, churches and the more secluded beaches on the north coast. Most walks range from seven to 12 miles in length (12 to 20km) and can be circular, making it easy to drive your hire car out to your start/finish point.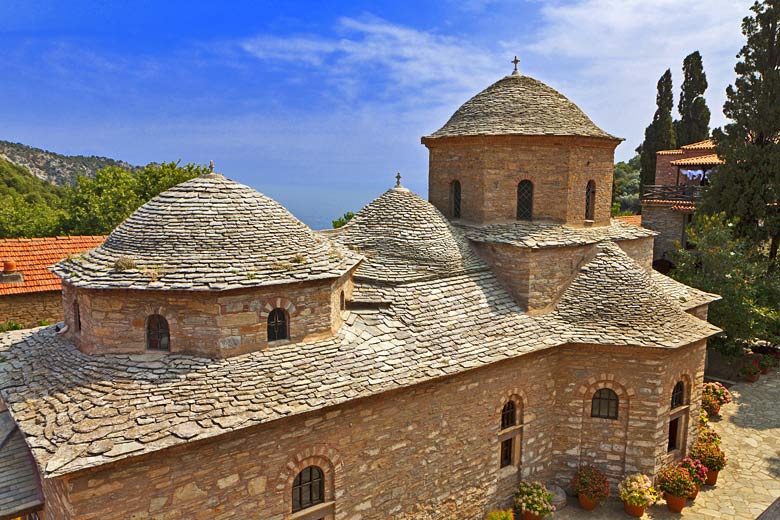 One such example is the eight mile/13km walk from/to the Evangelistria Monastery, the only working one left on the island. It offers a library, ecclesiastical museum and numerous cells. Expect to pass through forest, the occasional farm, past shrines and smaller country churches - some abandoned and now home to the occasional cat or two. Unless you're a hardcore hiker, any type of walking is advised for spring or autumn visits to the island as temperatures in summer can reach up to 40°C.
Old Kastro
The old castle - or, Kastro - of Skiathos is perched atop a high cliff in the northern part of the island. It's a natural fortress, protruding out into the sea and its checkered past - built in the Byzantine period, occupied by the Venetians, Turks, and Venetians again until the Greek state was formed and took control - means the castle offers plenty of history. The many ruins scattered around the hillside shown that at one time, the Kastro district was densely populated. Nowadays you can expect to find several churches in the vicinity, all in various states of repair and disrepair.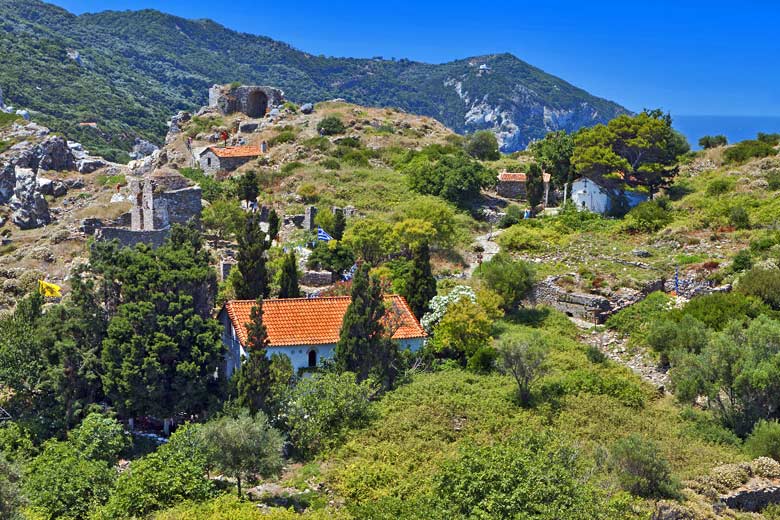 Reaching Kastro is an adventure in itself. You can either take a small excursion boat from Skiathos Town which will drop you onto small, pebbly Lalaria beach. The rest of the way is a steep 20 to 30 minute climb up a twisty path. In the high summer this route is advisable only to the hardiest of walkers. Otherwise it's possible to drive or take the bus (alighting at 'Bus Stop 9') from Skiathos Town - but note that the road is mostly track from the village of Agios Konstantinos. Kastro itself always seems to retain plenty of heat, so be sure, whichever way you choose to visit, to take plenty of water with you.
Skiathos Monasteries
The Monastery of Evangelistria may be the only working one, however Skiathos offers others that have been refurbished and give you an idea of what life used to be like when they were in use years before. From Panaghia Kechrea Monastery - a small, abandoned 15th century yet refurbished building, allowing the visitor to garner an idea as to what life was like in the past - to the serene setting of the 17th century Kounistra Monastery - dedicated to the Virgin Mary and integral to the religious life of the locals - with their stunning lush pine forest locations ensuring a peaceful environment and beautiful scenery, a visit to any one of the monasteries of Skiathos makes for an alternative day away from the beach.
Sea caves and shipwrecks
Skiathos offers magnificent natural wonders such as the two sea caves off the popular north coast beach of Lalaria. The 20-metre deep Skotini spilia (dark cave) is characterised by a low and narrow entrance, accessible only by boat. The larger Galazia spilia (blue cave) is named due to its rare reflections of blue on the rock from the water. Boat trips from Skiathos Town can take you here to swim.
With warm water temperatures and visibility up to 30 metres deep, Skiathos' waters are a draw for scuba diving enthusiasts, especially the various shipwrecks found around the island dating back as far as Roman and Byzantine times.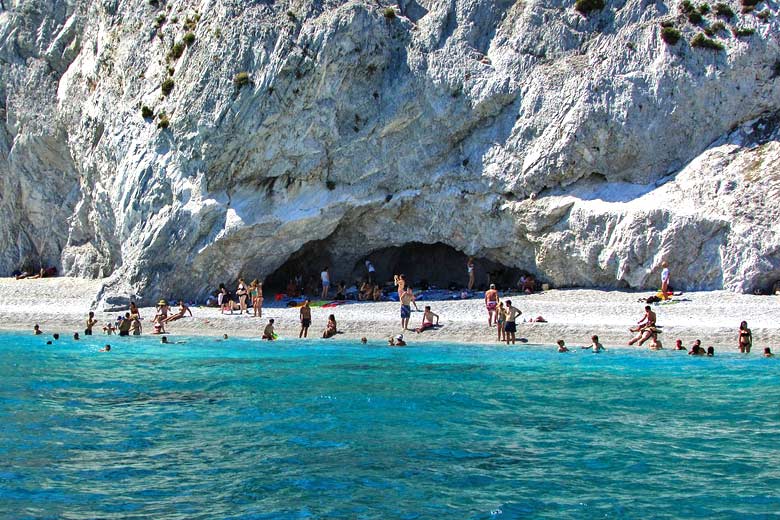 To start exploring the other side to Skiathos for yourself, check out the latest deals on fares to Skiathos with Thomas Cook Airlines. Choose from departure airports across the UK including Bristol, East Midlands, London Gatwick, London Stansted, Newcastle or Manchester. Remember to visit our Skiathos weather guide for information about the climate and see when is the best time to visit.
Get FREE travel offers
Sign up to receive the latest deals and exclusive discounts on holidays, flights, hotels and more, plus inspiration on where to go when
We promise not to share your details
Related posts