Seeking out the teahouses of Tokyo, Japan
*affiliate links: find out how we are funded and why this helps us remain free to use.
As such an integral part of Japanese culture, tea is likely to feature in any trip to Japan. From tea masters who host Chanoyu tea ceremonies to the cafés fusing tradition with modern aesthetics, this side to Japanese culture can be experienced by seeking out the atmospheric teahouses of Tokyo.
But first, a little history...
First consumed by the country's nobility, followed by the samurai and merchants, before eventually being enjoyed by Japanese society as a whole, tea gradually became integrated into Japanese culture over the course of hundreds of years.
A Buddhist monk first brought tea to the country in the ninth century, and this was the beginning of its increasing popularity, spurring the cultivation of Japanese tea, too.
It wasn't until the 12th century that the powdered green tea, matcha, was first produced. And after solely being used for ceremonies in Buddhist monasteries in the beginning, it was in the 13th century that samurai began to prepare and drink matcha themselves.
The 'Way of Tea'
Fast-forward to the 15th century, and you come to when Zen Buddhist priest Murata Shuko founded wabi-cha, the style of tea ceremony that still occurs to this day. Drinking tea had become customary throughout all levels of society by this time, so the priest introduced the idea of opening small tearooms, which was the beginning of the teahouses we now know.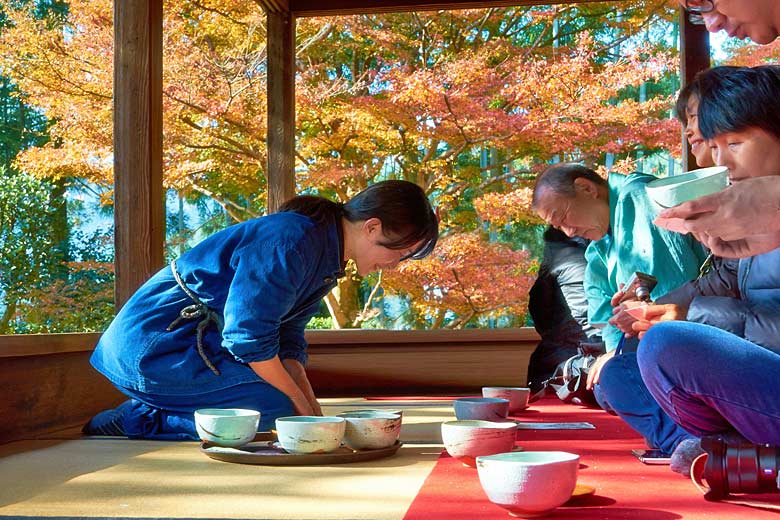 A few years later, another of Japan's historic figures, Sen no Rikyu, took Shuko's idea and developed the art of the tea ceremony as the transformative practice, the 'Way of Tea'. And from this time, the ceremony started to take on the aesthetic Sen no Rikyu is credited for, wabi-sabi - the appreciation of refined taste and the beauty of imperfection - as well as the concept of 'one time, one meeting', the idea that every meeting should be appreciated and never reproduced.
Now the custom of drinking tea is deeply ingrained in Japan's cultural identity, with Sen no Rikyu's principles of harmony, respect, purity and tranquillity still central to the ceremony. So when you're setting out on a trip across Japan, what better way to get a taste of the 'Way of Tea' than by being a part of the ceremony in one of Tokyo's most legendary meeting places.
Traditional teahouses
Happo-en Muan
Two tea experiences - Tencha and Otemae - are hosted by the teahouse in Happo-en, one of Tokyo's best-known Japanese gardens. Tencha is simply the enjoyment of matcha with the seasonal confectionary wagashi. But for the complete tea experience, visitors can make a reservation for the lesson in Japanese tea etiquette known as Otemae.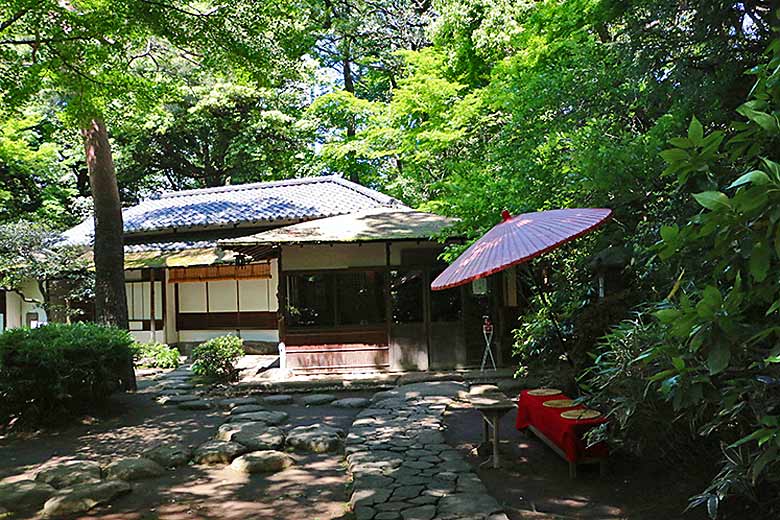 Kosoan
This teahouse in southern Meguro is another place that affords the quintessential Japanese experience. After passing through a small oriental garden and sliding doors, guests of Kosoan are seated around a low table on a tatami, where they're served matcha and wagashi with a view out across the garden.
Kasoyo
Kasoyo is both a kimono shop and teahouse in Mejiro, a prestigious residential neighbourhood in the Shinjuku district. This means that while savouring matcha and wagashi in a traditional teahouse setting, you can also can watch the kimono-maker at work.
Kantoku-tei
Kantoku-tei teahouse sits within Koishikawa Korakuen Gardens, which is designated a Special Historic Site, having been established in 1629, and a Special Place of Scenic Beauty. As you'd imagine, these surroundings make for an exceptionally memorable experience; the teahouse is simple in décor but the views are outstanding.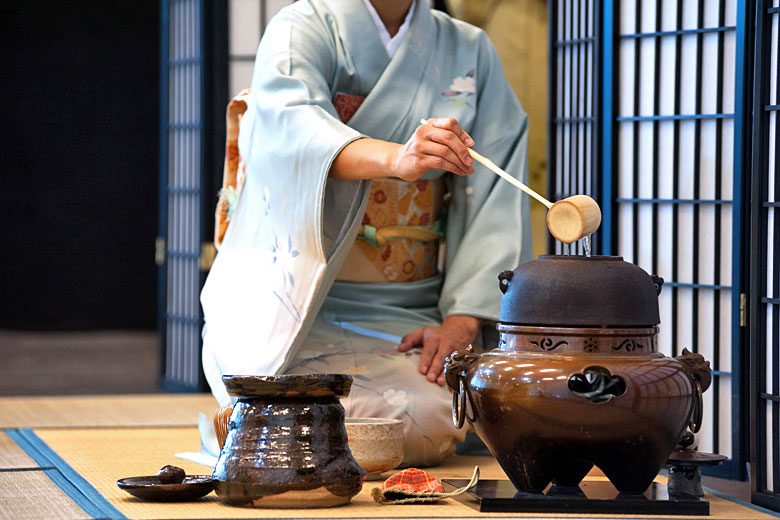 Modern teahouses
Aoyama Flower Market Teahouse
Filled with flowers and foliage from the adjoining Aoyama Flower Market, this teahouse is worth seeking out for its visual appeal alone. The café also offers an extensive selection of teas, including a number of herbal varieties, along with seasonal western-style sweets and savoury plates.
Funabashiya Koyomi
Founded in 1805, Funabashiya is now a name that's synonymous with Japanese confectionery. This store was opened to mark the brand's 200th anniversary in 2005, with a modern café upstairs serving Japanese tea with handmade sweets, including the renowned matcha and kuzumochi set.
Yakumo Saryo
This contemporary space, which was created by Japanese designer Shinichiro Ogata, combines tradition with modern aesthetics and views over a Japanese ornamental garden. The combined space includes a restaurant, the sweet shop Baishinka, and an artisan gallery-cum-shop, as well as the teahouse Sabo, where traditional confectionery and tea are served.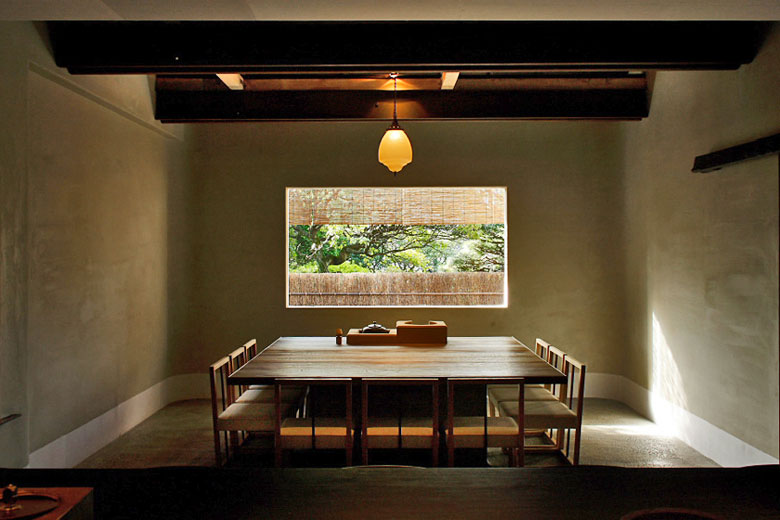 Sakurai Tea
Situated in Nishi-Azabu, this teahouse is the creation of tea master Shinya Sakurai, who hosts the Sakurai Japanese Tea Experience by preparing a tea ceremony in the stylish café setting. A five-tea tasting menu is on offer, as is the classic matcha and wagashi option, and the tea he travels around Japan to source himself is for sale.
Has talk of Tokyo's teahouses got your tastebuds tingling? You can fly to Tokyo with KLM (via Schiphol Airport in Amsterdam) for less than you might think, but before you book, take a look at the weather in Tokyo, and see when we think is the best time to go for a sunny city break.
More about Tokyo
Jan Feb Mar Apr May Jun Jul Aug Sep Oct Nov Dec
Explore holidays in the sun for less
Be inspired
Get your weekly fix of holiday inspiration from some of the world's best travel writers plus save on your next trip with the latest exclusive offers
We promise not to share your details
Related posts