Milan's food and fashion: a whirlwind tour of Italy's second city
Check the latest travel advice and current Covid-19 rules and restrictions by country.
As well as its delightful weather, Milan has two weapons in its armoury when it comes to seducing the unsuspecting visitor. Even if you didn't come here to shop or eat, it's simply impossible to resist. Here's your introduction for a brief, pleasant - and maybe expensive - stroll around the centre.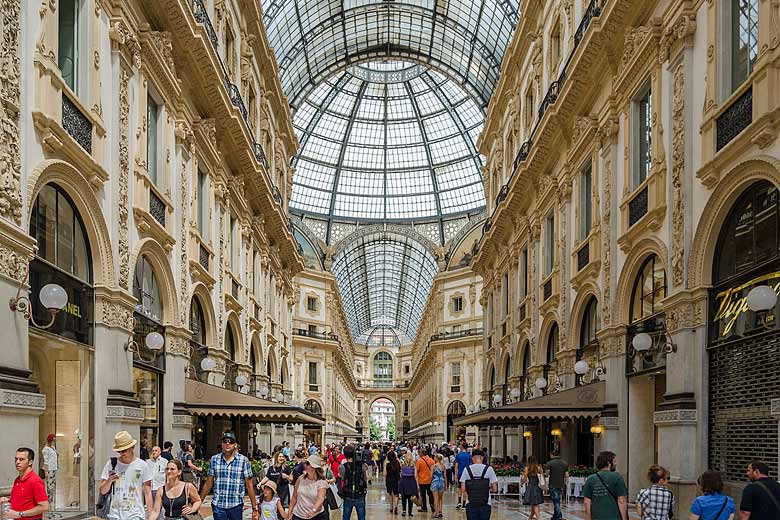 Milan's food and fashion: getting started
A first glance at the league table of Italy's sumptuously rich cities might suggest that Milan ought to rank lower than the historic wonders of Rome, the romance of Venice or the arty elegance of Florence. Don't be fooled. Take a closer look at this 'industrial powerhouse' city of the north, Italy's second-largest city, and you'll realise that it can rival anywhere as a visitor attraction, thanks to its twin attractions: outstanding food and unrivalled fashion.
Start the day with food. True, breakfast is not a big eating event in Italy, but it's still essential as a chance to catch up on gossip and to be seen in a stylish cafe, drinking the best coffee and perhaps treating yourself to a gooey chocolate croissant. Don't panic: lunch is just a couple of hours away and there are plenty more coffee stops before then.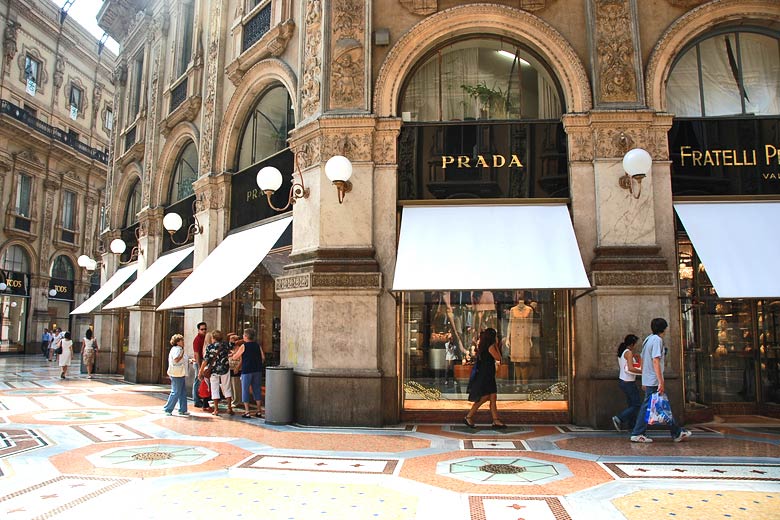 A day's shopping in Milan begins by paying homage at the Galleria Vittorio Emanuele II, the glistening arcade which ranks as one of the world's oldest. The Galleria - known as 'Milan's living-room' - hosts the original Prada store, with a second one directly opposite just for good measure, plus many other smart shopping opportunities.
Treat your precious hands to a pair of gloves from the stylish Piumelli. If you want to bless your shopping trip with good luck, tradition states that spinning around three times on the bull's testicles which adorn the arcade's floor-mosaic will bring you just that. Next stop in the arcade should be Camparino where - if it's not too early - you should try a Campari cocktail in its many variants. This year (2015) sees the centenary of the bar's opening, and it remains a favourite fixture for an aperitivo.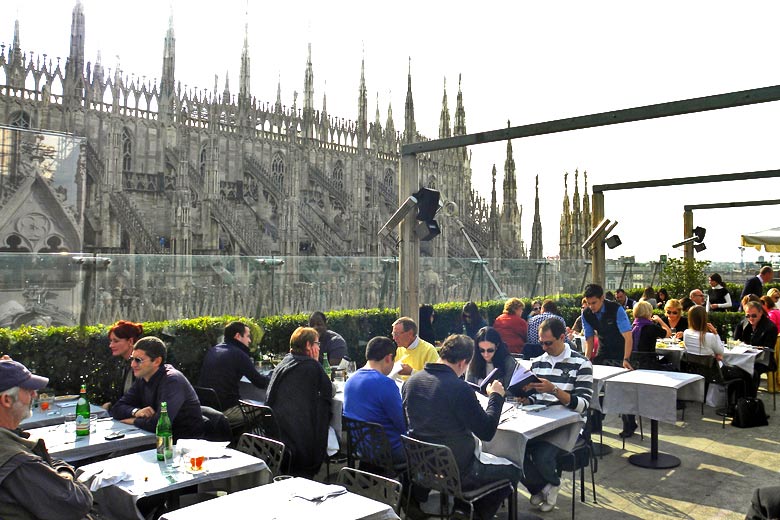 Stop briefly to admire the Duomo, the stunning cathedral which took 500 years to complete. But today's all about shopping, so shamelessly ignore this iconic masterpiece in favour of Rinascente, the eight-storey department store, which has been a shining star in Milan's retail heaven since 1917. Its lofty restaurant affords a close-up view of the Duomo anyway - well worth a coffee stop.
A few paces to the northeast of here, in the Montenapoleone district, is network of streets home to some of Milan's super-chic outlets, where the contents of your wallet will be the only limit to how stylish you can look. Here, 500 euros for a pair of boots; there, a 1000 euro handbag. If you can't afford that, console yourself with a naughty-but-nice cake at the Cova confetteria.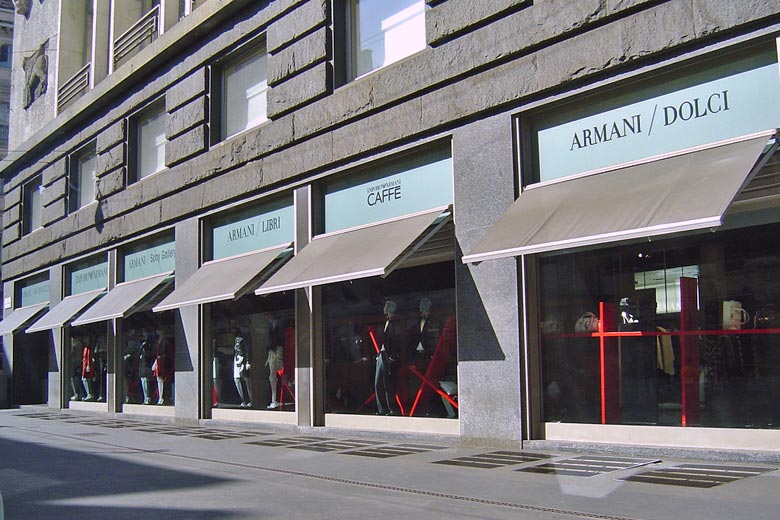 Afterwards, continue to wander until the alarm-bell rings on the credit card, but save enough money to pay some respects at the Armani store. After all, the locals call its founder 'Rei Giorgio' ('King George'), and he has certainly come a long way since he was a window-dresser at Rinascente's store. You can even stay at the Armani Hotel Milano, though it won't come cheap.
Beyond Armani, you then enter the Brera district, with a wealth of antique shops, artisan outlets, cafes and an artistic ambience. Take time to peer through the metal gates that punctuate the endless, imposing buildings, in so doing discovering inner luxuriant courtyard-gardens that evidence Milan's green heart amongst the stonework.
Although a newcomer and part of a chain, Eataly is both a clever play-on-words and also a great place to find the best of the country's food and wine under one roof. Some branches are housed in elegant, redundant buildings and the Milan store occupies three floors of the former Smeraldo theatre, with tasting and buying opportunities ranging from informal cafes and bars to a plush, exclusive restaurant.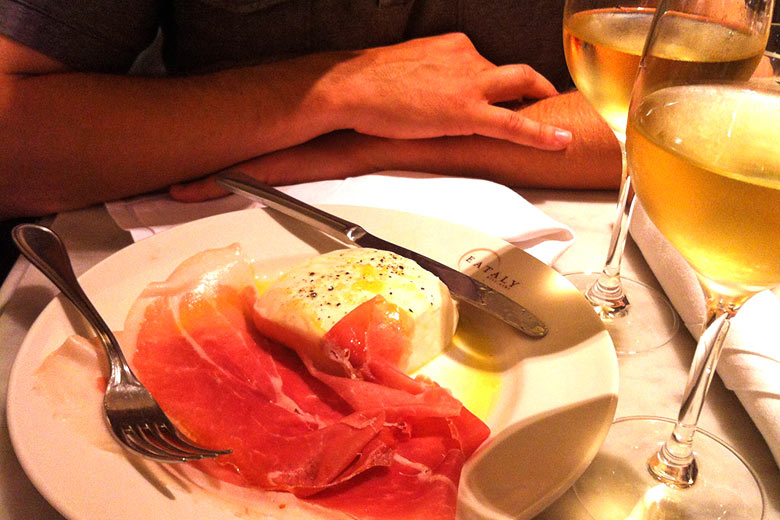 Don't worry if you're running late - this place is open until midnight with live music in the evenings, so plenty of time to shop for the best that Italy/Eataly has to offer. On the ground floor, make sure you see the astonishing Venchi chocolate wall. Prices in the store are good, too.
Fashion is not restricted to clothing, of course, so finish your whirlwind tour at 10 Corso Como, where you'll find a concept store combining international style with function. At a price, of course.
For your well-deserved evening meal, Milan has 14 restaurants with Michelin stars, but dine at LARTE for chef Gennaro Immobile's innovative cuisine set in a super-stylish environment. The restaurant does not (yet) enjoy a Michelin commendation, but it can only be a matter of time.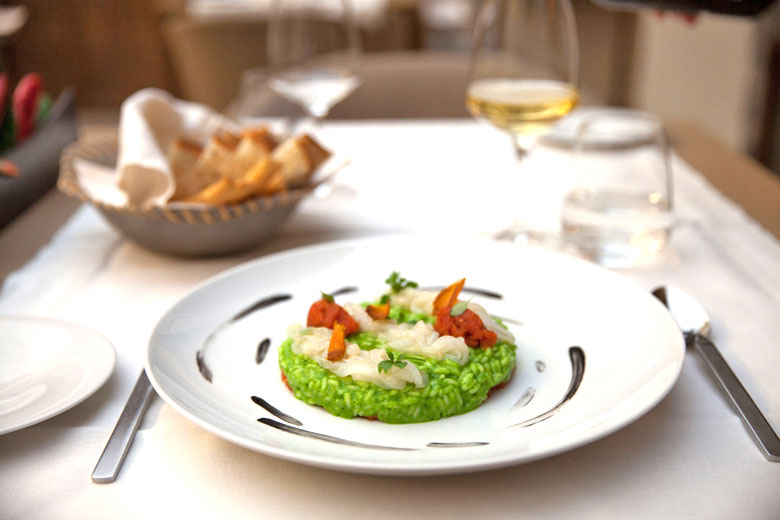 More time and money than most of us have is needed to do justice to Milan's food and fashion, but if you sample some of the top shops and cafes featured, you've made a good start. Once your finances have recovered, you can always return - Milan's fashion and food will be awaiting you. Fancy trying Milan's food and fashion for yourself? See the latest city break offers from easyJet holidays plus Expedia's weekend escape deals, and check out our collection of cheap flight options from leading airlines as well.
More about Milan
Jan Feb Mar Apr May Jun Jul Aug Sep Oct Nov Dec
Be inspired
Get your weekly fix of holiday inspiration from some of the world's best travel writers plus save on your next trip with the latest exclusive offers
We promise not to share your details
Related posts
*affiliate links: find out how we are funded and why this helps us remain free to use.