Get to know Guatemala: a complete guide for first timers
*affiliate links: find out how we are funded and why this helps us remain free to use.
The Central American country of Guatemala is often overlooked in favour of celebrity hangouts like Mexico and Belize. But while Guatemala may not have the gleaming white beaches and glossy resorts of its neighbours, it has its own unmissable appeal.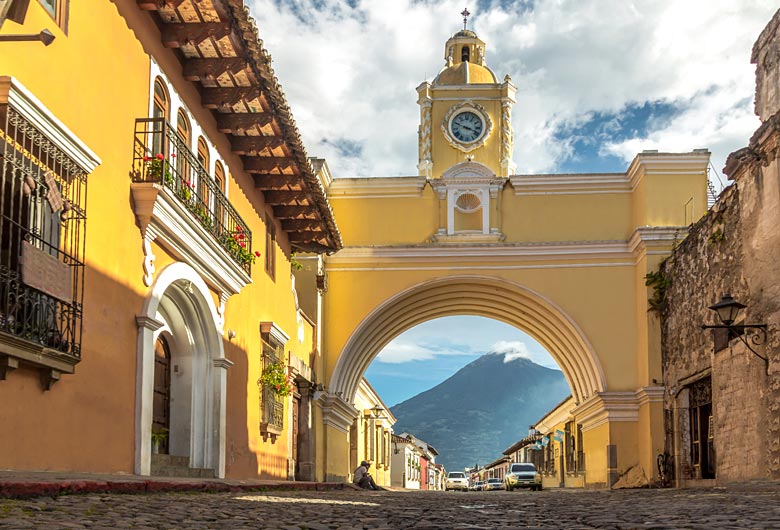 With a dramatic landscape of smoking volcanos and sparkling lakes, vast expanses of verdant rainforest that conceals mysterious ancient ruins, colourful architecture and a rich culture that's a fascinating blend of indigenous Maya and colonial Spanish, Guatemala's energy is distinctive and infectious.
Dive into our guide to 'The Land of Eternal Spring' to discover why you should consider adding Guatemala to your travel bucket list.
Getting to Guatemala: there are so many ways in which you can experience Guatemala be it on an escorted tour with Explore* or G Adventures* or by building your own break with the likes of Expedia* or Travel Republic*.
Antigua
International flights arrive at Guatemala City, but most people give the capital a miss and head straight for Antigua, just an hour away by car.
While Guatemala City has a reputation for being unwelcoming, Antigua is the opposite: a friendly, easily navigable place with a lively bar and restaurant scene, UNESCO-listed architecture and dozens of activities right on the doorstep.
Antigua (not to be confused with the Caribbean island of the same name), was once Guatemala's capital and one of the greatest cities in the Spanish empire, home to magnificent palaces, churches and even a university.
But after a series of earthquakes in the 18th century, the capital was moved east to its present location. Today, a walk around Antigua discovering relics of its colonial past is one of the city's highlights.
From the collapsed ruins of the once-magnificent cathedral to the opulent former monastery-turned luxury hotel at Casa Santo Domingo and the fountains and courtyards of Las Capuchinas convent, a stroll through Antigua's colourful streets reveals a surprise at every turn.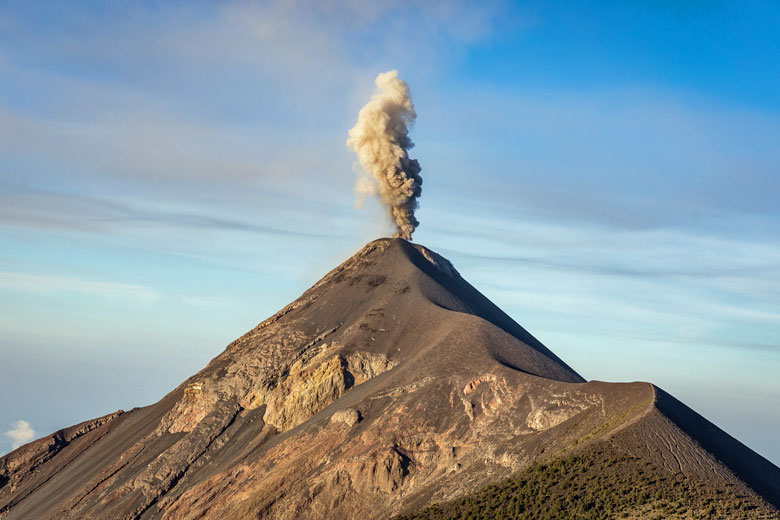 For those who prefer their exploration with a slice of adventure, Antigua has plenty. The city is ringed by volcanos, the view through the yellow Santa Catalina arch to Volcán de Agua is the iconic image of Guatemala, and many visitors come to Antigua just for the chance to climb them.
The most thrilling is the overnight hike up Acatenango where, from the comfort of your campsite, you can witness the explosive eruptions of Volcán de Fuego, which sits right next door and is one of the world's most active volcanos.
Or for something a little easier, try the one-hour walk up Volcán Pacaya to see recently-active lava streams and toast marshmallows using the heat from the Earth.
Lake Atitlán
Two hours west of Antigua, Lake Atitlán is often touted as one of the world's prettiest lakes, thanks to a quote from the writer Aldous Huxley who famously described it as "too much of a good thing".
Formed in a volcanic crater and overlooked by three more volcanos, Lake Atitlán is indeed beautiful, with ruffled blue waters flanked by steep green hillsides dotted with colourful communities.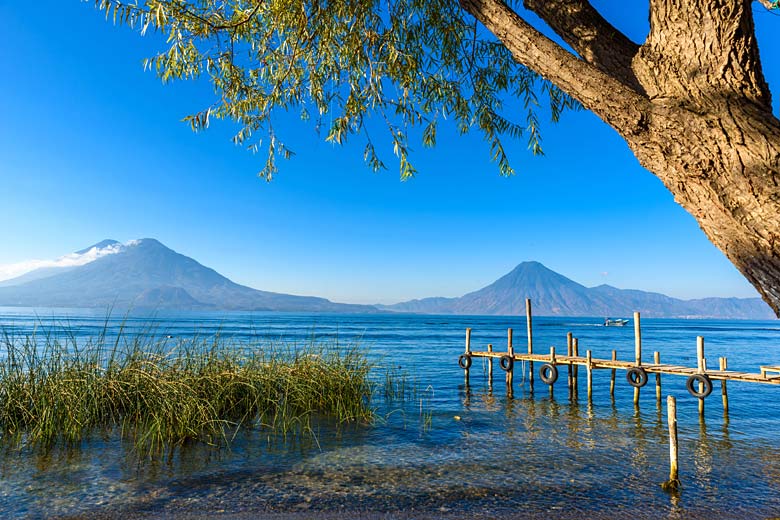 Each of the lake's 11 towns has its own style and personality, and you could easily spend a week or more exploring them all.
The gateway to Lake Atitlán is Panajachel, a buzzing tourist hub full of hotels, restaurants and tour operators.
From there, you can take a public boat to any of the other towns, including San Pedro, known as the backpackers' favourite and San Juan, the painted 'arty town'.
Then there's San Marcos, the 'yoga town' popular with a more spiritual crowd and buzzing Santiago Atitlan, the largest town on the lake.
Alternatively, step back in time in the traditional Maya communities of Sololá or San Antonio Palopó. Wander the many-hued markets, sip home-grown Guatemalan coffee in the cafés, or hike up Volcán San Pedro for splendid lake views.
The Petén & Flores
In the northern part of Guatemala, the scenery looks very different. The Petén region covers about a third of the country but is home to only about four percent of its people.
Here, huge swathes of impenetrable jungle teem with wildlife and ancient ruins loom from among the tangled trees.
Entry to the region is through Flores, a delightful historic settlement perched on an island on Lake Petén Itzá and easily reachable via a short flight from Guatemala City.
You could easily spend a couple of days just enjoying some of the excellent bars and restaurants or taking boat trips on the lake, but the real reason people come to Flores is to visit some of Guatemala's magnificent Maya ruins.
For about 2,000 years, the Petén region was the centre of the Ancient Maya civilisation. The largest city was El Mirador, covering six square miles and home to an estimated 100,000 people. Today it's only reachable by taking on an intrepid five-day hike through the humid jungle.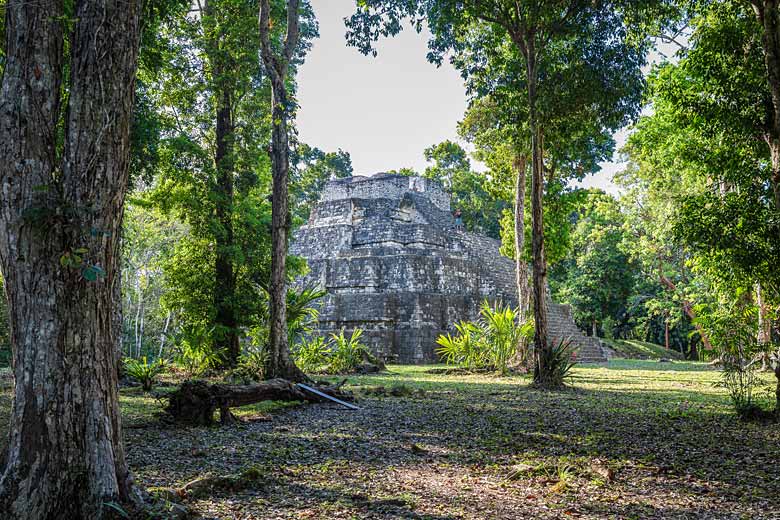 No less important but much more accessible is Tikal, where you can take a tour along shady paths to discover enormous temples and pyramids, while spider monkeys and toucans chatter in the treetops.
Or head to Yaxhá, the third-largest Maya site, where you can climb a temple to watch the sunset over the ruins almost entirely by yourself.
The Western Highlands
The Ancient Maya civilisation was eventually destroyed by the Spanish conquistadors, but indigenous Maya people still make up almost 50% of Guatemala's population.
Today, the heartlands of the community are in the Western Highlands, where you'll find colourful towns with bustling markets, skilled artisans creating exquisite handicrafts, patchwork carpets of abundant farmland and more dramatic volcanos offering exceptional hiking opportunities.
Base yourself in the city of Quetzaltenango, a chilled (and slightly chilly!) highland city with a welcoming traditional vibe. Known locally by its Maya name, Xela, the city has a pastel-painted historic city centre and an up-and-coming restaurant and bar scene.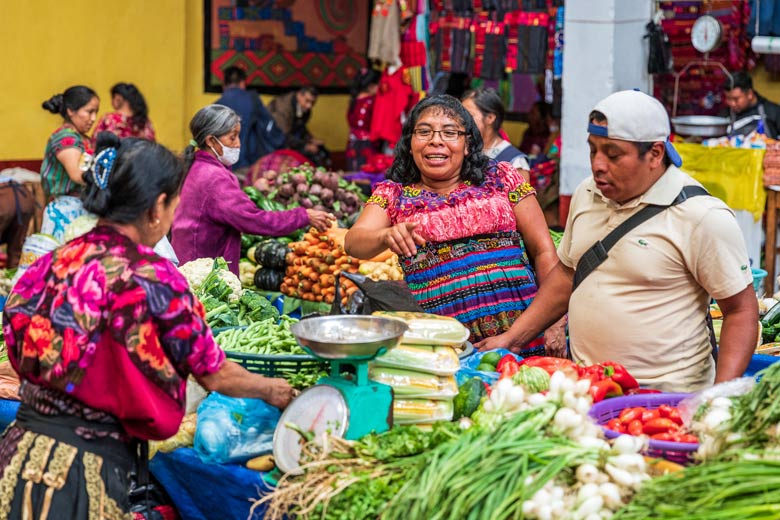 Xela also makes an excellent base for epic volcano hikes like Tajumulco, the highest peak in Central America, or day trips to the internationally-famous outdoor markets at San Francisco El Alto and Chichicastenango.
Rio Dulce & the Caribbean coast
While Rio Dulce town, in the east of Guatemala, is a noisy traffic intersection with little to recommend it, the 'Sweet River' itself is an idyllic place, a remote waterway whose thickly-forested banks are dotted with rustic eco-lodges that are only accessible by boat.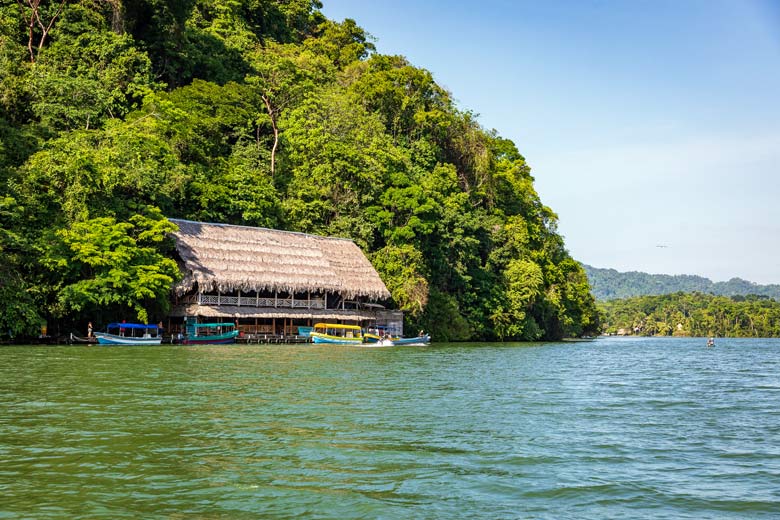 Go to disconnect for a few days, or take a boat all the way downriver to where the Rio Dulce meets the Caribbean Sea. There you'll find Livingston, a fascinating port town, where you'll get to sample a laid-back Caribbean vibe, watch local fishermen sorting their daily catch and spend time with Guatemala's only Black community, the Garifuna people.
Just passing through? If you're simply stopping in Guatemala with the likes of Marella Crusies which stops at Santo Tomas de Castille*, be sure to take the excursion to Rio Dulce*, which includes wildlife-watching and kayaking.
Weather in Guatemala
| | Jan | Feb | Mar | Apr | May | Jun | Jul | Aug | Sep | Oct | Nov | Dec |
| --- | --- | --- | --- | --- | --- | --- | --- | --- | --- | --- | --- | --- |
| Maximum daytime temperature °C | | | 22 | | | 22 | | | | | | |
| Hours of sunshine (daily) | | | | | | | | | | | | |
| Days with some rainfall | | | | | 17 | 25 | 24 | | 25 | | 11 | |
Guatemala has two main seasons: wet and dry. The wet season falls between May and October when mornings are typically cloudy, afternoons are frequently rainy and temperatures are higher.
The dry season, between November and April, usually enjoys cooler temperatures and dry, sunny days. The climate also varies by region: the lowland tropical areas around the Petén and Guatemala's Caribbean coast are humid and hot, while the Western Highlands are cooler thanks to their elevation.
The above guide shows the weather in Panajachel. Find more about conditions across the country in our complete guide to the weather in Guatemala.
Ready to discover Guatemala? For escorted tours, check out the latest offers from Explore and deals with G Adventures.
Alternatively, see the savings from the team at Travel Republic or experts at Expedia.
More about Guatemala
Guatemala by month
Jan Feb Mar Apr May Jun Jul Aug Sep Oct Nov Dec
Explore holidays in the sun for less
Be inspired
Get your weekly fix of holiday inspiration from some of the world's best travel writers plus save on your next trip with the latest exclusive offers
We promise not to share your details
Related posts