Day trips from Marmaris
While Marmaris and beach holiday are practically synonymous, day trips from Marmaris can be just as invigorating as working on that tan.
A part of the Turkish Riviera, which stretches from Antalya in the east to Bodrum and beyond in the west, combining the waters of the Mediterranean and the Aegean Sea, and a coastline dotted rich in beaches, some white, some dark with pine forests and picturesque rocks formations.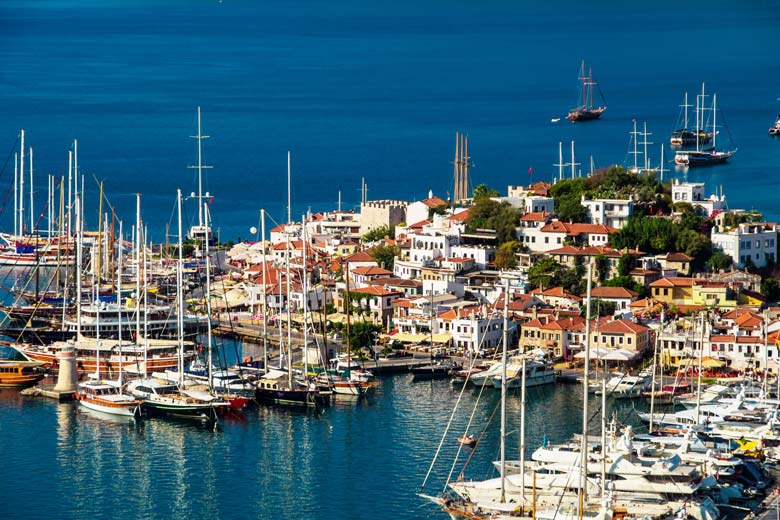 Day trips from Marmaris
Arriving from Dalaman Airport, settle into your hotel, before exploring downtown Marmaris from the Yacht Marina to Icmeler Beach, a long, long stretch of coast with pine trees on the top, sunbeds and umbrellas below and numerous bars, restaurants and cafes in between.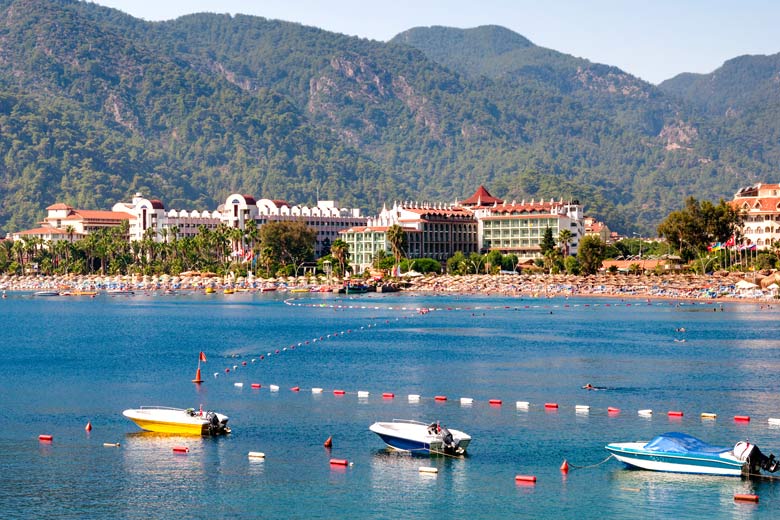 As enticing as the lively atmosphere and wonderfully clear water which make the place such a popular destination are, after a few relaxing days of swimming and sunbathing you will be tempted to look for day trips from Marmaris to locations further afield. Luckily, there are so many, you will be spoilt for choice.
1. Dalyan
A boat trip not to be missed is an outing to Dalyan. You'll be channelling Humphrey Bogart or Katherine Hepburn for a few hours, as all the boats that offer river cruises are replicas of the African Queen.
Expect to see the tombs of the Phrygian kings carved high into the mountainside and nesting places of the loggerhead turtles while drifting along the reed-lined Dalyan river, and having fun in the mud baths near Caunos. Don't forget to take your camera and swimsuit.
2. Cleopatra Island
Turkey is a country full of history and legends, and the area around Marmaris is no exception. One story goes that Marc Anthony fell so in love with a tiny island that he imported white sand from Egypt and gave it to Queen Cleopatra as a wedding gift.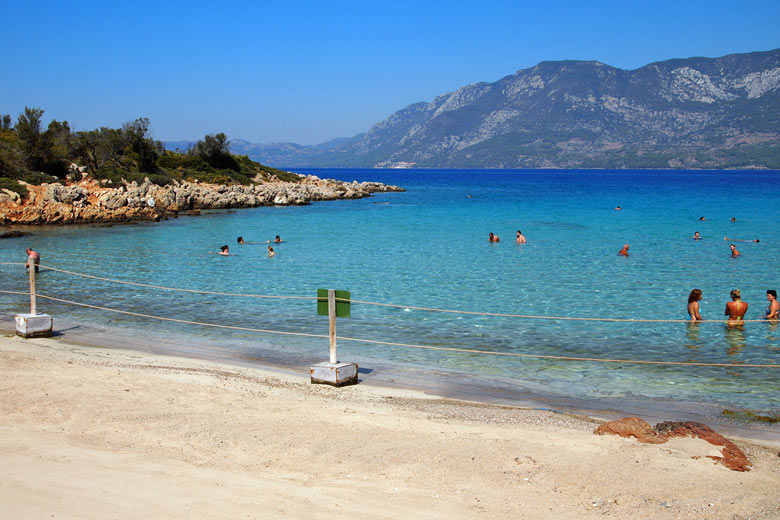 Step into her shoes on a trip to Cleopatra Island, which has exceptionally white sand, so rare and beautiful that you aren't allowed to take even a grain home with you. Apart from sunbathing and enjoying the beach, you can visit an ancient amphitheatre and Byzantine city walls on this day trip from Marmaris.
3. Ephesus & Selcuk
The longest but most rewarding day trip from Marmaris you might want to take is to the world-famous ancient site of Ephesus and the town of Selcuk where it's located. Sitting roughly 130 miles north of Marmaris, you have two options: you can either go on an organised trip or hire a car and go under your own steam.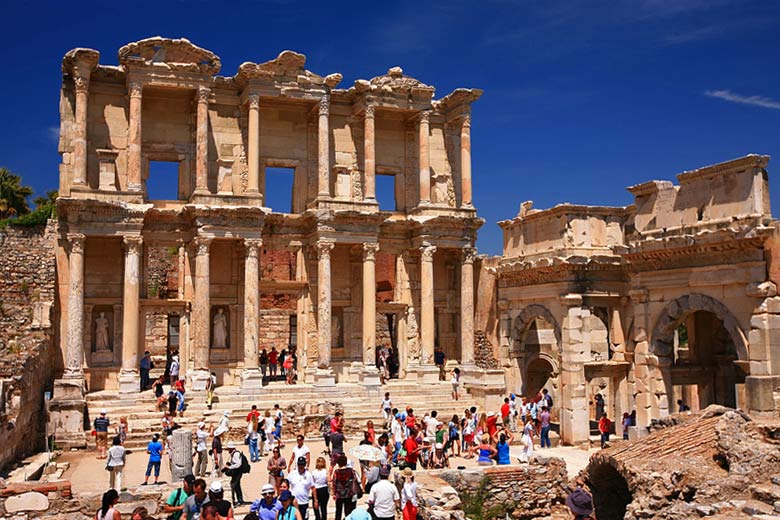 There is a lot to be said for going on your own. The highway to Izmir is ruler-straight and easy to negotiate, while driving time is about three and a half hours. Given its popularity, naturally, it's very busy all year round, and if you opt for a guided tour you can feel quite rushed on your day trip from Marmaris.
It's much easier and more enjoyable to do your homework and walk around on your own, looking at the ancient Roman streets and houses, the Library of Celsus, the Temple of Hadrian, and the amphitheatre.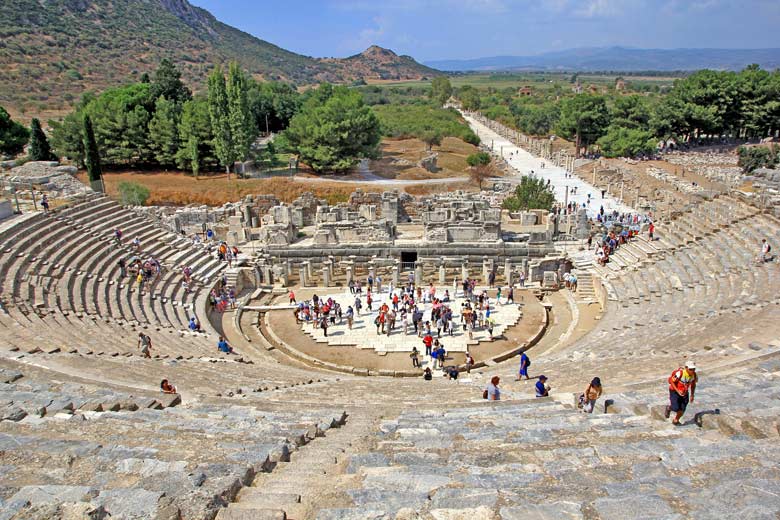 Afterwards, return to Selcuk proper and continue your travel through history. No day trip from Marmaris to Selcuk would be complete without a visit to the archaeological museum, which houses many of the artefacts excavated in Ephesus.
Among them, you'll find the famous statue of the Anatolian goddess Kybele. Reconstructions of Roman villas give an insight into the life at the time, and massive statues from the Hellenistic period are displayed in the other rooms of this fabulous museum.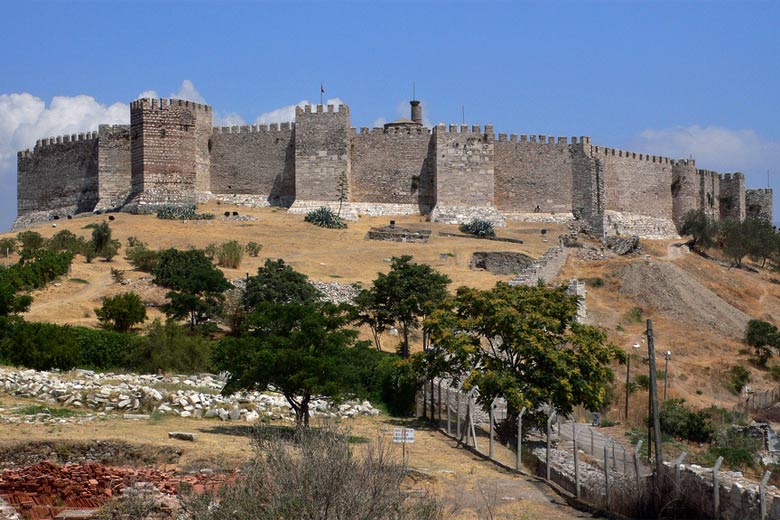 There is more to discover on this day trip for Marmaris though. Walk from the museum to Ayasoluk Hill, crowned by a massive castle and fortress from the Ottoman period. After extensive excavation and renovation, the castle is now open to visitors again.
Just below it you will find the Basilica of St. John, erected in the 6th Century by Emperor Justinian, supposedly over the tomb of the apostle. Use your day trip from Marmaris here to go a bit further down to the finest example of a mosque - you are after all in Turkey. Built in 1374 the Isa Bey Mosque is a masterpiece of architecture of the Anatolian beyliks. You can visit, just don't forget to take off your shoes and to cover up.
Lastly on this history day trip from Marmaris, at the bottom of the hill you come across a single, broken column which is all that's left from one of the Seven Wonders of the Ancient World: the Temple of Artemis, once an imposing sanctuary, destroyed and rebuilt three times before being dealt a final blow by raiding Goths in 268 AD.
Each of these day trips from Marmaris combine fun with education in the most enjoyable way, and you will be hard-pressed to decide which one to take. Marmaris is an extremely popular destination, and there's plenty of choice on everything from holidays to flights and car hire from big-name brands.
Jet2holidays and TUI have many great value holidays to Turkey, while our complete collection of travel deals and discounts will show you all the current online offers.
More about the Marmaris
Jan Feb Mar Apr May Jun Jul Aug Sep Oct Nov Dec
Be inspired
Get your weekly fix of holiday inspiration from some of the world's best travel writers plus save on your next trip with the latest exclusive offers
We promise not to share your details
Related posts
*affiliate links: find out how we are funded and why this helps us remain free to use.