Authentic things to do in Orange County
*affiliate links: find out how we are funded and why this helps us remain free to use.
Orange County is the rather swish corner of southern California made famous by the noughties teen drama series "The O.C.".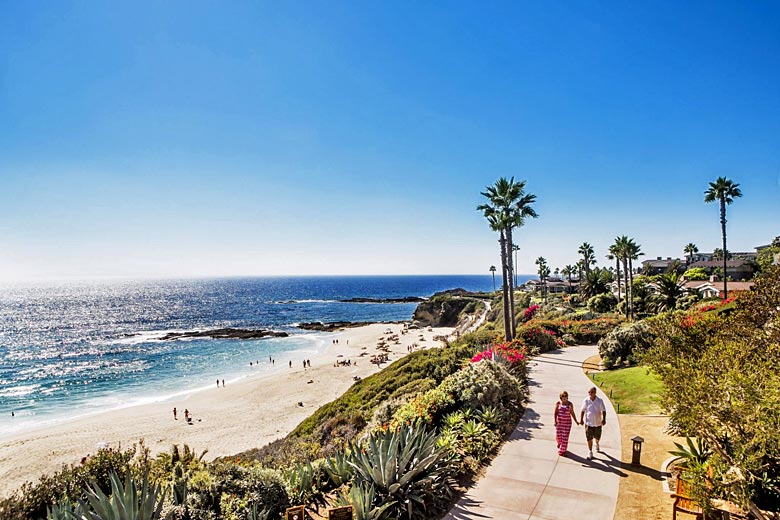 Today, Orange County is known for its luxury living, booming defence industries and theme parks but in the not so distant past, the county was almost entirely rural. The countless orchards, dairy farms and ranches may be long gone but there are still authentic things to do here for those willing to look beyond the obvious.
Getting to Orange County: fly direct from the UK to Los Angeles with Virgin Atlantic* in around 11 hours, and you're within easy reach - less than an hour's drive - of the sights of the O.C.
Road trippin'
The world-famous Pacific Coast Highway begins in the north of California and, ultimately, makes its way through Orange County. Its terminus is in Dana Point in the southern part of the shire.
The beach here is surrounded by tall cliffs and known in its early days for trading and smuggling. There's a nod to this in the street names of Golden Lantern, Amber Lantern, Silver Lantern and Blue Lantern, which were the colours of lamps associated with specific products that were being loaded or unloaded from ships offshore.
For those with a hankering for making the entire journey, PCH starts in the town of Leggett in Mendocino County - 1,061 km from the highway's finish.
Orange County's Seal Beach and Bolsa Chica are divine parts of the famous drive as the azure waters of the Pacific Ocean line the road to the right and views of the Bolsa Chica Nature Reserve impress on the left.
Bijou Balboa Island
Accessible by ferry and footbridge from Newport Beach and with several public docks, this small and densely populated island has a retro vibe. It retains its historic feel due to the petite size of its old shops, businesses and craft boutiques.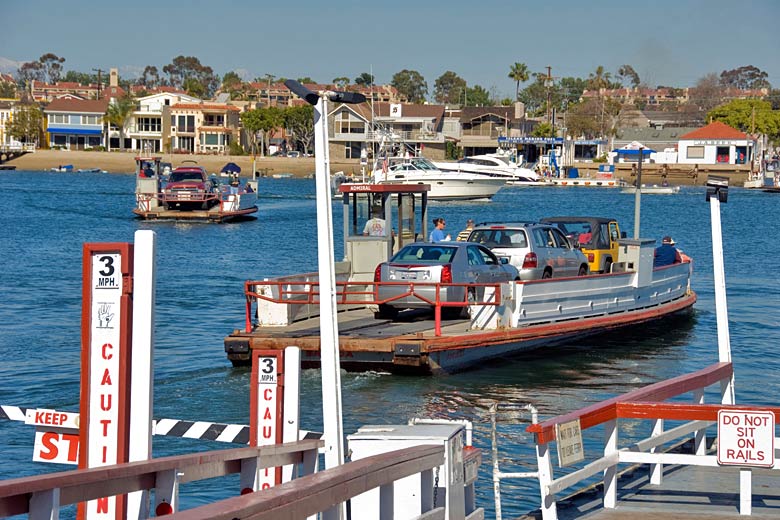 Leave time to call by the only bar on the island, The Village Inn. This sophisticated dining spot that's been in the same location on Marine Avenue for 80 years.
Laguna Canyon's legacy
After decades of militancy, the small artistic community of Laguna Beach, with only 23,000 residents, was able to save its beloved canyon from rampant development taking place during the 1970s and 1980s.
Laguna Canyon now comprises 8,000 hectares of wilderness (2,000 of which is protected) that includes shrubland and natural lakes. The coastline here is famous for its tide pools and abundant sea life including anemones, starfish and crabs.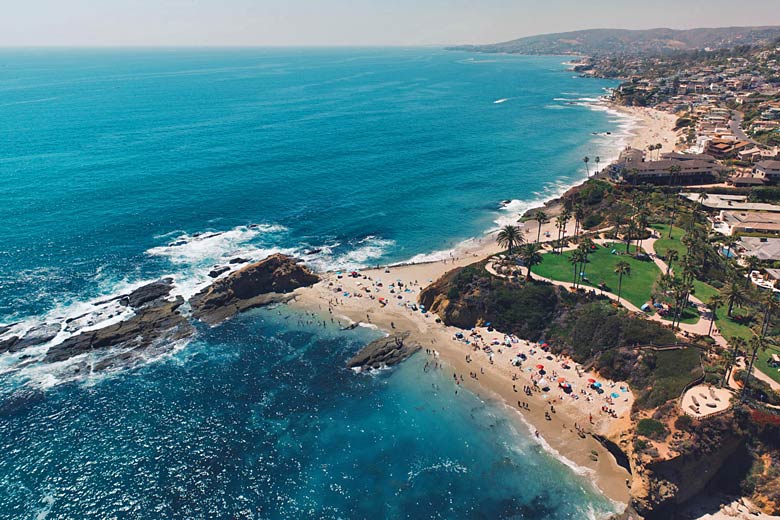 During the summer, arts festivals such as the Sawdust Festival and Pageant of the Masters draw visitors in their thousands. The Ranch at Laguna Beach Resort is in a canyon that was the first homestead back in 1871 and is a National Geographic Unique Lodge of the World.
Mission San Juan Capistrano
In the south of the county lies a village comprised of adobe buildings and an 18th-century Spanish colonial complex known as the 'Jewel of the Missions' at its core. Best known for the swallows that return every spring, San Juan Capistrano is open to the public and continues to be a place of worship.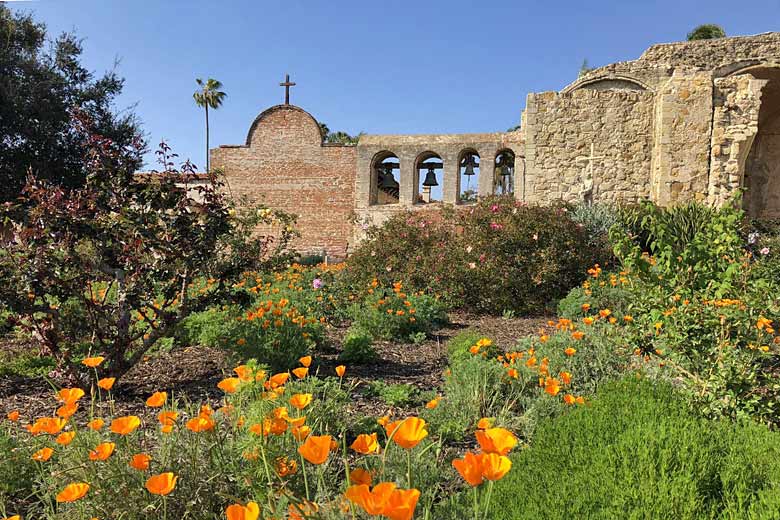 At the centre lies the original Serra Chapel where the founding fathers were known to have said mass as far back as 1783. In 1812, an earthquake destroyed the mission's church and 40 native Americans died in the aftermath. The San Juan Capistrano mission is still owned and maintained by the local Catholic diocese.
Old Towne Orange
It's remarkable that several of the communities in the older, northern part of the county have managed to save their Victorian downtown areas, particularly as the building materials from that era, adobe and brick, do not stand up well to earthquakes.
Old Towne Orange is possibly the most picturesque of these communities. Its antique buildings and shops are almost entirely centred around a large roundabout, the middle of which features a tree strewn park.
When visiting Old Towne Orange, check out small, quirky Rutabegorz, a restaurant chain famous for fresh produce and vegetarian delights.
Horses & hacking
Horse riding is as popular as ever out west, harking back to the old ranchero and cowboy culture of the 19th and early 20th centuries. Irvine Park in the town of Orange was established in 1897 and is known for its extensive grounds and nature trails.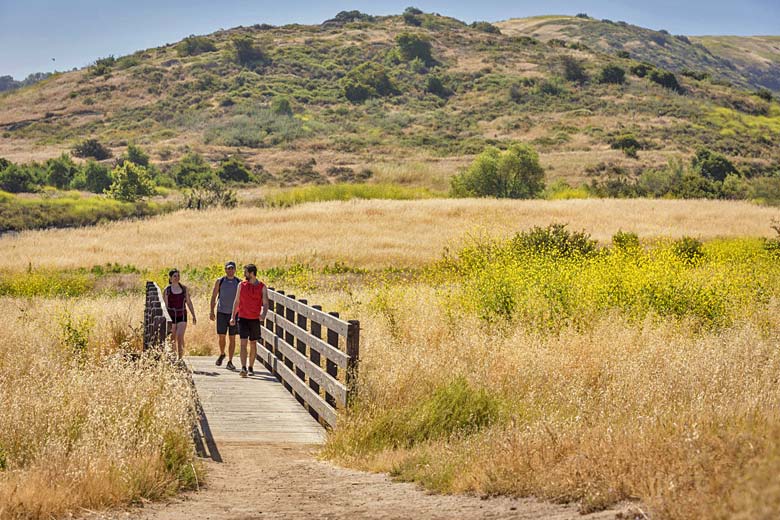 Book a memorable western-saddle riding tour at Irvine Park Horse Rentals or choose from traditional and Western style riding lessons for beginners.
Foodie finds
Citrus grower Sunkist not only had hundreds of acres of orange orchards but also a large packing facility in Anaheim.
The warehouse has been at 440 S. Anaheim Blvd for decades and, following the company's relocation, has now been transformed into a truly hipster food hall called the Anaheim Packing District where you'll find a whole range of ethnic foods, sweet treats and even a fish and chips restaurant.
Speaking of sweet treats, in the 1920s a berry, which was a hybrid of blackberries, raspberries and loganberries, was developed by Charles Boysen. You can still purchase Boysenberry pies at Knott's Berry Farm in Buena Park.
Ice hockey rules
In Anaheim's Honda Center, home to the Angels Baseball team, there is also an ice hockey franchise known as the Anaheim Ducks. You may have heard of 'The Mighty Ducks' a popular film about the team was released in 1992.
To some, the idea of sports like ice hockey in a hot climate such as that of California is a bit surreal, but its popularity is undisputed. In fact, neighbouring Los Angeles has two professional level ice hockey teams. The season runs from October to June so there's a good chance of taking in a match.
Disneyland dominates
You can't mention Orange County without including Disneyland Resort*. The latest addition at Disney is a 'land' dedicated to the Star Wars franchise and certainly packs a celestial punch. This Star Wars land recreates a distant settlement at the edge of the Galaxy, the Black Spire outpost.
Located on the planet Batuu, it is populated by scoundrels, rogues, smugglers and Resistance fighters. The Millennium Falcon Experience puts riders in the role of pilot, gunner or engineer working for black market racketeer Hondo Ohnaku.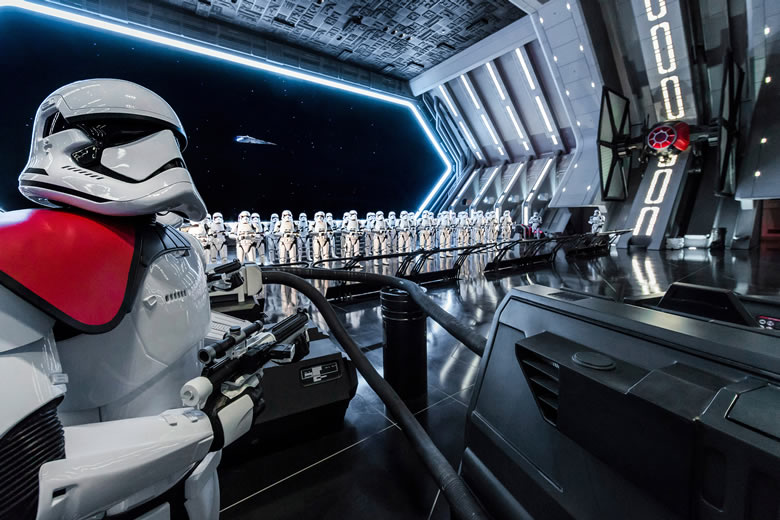 Stormtroopers patrol, keeping an eye out for rebels, Chewbacca is often about repairing defunct droids and Oga's Cantina is the first concession in the park to serve alcohol.
Disneyland Resort in Orange County is nowhere near as large as Walt Disney World, Florida; but it makes up for its small size by being much easier to experience in a single day.
Weather in Orange County
| | Jan | Feb | Mar | Apr | May | Jun | Jul | Aug | Sep | Oct | Nov | Dec |
| --- | --- | --- | --- | --- | --- | --- | --- | --- | --- | --- | --- | --- |
| Maximum daytime temperature °C | | | | 22 | 24 | 26 | 29 | 30 | 29 | 26 | 22 | |
| Hours of sunshine (daily) | | | | 10 | 9 | 10 | 11 | 11 | 9 | | | |
| Days with some rainfall | | | 6 | 3 | 1 | 0 | 0 | 1 | 2 | 2 | 4 | |
Being southern California, Anaheim and the wider OC enjoy warm-to-hot temperatures and loads of sunshine all year-round. Find out more about the weather in Orange County and when we think is the very best time to go to try these alternative activities.
Ready to discover the delights of Orange County? Check out the latest sale offers on fares to Los Angeles with Virgin Atlantic and get booking today.
More about California
California by month
Jan Feb Mar Apr May Jun Jul Aug Sep Oct Nov Dec
Explore holidays in the sun for less
Be inspired
Get your weekly fix of holiday inspiration from some of the world's best travel writers plus save on your next trip with the latest exclusive offers
We promise not to share your details
Related posts