9 reasons to visit Lanzarote
Ever been to Lanzarote? If you have, you'll know what a glorious Canarian island it is. If not, I'm about to reveal why you really have to jet off to this Macronesian charmer. Lanzarote is one of the most popular of the Canary Islands, known for its rugged volcanic landscape and reliable holiday weather, and Thomas Cook offers a wide range of holidays* for all budgets departing from airports across the UK to the main resorts of Playa Blanca, Puerto del Carmen and Costa Teguise.
9 reasons to visit Lanzarote
As a travel writer I've spent time on all seven Canary Islands and Lanzarote is one I keep heading back to, whether on my own hiking and doing wine tours, or with my young family checking out the resorts and beaches. So join me now as I reveal the nine reasons that you should book a break to the classy, ever surprising, sunshine isle of Lanzarote.
1. Great beach resorts
Lanzarote boasts a swathe of ace beaches along with a collection of resorts that makes the most of them. The biggest is Puerto del Carmen*, with its tempting wide stretch of sand. I'm also a big fan of Costa Teguise*, which I think works especially well for families. My kids love its laidback atmosphere and choice of beaches too. In the south there is the resort of Playa Blanca*. There are good beaches in town, but even better ones at Punta del Papagayo, a short drive, walk or boat trip away along the coast.
2. Manrique's magic
Seldom has one man had such a dramatic effect on one island. Visionary modernist architect Cesar Manrique led a single-handed crusade to make sure the architecture on Lanzarote remained true to its roots, low rise and not blighted by skyscrapers. His organic, eye catching work can be enjoyed all over Lanzarote, from a slew of buildings through to viewpoints placed to make the most of this spectacular island. His most remarkable work is perhaps the breathtaking studio he built for himself, which is now home to the Cesar Manrique Foundation.
3. Vaulting volcanoes
Lanzarote does not just boast one volcano. The whole island is sprinkled with volcanoes of all shapes and sizes, as well as lava flows and myriad other volcanic features that are like one big geography lesson. The best place to get a real feel for the sheer drama of the island's volcanoes is in the Timanfaya National Park. There is a visitor centre and a restaurant where you can enjoy steaks cooked on volcanic stone.
4. Fantastic food
Lanzarote has it all: the resorts offer excellent value set meal deals and specials alongside tapas bars and more authentic eateries. I also like heading out of the resorts in search of more local restaurants where you can enjoy the island's rich bounty of seafood. I recommend checking out El Golfo for a stunning seafood lunch right by the ocean. Local fish and huge grilled Atlantic prawns (cooked with garlic) are the stars at Costa Azul. Make sure to try the seafood with some of the excellent local wines, which brings me to...
5. World class wine
Shakespeare once eulogised 'Malmsey' in his plays so it's a grape that obviously has a serious amount of heritage behind it. Today it is known as Malvasia, and vineyards harvesting this glorious white grape are dotted all over the island.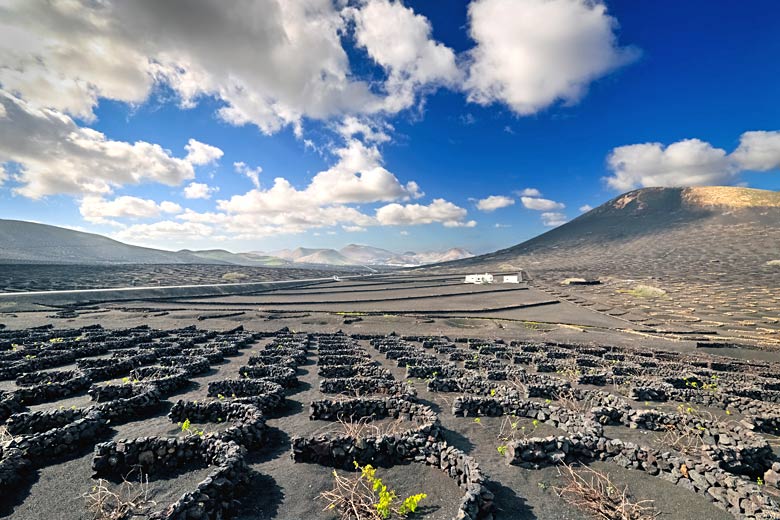 Some of the vines recline in little volcanic craters to help protect them from the wind and gather water. Two of my favourite wineries are El Grifo and Bermejo. You can easily visit both, where you can stock up in the shop in one seriously fun wine tasting day.
6. Charming capital
As capitals go, Arrecife is a laidback island charmer. It feels more like a relaxed town than a capital city, though its port is pleasantly busy with ferries buzzing around. It doesn't take long to explore, so a day is enough, perhaps with a session on the city beach at the end of the afternoon. For dinner, slip round to picturesque El Charco de San Gines, which still feels like a little fishing village.
7. Wonderful walking
Lanzarote is not really known as a walking destination, but I spent a week hiking there a few years ago and loved it. Those volcanoes are brilliant fun to hike up and the national park has some excellent trails to explore. Swirl in forays along the coast and some high ridge walks that offer sweeping views, and Lanzarote really stacks up as a walking destination. Cicerone publishes a great walking guide to Lanzarote and Fuerteventura with various suggested routes and maps.
8. La Graciosa
I reckon Lanzarote is worth visiting alone for a day spent on the offshore island of La Graciosa. Catch a ferry across the Atlantic swell to this stunner and you won't regret it.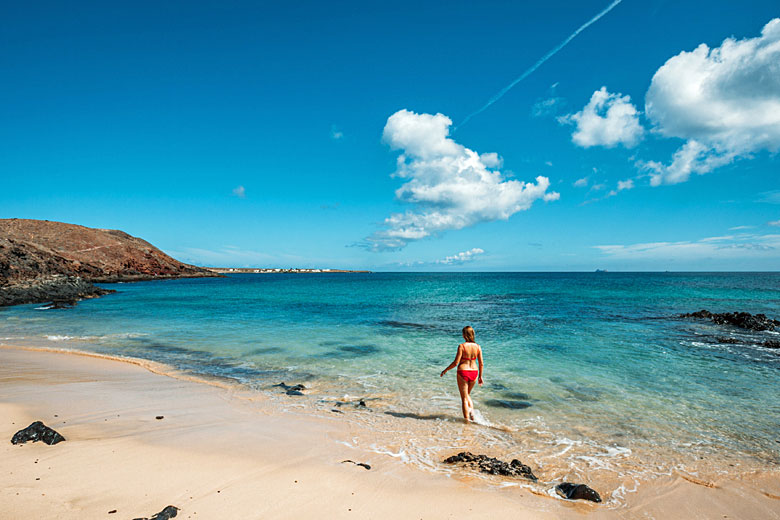 The 'streets' are made of sand and the main village is little more than a hamlet, though it does have a couple of decent restaurants and cafes. The island is superb for hiking or cycling. Head out on your own and you can enjoy its beaches to yourself and hike up some lofty volcanoes too for views back to the main island of Lanzarote.
9. Fuerteventura
Ok, so Fuerteventura is another island altogether, but as it's only half an hour by ferry from Playa Blanca I reckon we can count it as a reason you should visit Lanzarote. The ferry arrives at Corralejo, a great place that is a tourist resort, but also still a fishing village with plenty of Spanish visitors. It is ideal day trip territory with plenty of restaurants, cafes and bars on hand. And at the end of the day you can enjoy a cruise back across the water admiring Lanzarote looming up in welcome ahead of you.
If you're keen to try these Lanzarote experiences for yourself, be it sipping wine in the vineyards or cruising across to neighbouring islands, don't miss the latest online deals from Thomas Cook. The great news is that you can depart from airports across the UK, from Edinburgh and Glasgow to Belfast, Cardiff, Manchester, various London airports, and many more. Lanzarote is frequented by tourists all year round thanks to its consistently sunny weather, but you can also use our guide to see when is the very best time to go.
Get FREE travel offers
Sign up to receive the latest deals and exclusive discounts on holidays, flights, hotels and more, plus inspiration on where to go when
We promise not to share your details
Related posts