Tropical storm risk: Hurricane seasons explained
We're on a mission to arm you with everything you never knew you wanted to know about tropical storm risk. Tropical storms, also known as tropical cyclones, can disrupt a well earned break; equally, you may find that your desired destination is relatively risk free.
From our interactive tool, which shows your chance of encountering storms throughout the year, to understanding hurricane seasons and how storms form, you'll find everything you need to make an informed decision about travelling to storm prone regions around the globe.
Tropical storm risk: interactive tool
Holidays are precious, and no one wants theirs ruined by a tropical storm, yet it can be very difficult to predict when and where they will occur. Of course, by analysing years of data, we can narrow down the tropical storm risk in parts of the world at certain times of year.,
To help you work out the tropical storm risk for your next holiday we have created this interactive tool, which clearly displays the percentage chance of encountering any effects from tropical storms in any given month.
Tropical storm risk
Using the tropical storm risk tool
Percentages can be tricky and somewhat misleading if they're misinterpreted. The percentages you can see above come from a thorough analysis of more than 60 years' worth of data. First, we looked at the position of all tropical storms every six hours from January 1951 to December 2010.
Using this information, we established an average number of days affected by tropical storms in destinations around the world. This in turn created the percentage chance of tropical storm risk that you see presented in your graph's results.
Did you know? Tropical storms can quickly become very powerful with very high winds, heavy rain, and storm clouds that can reach nearly 60,000 ft above sea level - that's around twice the cruising altitude of a commercial aircraft
Crucially, our average percentages reflect the number of storm affected days; that's to say, days when the weather is in some way affected by a storm within 350 km, not necessarily days which are fully disrupted or at risk of a direct hit from a tropical storm, even during the hurricane season.
Tropical storm risk: Cancun, Mexico hurricane season
% of month affected by tropical storms
Jan
Feb
Mar
Apr
May
Jun
Jul
Aug
Sep
Oct
Nov
Dec
The graph does however, clearly show the peak hurricane season in an applicable destination when your overall risk of encountering a tropical storm is higher. Finally, the percentage shown applies to the whole month, therefore if you are going for half the month (say two weeks), your tropical storm risk is half of what is displayed.
Understanding tropical storms
A tropical storm is a very active area of low pressure that forms over a warm ocean in the tropics where conditions are likely to produce a tightly rotating system of clouds with high wind speeds and lots of rain.
Once winds reach a sustained 39 mph (34 knots) the low pressure system is classified as a storm and usually given a name. These storms are then very carefully monitored by the world's meteorological agencies as they have the potential to become even more powerful and cause a lot of damage.
Did you know? Between 80 and 100 tropical storms develop worldwide in a year, although less than half of these make hurricane/typhoon status
Conditions have to be just right for a tropical storm to form. A growing system can easily be blown apart if the winds at high altitude are too strong, while the sea temperature has to be warm enough to fuel its growth, at least 27°C.
Tropical storms never form on or near to the equator as they can't generate enough circular motion to whip up the wind speed, so they must be between 5° to 10° north or south of this line.
Did you know? The direction a tropical storm spins is determined by the rotation of the earth, which is why tropical storms rotate counterclockwise north of the equator and clockwise south of the equator
Tropical storms need ideal conditions not only to form but to thrive. As a tropical storm takes its energy from warm water, it can quickly dissipate when it hits cooler sea temperatures or makes landfall, which is why the highest tropical storm risk for people is in or around coastal areas. The average size of a tropical storm is somewhere between 200 and 400 miles across.
Tropical storm risk: Miami, Florida hurricane season
% of month affected by tropical storms
Jan
Feb
Mar
Apr
May
Jun
Jul
Aug
Sep
Oct
Nov
Dec
The wording, 'tropical storm', relates to a variety of other commonly used terms to describe storms around the world including cyclones, hurricanes, and typhoons. Just to confuse things even more, a tropical storm is only upgraded to a hurricane or typhoon when the wind speeds exceed 74 mph (64 knots).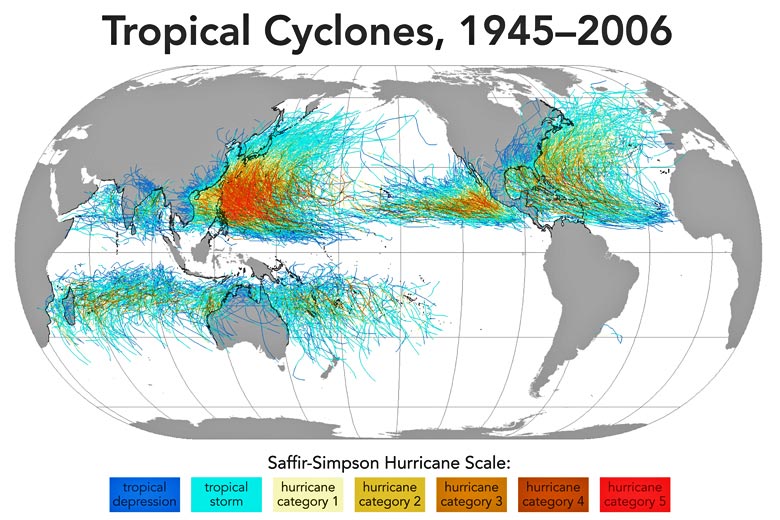 Where is the tropical storm risk high?
The role warm sea temperatures play forming tropical storms limits where you are likely to encounter them. Typically, destinations across the Caribbean, USA (the eastern coast in particular), Far East (notably the Philippines and Taiwan), and parts of the southern Indian Ocean such as Mauritius are most at risk of tropical storms.
There are also many islands in the South Pacific which are threatened by seasonal tropical storms, while the northwest Pacific Ocean sees some of the largest, most powerful tropical storms around.
Tropical storm risk: Mauritius cyclone season
% of month affected by tropical storms
Jan
Feb
Mar
Apr
May
Jun
Jul
Aug
Sep
Oct
Nov
Dec
Then there are areas which you might think have a high tropical storm risk but actually get off quite lightly during their hurricane seasons. You might be surprised to learn that most of Indonesia, including the ever popular island of Bali, is a low risk destination, as well as Singapore, the Maldives, Seychelles, Kenyan Coast, and even Sri Lanka.
Tropical storm risk: Bali, Indonesia cyclone season
% of month affected by tropical storms
Jan
Feb
Mar
Apr
May
Jun
Jul
Aug
Sep
Oct
Nov
Dec
When is the tropical storm risk high?
The tropical storm risk is highest in late summer when the oceans are at their warmest and the sun is still strong enough to cause high levels of evaporation. During this time, storms generate frequently, and they can be incredibly big and strong, which makes them so dangerous at this time.
Did you know? A tropical storm can generate two hundred times the energy of all the power stations in the world combined
It's also worth noting that late summer applies, roughly speaking from late August to the end of September in the northern hemisphere, and from mid February to early March in the southern hemisphere. In the north Indian Ocean there are two peaks, one in May and another in October.
If you're planning a holiday and trying to work out your tropical storm risk, you will need to know when the hurricane season kicks in and you could be affected by a tropical storm. Hurricane seasons around the world are as follows:
North Atlantic Ocean (Caribbean & N. America) - June to December
Northeast Pacific Ocean (Mexico to Hawaii) - May to November
Northwest Pacific Ocean (Philippines to Japan) - all year but mainly June to December
North Indian Ocean (Bay of Bengal & Arabian Sea) - April to December
South Indian Ocean (Australia to Mozambique) - October to May
Southwest Pacific Ocean (South Pacific Islands to Australia) - October to May
What to expect during a tropical storm
Conditions you could expect during a tropical storm vary depending on your location however, there are some general things to look out for when the tropical storm risk is high.
When a storm is within 350 km
More often than not, any encounter you have with a tropical storm is likely to be from a distance and not from a direct hit. If so, you could expect to be affected for anything from one to three days, depending on its intensity and proximity.
The same applies to the severity of the conditions you'll experience, as this is based on where you're located in relation to its epicentre, as well as its size and strength. As a general rule you can expect the following:
a lot of heavy rain
thick cloud, overcast skies
rougher seas, which can persist even after the storm has passed
murky water as the sea is churned up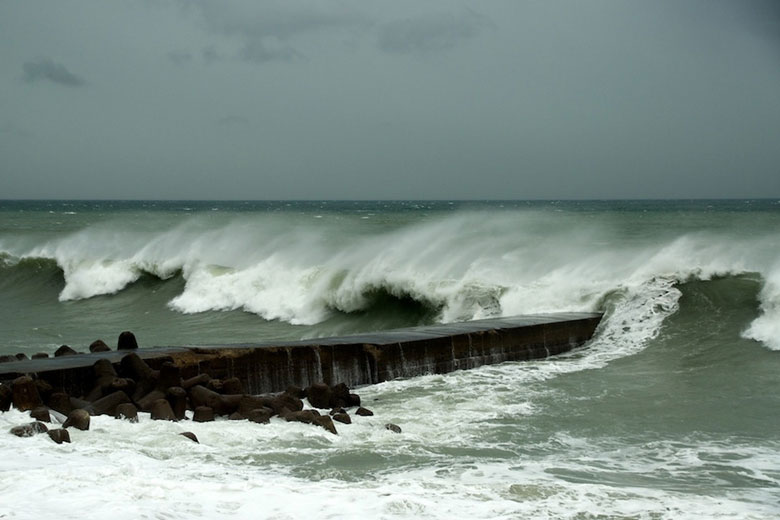 While there may be an increase in wind speed, it's unlikely to reach storm force unless the centre of the storm is within 50 to 100 km. It's worth taking care when out and about in case of fallen trees or landslides from the heavy rain, and you could also find that shops and businesses close if the tropical storm risk is severe. Always check local news for updates about the strength and position of any threatening passing storm.
Did you know? If the eye of a storm passes over you, there will be a lull before the winds and rain resume blowing from the opposite direction
When a storm is close or a direct hit
Although finding yourself directly in the path of a tropical storm is unlikely, it is indeed a very different picture, as the risk increases greatly. As well as the tropical storm risks associated with the weather mentioned above, you can also expect the following:
far stronger winds, potentially in excess of 100 mph
much more heavy rainfall
thicker clouds and grey skies
turbulent sea with strong rip currents and waves that make it exceptionally dangerous
flooding caused by storm surge especially if it coincides with high tide
If you find yourself in the midst of a tropical storm, take precautions by staying indoors and away from large windows which are liable to break. Watch out for flying debris and flash flooding, and drink bottled water until you're sure that the main supply has not been contaminated.
You may encounter a blackout or some interference with the electricity supply. If the eye of a storm passes over, you're likely to be housebound for around six to eight hours.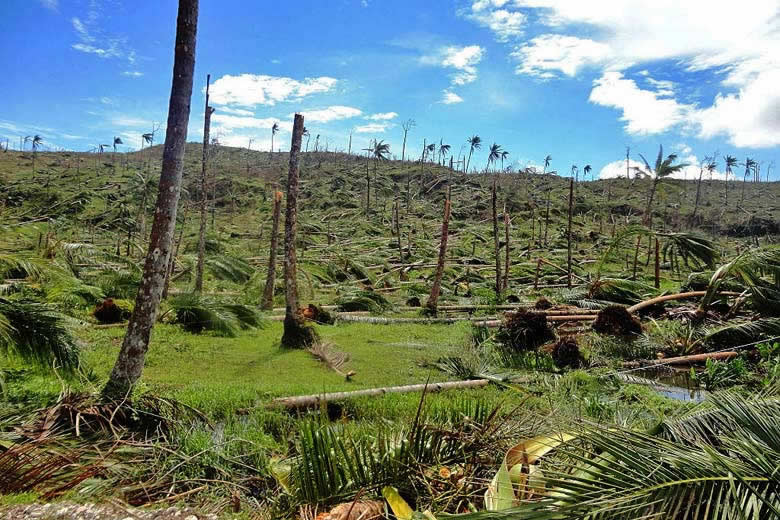 Storms that hit the headlines
Glimpsing briefly into the past, we can see that three major tropical storms occurred in the past 50 years which broke records for their sheer power, strength of the wind and volume of rainfall. These were:
Most powerful - Super Typhoon Tip, Japan and some islands in the Western Pacific, October 1979: the largest tropical storm with the lowest air pressure ever recorded at over 2,000 km across, that's about half the size of the USA
Strongest winds - Cyclone Olivia, Western Australia, April 1996: a top wind speed of 253 mph (220 knots) was recorded on Barrow Island, around 30 miles from the mainland
Most rainfall - Cyclone Denise, Reunion, January 1966: in one 24 hour period, a record 1,825 mm (71.8 inches) of rain fell on the Indian Ocean island
While our tropical storm risk tool lets you see the percentage chance of encountering a storm on your travels, the fact remains that tropical storms can, and do, pop up at irregular intervals.
As anyone who tries to keep up with day-to-day conditions in the UK knows, the weather is ever changing and evolving, which can make predicting it tricky, no matter how much historic data you have.
Tropical cyclone risk: Boracay, Philippines typhoon season
% of month affected by tropical cyclones
Jan
Feb
Mar
Apr
May
Jun
Jul
Aug
Sep
Oct
Nov
Dec
To give you an example of how much the tropical storm risk can vary, while 2005 saw no less than 28 storms form in the Atlantic, seven of which were hurricanes, including the last major one to hit the USA (Hurricane Katrina), 2015 saw only 11 Atlantic storms develop, two of which made landfall in the USA, neither of them hurricane force.
Tropical storm risk: New Orleans, Louisiana hurricane season
% of month affected by tropical storms
Jan
Feb
Mar
Apr
May
Jun
Jul
Aug
Sep
Oct
Nov
Dec
What does this tell us? If you're heading somewhere which is prone to storms or in an area affected by hurricanes, there is a chance you may come into contact with a tropical storm, and our guide is here to help you decide whether the tropical storm risk in your chosen destination is one worth taking.
Get FREE travel offers
Sign up to receive the latest deals and exclusive discounts on holidays, flights, hotels and more, plus inspiration on where to go when
We promise not to share your details
*affiliate links: find out how we are funded and why this helps us remain free to use.