Virgin Atlantic to offer daily flights to Austin, Texas from April 2023
Arguably the most stylish airline in the sky, Virgin Atlantic* has announced that it is to increase the number of flights it offers to Austin*, Texas from London Heathrow from April 2023.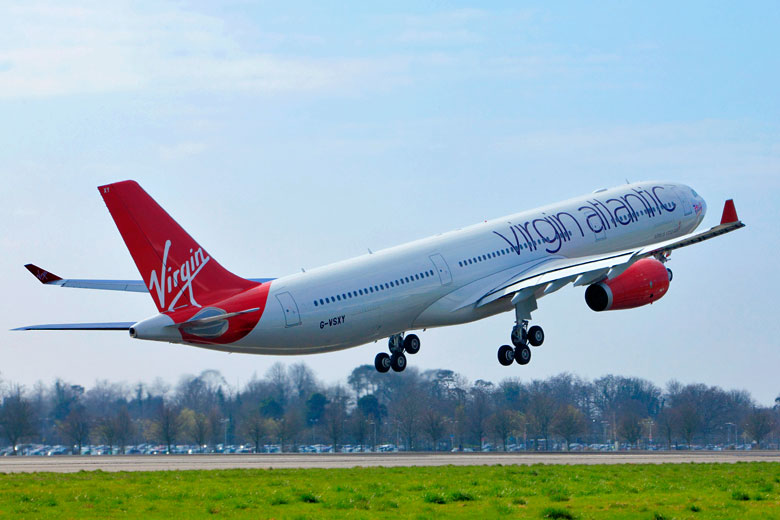 Virgin Atlantic's inaugural flight to Austin* took off on 25 May 2022 and will, for the time being, operate four times per week aboard a 787 Dreamliner.
However, owing to what it calls huge demand, it has already decided to increase this to daily flights as of April 2023.
What's more, it's hoped that Virgin Atlantic will resume its Asia-Pacific routes from 1 September 2022.
Ready to book your flights? Check out the latest deals on flights with Virgin Atlantic today.
Virgin Atlantic's new Edinburgh to Orlando route to begin this week
The coolest airline in the skies, Virgin Atlantic*, is preparing for the launch of its brand new route from Edinburgh* to Orlando* this week.
The new twice-weekly seasonal route, which starts on Wednesday 30 March 2022, will whisk travellers from the Scottish capital to Florida's leading theme park destination in around nine hours aboard an Airbus A330 aircraft.
Virgin Atlantic's Chief Commercial Officer, Juha Jarvinen, said: "We couldn't be happier to launch our second route from our new home in Scotland, following the launch of our direct service to Barbados last year.
"Orlando is the theme park capital of the world and the heartland of Virgin Atlantic's leisure programme."
Virgin Atlantic to restore all of its routes to the USA
Good news for Virgin Atlantic* fans; the red-tails of the airline will soon be winging their way back and forth across the Atlantic just as they were prior to the Covid-19 pandemic.
The news that it plans to restart flights to Seattle* (from London Heathrow five times weekly from 2 March) and Washington DC* (also from London Heathrow five times per week from 5 March) have been widely welcomed and completes the restoration of its pre-pandemic schedule of flights to the USA.
What's more, Virgin is increasing capacity on its routes to New York*, San Francisco*, Los Angeles*, Orlando* and Atlanta*, as well as launching its brand new flight to Austin*, Texas from 25 May.
In a statement, the airline praised "renewed customer confidence and a strong uptick in bookings, which are up 50% year on year" for the increased capacity.
Juha Jarvinen, Virgin's Chief Commercial Officer, added: "Following the relaxation of travel restrictions, we've seen demand increase to many of our global destinations, but particularly to our heartland in the USA. Our customers can't wait to return."
"We're simply not Virgin without the Atlantic and our growing transatlantic portfolio demonstrates why we're the airline of choice to the USA."
Virgin Atlantic to restart Tobago flights from 29 January 2022
In exciting news for Caribbean lovers, Virgin Atlantic* has announced that it will recommence its route to the glorious island of Tobago* from 29 January 2022.
The route, which was paused in 2020, will operate twice-weekly on Tuesdays and Saturdays from London Heathrow aboard an Airbus 330-300.
Chief Commercial Officer at Virgin Atlantic, Juha Jarvinen, said: "We are thrilled to be able to restart our much-loved services between London Heathrow and Tobago.
"With delicious food, amazing music and stunning views, we know our customers will love exploring this unique island destination."
Virgin Atlantic announces new route to Austin, Texas
After hinting about an exciting new UK to US route, Virgin Atlantic* has revealed that Austin* will join its portfolio of destinations from late spring 2022.
The new route will operate four times per week aboard its 787 Dreamliner between London Heathrow and the Texas state capital* from 25 May 2022.
Juha Jarvinen, Chief Commercial Officer at Virgin Atlantic, said: "We are incredibly excited to launch this new service to Austin, Texas. With an impressive food, arts and music scene, we know it's a destination our customers will love to explore.
"The US has been our heartland for more than 37 years since our first flight to New York City in 1984. Since US borders opened to UK travellers on 8 November, it feels extra special to be launching new flying, especially to the fantastic city of Austin.
"There are so many synergies between Virgin Atlantic and the city of Austin. We love their philosophy and desire to celebrate local brands, businesses and communities and we cannot wait to welcome customers, both existing and new onboard, flying them safely to explore this fabulously quirky city."
Virgin Atlantic resumes US flights from 8 November 2021
Virgin Atlantic has announced that it is gearing up to resume flights to the US, beginning with routes from the UK to Orlando*, New York* and Las Vegas*.
London Heathrow will host daily Orlando* and Las Vegas* flights, while Manchester will see the resumption of daily Orlando and New York* routes, all taking off on 8 November.
Virgin Atlantic Chief Commercial Officer, Juha Jarvinen, said: "Our customers are ready to begin their US adventures, whether it's to enjoy the magic of Orlando or to party the night away in Las Vegas, therefore it's only right that we offer them the opportunity to fly as soon as we can.
"I'm delighted that our Orlando and Las Vegas services will begin on 8 November, the same day transatlantic travel reopens. We can't wait to transport customers to our favourite destinations in the US safely once more."
If you're considering booking, remember that Virgin Atlantic offers unlimited free date and flight changes for new bookings, while rebooking has been extended for all customers until 30 April 2023.
Virgin Atlantic resumes flights to South Africa
The red tails of Virgin Atlantic*'s Boeing 787 Dreamliners are gearing up to resume their travels from the UK to South Africa* following the pandemic.
From the 17 December 2021, the airline with fly three times per week from London Heathrow to the much-loved cosmopolitan city by the sea of Cape Town*.
In addition, Virgin Atlantic has increased capacity on its London Heathrow to Johannesburg* route, upping the service from three times per week to daily.
Virgin Atlantic chief commercial officer, Juha Jarvinen, said: "We know there's pent up customer demand for travel to South Africa so I'm thrilled we can offer our customers more services to both Johannesburg and Cape Town.
"We're expecting a high proportion of leisure travellers on these routes, taking advantage of the winter sun, the safaris and the world-famous wine region."
New winter routes for 2021/2022
Virgin Atlantic is set to launch numerous new winter sun routes to the Caribbean, including St Vincent and the Grenadines, from the UK for 2021/2022.
Firstly, new Virgin Atlantic* flights will connect London Heathrow with St Vincent and the Grenadines* from 13 October 2021 and, subsequently, Barbados from 19 November 2021.
In addition, new flights will link Manchester and Montego Bay in Jamaica*. These flights, which will operate three times per week, kick off on 6 November 2021.
Finally, Virgin Atlantic's first-ever international route from Scotland's capital is set to depart on 5 December 2021. The twice-weekly flight will go from Edinburgh to Barbados* and be the country's only direct route to the Caribbean.
This will be followed by new flights to Orlando* in Florida, USA from Edinburgh in April 2022.

Updated on Thursday 9 June 2022
More stories
Be inspired
Get your weekly fix of holiday inspiration from some of the world's best travel writers plus save on your next trip with the latest exclusive offers
We promise not to share your details
*affiliate links: find out how we are funded and why this helps us remain free to use.