Majorca weather
Get the latest coronavirus (Covid-19) updates for Spain with current travel advice and statistics on new cases per 100,000 and vaccine.
Below are the temperatures expected today at popular destinations in Majorca. Select a destination to compare today's forecast with average weather conditions.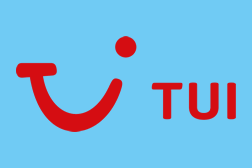 Discount Code
Save £100 on summer 2021 holidays to Majorca
Min spend £800 per booking
Travel before 31st October 2021 (inclusive)
Show discount code
******INE
Recommended for Majorca
Jan Feb Mar Apr May Jun Jul Aug Sep Oct Nov Dec
The weather guide for Majorca shows long term weather averages processed from data supplied by CRU (University of East Anglia) & today's weather forecast provided by MeteoBlue. Find out more about our data sources.
Which is the hottest month in Majorca?
The hottest time of year in Cala d'Or, Majorca is normally August. Expect maximum daytime temperatures to reach 29°C with moderate heat and humidity.
Which month has the most rain in Majorca?
In terms of rainfall, October is usually the wettest month in Cala d'Or, Majorca with 98mm on average. There are normally 12 days in October with some rain.
When is it sunniest in Majorca?
The sunniest time of year in Cala d'Or, Majorca is normally July with bright sunshine on average for 74% of daylight hours; that's 11 hours of sunshine per day.
When is the sea warmest in Majorca?
The sea is usually at its warmest in Cala d'Or, Majorca in August when the water temperature reaches 26°C.
Metric (°C / mm) | Imperial (°F / inches)
Majorca weather overview
Majorca weather is a very good reason for visiting this ever-popular Mediterranean island, one of the nearest foreign destinations to offer the guarantee of a sunnier holiday than can usually be expected in the UK.
In winter months, with more hours of daylight, northern Europeans are attracted to Majorca's sunshine and pleasant temperatures.
In summer, with warmer air and sea temperatures and negligible rainfall, the island's climate represents for many the perfect holiday weather.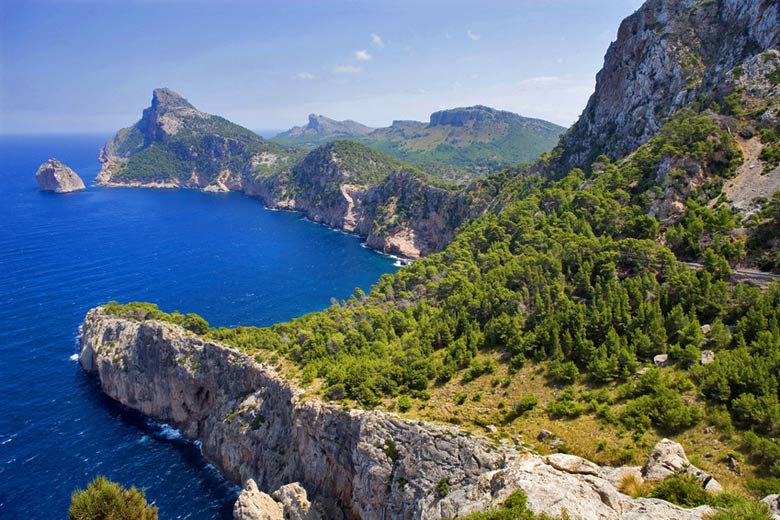 Majorca, which is about the size of Suffolk, is the largest of the Balearic Islands and situated just over 100 miles south of Barcelona.
It is easily accessible from the UK with direct flights from over 20 airports including Exeter, Southend, Humberside and Norwich.
Flight time typically is a little over 2 hours from London and 3 hours from Aberdeen.
What to expect of Majorca weather?
In summary, generally, hot dry summers with daytime maximums in the high twenties Celsius from mid-June to mid-Sept and milder, wetter winters with daytime maximums only reaching the mid teens Celsius from December to February.
Like similar Mediterranean islands and Spanish Costa destinations, Majorca weather is beautifully sunny and warm in summer months and offers significant amounts of sunshine throughout most of the winter, albeit with cooler temperatures, some rain and occasional stormy 'blows'.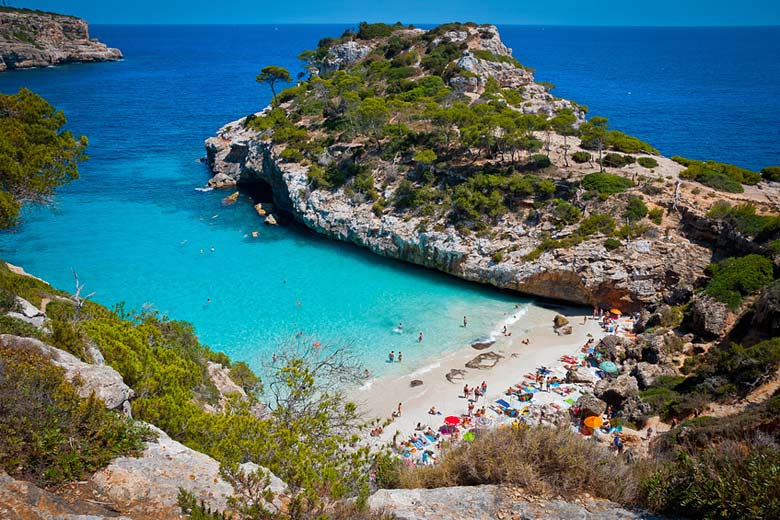 Rainfall is a rarity throughout the summer months of June, July and August but can be expected at other times, with October the month producing the most rain (around 100mm), although it rains more frequently but with less precipitation in December and January. Thunderstorms are most likely in September and October.
Winds can be experienced from autumn through winter into spring.
The dry 'Mistral' wind habitually blows from the north or north-west for approximately 10% of the time during these months, usually for about 3 days at a time (although 10 days has been known!) - it is strongest in January and February.
The mistral is a strong wind but typically brings clear skies.
Less frequently in autumn and spring, the warm to hot 'Sirocco' wind (sometimes called 'Leveche' in Spain) blows up from the Sahara Desert to the south-east bringing rough seas and unsettled conditions.
And when cold Atlantic low pressure systems move in over the relatively warm Mediterranean Sea they can produce strong storms. These ocasionally occur between September and January, with 60kph winds and flash flooding being a possibility.
But despite all this, through all the winter months Majorca weather is most often fine and sunny with an average of at least 5 hours of sunshine a day.
As a guide, winter temperatures in Majorca are very similar to those of late April and early October in southern England.
And there is generally always much more sunshine in Majorca in winter than in the UK in late April and early October.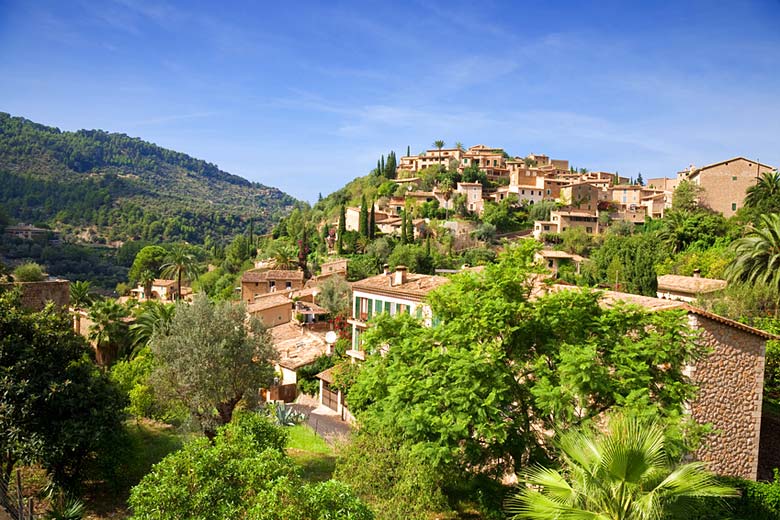 In summer, Majorca weather is very settled and the daily sea breeze that blows on-shore most afternoons can bring welcome relief from high temperatures and humidity especially in July and August.
For cooling off in the water, average sea temperatures build up from a winter low of 14°C to a pleasant 24-25°C between July and September.
Since Majorca is nearer the equator than the UK it has an extra hour of daylight in mid-winter compared with London and 2 hours more than Edinburgh.
With sunshine available for 65-70% of the months of June-August, and with a creditable 5 hours per day in the least sunny months, it is easy to see why the Majorca weather makes the island an all-year holiday destination.
Suggesting the best time to visit the island is, therefore, really a matter of personal choice.
Hot, sunny summer months and bright, sunny winters are delightfully punctuated in spring by a mass of wild flowers and the fragrant scent of orange blossom wafting across sheltered valleys.
Equally, the opportunity to swim in the sea until October when the olives are gathered is just one of the seasonal pleasures available for autumn visitors.
What to Pack for Majorca
Although temperatures can reach 40°C or more at the height of summer, and fall below 0°C in winter months (with snow not uncommon on northern peaks), generally cool summer clothing (as you would wear on a very hot day in the UK) will be a good choice, with the addition of a light sweater or jacket for spring, early summer or autumn evenings.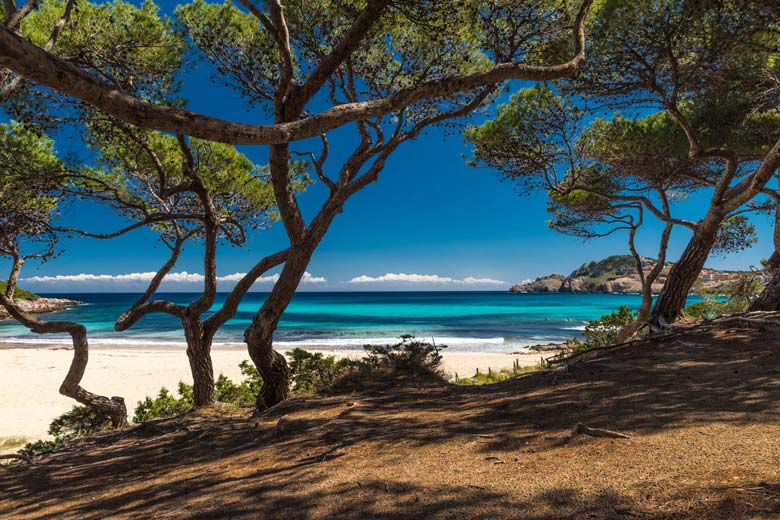 At beach resorts, informality is the norm in hotels, bars and clubs. However, if visiting some of the smarter hotels, restaurants and bars in Palma, be advised that many require you observe a dress code, so packing a stylish outfit could save you potential embarrassment.
During winter months, even if the sun is shining during daylight hours, a warm cover should be an essential item, just in case.
Better to have it there to take off than shiver on account of its absence! Also, from September to March when rain is forecast, it is always advisable to have a waterproof item to hand.
Another essential should be sunglasses and suncream: in comparison with the UK, Majorca weather produces UV levels which are high and, particularly from the middle of May to the beginning of September, there is a danger of getting sunburnt.
Compare Majorca weather with the USA
Below the Majorca weather chart shows average maximum daytime temperature for Majorca (Cala d'Or) and the USA (Washington).
Maximum daytime temperature (°C)
Majorca (Cala d'Or)
USA (Washington)
Jan
Feb
Mar
Apr
May
Jun
Jul
Aug
Sep
Oct
Nov
Dec
Metric (°C / mm) | Imperial (°F / inches)
Compare more Majorca weather >>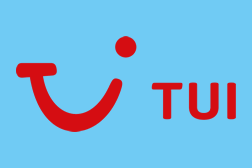 Discount Code
Save £100 on summer 2021 holidays with TUI
Plus testing packages + Covid cover & free changes
Plus testing packages + Covid cover & free changes
Travel before 31st October 2021 (inclusive)
Show discount code
******MER
Be inspired
Get your weekly fix of holiday inspiration from some of the world's best travel writers plus save on your next trip with the latest exclusive offers
We promise not to share your details
Related posts
Popular travel offers
*affiliate links: find out how we are funded and why this helps us remain free to use.