Why you need to visit Pristina, Kosovo's compact capital
*affiliate links: find out how we are funded and why this helps us remain free to use.
Standing in the shadow of a giant letter 'N', I couldn't help but feel moved by the three-metre-high, brightly-painted monument before me. For the typographical sculpture of 'NEWBORN' is a clear statement of intent from a young and optimistic nation.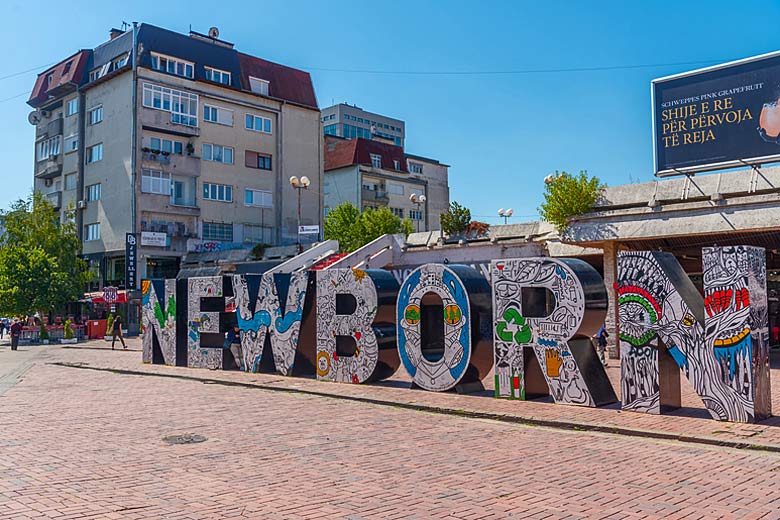 Erected on 17 February 2008, when Kosovo declared its independence from Serbia, this contemporary piece of public art, written in English as a nod to its international outlook, is also a political statement, representing the people's aspirations, symbolising a fresh start.
I had few preconceptions about Kosovo or its compact capital city, Pristina. Knowing a little but not enough about its traumatic past, it's easy to group Kosovo with other Balkan states. However, its history and identity, along with its ongoing efforts to carve out a fully-recognised state, all set it apart.
And set apart it should be because this warm, friendly country has much to offer curious travellers. Pristina is more than worth a visit for its hospitality, great food (put cakes at the top of that list), thick coffee, craft beers and relaxed feel, let alone for getting to know its role in the country's evolution.
The best bit? You won't find many tourist shops or fast food chains. Not yet, anyway. Here, we take a look at some of the reasons to get in quick and sample a slice of Kosovo on the up before the rest of the world catches on.
Getting to Pristina: there are various ways in which you can get to Pristina. You could arrange your own flights and accommodation or book a city break with Expedia*.
There's also the option to extend your trip and find out more about the country on an escorted tour with Explore* or a guided tour with Tourradar*.
A short history lesson
The Republic of Kosovo, as it's officially known, is a landlocked country surrounded from north to west by Serbia, North Macedonia, Albania and Montenegro.
Of course, Kosovo's position in the heart of the Balkans in southeast Europe has seen it swallowed up by consecutive empires throughout the centuries. It was at the centre of the medieval Serbian Empire before coming under Ottoman control in the 15th century for some 500 years.
During that time, Islam became the dominant religion in Kosovo and the number of ethnic Albanians living there grew too. So when, in the early 20th century Kosovo was incorporated into Serbia, and then Yugoslavia, it had a big Muslim Albanian population, which contrasted with the largely Eastern Orthodox people of Serbia.
Discontent brewed over the decades and full-scale war erupted between 1998 and 1999 with the Kosovo Conflict. This bloody war saw thousands killed on both sides and NATO intervention, which included bombing campaigns and, eventually, peace talks.
In the following years, Kosovo was put under the administration of firstly the UN and then the EU; Yugoslavia broke into Serbia and Montenegro and, in 2008, Kosovo declared its independence.
Neighbouring Serbia still regards Kosovo as part of its sovereign territory, while the people of Kosovo, 95% of whom are ethnically Albanian, see themselves as an independent nation, although it remains nominally independent and under the instruction of the EU.
The Kosovo Museum in Pristina covers many millennia but its House of Independence, the final of three parts of the museum, is where you'll find artefacts and photos dedicated to Kosovo's independence in 2008.
Prepare for a wild ride
When you arrive at Pristina International Airport Adem Jashari, the only international airport in Kosovo, you are immediately struck by the friendliness of the local staff (something often missing from most airports). I can't remember when I was last met with a genuine smile at passport control.
The airport is located about 12 miles (20 km) from the centre of the capital city of Pristina. The easiest way to get to the city centre is via a 25-minute taxi ride. Although it's possible to pre-order a taxi, it's very easy to find a taxi driver poised to whisk you into town.
And this is where the fun starts. The price is agreed upon beforehand (cash only) in Euros, the official currency of Kosovo, before buckling up for your white-knuckle taxi ride.
You'll soon realise that road markings in Kosovo are for wimps as your taxi driver freely weaves a way through the traffic and pedestrians that appear in front of you like an old-school arcade game.
What's amazing is how the traffic flow works. There is little beeping of horns or screaming and shouting. No road rage here, just Kosovans just getting on with going from A to B.
International love
Owing to intervention from, among others, the USA and UK in the Kosovo Conflict, there's a lot of love for both nations. Mention you're from either and you'll likely be flashed a big smile and given a seriously warm welcome.
Former President Bill Clinton has been honoured not only with Bill Clinton Boulevard but also a three-metre-high statue.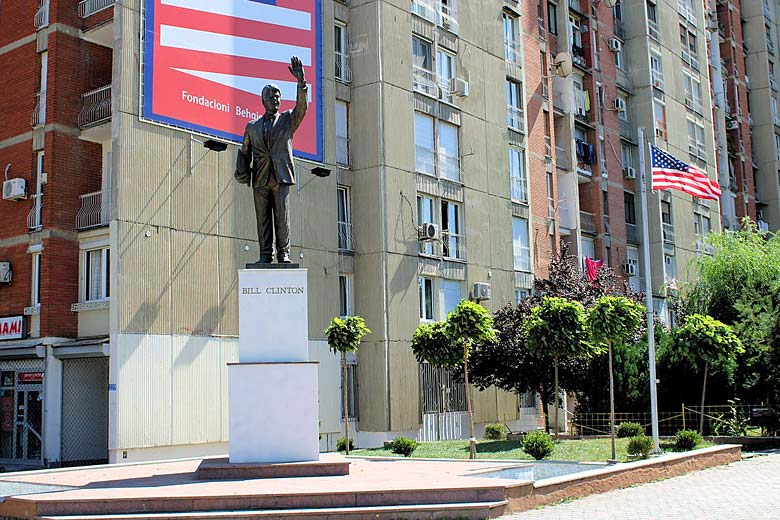 Located towards the southwest of the city, the wall behind is also often adorned with the stars and stripes.
A sign of the times
A short 15-minute walk from the statue of Bill Clinton is the NEWBORN monument, which sits in front of the rather rundown but unusual Palace of Youth and Sports.
As mentioned previously, NEWBORN was constructed in 2008 to mark Kosovo's independence from Serbia and the birth of the modern country it's evolving into today.
Getting to grips with a city on the up
Stepping onto the streets of Pristina you're unlikely to be bowled over by its beautiful architecture. It has some attractive buildings and interesting historical monuments, but nothing quite as striking as many other European capital cities.
You'll soon see that this is a city in transition, though. There is (re)construction everywhere with buildings cropping up around every corner. The streets can be rough around the edges with crumbling steps and uneven pavements, but the city works around it all.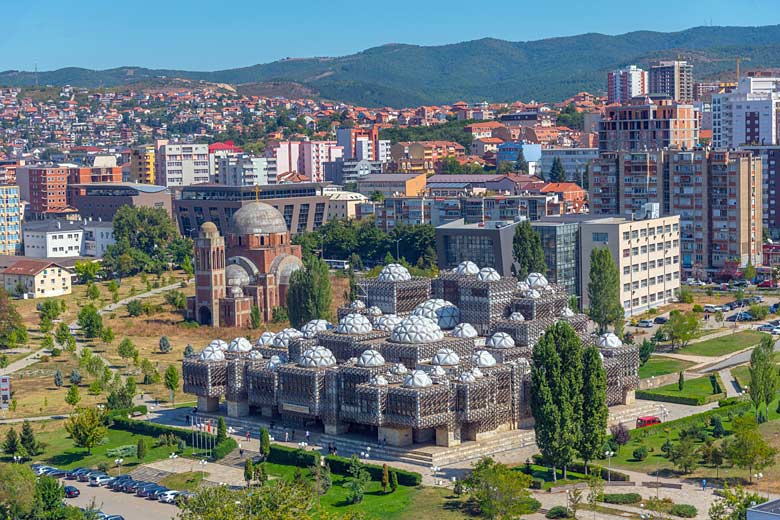 Another common occurrence on the streets of Pristina is the sight of stray dogs wandering aimlessly, sleeping in doorways and generally chilling out.
With no apparent owners in sight, they seem happy to watch the world go by without bothering anyone. You'll likely wince watching them cross the busy roads though.
The centre of Pristina is easily walkable and exploring on foot is undoubtedly the best way to see the city. Just be prepared for some hilly climbs if you move out of the centre as the more residential parts of Pristina are not exactly flat.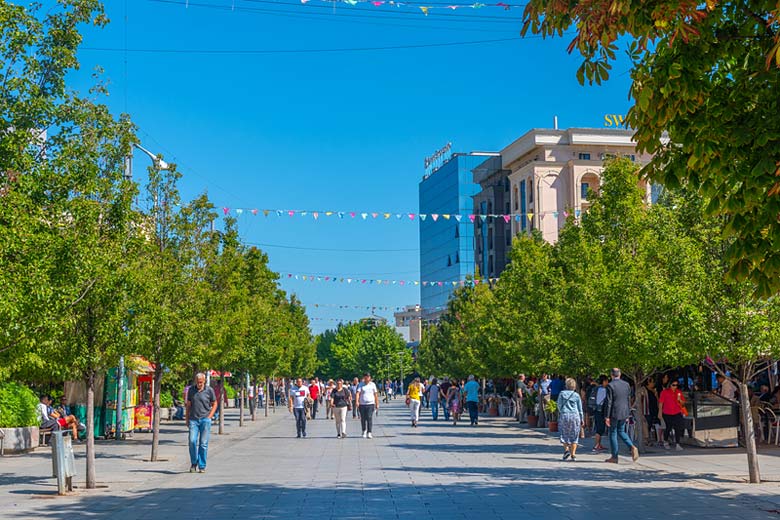 The pedestrianised Bulevardi Nënë Tereza, or Nënë Tereza Boulevard, is the heart of the city. It's named after Mother Teresa who had family ties to Kosovo and lived there in her teens.
Along the wide, tree-lined Nënë Tereza Boulevard, you'll find a mix of shops, cafés and restaurants with the general hustle and bustle of daily life all around. There is also an understated statue of Mother Teresa.
Pristina's modern Roman Catholic cathedral is also dedicated to Mother Teresa. The Cathedral of Saint Mother Teresa was completed in 2010 and is now one of Pristina's most famous landmarks.
Café culture on every corner
Drinking coffee is a huge part of life in Kosovo. There's a café to wander into at every turn. With no major coffee chains on the streets of Pristina, there is a great choice of independent establishments.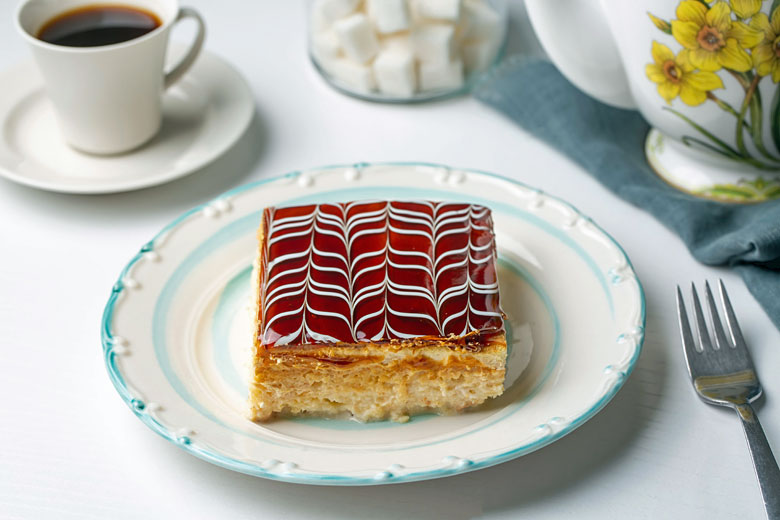 But coffee is not the only thing going on here. The choice of pastries, cakes and ice cream is breathtaking. From traditional cheesecake, local delicacies and every flavour of ice cream or sorbet you could wish for.
Making things taste even better is the price. Pristina is a truly affordable place to eat and drink when compared to western European countries. Don't expect to spend much more than a Euro for a coffee and maybe a little more for a slice of cake.
The Ottoman past & modern legacy
Located in the north of Pristina is Xhamia e Mbretit or the Fatih Mosque. This 15th-century Ottoman mosque is seen as one of the most important pieces of Islamic architecture in Eastern Europe.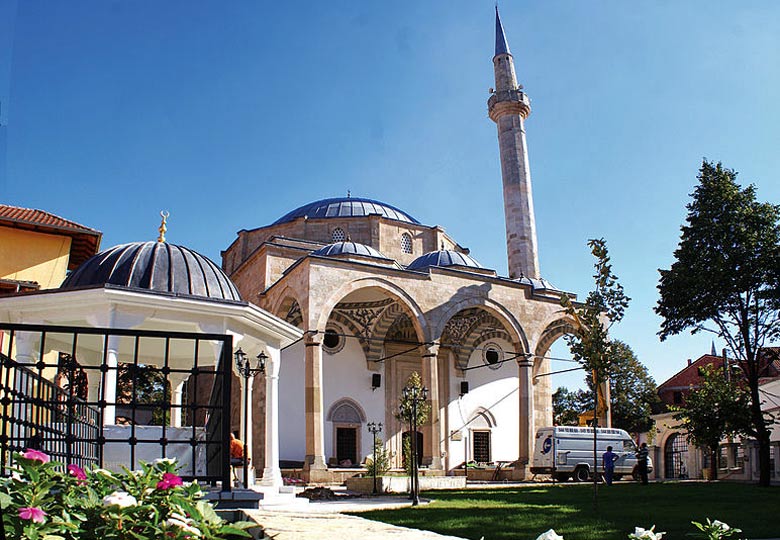 The contrasting side of Pristina's architecture is the National University Library of Kosovo, which was constructed in 1982 to preserve and document the nation's heritage.
The modern building does divide opinion, especially as it sits just a few metres away from the as-yet-unfinished Christ the Saviour Orthodox Cathedral.
Get a flavour of Pristina
As well as the café culture, Pristina has a thriving nightlife with a wide variety of restaurants and bars. From pizzerias and brasseries to steakhouses and local eateries offering Turkish, Albanian and Balkan-influenced food.
A cool venue for lunch or dinner just a few minutes from Nënë Tereza Boulevard is Soma Book Station. It has a quirky, contemporary vibe with a selection of books and records that can be rented or swapped. Enjoy craft beers and great food.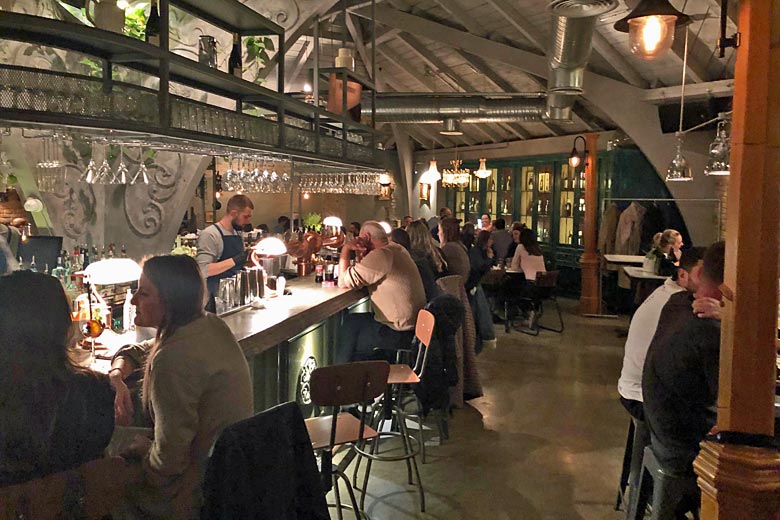 If you're looking for something grungier, try the MIQT Taverna, just north of the Pristina City Football Stadium, which offers more craft beers, beautiful food and lively outside space.
Why not spice things up with a sip or two of local rakia? This fruity brandy, often homemade and potent, is popular across the Balkans, and Kosovo is no exception.
Wherever you decide to head for food you'll be greeted with a warm smile and friendly service. After all, Kosovans are excited by the bright future for their young country as it journeys along the winding road to being fully internationally recognised one day.
Weather in Pristina
| | Jan | Feb | Mar | Apr | May | Jun | Jul | Aug | Sep | Oct | Nov | Dec |
| --- | --- | --- | --- | --- | --- | --- | --- | --- | --- | --- | --- | --- |
| Maximum daytime temperature °C | | | | 16 | 21 | 24 | 26 | 27 | 23 | 17 | | 4 |
| Hours of sunshine (daily) | | 3 | 4 | | 7 | | | | 7 | | 3 | |
| Days with some rainfall | | | | 13 | 13 | | | | | | | |
The above shows the weather in Pristina. You can find out more about conditions across the country in our complete guide to the weather in Kosovo.
Ready to discover Pristina? Check out the latest offers from Expedia, escorted tours from Explore and Tourradar*.
More about Pristina
Jan Feb Mar Apr May Jun Jul Aug Sep Oct Nov Dec
Explore holidays in the sun for less
Be inspired
Get your weekly fix of holiday inspiration from some of the world's best travel writers plus save on your next trip with the latest exclusive offers
We promise not to share your details
Related posts