6 things to do in & around sumptuous Sorrento, Italy
*affiliate links: find out how we are funded and why this helps us remain free to use.
With Pompeii, Capri, Mount Vesuvius and the beautiful Amalfi Coast on its doorstep, Sorrento is the perfect place for exploring some of Italy's iconic sights.
Add a slice of world-famous Neapolitan pizza, a hefty dollop of creamy gelato and a shot of chilled limoncello, and it's easy to see why tourist flock here time and time again. Here's our pick of some of the region's must-see sights to get you started.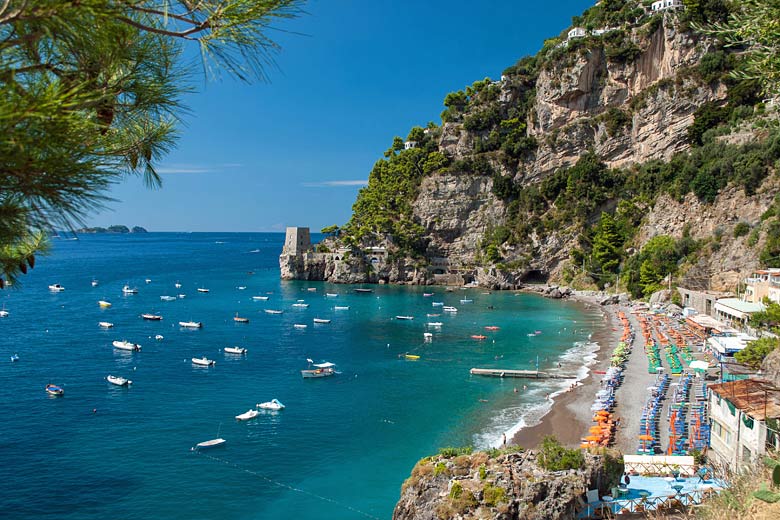 Did you know? Sorrento* is a major destination for cruise passengers, with many of the big-name liners stopping in the Bay of Naples. If you fancy an itinerary that includes a visit to Sorrento, check out the latest offers from TUI's Marella Cruises* for 2023/2024.
1. Be in awe of the Amalfi Coast
Jaw-dropping views, tight mountain bends, colourful hilltop villages: no wonder Europe's most scenic coastline is a magnet for the rich and famous.
Picture-postcard Positano will be your first stop, its pretty white-washed houses cascading vertically down the mountainside to the sea. Work your way through its twisting narrow lanes lined with shops selling colourful paintings, clothing, ceramics, and souvenirs. Go early to avoid the crowds.
The best views of Amalfi, your next stop, are from the sea. Take a guided boat trip from the quay - it's definitely worth the €12 - and enjoy a tour of the coastline with its ancient turrets, luxury villas of actresses Gina Lollobrigida and Sophia Loren and pastel-painted houses clinging to the rock face. Afterward, climb the 62 steps to the imposing 9th-century cathedral, its impressive arched façade striped in marble and stone.
The final stop is the serene hilltop village of Ravello, a haven of palazzos, piazzas and panoramas, and a favourite with authors, composers, and artists. Richard Wagner composed the second act of the opera Parsifal here in 1880, and D.H. Lawrence wrote Lady Chatterley's Lover in 1927. Villa Rufolo, Villa Cimbrone and the Duomo (cathedral) are worth a visit if time allows.
2. Explore Pompeii & Herculaneum
Some bucket list sights can be a disappointment but these Unesco twins, which were destroyed when Mount Vesuvius erupted in 79AD, will surpass all expectations. The Roman towns have literally been frozen in time.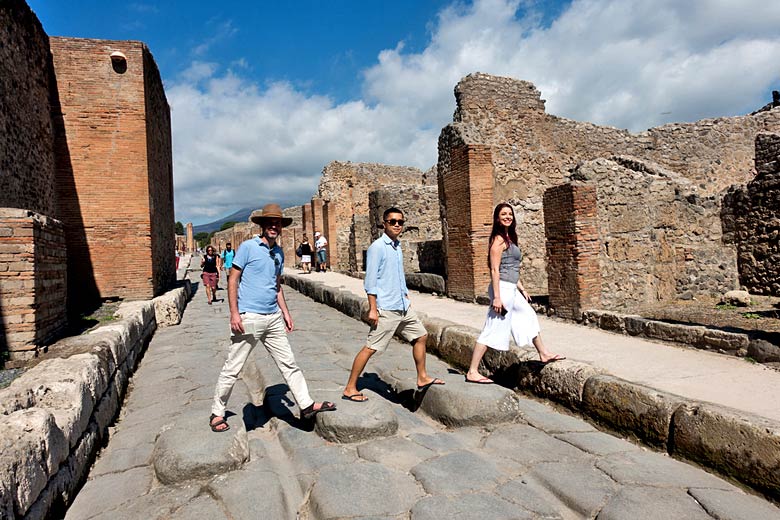 Embrace the peacefulness as you wander along the wide roads, dotted with stone speed bumps to slow the chariots down. Marvel at the white marble amphitheatre, attractive columns and statues, bathhouse, huge forum and red light district where pictures above the door of each room denote the type of sex on offer.
Pompeii is vast so it's best to book a guided tour or audio guide to make the most of your visit.
Herculaneum, a short train ride away, is much smaller as only 20% of the city has been preserved. It took 200 years to excavate.
Unlike Pompeii, which was buried in ash, Herculaneum was covered in a pyroclastic material - lava, hot rock and mud - so many of the wealthy merchants' villas and colourful frescos have remained intact. So, too, have the skeletons of people trying to flee the molten lava by boat, now rather macabrely on display.
As it is smaller than Pompeii, tour guides are not available here but you can hire an audio guide at reception to supplement the map and guide that comes with the ticket.
3. Splash the cash in Capri & Anacapri
The playground of the rich and famous, everyone from Roman Emperor Caesar to Hollywood actor George Clooney have holidayed on this island just off the coast of Sorrento. Gucci, Prada and Dior grace the racks of the fashionable boutiques of Capri, the shop-filled streets and alleyways jam-packed with visitors.
To experience the island's quieter side, take the one-person chairlift to the top of Monte Solaro, where the views of flower-filled meadows and rock formations are spectacular. Alternatively, ride the bus or funicular to Anacapri and explore its shops, artisan workshops and walking trails.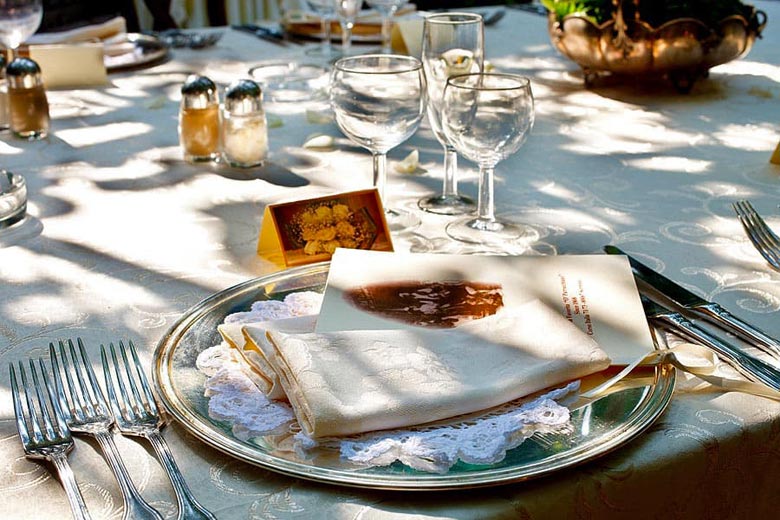 4. Book a table at Restaurant O'Parrucchiano
Cannelloni was allegedly invented here 100 years ago by the founder, Antonino Ercolano, so it's the perfect place to tuck into the dish under the lemon trees outside, their gigantic fruit dangling between twinkling fairy lights - magical. The seafood is excellent too. Memorabilia from bygone days adorn the walls of this restaurant which has been in the same family since 1868.
5. Learn to love the lemon
It's impossible not to notice Sorrento's long association with lemons. Their cultivation here goes back in Roman times and they're depicted everywhere - on soaps, aprons, tea towels, souvenirs, sweets, and key rings, and in the region's famous limoncello, served chilled as a digestif.
Pick up a bottle - or a lemon-motif souvenir - in one of the many shops in the narrow Via S. Cesareo near the bustling Piazza Tasso. Afterwards, head over to the panoramic terrace at the Foreigners' Club for fabulous views of the Bay of Naples.
At night, promenade like a local in the pedestrianised Corso Italia and finish up with a gelato - lemon flavour, what else? - on the swings in the nearby Puro gelateria - how cool is that?
6. Tackle Mount Vesuvius
Continental Europe's last active volcano towers into view on the drive from Naples airport to Sorrento, and there are lots of ways to get a closer view.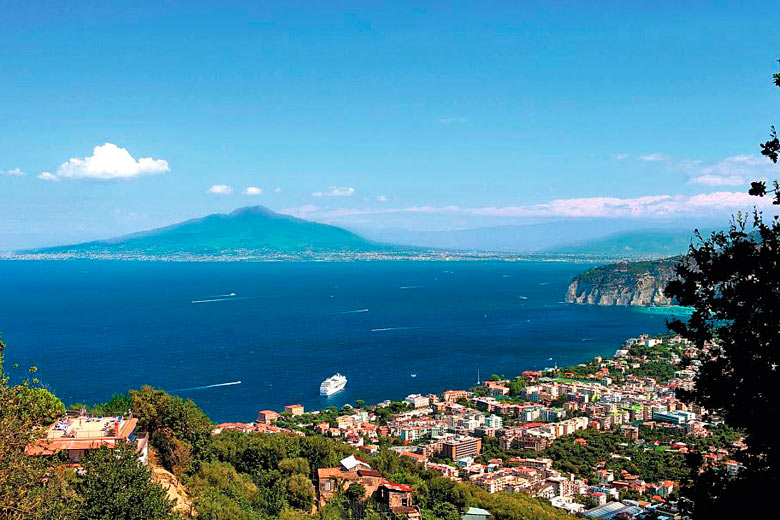 If you're feeling active, Vesuvius National Park offers two bike trails and 15 interconnected walking trails such as Inferno Valley and Great Cone.
Trek along the zig-zag paths to the summit and peer into the gigantic crater. The last eruption was in 1944 but various seismic phenomena that have taken place since have confirmed that it is still active. 4x4 tours are available too.
The park is rich in flora and fauna including over 900 plant species such as the Neapolitan maple and alder, 100 bird species and rare mammals.
Have you been seduced by the sound of Sorrento? Don't miss our complete collection of the latest online savings from Marella Cruises to combine a visit to Sorrento with a wider voyage at a great price in 2019.
Interested in finding out more about the weather in Sorrento and when is the best time to go? We have everything you need to discover Italy's Neapolitan Riviera at the right time of year to suit you and your weather preferences.
More about the Sorrento
Jan Feb Mar Apr May Jun Jul Aug Sep Oct Nov Dec
Explore holidays in the sun for less
Be inspired
Get your weekly fix of holiday inspiration from some of the world's best travel writers plus save on your next trip with the latest exclusive offers
We promise not to share your details
Related posts