Why Marseille & Aix-en-Provence make the perfect pair
*affiliate links: find out how we are funded and why this helps us remain free to use.
Provence, long celebrated for its lavender fields and golden sunflowers, has also mesmerised artists with its magical light.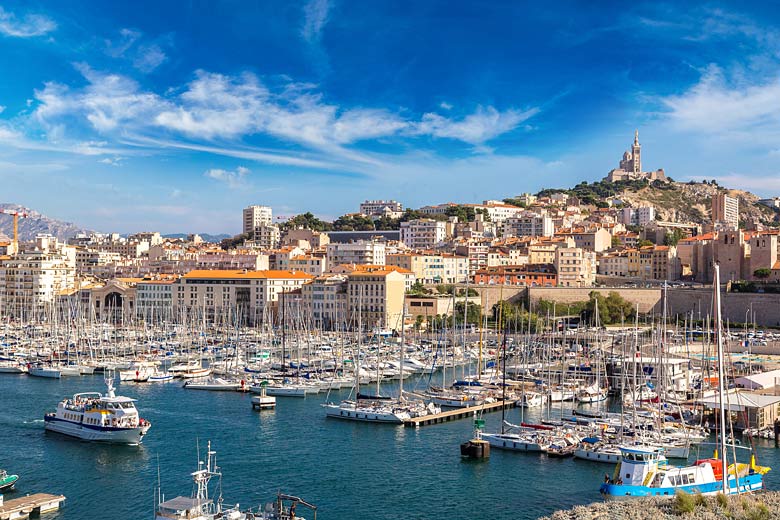 What's more, the lively Mediterranean port of Marseille and the relaxed ancient spa town of Aix, less than an hour apart, make the perfect duo to explore in this beautiful southeast region of France .
Marseille has been the gateway to distant lands for millennia and though once noted for being rather seedy, it's now trés chic. Two striking black and white striped churches dominate the skyline and it's a multi-cultural city with an edgy vibe.
Further inland, Aix, the former capital of Provence and home of post-impressionist painter Paul Cézanne, is a maze of elegant honey-coloured buildings, with cobbled streets and a fountain in every square.
Getting to Marseille: what better way to arrive into France's leasing port city than by ship? Marella Cruises offers Mediterranean itineraires* that call at Marseille, so be sure to check out the latest savings today.
The Old Port
The Old Port of Marseille* is the vibrant heart of the city and has so many stories to tell. Take the 'shortest cruise in the world', a two-minute ferry trip across the harbour for €0.50 to the 1673 City Hall, or stroll around the deep cove.
This sheltered location was founded by Greek settlers around 600 BCE as Massalia and the male colonists were frowned upon for their elaborate perfumed robes and tied-up hair.
Today, you'll spot many fashionable young men with bold outfits and man-buns keeping up the tradition.
At the entrance to the port, Marseille's Cathedral de la Major is one of the largest churches in France, built in Byzantine style with white marble from Italy and onyx from Tunisia.
Notre-Dame de la Garde Basilica
Take the open-top ColorBus uphill to explore Marseille and hop off at Notre Dame de la Garde Basilica, the highest point in the city with a 360-degree view from a limestone outcrop.
Pilgrims have arrived at this strategic and holy site (no doubt breathless after the climb) for 800 years and the crypt is carved directly into the rock.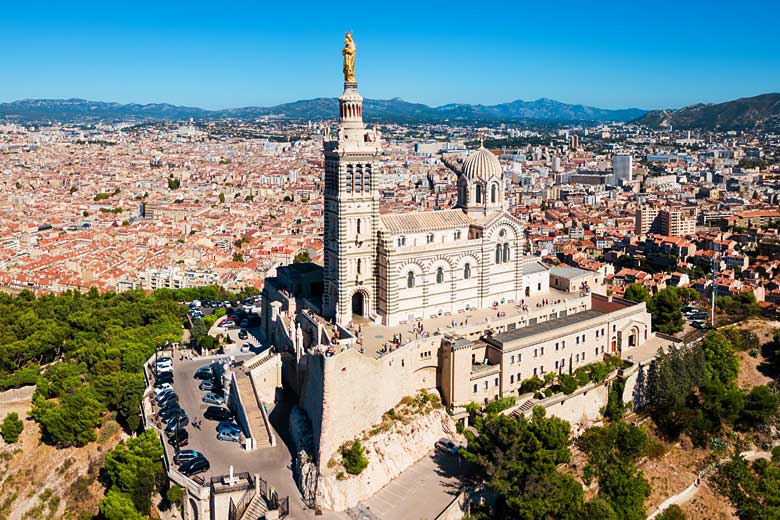 Known locally as 'La Bonne Mere' (The Good Mother), Notre Dame is the city's emblem and watches over sailors, fishermen and all citizens.
Le Panier
Marseille's historic Panier district, with its narrow, steep streets, is decorated with quirky murals. In the past, it was a rather dodgy area but is now charming with small bistros, art galleries and craft shops.
Take home your own set of pétanque bowling balls, fragrant Provençal soap (Savon de Marseille has been prized on trading routes since the 17th century) or traditional boat-shaped Marseille biscuits.
Family-run bakery Les Navettes des Accoules in Rue Caisserie will lure you in with the scent of warm orange blossom.
Calanques National Park
If you love to ramble, Calanques National Park is a stretch of rugged territory south of Marseille covering 20 km of unspoilt coastline. Out to sea is the 16th-century island prison Château d'If, made famous in Alexandre Dumas' novel The Count of Monte Cristo.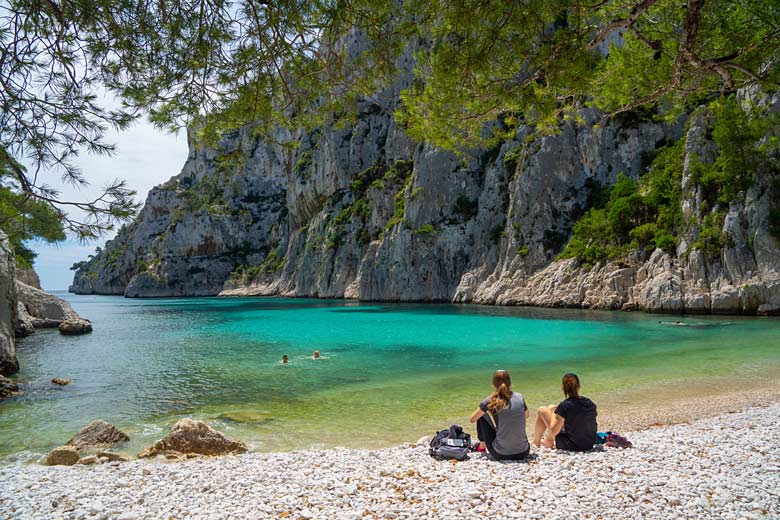 Pack your hiking poles and sturdy footwear to negotiate the cliff paths and steep-sided inlets. Organised water sports include scuba diving, kayaking and paddle boarding.
The small fishing village of Les Goudes is the ideal place to try bouillabaisse, Marseille's traditional rustic fish stew. It's a huge meal: first, you eat the rich soup, with rouille sauce (egg yolk, olive oil, garlic, saffron, breadcrumbs and chilli) and then garlic-rubbed croutons, the fish and shellfish.
Cosquer Cave
Opened in June 2022, the Cosquer Cave is a replica displaying the prehistoric art discovered in 1985 in an underwater Calanques cave, hidden for 30,000 years.
The fascinating indoor grotto ride takes you through a faithful reproduction of the cave's interior, with the handprints and sketches of animals left by our Palaeolithic ancestors.
Aix's Mazarin Quarter
Aix was established in 122 BCE as Aquae Sextiae, a Roman colony under Julius Caesar, renowned for its natural hot springs. The Mossy Fountain, in wide main street Cours Mirabeau, is still fed by 18°C spa water.
It's a modest landmark compared to the 12-metre-high Rotunda Fountain, which is definitely meant to impress.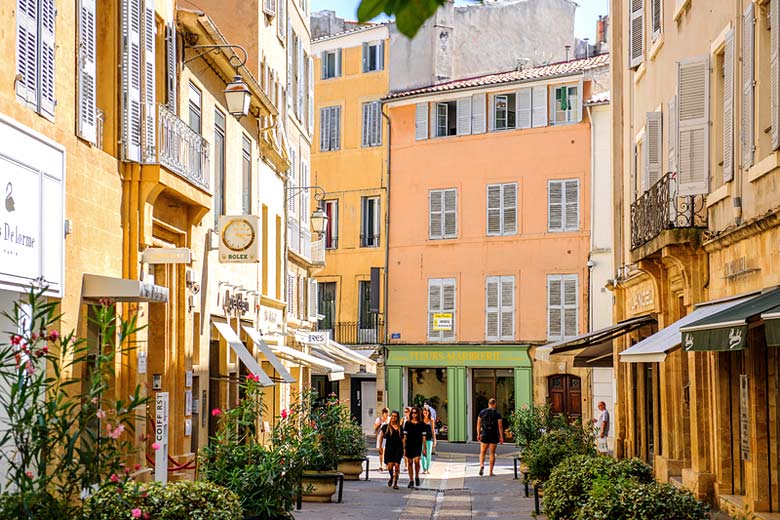 Once marshland, the aristocratic Mazarin Quarter was developed from 1646 onwards and it's here the richest merchant families built their stylish homes in buttery stone.
One of those was wealthy draper Pierre Maurel who shocked the town with statues of Atlas by his front door, sculpted with luxuriant body hair; his way of showing everyone he didn't give a hoot about their opinion, and why not.
Caumont Art Centre
The Caumont Centre d'Art, a sumptuous 1715 mansion with a courtyard and garden, fell into decay and sheltered Resistance fighters during WWII.
Now fully restored with exquisitely recreated Rococo rooms, the building is open to the public for concerts and exhibitions. A short film about Cézanne is shown every day.
Atelier Cézanne
Paul Cézanne was born in Aix. A walking route in the old town, marked with a 'C', shows where the post-impressionist grew up, studied and was inspired by mountain ridge Montagne Sainte-Victoire.
Atelier Cézanne, the studio the painter built on the site of an old farmhouse, remains immaculately preserved. His brushes, wooden easel and props are all on display and it's a place of pilgrimage for global fans.
Head to the Musée Granet and Granet XXe to see a few of Cézanne's pictures (sadly, not many), along with work by Picasso, Van Gogh, Monet and Degas.
Modern art fans will enjoy the Vasarely Foundation, a 1970s' architectural centre filled with the creations of optical art master Victor Vasarely.
Find out more: plan your perfect trip to Marseille and Aix-en-Provence with the help of official Aixenprovencetourism.com.
Château La Coste
Just outside Aix, Château La Coste is a huge 620-acre wine estate with contemporary sculptures dotted around the landscape amongst oak, almond and pine trees.
R.E.M.'s Michael Stipe designed a group of seven metal foxes and a huge bronze spider by Louise Bourgeois skulks in a pool. Wander through the vines and olive groves and make new discoveries along the winding trails.
Market joy
Aix has markets every day with the biggest on Tuesdays, Thursdays and Saturdays; browse stalls with flowers, antiques, clothing and the best Provençal food.
Seasonal delights include lavender, apricots, figs and peaches as well as honey, goat's cheese and olive oil.
Weather in Marseille
| | Jan | Feb | Mar | Apr | May | Jun | Jul | Aug | Sep | Oct | Nov | Dec |
| --- | --- | --- | --- | --- | --- | --- | --- | --- | --- | --- | --- | --- |
| Maximum daytime temperature °C | | | | 17 | 21 | 25 | 28 | 27 | 24 | | | |
| Hours of sunshine (daily) | | | 7 | | | | 12 | | | | | |
| Days with some rainfall | | | | | | | 3 | | | | | |
| Sea temperature °C | | | | | 16 | | 22 | 23 | 21 | | 17 | 15 |
The above guide shows the weather in Marseille. Find out more about weather across the region in our complete guide to the weather in Provence.
Ready to discover Marseille? Arrive in style and explore at your own pace on a voyage with Marella Cruises. Browse the latest deals and book today.
More about France
Jan Feb Mar Apr May Jun Jul Aug Sep Oct Nov Dec
Explore holidays in the sun for less
Be inspired
Get your weekly fix of holiday inspiration from some of the world's best travel writers plus save on your next trip with the latest exclusive offers
We promise not to share your details
Related posts