Sights to see on a walking tour of downtown Phoenix, Arizona, USA
*affiliate links: find out how we are funded and why this helps us remain free to use.
With the USA's reputation as a place where everyone drives and nobody walks, it's a surprise to discover that the nation's fifth largest city, Phoenix, has a very walkable downtown area. Most visitors opt to stay at the golf resorts and spas that surround this desert city, the capital of Arizona, but downtown is full of museums, arty murals, historic buildings, and some world class cocktail bars.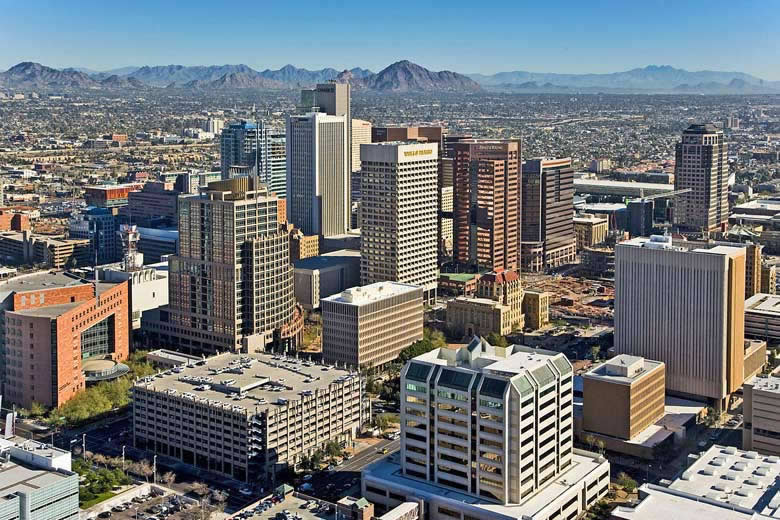 As we head on a walking tour of downtown Phoenix, bear in mind that you can fly with Delta via Virgin Atlantic from London Heathrow. You'll find affordable fares to Phoenix when you book with Virgin Atlantic* online, letting you hit the ground running for less than you might expect.
Introducing downtown Phoenix, Arizona
Downtown is where the city of Phoenix began its remarkable growth from its beginnings as a small agricultural town in the mid-19th century. It became a city in 1881 - the same year as the Gunfight at the OK Corral in Tombstone, 200 miles away. You can get a sense of what it was like in those cowboy days of the old Wild West at the Rosson House Museum is found in Heritage Square, which dates from the late 1800s and preserves some of the original Phoenix buildings.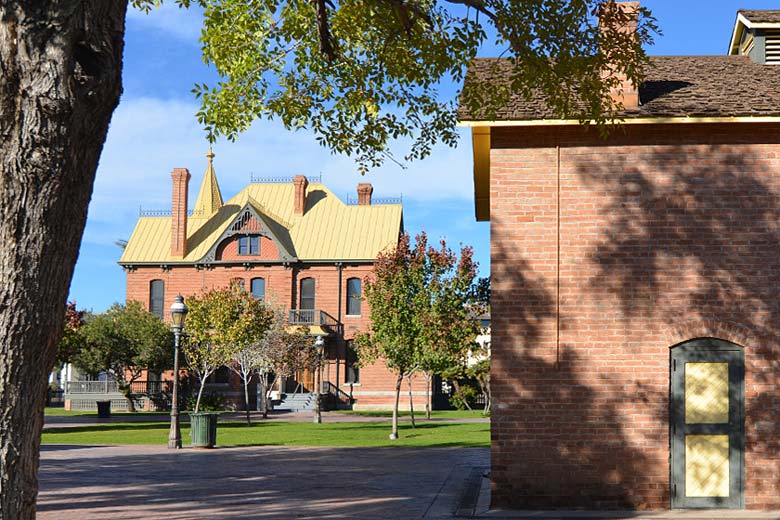 Roosevelt Row
The nearby Roosevelt Row district has been part of a recent scheme to turn the centre of Phoenix into a place where people live and walk rather than work and leave. A few blocks north of downtown, Ro-Ro has become a thriving artistic community, where empty stores have become artists' studios and vacant parking lots turn into pop-up art galleries. You know there's a buzzing local life when you see the queues for Matt's Big Breakfast, the kind of friendly diner every US visitor hopes to find. And if you've never experienced the buzz of a great American diner, join the queue.
Downtown treasures of old
Continuing downtown, the free Wells Fargo History Museum recreates the pioneer days and lets you discover just how uncomfortable it was to ride in a (replica) stagecoach. On display is an original 19th-century Wells Fargo stagecoach, from the days when Phoenix was a frontier town and the coaches brought mail, supplies and settlers from back east, travelling at 5mph and changing horses every 12 miles. Wells Fargo coaches ran from Missouri to California and from Arizona north to the Canadian border.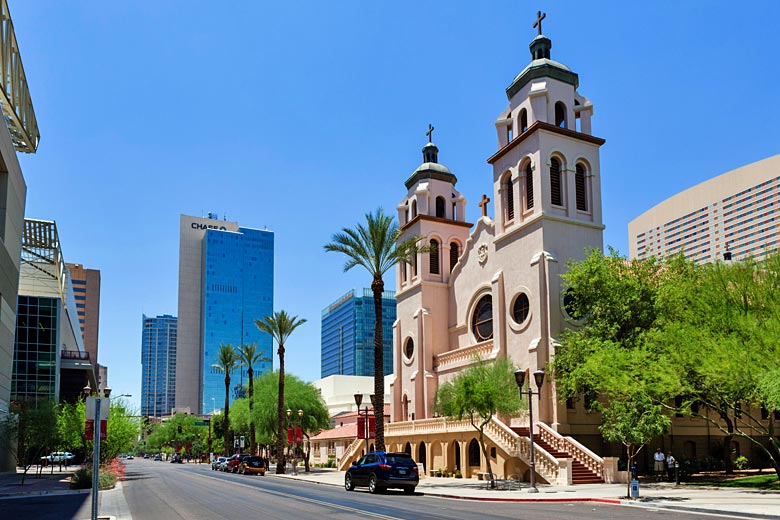 Across the street from here is the Orpheum Theater, which was built in 1929 to bring vaudeville acts to the growing western city. Inside it's full of lavish ornamental plasterwork and stencilled ceilings. If you're unable to get tickets for a show then try and catch one of the free public tours, to get a glimpse of the fabulous interior.
A couple of blocks away is the 10-storey Luhrs Building, which was the city's first high-rise when it was built in 1924. You can appreciate its architecture, and get a taste of today's Phoenix, by having a drink in the Bitter & Twisted Cocktail Parlour that now occupies the ground floor. Bitter & Twisted, which is run by a Scotsman, Ross Simon, was recently nominated for the 'World's Best Cocktail Menu' by Tales of the Cocktail. Ross was also the founder of Arizona Cocktail Week, which showcases the booming city cocktail scene (it's in February, cocktail fans).
Modern masterpieces
Downtown isn't all old buildings, of course. There are some striking modern ones too. Sports lovers will want to see Chase Field, which is Phoenix's main sports stadium. It was the first stadium in the USA to have a retractable roof when it opened in 1998 at a cost of $364 million. It was built as a home for the city's major league baseball team, the Arizona Diamondbacks, and has a natural grass playing surface. If you want to catch a match, baseball season runs from about April to October.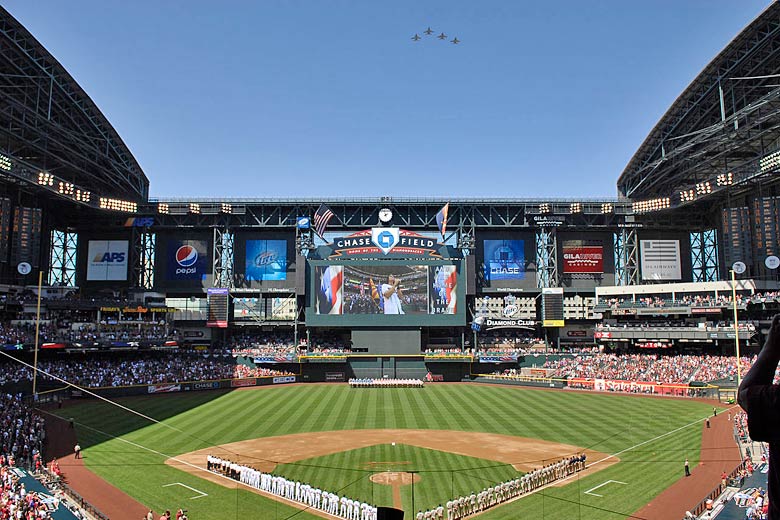 The roof has four miles of pulleys and cable that enable it to be opened or closed within four minutes at a cost of just $3. Each half can be opened independently to any position, and they can put the shade exactly where they want it. On hot days they close the roof a few hours before the start and then they turn on what is in effect a massive air-conditioning system. This is shared with 30 or so other downtown buildings and can drop the temperature inside the stadium by 10-15°C. You can do a tour of the stadium, if you're interested, and you'll get to see the swimming pool that's right by the pitch in one of the VIP guest suites.
The United States District Court is another significant modern building in downtown Phoenix. It occupies an entire city block and is named after Sandra Day O'Connor, the first woman to be appointed to the Supreme Court of the USA and who grew up on a cattle ranch in Arizona. It was designed by Richard Meier, whose other buildings include the Getty Center in Los Angeles, the City Tower in Prague, and the Barcelona Museum of Contemporary Art. It's worth going inside into the public area to see the atrium, which soars for the full six floors of the building's height. The structure's full of glass, and you can even see inside the courtroom, while from the courtroom you can look up and see the sky above.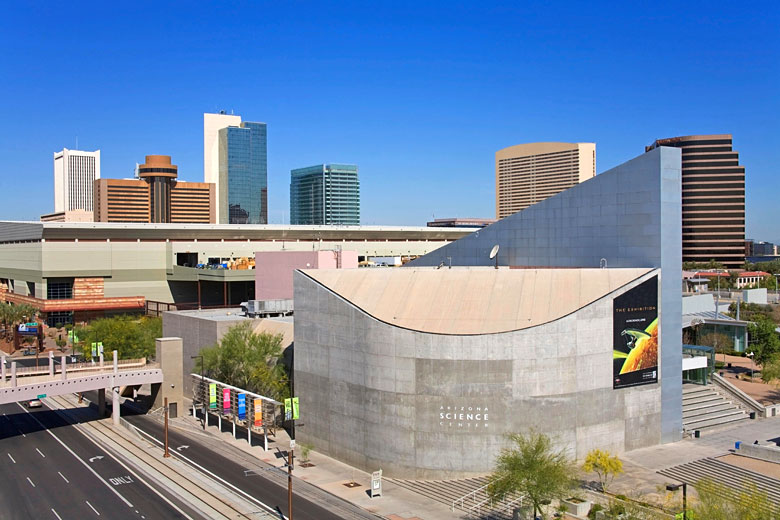 You can also see the sky at the Arizona Science Center, thanks to its planetarium. It also has an IMAX theater and interactive displays that will keep you in there for hours. They include showing you what it's like to experience Arizona's summer monsoons and to be in the eye of a hurricane. The Solarville exhibition tells how they harness the solar energy that the desert climate provides. It also tells you that the average daily temperature from June to September is over 100 degrees fahrenheit (about 38°C). So bear that in mind when you're planning to visit Phoenix in the aptly-named Valley of the Sun.
Phoenix is now within easy reach of London Heathrow thanks to Virgin Atlantic's partnership with Delta. Fly with one stop in around 14 hours to the capital of Arizona, and you could be tucking into a fine feast at Matt's Big Breakfast or sipping on a Bitter & Twisted cocktail in no time.
Phoenix is however, notoriously hot and dry, so you will want to think carefully about what time of year you're visiting if you plan to take in the many sights of the downtown area. The summer months are seriously hot, Phoenix makes for the perfect sunny escape from autumn through to late spring. Find out more about the weather in Phoenix, and see when we think is the best time to go.
More about Phoenix
Jan Feb Mar Apr May Jun Jul Aug Sep Oct Nov Dec
Explore holidays in the sun for less
Be inspired
Get your weekly fix of holiday inspiration from some of the world's best travel writers plus save on your next trip with the latest exclusive offers
We promise not to share your details
Related posts