Why charming Vienne in the Rhône Valley should be your next urban escape
Check the latest travel advice and current Covid-19 rules and restrictions by country.
Not heard of Vienne? You're not alone. This petite town on the banks of the Rhône may sound unassuming but it packs a mighty punch. It's a veritable playground for history lovers, not to mention a treat for oenophiles keen to flex their taste buds in the heart of wine-growing France.
Home to not one but two ancient Roman theatres, countless ruins, and scenic gardens, as well as France's second largest Saturday market, Vienne is one of those delightful destinations that is little known in the UK.
Yet, this charming town, which is both affordable and accessible, is full of character with a fascinating history, intriguing architecture and beautiful views that guarantee to satisfy the most discerning of urban escapers.
Introducing Vienne
Vienne evolved in a location which all but guaranteed its strategic significance. Founded in antiquity as a Gallic capital, it was later snapped up by the Romans in 125 BCE and gradually became a significant part of the Roman Empire before a complex period during the Middle Ages when it regularly changed hands between neighbouring regions and kingdoms.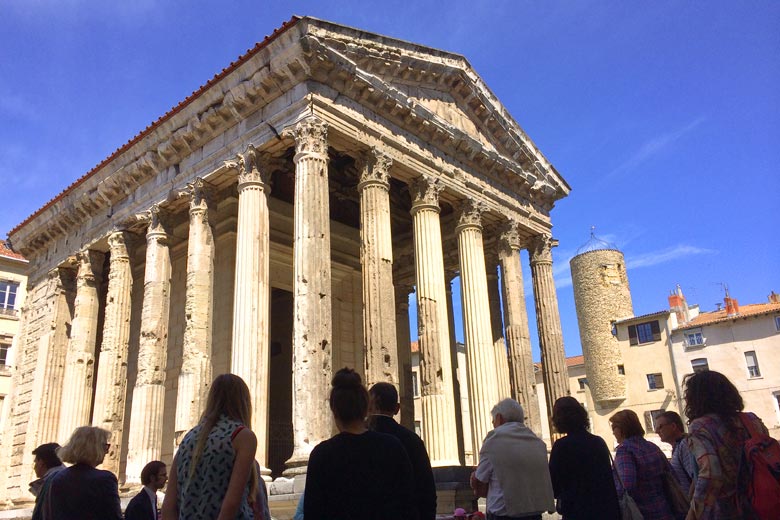 Today, this weighty Roman heritage makes Vienne an enchanting destination with a real flavour of the classical about it. Expect authentic ruins and intriguing Romanesque architecture at every turn - a nod to the legacy of the once dominant empire and the impact it had on this modest town in southeast France.
Roman Vienne
Forget token bricks and piddly fragments of mosaics - Vienne has everything from sizeable sections of city walls and the striking Temple of Augustus and Livia to an expansive archeological site and museum crammed with detailed mosaics and murals.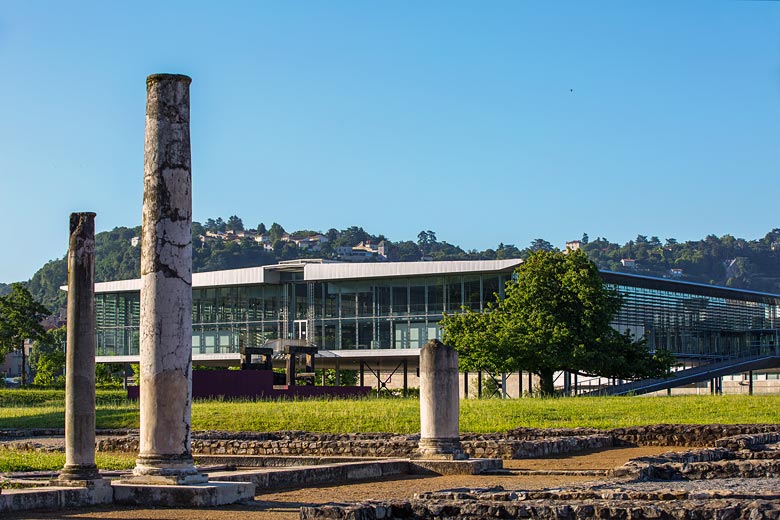 Give yourself time at the fascinating Musée Gallo-Romain, where you'll follow a thoughtful charted history of Vienne, and see exhibits including stone carvings and marbles aplenty in the adjoining archeological site.
Meanwhile, the Museum of Fine Art and Archaeology in the town's 19th-century corn exchange is another place bursting with Roman and Gallic relics, not to mention an impressive room of paintings.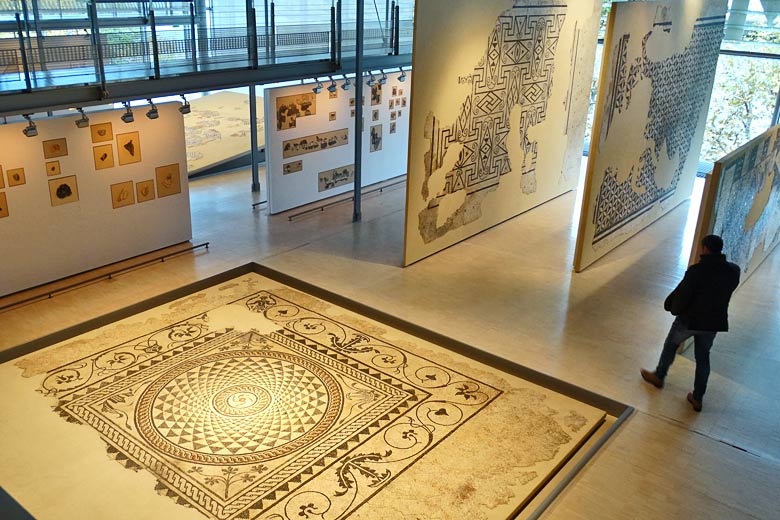 Other Roman sights to look for include the revered Pyramide, which is said to be the site of the main Roman circus of the day. It's smaller in size than in reputation but is highly regarded in Vienne - you only need to see the number of establishments featuring the name 'pyramide' to get the picture.
Then there's the unmissable Ancient Theatre of Vienne - a wondrous sight that seems to almost veer up out of the rock. Dating back to 40 CE, it's believed to be one of the largest amphitheatres of its time with a capacity of 11,500. This old gal is still hard at work today, hosting notable events such as the annual International Vienne Jazz Festival.
...on that note, festivals
The International Vienne Jazz Festival is reason enough to visit. Occurring each July, it attracts some of the biggest names in the business - the likes of Gregory Porter and Morcheeba among them. The amphitheatre comes alive with the sound of sweet music, as well as venues dotted around the town.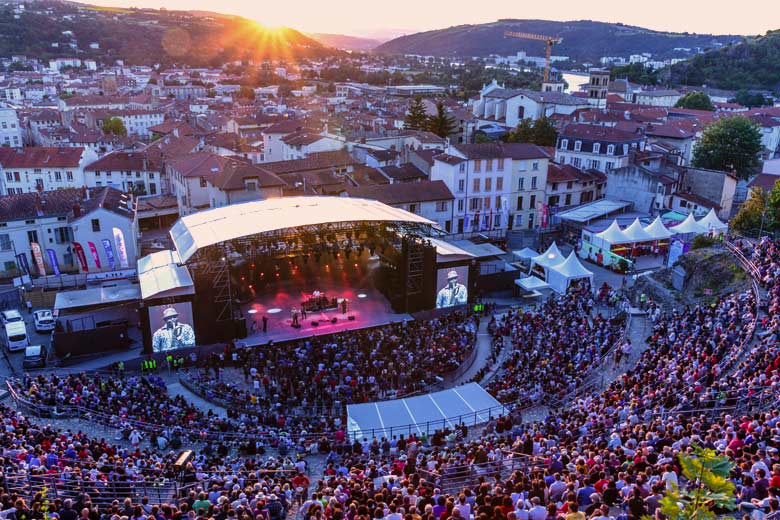 Vienne also marks its Roman past with a number of festivals for all the family. The Gallo-Roman Museum hosts the lively Gallo-Roman Days event in early June, which is geared towards teaching children what life was like for everyday citizens in the Roman Empire with lots of dress up and reenactments.
This is followed by the all consuming Vienne Historical Festival, which takes over the town in early September. It's a more grown up yet no less costumed affair, the climax of which is the knights' tournaments in the amphitheatre.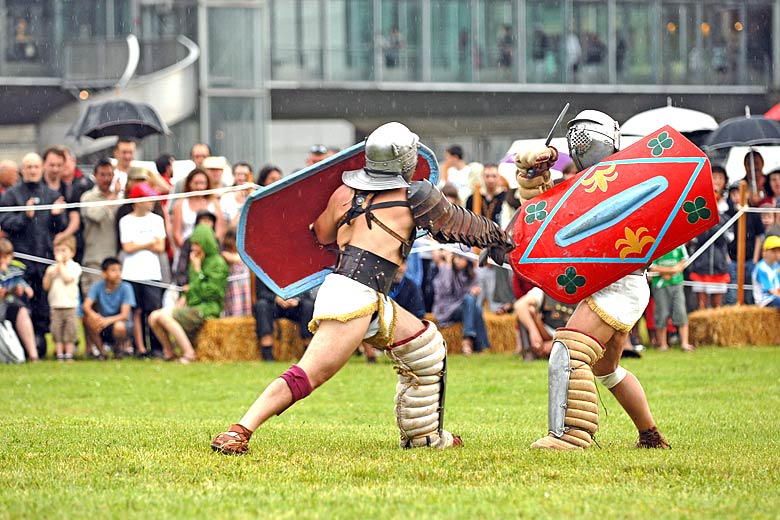 No festival schedule in the Rhône would be complete without a celebration of French fare, which is exactly what the Vinalia Ancient Food and Wine Festival is all about. Taking place at the end of September, it brings together wine producers and artisan foodies while recreating scenes from the traditional Roman Harvest Festival.
Living museum
One of the things that makes Vienne such a delight is that you can take in so much of it by simply wandering around the streets and eye-balling the splendid mish-mash of architecture that makes up the town centre.
As well as the Roman remains, highlights include the immaculate 12th-century cloisters at Saint-André-le-Bas Church, the medieval wooden-beam facade of Pillory House, and the looming Romanesque Vienne Cathedral, which was constructed between the 12th and 16th centuries - pop inside to see the long nave and colourful stained glass windows.
Magnificent views
Situated as it is along the snaking Rhône, Vienne is well placed to offer some pretty special views. The best leg-saving way to get up high is to hop on Vienne's very own city tram, which departs from in front of the tourist office Wednesday to Sunday, March to November.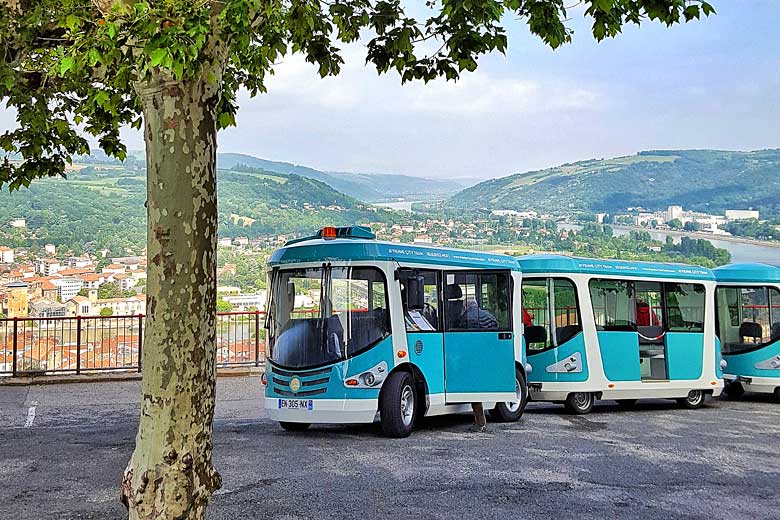 This quaint electric number winds you up with accompanying commentary to a lookout point on Mount Pipet, which is also home to a 19th-century chapel. Saunter back on foot, meandering past pretty doorways, down winding streets and between the eclectic architecture.
Cycle the ViaRhôna
Vienne is an easy win for cyclists, with plenty of places to rent bikes so you can explore the town on two wheels. For a longer cycle, cross the river to find the green marked lane of the ViaRhôna.
The safe cycle path spans 815 km and will, when finished, connect Lake Geneva with the Mediterranean. There's no need for anything quite so ambitious on a short trip to Vienne, however: instead, hire a bike, pack a picnic, and go at your own pace along the Rhône for a great day out.
Wine tasting
Vineyards have graced the steep terraces in the Northern Rhône Valley for more than 2,000 years. Syrah and Viognier are the vines that flourish on the sunny, sheltered slopes around Vienne, while Côte Rôtie and Condrieu are two of the leading wines to try in this region. Check out the official Rhône Valley Condrieu - Côte Rôtie Wine Tourism website to take your pick of vineyards to visit.
In Vienne, make for Cave du Temple where you can sample local wine paired with produce in the shadow of the magnificent Roman temple, before heading next door to the friendly Bar du Temple with its al fresco seating and live music.
Award winning sweet treats
For a taste of countryside, venture to Bruneton House, around 30 minutes' drive from Vienne in the rolling hills of Pilat Regional Natural Park, where Philippe Bruneton showcases his award winning confiture (jam).
Discover what it takes to become the 'Best Confiturier in France', set your nose twitching while seeing jam in the making, and savour crêpes with a view on the terrace before hitting the (very) well stocked shop.
Every flavour combo you couldn't even imagine is on offer here, including cherries with Syrah wine and cinnamon, and currants with heather honey and thyme - although it's hard to beat a classic: the house special of framboise (raspberry) is divine as is the strawberry with mint leaves.
Getting to Vienne
Vienne is less than an hour's drive from Grenoble-Isère Airport, which can be reached via low cost flights with Ryanair from London Stansted, starting from as little as £9.99*. Hiring a car is an affordable doddle, and the drive to Vienne is a fast and scenic one. Check out the latest deals on car hire from Grenoble-Isère Airport and start planning your escape to Vienne today.
* Prices correct as of July 2018
Weather2Travel.com visited Vienne as a guest of Vienne Condrieu Tourisme in May 2018. All views expressed are those of the writer.
More about France
Jan Feb Mar Apr May Jun Jul Aug Sep Oct Nov Dec
Be inspired
Get your weekly fix of holiday inspiration from some of the world's best travel writers plus save on your next trip with the latest exclusive offers
We promise not to share your details
Related posts
*affiliate links: find out how we are funded and why this helps us remain free to use.