Discover Morocco's Imperial Cities: Fes, Marrakech, Meknes & Rabat
Check the latest travel advice and current Covid-19 rules and restrictions by country.
Get a rich and flavourful taste of Morocco on a tour of the country's ancient Imperial Cities.
Every bit as magical as their regal umbrella title suggests, the historic hubs of Fes, Marrakech, Meknes, and Rabat beg to be explored, and on a TUI multi centre holiday in Morocco*, you can do just that. Read on to find out more about these fascinating destinations, and see why any time in this warm and friendly country is time well spent.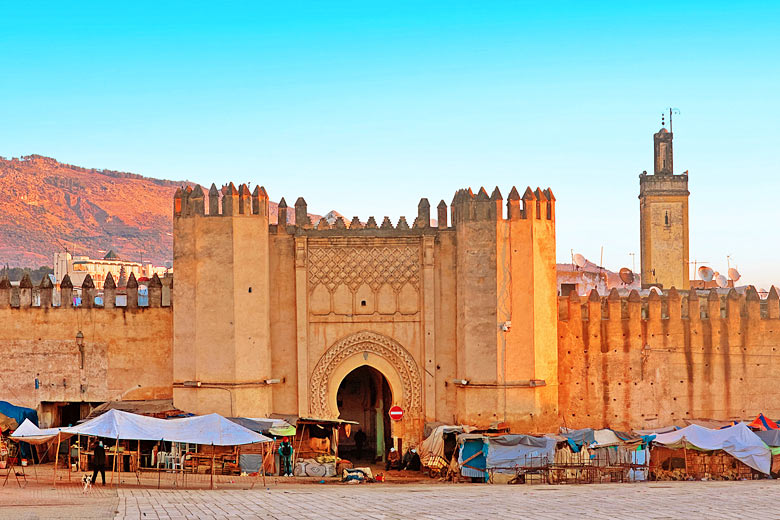 Fes
Ah, Fes. Beautiful, charming, characterful Fes. Morocco's second largest city has claimed the title of capital not once, not twice, but seven times since its foundation around the turn of the ninth century.
It's home to the world's oldest university, not to mention some of the most spiritually important buildings in the country, and hundreds of minarets that sing out five times each day. It's easy to sound a bit romantic about Fes, but it really is that special - every bit the 'as if time stood still' sort of destination that ignites an eternal love for the city.
The medina
The old medina (known as Fes el Bali) is, hands down, the essential must-see, must-explore on any trip to Fes.
A living, breathing museum, the medina still functions as intended: now a UNESCO treasure, it dates from around the 14th century, packing in mosques and minarets, madrasas, and private residences where locals still live surrounded by more than 700 years of history.
Tiled fountains offer kaleidoscopes of colour and geometric patterns, while the all important babs (gates) give you an idea of where you're entering and exiting - in theory.
Top tip: the medina can get very busy, not just with locals going about their daily business but with tourists - go early to explore without the crowds.
Getting lost in the medina is all part of the experience; even diligently following the waymarked routes through the maze of narrow streets, dodging heavily laden donkeys, fast-moving carts, and sleeping alley cats, you'll be left wondering how on earth you ended up over here when you thought you were going over there.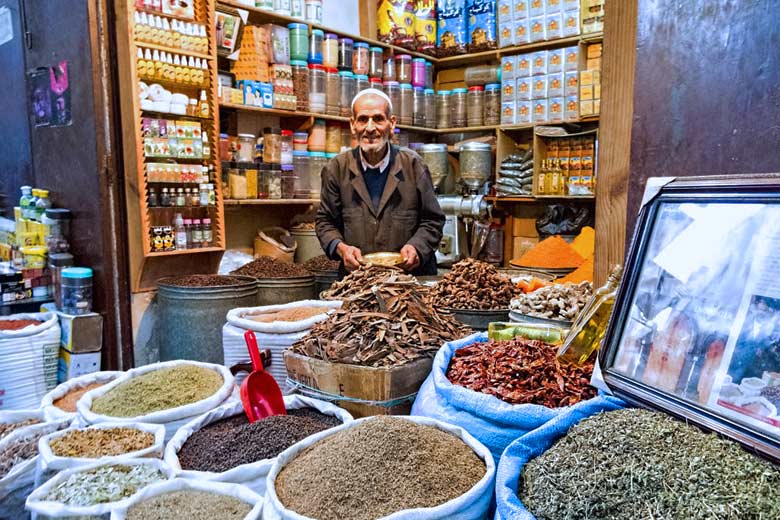 Thanks to the mile long stretch of souks, you won't go home empty handed - everything from fresh fruit and fish, to prints, textiles, jewellery, hand-painted ceramics, stunning filigree brass lanterns, and so much more is touted from cheery vendors who will also happily point weary map readers in the direction of the nearest bab.
Fes highlights
A handful of the best sights includes the Madrasa Bou Inania, whose intricate courtyard and minaret alone make for a memorable visit. It's also one of the few holy sites that allows non-muslims to enter.
Art lovers should head for the Nejjarine Museum of Wood Arts and Crafts, while the fascinating Chouwara Tanneries, which still prepare, treat, and dye leather in the gruelling, traditional way, will knock you out with the stench.
Top tip: there's no tourist office in Fes but you can download the guide to the medina's coloured walking routes, all handily split into various areas of interest, such as 'palaces and gardens', 'monuments and souks', 'crafts', and so on; you'll also find the map in any good tour operator as well as riads and hotels.
For adventures outside of the medina, take a wander through the mellah, or old Jewish quarter, to see another side to the city, with strikingly different architecture not to mention an entirely different vibe.
The palm tree-lined Jardin Jnan Sbil makes for a pleasant landscaped breather, while the Merenid Tombs and Borj Nord fort overlook the old town, and are worth a visit once you've finished exploring with the delights of the medina below.
Marrakech
Marrakech is so jam-packed with sights to see and things to do, that you could easily spend a week exploring the city and its surroundings, no problem. The go-to destination in Morocco for most visitors, Marrakech has one strong personality. Every visit is an intoxicating one, and it's easy to see why people often return, again and again.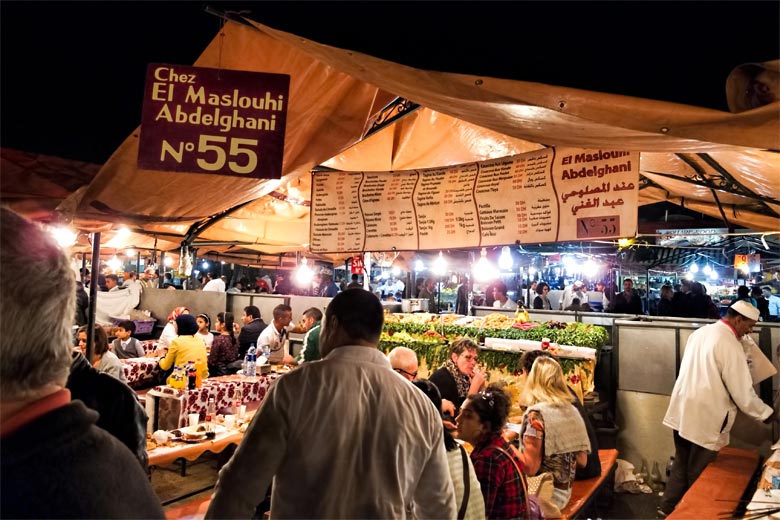 Jemaa el Fna
Think Marrakech, and you'll likely picture the Jemaa el Fna - surely the single most photographed area in the city. The square has of two distinct identities: by day, it's throbbing with tourists gazing at the nearby minaret of the Koutoubia Mosque, browsing stalls, and (hopefully) avoiding snake charmers.
As day becomes dusk, the Jemaa el Fna is transformed into an open-air market. Steaming food stalls hum into life, serving all sorts of tasty grilled meat and seafood. When deciding where to eat, a top tip is to follow the locals.
Marrakech highlights
If it's embellished slippers, beaded bags, terracotta tagines or statement jewellery you're after, Marrakech's collection of souks is for you. Often seen as one souk, Marrakech actually has a number of different souks woven into each other.
You've got the noisy metalworking souk, the fragrant spice souk, and the dazzling carpet souk, among others. Forget following the map, just throw yourself in and enjoy every twist, turn, and nose tingling scent.
Highlights within the medina include the Ben Youssef Madrasa, which is just as interesting as it is jaw-droppingly ornate. Go early to avoid the crowds.
The nearby Marrakech Museum offers an insight into the city's past, while the polished courtyard and gardens of the Bahia Palace along with the dusty red ruins of the 16th-century El Badi Palace give two contrasting views for the culturally curious.
Top tip: time on your side? Look into day trip options to the Atlas Mountains and/or Sahara Desert to squeeze that bit more from your time in Marrakech.
Outwith the medina, fashion lovers will want to make for the Yves Saint Laurent Museum, which looks at the designer's love affair with the city, and the inspirations that he took from his extensive time in Morocco.
A visit to the nearby royal blue gallery at Jardin Majorelle with its palms, cacti, and flowing fountains is not to be missed.
Meanwhile, Agdal Gardens, with its olive groves, and exotic orchard full of lemon, fig, and pomegranate trees, is another fresh-air favourite. Don't miss the ingenious irrigation pools that disperse water descended from the Atlas Mountains.
Meknes
Meknes is often attached to Fes as some sort of side note. However, Meknes has a curious tale to tell all of its own, even if it was only the capital once.
Granted, it doesn't have quite the same long list of attractions as Fes but the sights you can see make the trip worthwhile. Climbing uphill through the bougainvillaea-draped modern neighbourhoods of Meknes, you suddenly pop through the looming ramparts and into what seems like another world.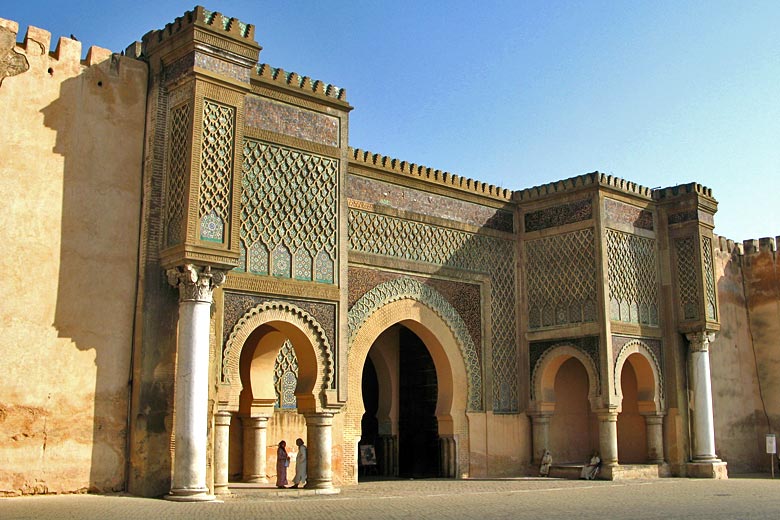 The medina
Meknes, too, can boast a UNESCO-certified medina, enveloped in part by ancient walls and, unlike Fes, it has expansive views over the surrounding countryside. One of the city's biggest draws is the Bab el Mansour.
This impressive gate was finished in 1732 and is lauded not only as a giant example of Moroccan bab architecture but for its striking geometric zellij tiles and Qur'anic inscriptions. It's the gateway to the old medina of Meknes and the typical starting point for any visit.
Use the Place el Hedim, or square, in front of the Bab el Mansour to orientate yourself, and go from there.
Here, you're close to the souk, as well as the mellah (Jewish quarter) with its outdoor market selling all sorts of useful everyday items you never knew you needed. Don't miss the Dar Jamai Museum by the entrance to the souk, which showcases traditional clothing, jewellery, and more in a beautiful old palace (the interiors alone are worth seeing).
Top tip: stop for a sweet coffee or mint tea in the Place el Hedim, where you can sit back and watch the busy world go by to the soundtrack of competing boomboxes from rival stalls.
Head into the souk, and meander past stalls selling everything from trainers to gold, and you'll find one of the city's most revered stops at the Mausoleum of Moulay Ismail, the ruler who made Meknes his capital from 1672 to 1727. Non-muslims are permitted to enter but not approach the tomb.
Meknes highlights
Just southeast of the medina are the twin attractions of Heri es-Souani (or Royal Stables and Granaries) and Agdal Basin.
The appeal of Heri es-Souani lies in its scale; it was designed to store grain plus as many as 12,000 horses at a time. Although large sections have now collapsed, it's easy to get a sense of just how massive this would have been.
Nearby Agdal Basin attracts locals and tourists after some space and fresh air by the large reservoir-cum-lake.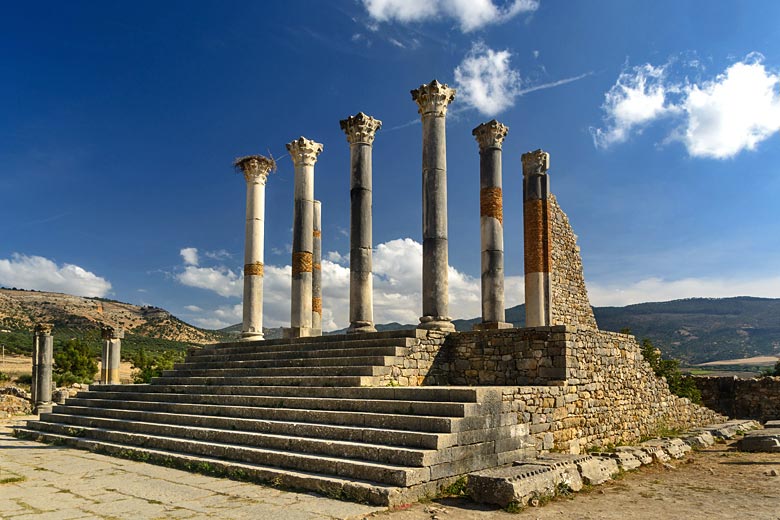 History lovers will want to visit the Roman ruins of Volubilis, around 40 minutes' drive from the centre of Meknes.
At this UNESCO World Heritage Site, you'll find remnants of the empire's most westerly outpost, such as paved streets, temples, and impeccably well-preserved mosaics that combine to create the sense of a vibrant city that doesn't feel more than 2,000 years old.
Rabat
The coastal capital of modern-day Morocco is often unfairly overlooked in favour of its imperial siblings.
Located on the edge of the Atlantic, Rabat is, in many ways, quite different; compact in size, cosmopolitan in vibe, yet channelling the architecture and history which so many come to Morocco to experience, it offers an interesting contrast for anyone exploring the four historic power bases.
The Chellah and Kasbah
One of the city's most dominant features, Rabat's Chellah is a fortified medieval necropolis on the edge of the estuary. It's a popular attraction, as people come to see the site through the ages.
Among the ruins, seek out the impressive ramparts, remains of Roman walls, 13th-century minaret (often topped with a resident stork's nest), and decorated entrance.
By the mouth of the river, where it meets the great ocean, is the scenic 12th-century Kasbah of the Udayas. Once a fort, it's now home to local residents who live in the incredibly beautiful blue and white painted streets of this ancient maze.
Rabat highlights
The waterfront is one of Rabat's most appealing areas. Pick a bar and enjoy the sunset or stroll to see the waves roll in from the Atlantic by the lighthouse.
There are a number of public beaches that are perfect for lazy days of doing not a lot. The Bouregreg Marina is full of contrasts with everything from some of the city's ancient monuments to modern day marvels such as MS Tûranor PlanetSolar, the world's largest solar powered boat.
Rabat's medina is smaller and less daunting but still well stocked with familiar souvenirs and crafts. The medina also provides another good opportunity to get a little lost (manageably lost, shall we say) and see pretty painted wooden doorways, alleyways, and inside delightful riads that dot the old town.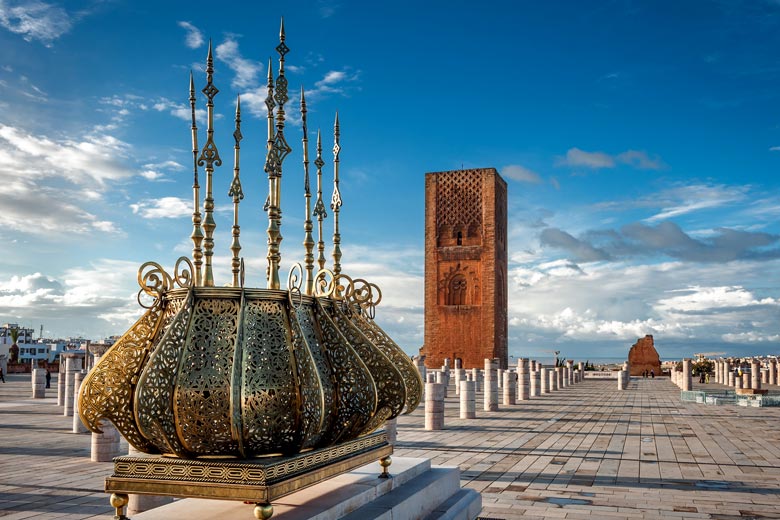 A Rabat icon, the Hassan Tower is a city landmark and UNESCO World Heritage Site. Construction began on this fine minaret in 1195, however after its founder died, the tower and its associated mosque were put on hold and never completed.
You can still see the remains of some 200 columns and red sandstone walls that would have housed the mosque. Close by, you'll spy the Mausoleum of Mohammed V, the relatively modern (1962) resting place of its namesake king, and his two sons.
In a nod to its more avant-garde side, the Museum Mohamed VI of Modern and Contemporary Art is a Rabat favourite, while the petite National Archeology Museum explains a bit about the country's past and displays a collection of artefacts from across the millennia.
Do Morocco's imperial cities ignite your need to explore more? If so, check out the latest deals on multi centre holidays to Morocco from TUI. There are various itineraries available, including one which takes in the four Imperial Cities. Don't forget to find out more about the weather in Morocco, and see when we think is the best time to go.
More about Morocco
Jan Feb Mar Apr May Jun Jul Aug Sep Oct Nov Dec
Be inspired
Get your weekly fix of holiday inspiration from some of the world's best travel writers plus save on your next trip with the latest exclusive offers
We promise not to share your details
Related posts
*affiliate links: find out how we are funded and why this helps us remain free to use.