19 reasons to visit the Kent coast
*affiliate links: find out how we are funded and why this helps us remain free to use.
Get that beachy, holiday feeling on a break to the Kent coast. This stretch of sand and shingle beaches, wild marshland and reserves, clifftops walks and chalky white sea stacks runs for some 350 miles around southeast England.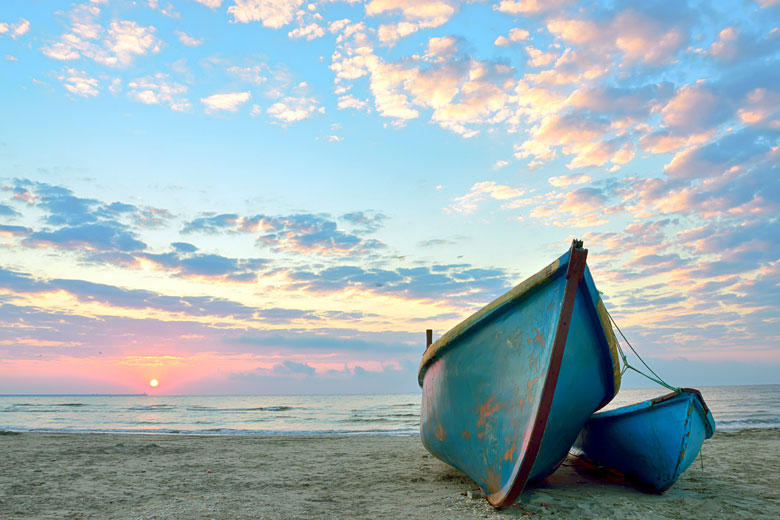 When you consider the many characterful seaside towns stuffed with quirky independent cafés, shops and bars, museums and galleries that all reside under some of the UK's sunniest skies, it's easy to see why Kent is the coast to beat.
1. Eclectic mix of museums
The Kent coast is sprinkled with museums; some, small and community-run, others, massive destinations of national significance.
The fabulous Historic Dockyard Chatham takes you back to the time when mighty ships were built right there on The Medway. Admire the rigging on Victorian sloop, HMS Gannet, before walking the deck of WWII destroyer, HMS Cavalier, and stepping inside a Cold War submarine, HMS Ocelot.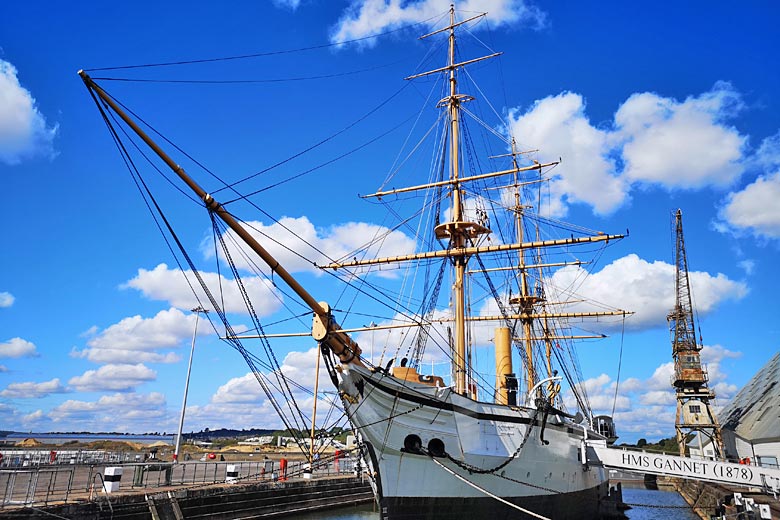 Close to Margate, you'll find the Spitfire & Hurricane Memorial Museum, where WWII artefacts and personal stories are crammed neatly around a restored Hawker Hurricane and a Supermarine Spitfire.
The Hornby Hobbies Visitor Centre includes a museum detailing the history of the brand, with rare and exclusive models on show as well creative creations of railway sets and much more. Naturally, there's an extensive shop on site, too.
On the south coast, the numerous vintage vehicles at Dover Transport Museum are just some of the historic props used to illustrate what Dover life was like through the ages.
2. Margate sunsets
It's no great secret that the once-prim-and-prosperous Victorian resort of Margate has, after years of decline, seen a resurgence with investment in projects big (such as retro Dreamland) and small (think award-winning indy restaurants like fine seafood haunt Angela's or the much-loved Italian experts at Bottega Caruso).
As well as a multitude of vintage and book shops, galleries and boutiques (cosmetic company Haeckels is a real success story), Margate is also home to the Turner Contemporary. This light and airy gallery, which opened in 2011, is named in honour of JWM Turner who painted Margate's colourful skies, including it famous fiery sunsets, countless time. There's also a great wee shop championing local artists.
3. Sleep in the wilderness
Elmley on the Isle of Sheppey is the only national nature reserve in the UK to be owned and managed privately by a family. It's also the only reserve where you can stay overnight.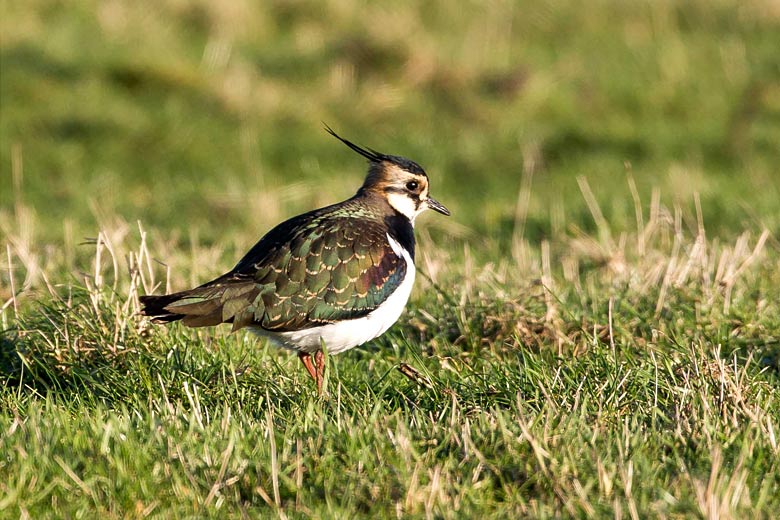 While daytrippers enjoy the marshes, meadows and seawall hides of this expansive 3,300-acre site, by night, you're as good as alone in this wilderness, minus the owls and other nocturnal creatures.
Choose from its 17 varied accommodation options including chic shepherd's huts, cool cabins and even a country cottage, complete with wood burner and telescope.
4. Tour Britain's oldest brewer
You can't go far in Kent without spying a Shepherd Neame pub. Said to be Britain's oldest brewer, it's been busy churning out the pints from its Faversham-based brewery for centuries and you can book a tour while visiting this quaint seaside town.
Be sure to call by the shop to curate your own selection of Shepherd Neame brews to take home.
5. Oysters in Whitstable
Whitstable has long been tied to the oyster. This pretty seaside town and active fishing community have seen 'native' oysters growing on beds along the shore here since Roman times.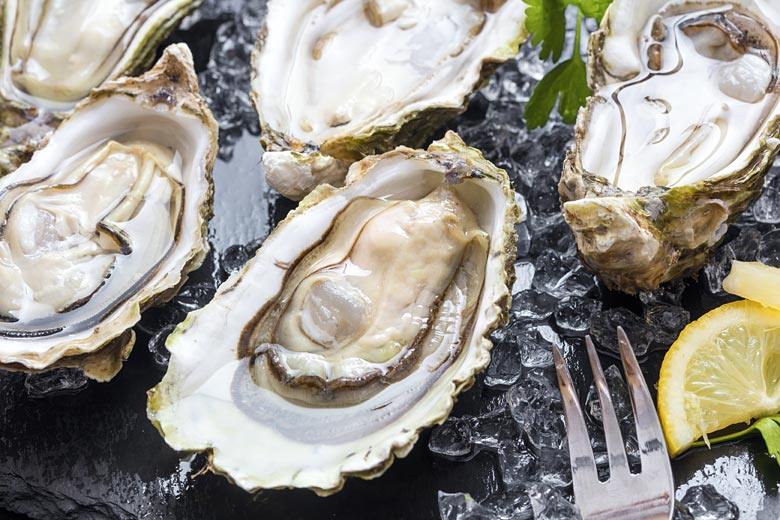 Popularity for the oyster peaked during the Victorian period in the late 19th century, when over 80 million oysters arrived in London's Billingsgate Fish Market each year. Unsurprisingly, a combination of over-fishing, pollution and poor weather affected stock levels and oyster consumption declined into the 20th century.
However, oysters have made a comeback, with increased demand over recent decades, and the Whitstable Oyster Company, which dates from 1793, remains the place to enjoy these most desirable molluscs.
6. Tackle the England Coast Path
For splendid sea views and to tick off a number of Kent's popular coastal towns in one go, look into a walk along the southeast section of the England Coast Path, which runs from Camber in East Sussex up to Ramsgate.
From the headland at Dungeness to the White Cliffs of Dover, this section of the national trail snakes its way past much of the Kent coast's main attractions with the promise of fresh sea air, bird and wildlife, beautiful views and plenty of pubs along the way.
7. Mooch in medieval Sandwich
Considered to be one of the best-preserved medieval towns in England, Sandwich delights all with its olde worlde streets, beamed buildings and cute cottages.
At the Sandwich Medieval Centre you'll see a forge in action and learn about the town's past from the 14th century onwards while a town tour with an expert from The Sandwich Local History Society helps you get further under the skin of this historic Cinque Port.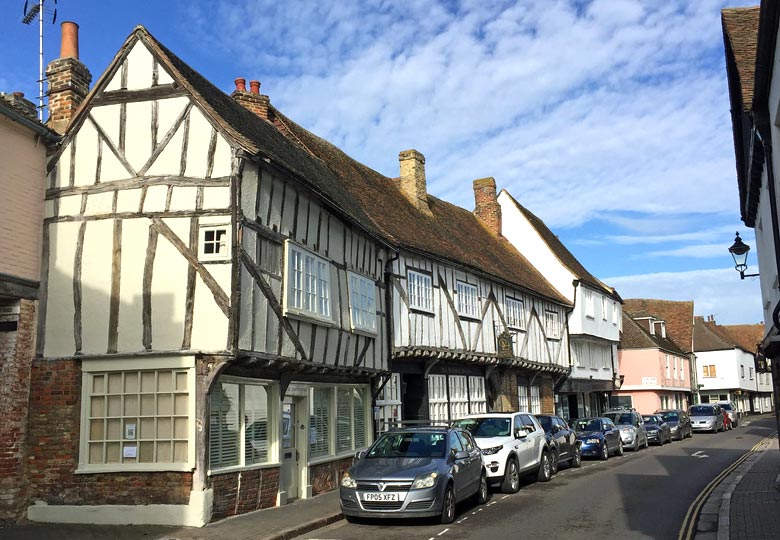 What does 'Cinque Ports' mean?
The Cinque Ports is a historic coalition of five strategically vital towns across Kent, Sussex and Essex formed for military and trade reasons.

Dating from Anglo-Saxon times, the Cinque Ports included Hastings, New Romney (later Rye), Hythe, Dover and Sandwich, plus seven other towns that supported these, such as Deal and Margate.
8. Cycle the Viking Coastal Trail
Like to explore on two wheels? Bring your bike (or hire cycles) and get pedalling on the 32-mile long loop that is the Viking Coastal Trail. This circular route delves deep into the Isle of Thanet, which was once separated from the mainland by the now-silted-up Wantsum Channel.
The trail, which is largely flat, winds its way down country lanes, along promenades and through towns including Margate, Broadstairs and Minnis Bay.
9. For soft, sandy beaches
Kent has a mix of sand, shingle and pebble beaches so, if you want soft golden grains between your toes, you need to know where to go. Popular towns like Deal and Whitstable have pebbly beaches that some people might not find ideal for a day at the beach.
If it's bucket and spade territory you're after, look no further than the sandy shores of Broadstairs. This seaside town has no fewer than seven sandy bays, including the town's main beach, Viking Bay, surfer's favourite Joss Bay and nearby Botany Bay, where chalky stacks loom large at the water's edge.
Others include Margate Main Sands, which has a lively beach bar in summer, and Sunny Sands in Folkestone.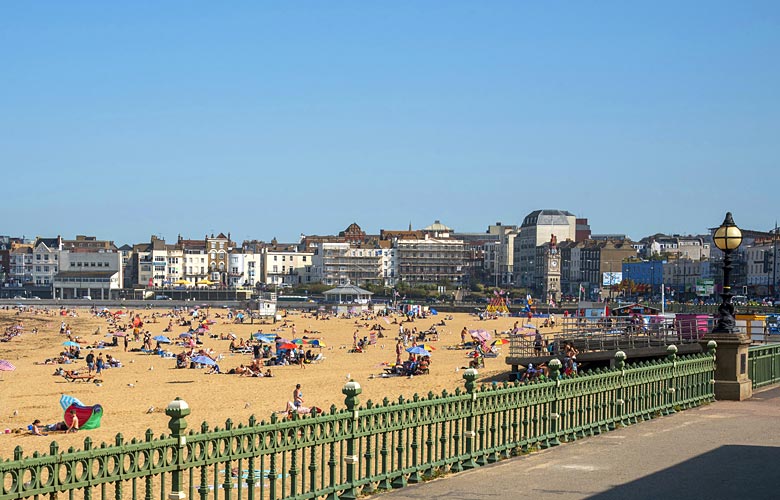 Please note: dogs are not allowed on these beaches during the peak season of May to September; timings vary so be sure to check as some beaches allow dogs before 10 am and after 6 pm, while others have a blanket ban.
10. Go wild sea swimming
Never has wild swimming been so popular. Luckily, Kent is blessed with countless spots for taking a refreshing dip, both inland and along the coast. For now, we're looking at the region's best beaches, where those in the know, Dryrobes and all, go.
In Folkestone, Mermaid Beach is a local secret. The shingle shore gives way to a small sheltered bay, ideal for an early morning swim. In Margate, Grade II-listed Walpole Bay Tidal Pool is a big hit with swimmers keen to tackle all four acres of this early 20th-century pool in safety.
Meanwhile, Minnis Bay, Joss Bay and Greatstone Beach are just some of the other beaches made for swimming.
Please note: some of these beaches have seasonal lifeguards on duty while others do not. Please be sure you are aware of any currents and tide times before getting into the water.
11. Tour Ramsgate's wartime tunnels
Ramsgate, known for its Royal Harbour, the only one in the UK no less, is also where you'll find the truly fascinating Ramsgate Tunnels. What began life as a Victorian railway tunnel was modified and extended into a protective air-raid shelter to accommodate families during the Blitz of WWII.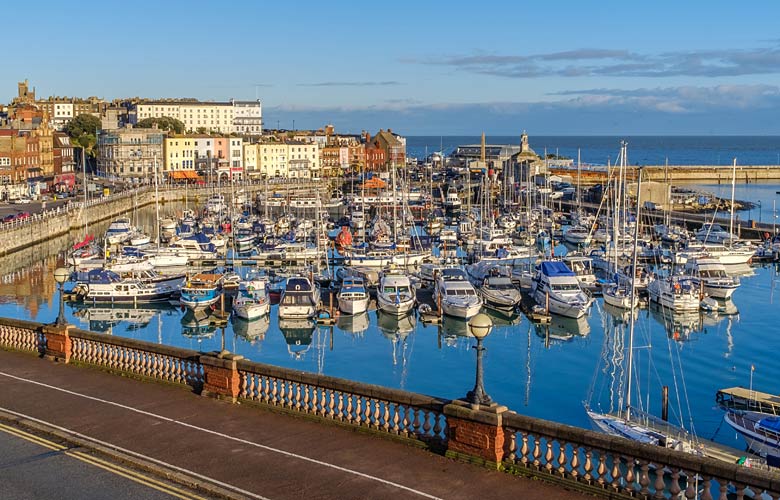 After a particularly vicious night in 1940, when more than 500 German bombs landed on the town and more than a thousand houses were destroyed, around 300 families moved into the tunnels on a permanent basis for the duration of the war. Discover these stories and more on a guided tour of the UK's largest network of wartime tunnels.
12. Low-lying Dungeness
The shingle-heavy headland of Dungeness National Nature Reserve hosts a diverse variety of wildlife, from plants and insects to birds living throughout its broad beaches, meadows and grasslands.
It's listed as a Special Protection Area (SPA), a Special Area of Conservation (SAC) and a Site of Special Scientific Interest (SSSI) yet, it's also the site of two nuclear power stations, one of which remains in action, and cultural heritage attractions such as forgotten lighthouses and historic Prospect Cottage.
The sweeping open landscape of Dungeness is quite unlike anywhere else in the UK for its geography and the symbiotic relationship between its industrial and natural surroundings.
13. One of the oldest Roman forts in Britain
Today, thanks to the silting of the Wantsum Channel, you'll find Richborough Roman Fort facing the River Stour, yet when it was constructed some 2,000 years ago, it was, in fact, right on the Kent coast.
It was the entry point from mainland Europe into Roman Britain and played a role from the early days of Roman occupation in 43CE right up to the end of occupation in 410CE.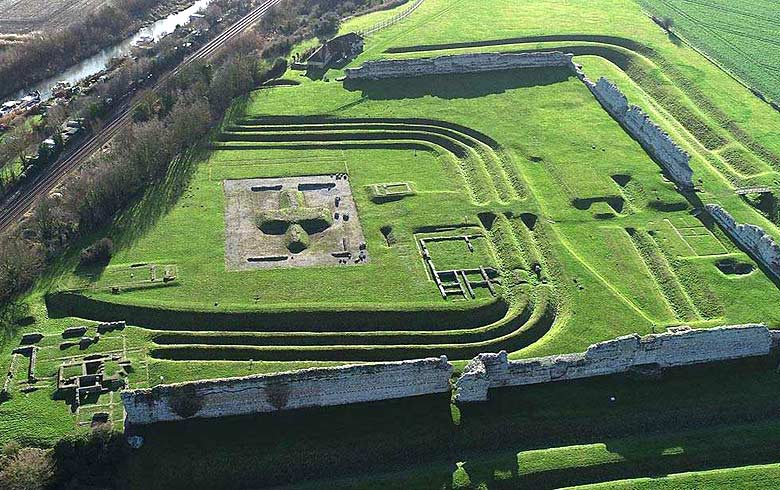 Naturally, it evolved over the centuries from a military base to civilian settlement with a thriving port and a huge defensive fort. The ruins you see today include some of the earliest defensive ditches and the later walls. It really is worth the short five-minute drive from Sandwich to see this spectacle for yourself.
14. Get on the water
With some of the UK's warmest waters (relatively speaking, anyway), Kent is the perfect place to give watersports a go. Whether you want to learn to surf, test your balance at stand-up paddleboarding or take a sea kayaking tour, companies such as the Kent Surf School make it super easy to get out on the water.
15. Birdwatch in Pegwell Bay
Lace up your boots for a stroll at Sandwich & Pegwell Bay National Nature Reserve, the largest reserve under the wing of Kent Wildlife Trust. Wander through the marsh before popping out at the beach, enjoying the variety of bird and wildlife along the way.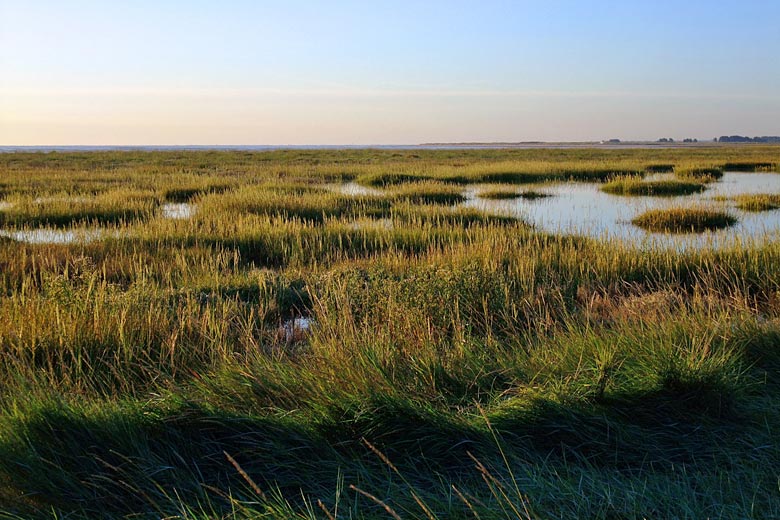 16. Shop in Folkestone's Creative Quarter
The port town of Folkestone is the coast's most up-and-coming destination, thanks to a slew of indy bars, restaurants and boutiques of its Creative Quarter, which has grown around the colourful, winding cobbled lane of The Old High Street.
Among the numerous galleries, vintage and record shops, you can't miss the vibrant interiors and gifts found at Kirsty McCall, while posters and curios abound at Rennies Seaside Modern, stylish sleepsuits deck out the window of children's shop Moo like a Monkey and ethical goods flow freely at Folkestone Wholefoods.
17. Explore coastal castles
Owing to its strategic location in the southeast corner of Britain, a mere 21 miles at its narrowest from France, the Kent coast has long taken the brunt of attacks from the continent. From the Romans and Vikings, to the French, Holy Roman Empire and Nazi Germany, Kent has been the bulwark of defence for centuries.
As such, it's no great surprise that the region is dotted with historic settlements, forts and castles, three of which stand out for their architecture and evolution through the ages.
Start with what's said to be one of the finest examples of a Tudor artillery fort, Deal Castle*. This classic Henrician, or Device, fort is one of a series built by Henry VIII in his signature circular style. Although petite in size, it is full of character; you can't help but to lose all sense of direction as you meander through its twisting tunnels, alleyways and storerooms.
A stroll or cycle along the seafront will take you to the sibling fortification of Walmer Castle. Although contemporary with its neighbour, Walmer has much more to see, which is why they make a good double act.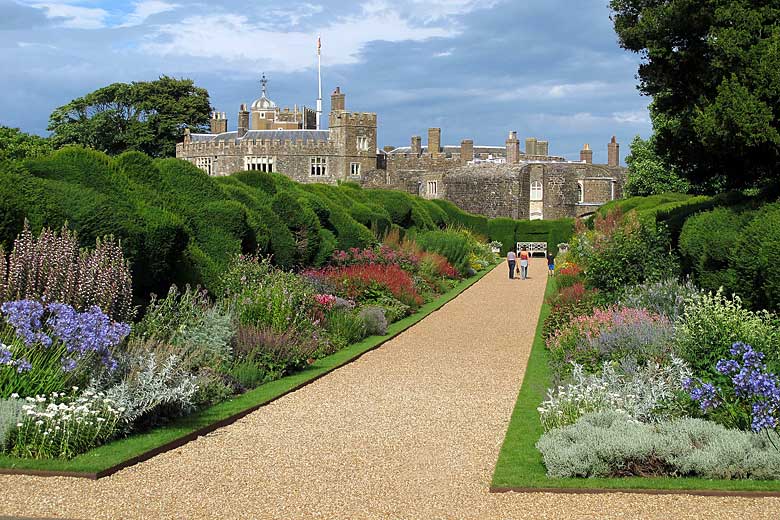 While it, too, began life as a Tudor artillery fortress, it later became the stately home for the Lords Warden of the Cinque Ports, including the Duke of Wellington, who died in his armchair at Walmer, and the Queen Mother.
Walmer is set in a lavish garden with a boardwalk, kitchen garden, meadows and woodland. There's a play area for kids and, of course, a tearoom for the obligatory scone.
Last but by no means least, there's Dover Castle*. This most impressive fortification has witnessed over 2,000 years of history and you'll travel through the ages thanks to the various exhibitions and experiences on offer.
From the oldest surviving lighthouse in the country, the Roman Pharos, to an Anglo-Saxon church, medieval palace and secret WWII tunnels, Dover promises a fun day out for all the family. Don't miss a walk around the ramparts for views across the Channel to France.
18. Go seal-spotting
Book your place aboard with a Sea Searcher boat trip from Ramsgate to the lively seal colony living within the Sandwich & Pegwell Bay National Nature Reserve. As well as these curious sea dogs, you'll enjoy a cruise along a section of the coast and likely spot numerous birds, migrant and resident, depending on the time of year.
19. Cruise to the Maunsell Forts
Take a boat trip to see these surreal stilted sea forts, a mere 8-miles off the coast. The Maunsell Forts, so named after their designer, civil engineer Guy Maunsell, were constructed in 1942 as part of a wider WWII defence network along the Kent coast.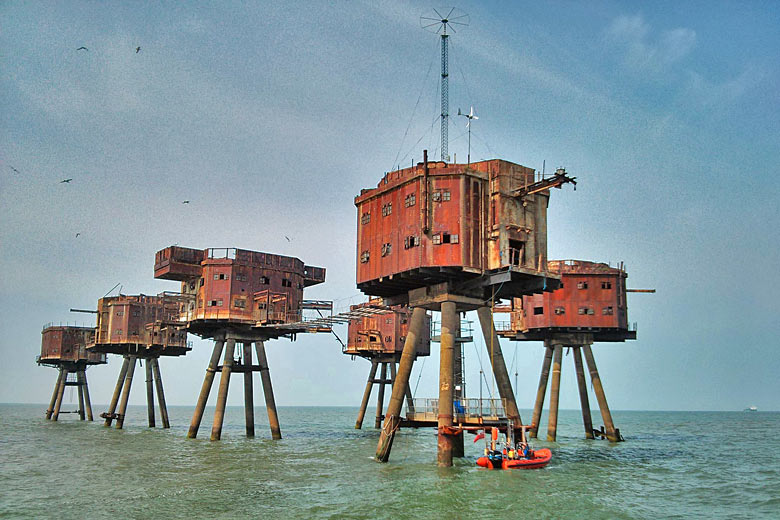 These spider-like anti-aircraft towers cut a striking form as they appear to rise from the sea. Although there were originally three, only two fort complexes remain visible today; these are known as Redsands Fort and Shivering Sands Fort. Each one is made up of seven individual towers, which were originally linked by concrete bridges, encircling a central command tower.
The forts were decommissioned in the 1950s and, today, stand like silent giants on the horizon. On a clear day you can see them from the likes of Shoeburyness but it's hard to beat a bounce across the waves (Oyster Coast Watersports offers tours from Whitstable) to get up close with these rusting relics.
Weather in Kent
| | Jan | Feb | Mar | Apr | May | Jun | Jul | Aug | Sep | Oct | Nov | Dec |
| --- | --- | --- | --- | --- | --- | --- | --- | --- | --- | --- | --- | --- |
| Maximum daytime temperature °C | | | 9 | | | 18 | 21 | 21 | 19 | | 10 | 8 |
| Hours of sunshine (daily) | | 3 | 4 | 5 | | | | | 5 | 4 | | |
| Days with some rainfall | 17 | | 14 | 14 | | | | | 12 | | 16 | |
Ready to plan your adventure in Kent? Don't miss our UK holidays' hub with all the information and deals you could possibly need on everything from accommodation to car hire. Learn more about English Herittage and how you can save on annual memberships.
More about Kent
Kent by month
Jan Feb Mar Apr May Jun Jul Aug Sep Oct Nov Dec
Explore holidays in the sun for less
Be inspired
Get your weekly fix of holiday inspiration from some of the world's best travel writers plus save on your next trip with the latest exclusive offers
We promise not to share your details
Related posts