7 of the most exquisite historic English gardens
*affiliate links: find out how we are funded and why this helps us remain free to use.
Strolling through England's many green and pleasant gardens is one of life's simple pleasures. Creative landscaping, seasonal displays of colour, sculptures, fountains and varying styles from classical to Islamic ensure there's always something new to see, and with spring knocking on the door, now is the time to start planning where you'll go next.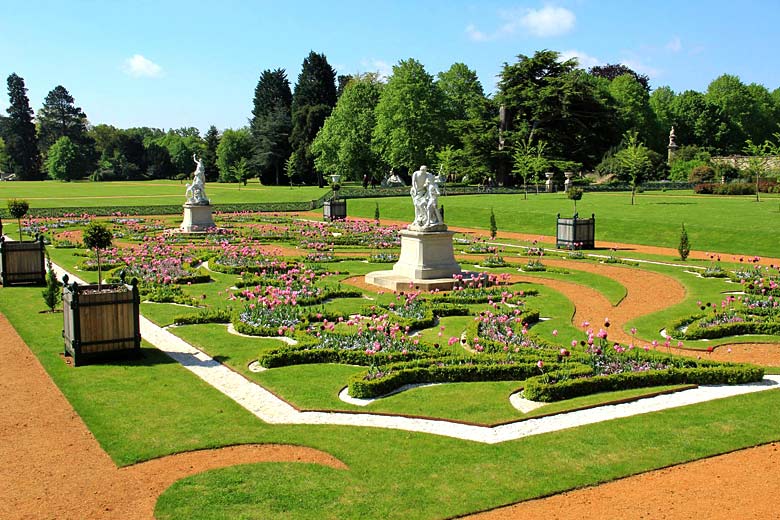 Our selection includes diverse and different gardens across the country, each with a compelling story not to mention vibrant floral displays, a range of activities and, naturally, tearooms with which they delight all who visit.
Become a member: the following gardens are protected and managed by English Heritage*. Before visiting, be sure to find out more about the different membership options*, all of which guarantee unlimited free entry to these and countless more gardens across England.
1. Eltham Palace
The magnificent mansion that is Eltham Palace*, located in the Royal Borough of Greenwich, London, is an eclectic mix of architectural styles spanning some 700 hundred years.
Once a medieval palace and royal Tudor residence (don't miss the 500-year-old hammer-beam roof in the Great Hall), it was bought in 1933 by a super-stylish millionaire couple keen to showcase the finest Art Deco design of the time.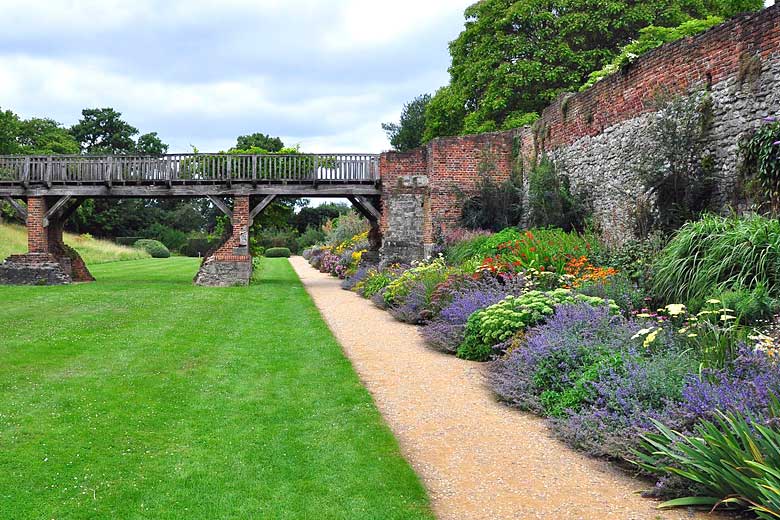 While the palace rightly attracts many for its striking interiors, the 19-acres of award-winning gardens also deserve some investigating. What's more, there's truly something to see all year round here, including London's oldest working bridge.
There's the rock garden and its pools of water that cascade down into the moat and the 100-metre long herbaceous border that dazzles in spring with bright primulas, pansies and tulips while countless purple and yellow flowers attract bees and butterflies in summer.
Then there's the sunken rose garden, which bursts with fragrance and colour during the summer months while the pretty wildflower meadow is another favourite with insects.
All shades of autumn can be seen from September to November and the spiky Japanese Bitter Orange surprises with its hardy fruit that clings on through the winter. Eltham Palace is beautiful inside and out, and well worth visiting on any trip to southeast London.
2. Carisbrooke Castle
Carisbrooke Castle* has proudly stood in its prime position close to the heart of the Isle of Wight, in one form or another, for some 800 years.
From its Norman keep and wall walk along the battlements to the room where Charles I was held prior to his execution in 1649 and the informative Carisbrooke Castle Museum, you'll travel through time at this spectacular castle.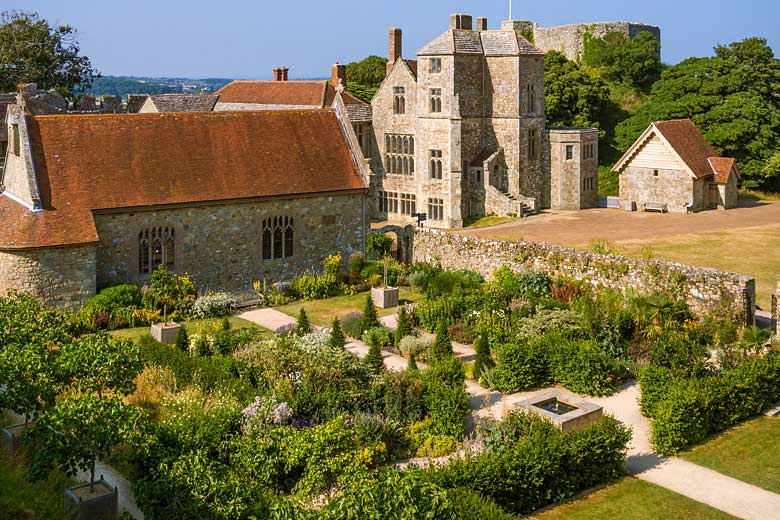 Another of the castle's highlights is the small but perfectly formed Princess Beatrice Garden. Named after Queen Victoria's youngest daughter who was Governor of the Isle of Wight from 1896 until her death in 1944, this Edwardian-inspired garden lies within the old 'privy' gardens that Princess Beatrice grew to love.

.

What you see today was sculpted in 2009 by award-winning garden designer Chris Beardshaw, who celebrated the period of Princess Beatrice's tenure with appropriate plants and a look-and-feel of the time. Beardshaw took a space that was, by then, relatively unused and transformed it into a peaceful and calming haven.

The geometric layout is sensitive to the original format and sees two gravel paths intersected with a simple fountain and lined with low box hedges and lively borders.

In spring, expect to see bright snowdrops, bluebells, daffodils and plenty of blossoms while summer months promise various grasses, the fig tunnel in full swing and ornamental cottage-garden flowers.

Autumn sees fruit trees heavy in their planters while winter is when everything is clipped back and paused until spring comes round again.
3. Walmer Castle
The gardens that surround Walmer Castle* on the Kent coast are probably the most diverse in our selection.
Owing to their location in the southeast of England, the variety of what can be grown here, and for how long, is greater than many other places. It's not for nothing that is Kent known as the Garden of England.
The castle itself takes you through the centuries from its creation as a Tudor artillery fort to the eventual home of the Lords Warden of the Cinque Ports, which included, for a time, Prime Minister, William Pitt the Younger and the Duke of Wellington (see the chair where he died peacefully).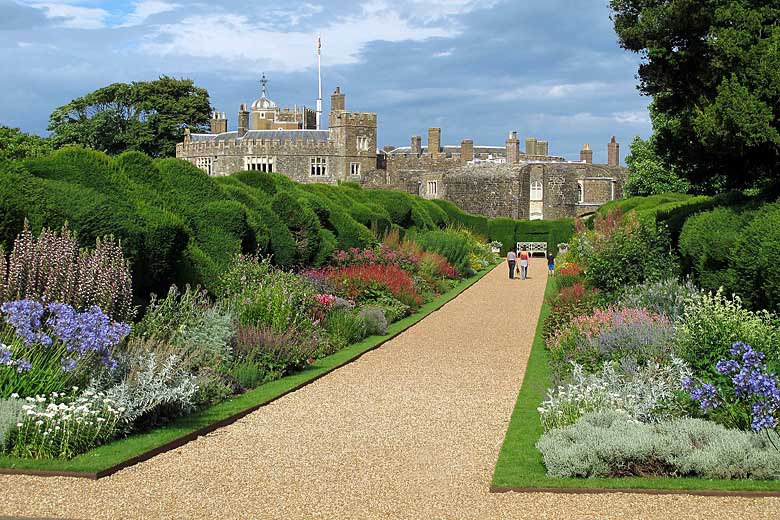 Just remember to leave plenty of time to explore the gardens with its wildflower meadows, sunken glen and woodland walk linking three main areas. Firstly, the recently restored Broadwalk.
Originally constructed by William Pitt in 1802 and added to by numerous successive wardens, by the early 20th century it began to fall into disrepair and remained overgrown until it was lovingly restored between 2018 and 2019, reintroducing the historic paths and helping the original flowers to flourish as they would have years ago.
Then there's the Queen Mother's Garden, an ornate creation by award-winning garden designer Penelope Hobhouse that pays homage to its namesake, who was warden for some 26 years until 2004 .
Its classical style is reminiscent of Islamic gardens with plenty of shade and a cooling central pool. Look out for large cardoons, agapanthus, roses and pots full of tulips in spring.
On to the Kitchen Garden, where you'll find an array of the finest fruit and veg that can be grown in Kent. In spring, it's alive with all sorts of pear, cherry and apple blossoms while in summer the trees and plants are loaded with ripening fruit.
Look for edible flowers, herbs and a mix of seasonal vegetables too, many of which can be sampled in the castle's Glasshouse Café.
Save some time for a wander through the Victorian glasshouses. Originally constructed in 1898, today they still house an impressive selection of exotic fruit and flowers from tomatoes to birds of paradise.
4. Wrest Park
If it's splendid garden grandeur you're after, look no further than Wrest Park* in Bedfordshire. Over 90 acres of perfectly manicured, Grade I-listed grounds dating from the early 18th century can be found surrounding the fine county house of the same name.
While only a small part of the house, which is also Grade I-listed, is open to the public, the gardens are there for all to explore.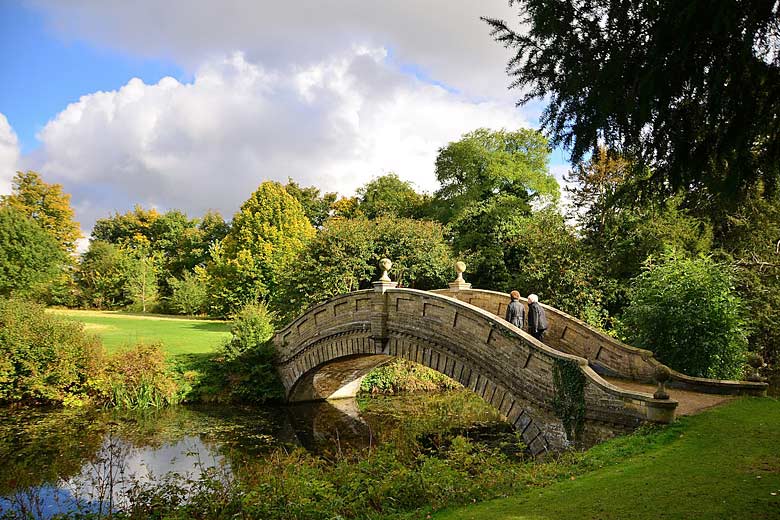 This early 18th-century garden is renowned for not only its sophisticated and elegant design but also for its ability to walk you through 300 years of garden landscaping.
There are strong French, Italian and Dutch influences in the inviting parterre flower beds, shady woodland walks and the simply unmissable Long Water, whose path leads to the garden's centrepiece, the Baroque Archer Pavilion, which was constructed in the early 1700s.
There are many more sights to look out for as you tour the grounds such as 40 classical statues, a lavish marble fountain, historic Bowling Green House, and the Chinese Temple and Chinese Bridge, which were designed in the style of those found on fashionable Chinese willow pattern plates.
Much of the garden has been tenderly restored and if you really want to get beneath the soil, be sure to take one of the garden tours.
5. Boscobel House
Unlike the other gardens we've chosen, the garden and woodlands surrounding Boscobel House* in Shropshire, a simple timber frame farmhouse built in 1632 that was later converted into a hunting lodge, has more humble origins.
Yet, it was propelled into the history books courtesy of the future king, Charles II, as he fled from his defeated attempt to regain his father's throne from the Parliamentarians during the English Civil War.
The story goes that as Charles escaped from the fated Battle of Worcester in 1651, he couldn't get past Cromwell's many patrols so took refuge in an old oak tree. After a short period of safe haven in the adjacent house, including the priest hole, Charles escaped to France where he remained in exile until 1660.
The original oak was allegedly slowly decapitated by trophy hunters in the 17th and 18th centuries, keen to take branches once the king's story became public. Today, however, in Lost Oak Pasture you can see a direct descendant of the original Royal Oak.
Back by the house, meander among the low box hedges that make up Boscobel's 17th-century parterre-style garden, weave your way around the grass maze and scurry through the 28 metre-long willow tunnel.
You can also experience what life was like in the Boscobel farmyard during the Victorian era. Meet friendly farmyard animals and visit the stables, dairy and barns.
6. Mount Grace Priory
Prepare to lose yourself among the atmospheric ruins of England's best-preserved Carthusian priory at Mount Grace Priory* on the western edge of the North Yorkshire Moors.
You can truly escape into nature in this rural spot where the priory was founded in the late 14th century. As well as exploring the ruins, small church and surviving cloister, you can step inside the Arts and Crafts Manor House.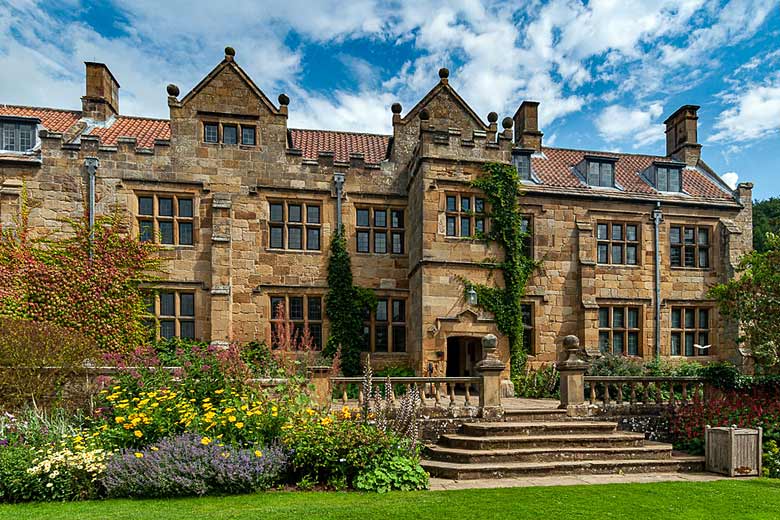 Originally the priory's guest house, it was transformed in the 17th century into a decadent residence and further extended and completed in the 19th century with finishing touches including a striking William Morris carpet.
The manor's 13-acre garden is another to have received restorative treatment and today, it's beautifully spaced with terraces, dells and elegant borders specially designed by Chris Beardshaw, who also revived Princess Beatrice's Garden at Carisbrooke Castle.
While bluebells reign supreme in spring, roses bloom in summer, Japanese acers in autumn and snowdrops in winter. It is a sight to behold.
Mount Grace Priory is also home to meadows and orchards, which come alive with varieties of traditional Yorkshire apple trees in spring and summer.
7. Witley Court & Gardens
If you're expecting to see lavish interiors and period furniture on a visit to Witley Court* in Worcestershire, you'll be sorely disappointed, as this fine Italianate mansion is more of a charred husk owing to a tragic fire that swept through in 1937.
Today, the ruins stand as a sort of commemoration to the magnificent architecture of this 19th-century house, whose shell remains truly captivating.
Thankfully, the house is the ideal backdrop to the delightful gardens. You'll follow pathways through neat parterre gardens (notably the East Parterre garden with its delicate topiary), colourful flower beds and grand terraces before venturing through the surrounding woodland and spotting a wealth of different species of tree.
Garden highlights include the detailed, and painstakingly restored, Perseus and Andromeda fountain in front of the grand old house, which flows freely between April and October, the Victorian boathouse on the lake and the chance to just sit and watch the many ducks and birds that call this glorious space home.
Ready to explore these gardens and more? Check out the latest membership offers from English Heritage.
More about England
England by month
Jan Feb Mar Apr May Jun Jul Aug Sep Oct Nov Dec
Explore holidays in the sun for less
Be inspired
Get your weekly fix of holiday inspiration from some of the world's best travel writers plus save on your next trip with the latest exclusive offers
We promise not to share your details
Related posts