5 of Spain's most scenic rail journeys
Check the latest travel advice and current Covid-19 rules and restrictions by country.
When it comes to travelling by train in western Europe, Spain is sometimes a little overlooked, but seeing this diverse country by rail is a perfectly rewarding experience with much to recommend it.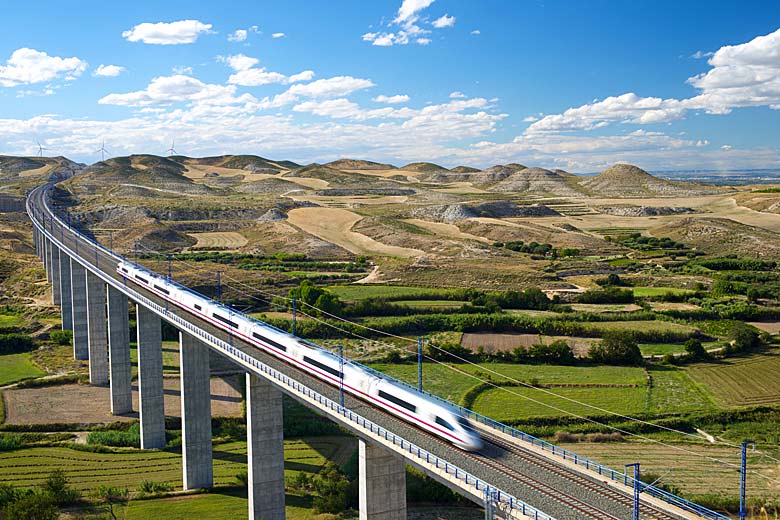 The likes of Germany and France may offer greater international connections, and Italy's rails sit along tracks more well-travelled, but Spain has the largest high-speed rail network in Europe. This makes it easy to traverse great swathes of Spain, allowing for detours on slower routes, which will also show you some lesser-trodden tracts of the country.
Spain's high-speed AVE network (which stands for Alta Velocidad Española) crisscrosses the country on modern rolling stock offering a sophisticated range of service options with inclusive meals served at your seat in Club or Preferente Class.
How to book your Spanish rail journey: Rail Europe (formerly Loco2), one of the leading providers of train tickets worldwide, has a comprehensive selection of great value train fares across Spain*.
Coincidentally, 'ave' is also the Spanish word for 'bird' but the good news is that you can tick off most of Spain's essential destinations without taking a single flight yourself. Here are five scenic rail journeys which are well worth exploring.
1. Mr Henderson's Railway, Algeciras to Ronda
Distance: 178 km
Time: 1 hour 36 minutes
Tickets from: €11.50
Built in 1892 to connect the port of Algeciras* with the city of Córdoba*, this line is named after its British Victorian financier Sir Alexander Henderson.
His route takes you through some remote Andalucían landscapes, much of which was considered 'dangerous bandit country' by novelist Truman Capote, who rode through it in 1950.
As you pass through a series of tunnels and bridges, look out for fields of sunflowers, nesting stork colonies and limestone peaks surveyed by eagles, buzzards and vultures.
Other points of interest include the dramatic hills and densely forested valleys just north of San Pablo on the edge of Alcornocales Natural Park, Europe's largest cork forest.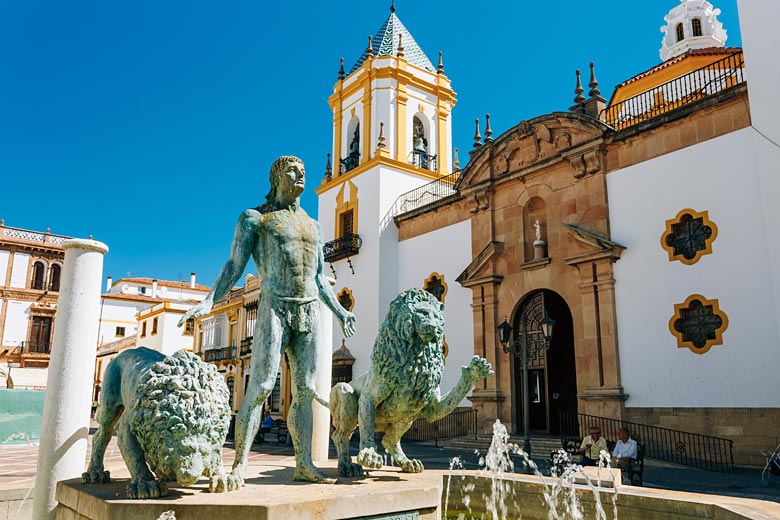 There's a multitude of tempting trackside dining stops at the likes of San Pablo and Arriate along the route, which may well tempt you to linger. Meanwhile, onboard, look out for some interesting Victorian railway memorabilia such as the original railway timetable that harks back to the train's British origins.
2. Barcelona to Madrid
Distance: 506 km
Time: 2 hours 45 minutes
Tickets from: €41.40
Although France overtook Spain in the high-speed rail race with the rollout of its LGV and TGV services sprouting from the 1980s onwards, Spain still has Europe's largest network of fast trains today.
National operator Renfe upped the ante with the introduction of this speedy route connecting the country's two great cities in 2008, cutting what was once a six-hour-plus journey into one taking just two and a half hours today.
Since the train pelts along at a brisk pace, reaching speeds of 330 km per hour in places, it provides fewer opportunities to watch the scenery than the other journeys here, but that's more than compensated for by the chance it gives you to enjoy lunch in Barcelona* and dinner in Madrid*.
Have more time to spare? You could always break the journey at Zaragoza (from Barcelona, around 1 hour 23 minutes) which could take care of your third daily meal in a Spanish city.
Yep, breaking your fast in Barcelona, lunching in Zaragoza and indulging in an entirely culturally appropriate late dinner in Madrid is eminently doable. Just remember to look up for a glimpse of the Pyrenees after Zaragoza as you approach the city of Lleida.
Alternatively extend the trip to reach Figueres*, a popular Catalonian town that's home to the Salvador Dalí Theatre-Museum, where the eccentric surrealist painter was born. Whether the full 5-hour-30-minute-journey from Madrid to Figueres will melt your wristwatch due to its velocity remains to be seen...
3. Madrid to Málaga, via Córdoba
Distance: 417 km
Time: 3 hours 10 minutes
Tickets from: €23.40
Here's a cracking cross-country route delivering you from the capital to the Costas in an afternoon. There is a high-speed train connecting these cities but we think you'd prefer to savour the slower line, which takes in the famous Despeñaperros Gorge.
The steep gorge cutting through the Despeñaperros National Park has quartzite walls up to 500 metres high lined with spectacular fossil effects breaking into a series of waves and ripples. You'll be treated to a 100 km stretch of the gorgeous Sierra Morena mountains along the way.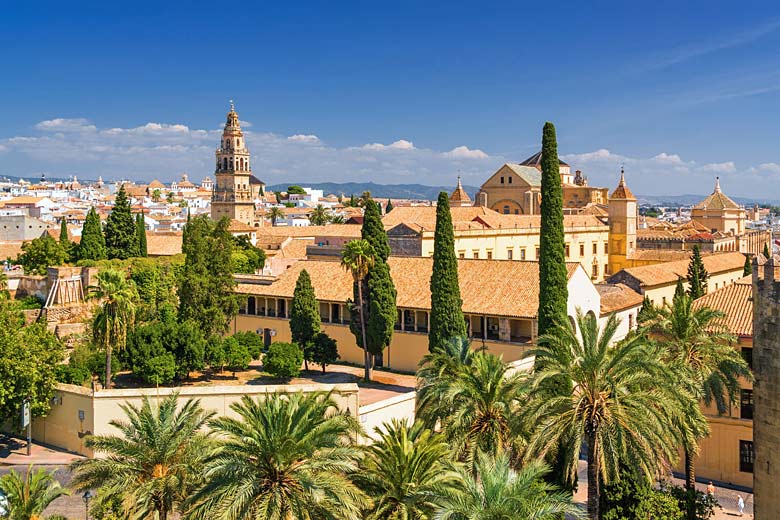 Change trains at the Andalucían city of Córdoba*, famous for its exquisite Islamic architecture topped by the extravagantly designed Mezquita and winding medieval lanes, for the final hop to Málaga*.
This last stretch traverses the Guadalquivir River, climbing the foothills of the Sierra Nevada mountains before descending towards the coast.
4. Valencia to Cádiz, via Seville
Distance: 540 km
Time: 5 hours 38 minutes
Tickets from: €17.59
The Torre del Oro train runs once a day from Valencia Nord direct to Seville. Leaving Valencia* behind, the train runs through remote stretches of arid landscape of La Mancha, dotted with those traditional windmills the like of which Don Quixote famously tilted at in Cervantes' literary classic.
In Seville, change trains for Cádiz, perhaps allowing time for some tasty tapas in one of the many bars in the city's old town maze.
This final leg passes through an area populated with salt lagoons and the sherry-producing town of Jerez de la Frontera*.
5. San Sebastián to Santiago de Compostela
Distance: 535 km
Time: 10 hours 26 minutes
Tickets from: €32
Some 300,000 hardy souls spend weeks walking the Camino de Santiago every year, but you can make a far more leisurely, if less virtuous, pilgrimage in a single day, by boarding a direct morning train leaving San Sebastián/Donostia* station arriving at Santiago de Compostela* just before 8 pm.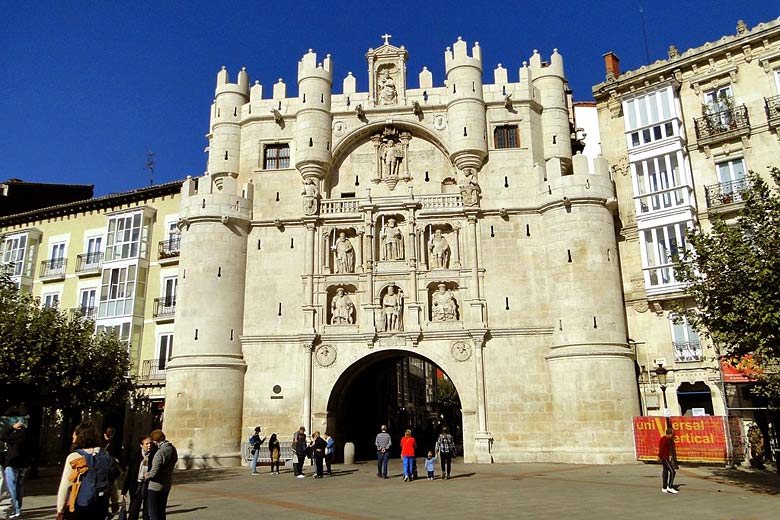 This journey winds through the mountainous terrain of the Basque region into Galicia, and you'll soon see why this northwestern corner of the country is often billed as 'green Spain'.
Along the way, you'll call at several fine cites, notably Burgos*, the birthplace of Christian military hero El Cid, and León*, best known for its spectacular 13th-century Gothic cathedral.
Weather in Spain
| | Jan | Feb | Mar | Apr | May | Jun | Jul | Aug | Sep | Oct | Nov | Dec |
| --- | --- | --- | --- | --- | --- | --- | --- | --- | --- | --- | --- | --- |
| Maximum daytime temperature °C | | | 15 | 18 | 22 | 28 | 32 | 32 | 27 | 20 | | |
| Hours of sunshine (daily) | | | 6 | 7 | 9 | | | | 8 | 6 | | |
| Days with some rainfall | | 13 | | | | 8 | | | 7 | | | |
The above guide shows the weather in Madrid, however, Spain is one big, diverse country so do visit our complete weather guide to Spain and select your destination of choice. Remember, you can always check when we think is the best time to visit any of Spain's magnificent cities.
Ready to book your Spanish railway adventure? Head straight to Rail Europe (formerly Loco2) for affordable fares on any of the above routes plus more information on the rail network and even more domestic and international route suggestions.
More about Spain
Jan Feb Mar Apr May Jun Jul Aug Sep Oct Nov Dec
Be inspired
Get your weekly fix of holiday inspiration from some of the world's best travel writers plus save on your next trip with the latest exclusive offers
We promise not to share your details
Related posts
*affiliate links: find out how we are funded and why this helps us remain free to use.