How to indulge your inner chocoholic in St Lucia
Check the latest travel advice and current Covid-19 rules and restrictions by country.
If you want to discover some of the Caribbean's finest chocolate, consider a trip to St Lucia. Of course, the powdery beaches, bucolic landscape and dramatic Piton Mountains all add to its paradise appeal but did you know that cocoa plays a significant role in St Lucia's heritage? Fly with Virgin Atlantic direct to St Lucia*, and you could be discovering the sweet treats and chocolatey experiences on offer for yourself.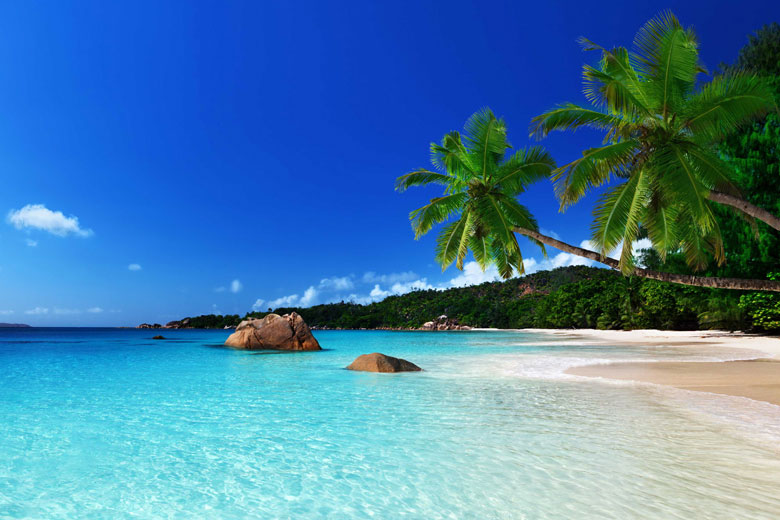 Take a 'Bean to Bar' tour at the Rabot Estate
The Rabot Estate near the town of Soufriere is a key place to start exploring St Lucia's chocolate roots. Dating back to the 1700s, the plantation has survived at least three especially severe hurricanes, and has been in and out of operation over the years, as the cost of production - and threat of disease - has threatened the beloved cocoa bean.
Today, the Rabot Estate is owned by the renowned Hotel Chocolat Group and you'll see the thriving plantation has become a key tourist attraction. After a scenic drive into the rainforested hills, you'll arrive at the Rabot Estate. Take the 'Bean to Bar' tour and stroll through the cocoa groves with an expert chocolatier; they'll tell you all sorts of interesting facts from the Rabot Estate's history. Interestingly, the prized cocoa bean they produce today was actually concocted by a group of scientists from Trinidad who cross-fertilised the Criollo and Forastero cocoa plants to create the 'king of all beans' - the tasty yet disease-resistant Trinitario hybrid.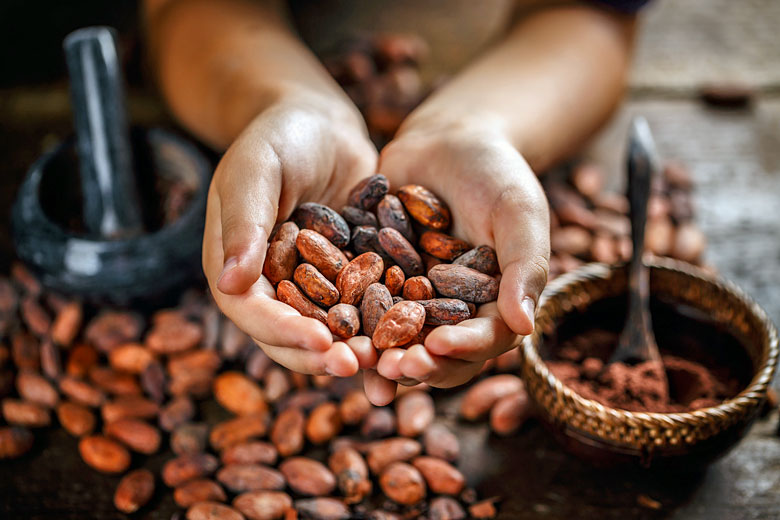 After your tour, you'll get to meet some of the growers who'll help you graft your own hybrid cocoa tree, ready to be planted on the estate. Then it's onto the best bit - attempting the role of chocolatier. In the middle of the leafy grounds, you'll be taken through the chocolate-making process and make your own bar of St Lucian chocolate using a pestle and mortar.
Eat cacao-infused food
If you want to discover the role the cocoa bean plays in cooking, sample some cacao-infused cuisine while you're in St Lucia. Cacao has a distinctive nutty taste to it and is used to flavour a range of savoury dishes as well as - of course - make sweet chocolate desserts.
At Boucan by Hotel Chocolat, the restaurant on the Rabot Estate, try the cacao pod hamburger and Rabot chocolate lava dessert, which is as gooey and indulgent as it sounds. Meanwhile, the upscale Jade Mountain resort serves cocoa-dusted foie gras while the Windsong Restaurant at Calabash Cove has a pork ravioli with bitter cocoa sauce on their menu. Sister residence Anse Chastanet has also been known to serve chocolate fondue, made using cocoa from its own Emerald Estate.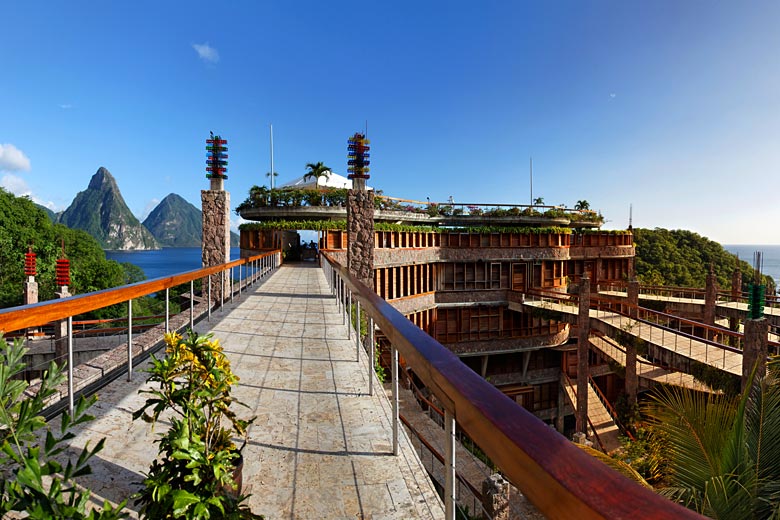 Sip on cacao-infused 'choc-tails'
Yes, choc-tails are a thing, and you'll find many ways to enjoy the food of the gods in liquid form. The fresh cacao martini at Boucan is great while the St Lucian surprise at Calabash Cove is a sweet mix of chocolate, Baileys, Drambuie and Galliano.
Try the local cocoa tea
The local cocoa tea has a very bitter taste, so don't go expecting your favourite hot chocolate drink. Many St Lucians have it for breakfast as they claim it offers a wide range of health benefits, including lowering blood pressure. If you want to try it, pick up a cup at the lively Castries Market. You'll also find bars of solid spiced chocolate and cocoa sticks here, which you can use to make the tea yourself when you're back home.
Enjoy a 'cocoa dance'
If you're wondering what a cocoa dance is, check out the Fond Doux Estate. This collection of boutique cottages is set within the grounds of a 250-year-old working cocoa plantation and takes visitors on what they call a Fond Doux Heritage Tour. You'll learn about a range of organic produce and spices grown on the estate as well as the cocoa harvesting and drying processes. The fun bit is watching - or maybe taking part in - the ritual of 'dancing the cocoa', which they call the 'cocoarina'. You climb barefoot into a giant cauldron and dance on a mixture of cocoa beans and water. It's said to polish the beans ahead of the drying process - who knew?
Visit St Lucia during Chocolate Heritage Month
August has been named the official Chocolate Heritage Month in St Lucia. During this cultural celebration, the rummelier (a rum sommelier) at Cap Maison Hotel hosts luxurious chocolate and rum pairings from its Cellar Maison. You'll find many hotels and venues running chocolate-themed events and parties throughout Chocolate Heritage Month.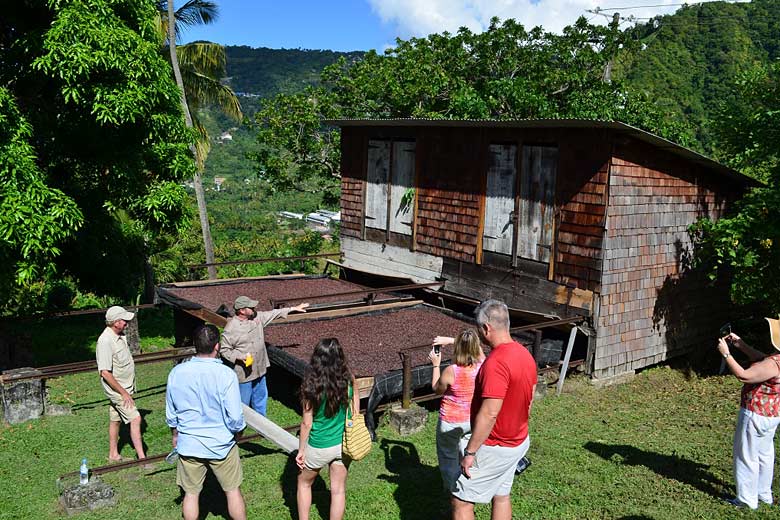 Visit Anse Chastanet's Chocolate Laboratory
If you're looking for a boutique chocolate experience, get Anse Chastanet on your radar. The hotel hosts 'Tree to Bar' tours of its own organic farm, the Emerald Estate. And you can visit the Chocolate Laboratory where the chocolate alchemist runs chocolate and truffle making classes. You can even explore the art of chocolate and wine pairing.
Visit a chocolate beach
Call it creative license, but the chocolate experience in St Lucia isn't complete without a trip to Choc Bay. There's nothing chocolatey about this beach, but some people claim it got its name from the murky water that sometimes runs into the ocean from the hills. Don't be put off, it's a beautiful palm-fringed beach and if you fancy visiting, you'll find it in the northwest of the island, close to Castries.
Wrap yourself in chocolate
Chocolate it seems, it not just for eating, and many spas in St Lucia incorporate the local cacao into their spa therapies and beauty treatments. Book a 'Mocha Massage' at the Kai Belté Spa at Anse Chastanet and find everything from 'Cacao Detox Body Wraps' to 'Cacao Facials' at Boucan Hotel's Cocoa Juvenate Spa. These dreamy treatments are claimed to draw impurities from the skin and leave you glowing. Chances are, they'll smell good enough to eat too.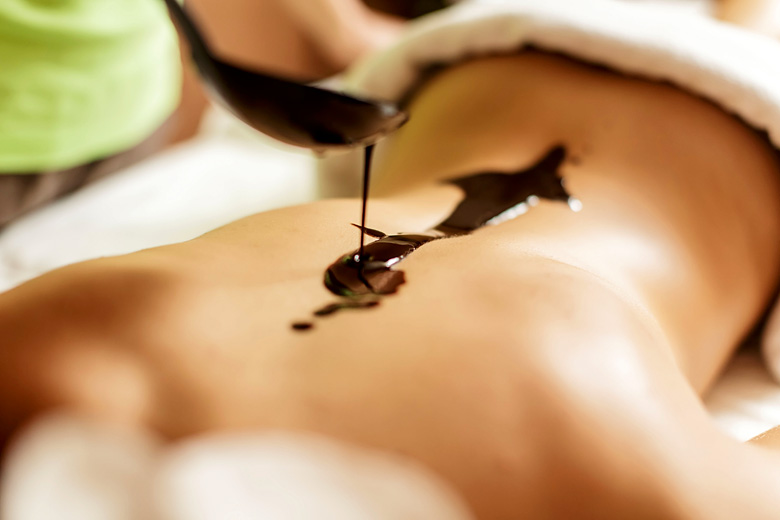 Do you have a sweet tooth? Do the chocolatey delights of St Lucia appeal? Check out the latest deal on flights with Virgin Atlantic, which takes you directly to the island from London Gatwick in around nine hours. You can also find out more about the weather in St Lucia and see when we think is the best time to go for wonderful weather.
More about St Lucia
Jan Feb Mar Apr May Jun Jul Aug Sep Oct Nov Dec
Be inspired
Get your weekly fix of holiday inspiration from some of the world's best travel writers plus save on your next trip with the latest exclusive offers
We promise not to share your details
Related posts
*affiliate links: find out how we are funded and why this helps us remain free to use.