9 reasons Grenada is the Caribbean island for you
*affiliate links: find out how we are funded and why this helps us remain free to use.
So the Caribbean is all just about starched white beaches, all-inclusive hotels and serious glitz? Wrong! Well, ok, many parts of it are and they are gloriously fun for a relaxed beach holiday.
However, I've found one oasis that does offer the aforementioned charms, but also myriad other things to see and do.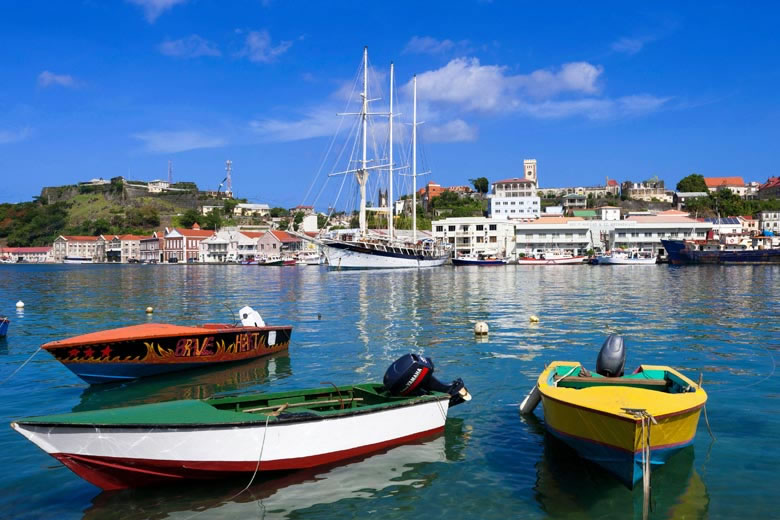 In many ways Grenada is the Caribbean island for people who are afraid they won't like the Caribbean. Here, you can laze on idyllic sands or skip around enjoying watersports, but also hike to pristine waterfalls in a nature reserve, dive down to a mysterious underwater sculpture park, and visit one of the most charming capitals anywhere in the region.
That's without mentioning Grenada's madcap Carnival and the twin nefarious attractions of the island's rum and chocolate.
Excitingly, Grenada is also within easy reach of the UK, as Virgin Atlantic offers direct flights* to the island from London Gatwick. So join me now as I share the delights of the Caribbean island that could and, I think should, be the one for you...
1. The beaches
Let's start with the beaches; after all, they're what many people instantly think of when you mention the Caribbean. Grenada isn't just home to one or two class stretches of sand but boasts over 20 white sandy beaches for you to unfurl your towel on.
Grand Anse is the most famous and regularly makes it into those lists of the world's best beaches you get in glossy magazines. If you fancy something a little different, however, Grenada also has black sand beaches thanks to its volcanic origins.
2. For a taste of 'Spice Island'
Grenada is known as the 'Spice Island', and that is no woolly moniker as myriad spices are indeed found and farmed on the island. There are plenty of places where you can buy spices and find out more about them. I love cinnamon, but had no idea until I came here that it grows on trees - it's literally shaved bark.
Grenada is also a major producer of nutmeg and gorgeous cocoa. Belmont Estate is a great place to visit if you want to know more about cocoa production. You can even learn how to make chocolate here.
3. To visit stately St George's
Grenada doesn't overflow with grand towns, but the island's capital is a sleepy charmer and, for me, one of the most picturesque settlements in the Caribbean. The cruise ships are starting to call by and this has brought some much-needed investment to tart up the historic streets.
I like that there's a teasing collage of colonial architecture and atmosphere, mixed in with a genuine local buzz that comes across strongly in the culture and cuisine. The National Museum (housed in old French barracks) is on hand if you want to learn more about the capital and the history of Grenada.
4. To take a boat trip
Heading out to sea is the best way to get a real feel for the island and its environs. Grenada Safaris offers great trips that sweep you out on fast RIB speedboats along the leeward coastline.
There are views of St George's and a slew of sandy beaches, as well as the opportunity to jump in for a snorkel. If you're lucky you may even spot a pod of dolphins or a whale.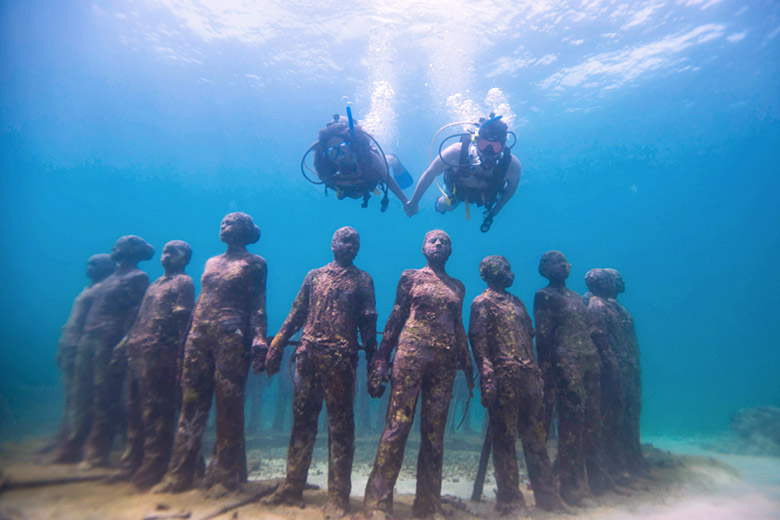 5. Dive to a Sculpture Park
Yes, you read that right. Grenada boasts an impressive underwater sculpture garden (a world first) that you're going to have to dive or snorkel down to if you want to really appreciate its charms.
To be honest, I find the mournful faced figures down here a little on the spooky side, but you could never accuse this unusual attraction of lacking impact or atmosphere.
6. To hit the hiking trails
You might not put the Caribbean and hiking together, but Grenada has some excellent opportunities for you to get your walking boots on. My favourite spot is in Grand Etang National Park. Here, you can wander through a landscape that is more Jurassic Park than theme park.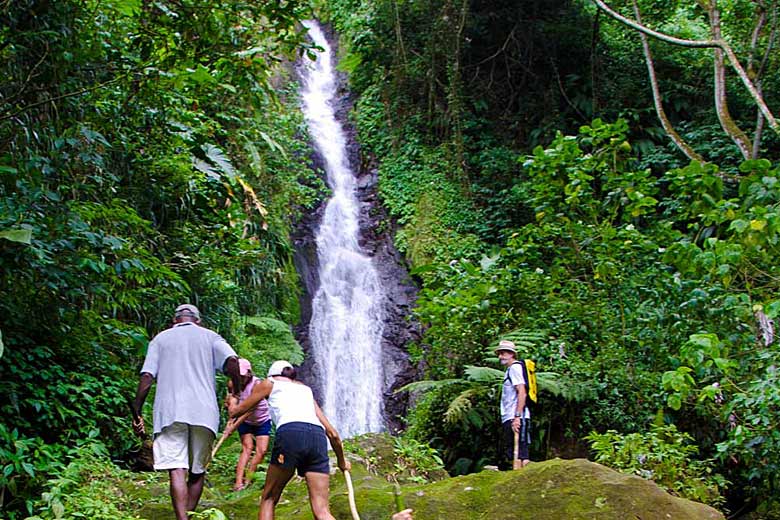 There are also some stunningly impressive waterfalls to look out for, including the Seven Sisters' Waterfall. The Seven Sisters' Trail handily snakes past the eponymous waterfall and half a dozen others. Look out for wild monkeys and the national bird, the Grenada Dove, which is endemic to the island.
7. For the local rum
If you're a fan of this alcoholic holiday treat then you've come to the right place. In Grenada, they don't just ship their rum in from other Caribbean islands or elsewhere - oh no - there's a sprinkling of rum distilleries dotted around the island.
My favourite is the wonderfully old fashioned River Antoine Rum Distillery, said to be the oldest working rum distillery anywhere in the Caribbean.
8. For feisty festivals
Grenada is a party sort of place and the locals like nothing better than a big event where they can let their hair down. The good news is the island's authentic festivals are usually not just geared towards tourists - everyone's welcome.
The biggest happening on the island calendar is Carnival in August, with its parades and street parties. If you want to learn to dance Caribbean style this is the time to come. I'm also a fan of the Grenada Chocolate Festival in May, which does what it says on its delicious sugary tin.
9. To island hop
If you've plenty of time in Grenada you can choose to nip over to another island. Grenada has a brace of sister islands, Carriacou and Petite Martinique, which are actually both part of the Grenada archipelago.
The former is great for snorkelling with a plethora of reefs and shallow waters (I recommend Tyrell Bay Beach), while the latter tempts as it's a slice of a sleepier Caribbean, with less than a thousand residents and only one school. If you see boats full of kids they're not trying to flee the island but are actually off to schools on other islands!
Whether you go for the beaches or the rum, the hiking or the boat trips, Grenada promises to be a wonderfully diverse and memorable island destination for your next holiday.
What's more, you can be there in just under 11 hours when you fly to Grenada with Virgin Atlantic - and we have the latest deals to help you find great value fares.
Weather in Grenada
| | Jan | Feb | Mar | Apr | May | Jun | Jul | Aug | Sep | Oct | Nov | Dec |
| --- | --- | --- | --- | --- | --- | --- | --- | --- | --- | --- | --- | --- |
| Maximum daytime temperature °C | | | | | | | | | | | | |
| Hours of sunshine (daily) | | | | | | | | | | | | |
| Days with some rainfall | 14 | 9 | 10 | | 13 | | 20 | 18 | | | 20 | 18 |
| Sea temperature °C | | | | | | | | | | | | |
Of course, Grenada is a beautiful winter sunspot, and you can find out more about the weather in Grenada and when we think is the best time to go to enjoy all of the above activities and attractions.
More about Grenada
Jan Feb Mar Apr May Jun Jul Aug Sep Oct Nov Dec
Explore holidays in the sun for less
Be inspired
Get your weekly fix of holiday inspiration from some of the world's best travel writers plus save on your next trip with the latest exclusive offers
We promise not to share your details
Related posts