Make a splash in Mauritius: discover the best ocean-based activities
*affiliate links: find out how we are funded and why this helps us remain free to use.
As much as we love exploring Mauritius's towns, forests and national parks, some of the best fun can be had at sea.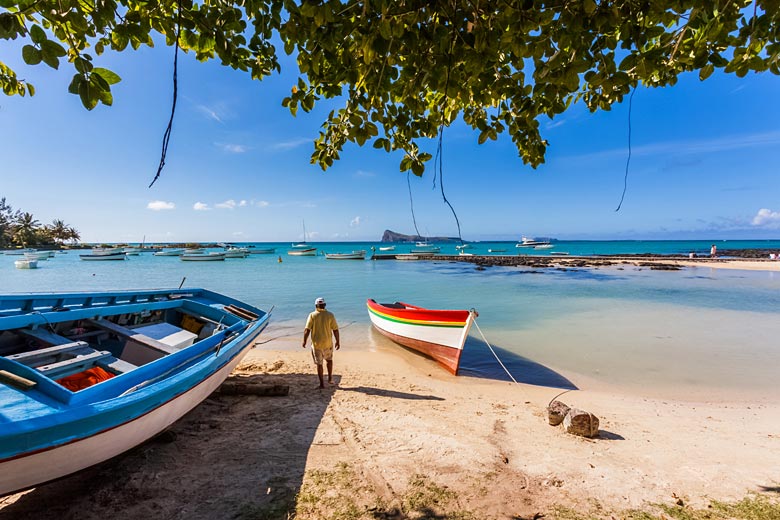 An Indian Ocean island surrounded by fantastic snorkelling and dive sites as well as tiny islets perfect for day trips, it's a brilliant destination for visitors keen to flex their sea legs. Here are our favourite options in Mauritius* for some ocean-based fun.
Getting to Mauritius: check out the latest offers on breaks with Mercury Holidays*.
Whale-watching cruises
The waters on the western side of the island, in particular, attract a wide range of whales and there's no shortage of tour operators offering whale-watching cruises.
Humpback whales, which have black backs and paler undersides, sperm whales, which can weigh up to a staggering 60 tonnes, and pilot whales, which often form large groups, are the species you're most likely to see.
Sperm whales can be seen year-round, although if you're keen to glimpse humpbacks, visit between May and November when the creatures head to Mauritius's bath-warm waters to give birth.
Top tip: when choosing a whale-watching boat tour, look for one which will have an expert on board, ideally a marine biologist, and avoid tours that rely on pre-recorded commentaries.
Whale spotting tours should never involve feeding whales and a good skipper will always move on if there are more than two boats at a location where whales have been sighted.
Snorkelling trips
Some of the Indian Ocean's best snorkelling spots can be found off Mauritius. It's surrounded almost entirely by lagoons, areas of protected, shallow water where marine life thrives, and where snorkellers can focus on the sea life without worrying about strong currents.
Some of the largest ones can be found on the eastern side of the island, which is where you'll find the Blue Bay Marine Park. Don your snorkel here; simply enter the water from Blue Bay* and you'll see vast coral gardens and a wide range of tropical fish, although we recommend booking a guided boat tour if you're keen to access the park's best snorkelling sites.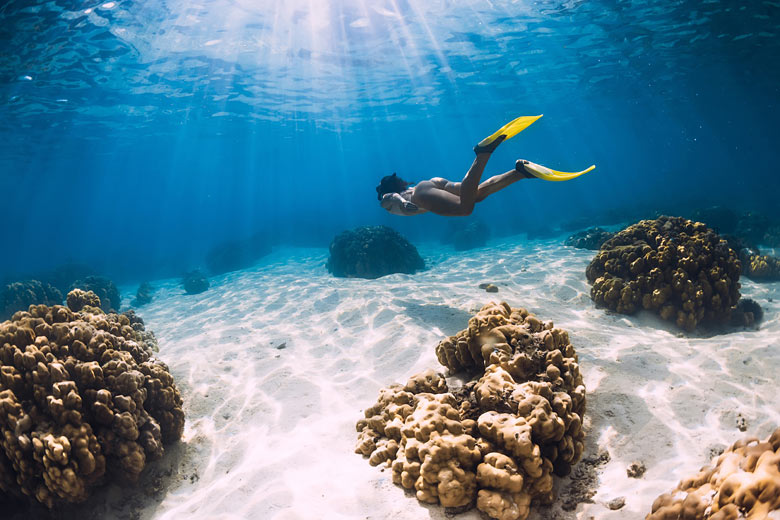 "My favourite snorkelling spot is definitely Blue Bay, simply because there is still so much healthy coral in the lagoon," says Esther Rambert of Sundivers Mauritius.
We also recommend checking out the lagoon at Trou-aux-Biches, in the northwest of the island, where green and hawksbill turtles are regularly spotted.
Scuba diving trips
Mauritius is a fantastic place to gain a PADI certification, not only due to the abundance of brilliant dive sites but because it's an island with dozens of fantastic dive schools, as well as year-round sea temperatures of between 23°C and 28°C.
The north has the highest density of dive sites such as Gunner's Quoin, where unspoiled coral reefs surround a tiny islet (butterflyfish, angelfish, damselfish and wrasse are the species you're most likely to see).
And then there's La Fosse, an area near tiny Snake Island where the highly oxygenated water (caused by waves crashing against the edge of the islet) attracts various shark species.
For experienced divers, one of the most popular locations is the Cathedral dive site on the island's western side, famous for its underwater caves and arches.
Kitesurfing
Regarded as one of the world's best kitesurfing spots, Mauritius has hosted some of the sport's biggest events, including the GKA Kitesurfing World Cup.
The best spots are on the south-west of the island, where you'll find legendary locations such as One Eye, a popular kitesurfing destination at Pointe du Morne, and Cap Dal, an easily accessible kitesurfing spot near the village of Tamarin*.
Trying the sport for the first time? You can't beat Anse La Raie, near the northern tip of the island. A vast lagoon stretches 2.5 km out from the shoreline, and there's plenty of protection from strong winds, making this a great place for beginners.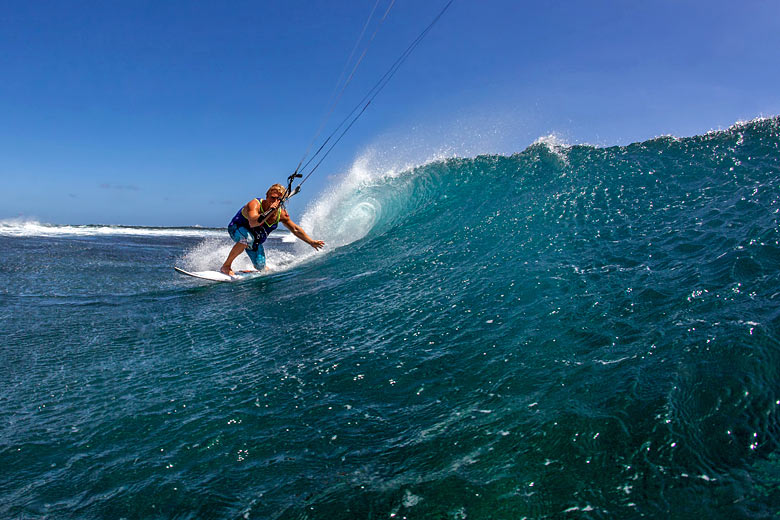 The water off Bel Ombre*, near the southern tip of Mauritius, attracts kitesurfers of all abilities, and there are several fantastic water sports schools here. "It's a great location for all levels," says Corinne Vincent at KiteGlobing Mauritius.
"The lagoon is huge, and the water isn't too deep." Make sure you think about timing if you're keen to try kitesurfing. The best time to go is between May and October when southeast trade winds make for fantastic conditions.
Scenic boat trips
Prone to island madness? There are plenty of boat tours catering to visitors who wish to escape to nearby islets. The most popular Mauritius boat tours are the ones that whisk visitors to Île aux Cerfs (Deer Island), an 87-hectare islet off the east coast.
It's one of the most popular day trips; there's an 18-hole championship golf course, some of the Indian Ocean's most beautiful beaches (the ones on Île aux Cerfs are famous for their soft white sand) and water sports, including water skiing, parasailing and speedboat rides.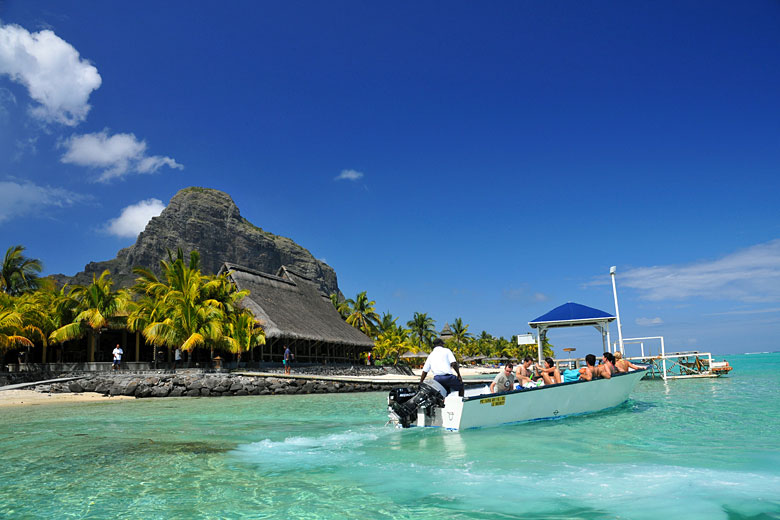 Boat trips to the islet often include visits to the Grand River South East Waterfall (also known as Cascade Diamamouve), at the point where Mauritius's longest river meets the sea.
Equally popular are boat trips in the Rivière Noire (or Black River) area, on the western side of the island.
Sea kayaking excursions
Mauritius is a paradise for sea kayakers. Its coastline is riddled with sea caves, many of which are filled with beautiful rock formations. In addition to caves, there are mangroves and river mouths to explore, while experienced kayakers can attempt short sea crossings to nearby islets.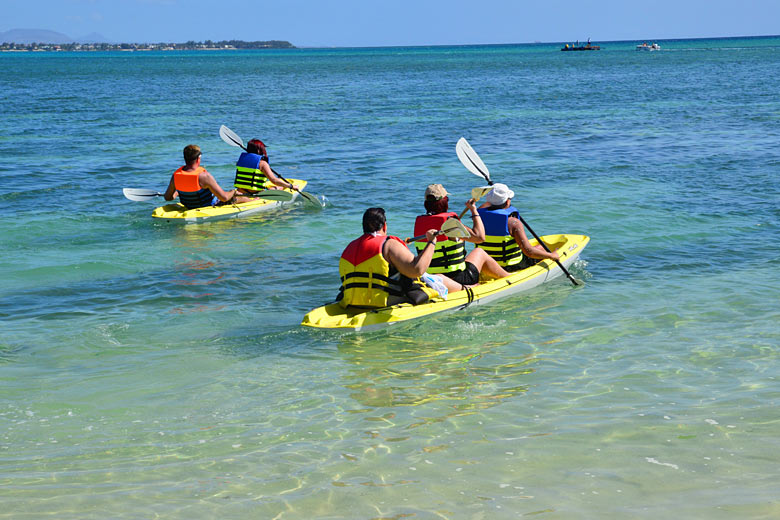 One of the most popular kayaking destinations in Mauritius is Ile D'ambre, a mangrove-fringed islet off the northern tip of Mauritius. Water sports operators which offer kayaking tours here include Yemaya Adventures.
Over on the west coast, the beaches near the village of Pointe aux Sable are a popular starting point for sea kayaking expeditions, and you'll have a backdrop of the beautiful Albion lighthouse, which was built in 1910.
Deep sea fishing
Deep sea fishing is incredibly popular in Mauritius. This is because of the topography; at deep-sea fishing spots such as the waters off Le Morne* on the southwest coast, deep water creates strong, cold currents which push nutrients to the surface, which means there are plenty of fish to catch, including larger species such as blue marlin.
Amazingly, a blue marlin weighing a staggering 614 kg was recently caught here. Head to Mauritius between December and March to maximise your chances of catching blue marlin, or between March and May for tuna. November and December are brilliant months for catching sailfish, dorado and wahoo.
The best bit? Sign up for a crewed sea fishing tour and they'll do the hard work for you: select the lure, reel and hook before attaching the bait and showing you how to use the rod, leaving you to sit back and relax - until that 614 kg blue marlin takes a bite, that is.
Weather in Mauritius
| | Jan | Feb | Mar | Apr | May | Jun | Jul | Aug | Sep | Oct | Nov | Dec |
| --- | --- | --- | --- | --- | --- | --- | --- | --- | --- | --- | --- | --- |
| Maximum daytime temperature °C | | | | | | | 22 | 22 | | | 26 | |
| Hours of sunshine (daily) | | | | | | | | | | | | |
| Days with some rainfall | | 21 | | | 17 | 16 | 16 | 18 | 15 | 14 | 14 | 18 |
| Sea temperature °C | | | | | 26 | | | | | | | |
Discover more about the weather in Mauritius and see when is the very best time to go.
Ready to make a splash in Mauritius? Check out the latest deals from Mercury Holidays.
More about Mauritius
Jan Feb Mar Apr May Jun Jul Aug Sep Oct Nov Dec
Explore holidays in the sun for less
Be inspired
Get your weekly fix of holiday inspiration from some of the world's best travel writers plus save on your next trip with the latest exclusive offers
We promise not to share your details
Related posts