The world's best edible escapes for foodies
Check the latest travel advice and current Covid-19 rules and restrictions by country.
Food and travel go hand in hand; there's no better way to get to know a place than through its cuisine. So it's no surprise that today holiday choices are increasingly dictated by our stomachs. If you consider yourself a bit of a foodie, or just want to spend your entire trip feasting on delectable food, look no further than these top edible escapes.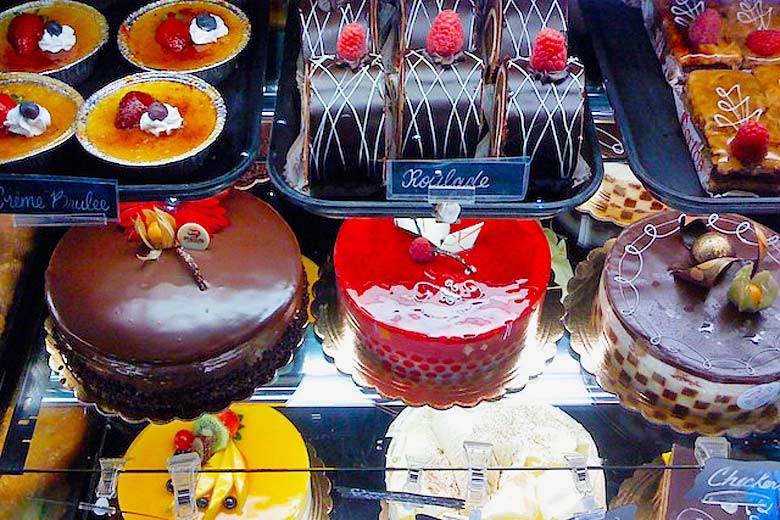 Go off the beaten path for pesto in Italy
You can go almost anywhere in Italy for sublime cuisine - pizza, pasta and arancini abound. But head to Genoa in Liguria to explore an underrated city with seriously good suppers on offer.
As the home of everyone's favourite green sauce, pesto, Genoa hosts the biennial pesto-making championships in which over a hundred chefs and amateurs may use only traditional ingredients to knock up their best attempt. Try some of the city's finest at Cavour 21, a relatively no-frills kind of place where a plate of pasta will set you back just 8 Euros.
But this delicious green paste isn't the only thing the city has to offer. Focaccia is a speciality in Liguria too. Try the fabulously salty flatbread at any of the hole-in-the-wall focaccerias dotted throughout the Old Town.
Sample street food in Taipei, Taiwan
Taipei's best treats come out at night. The city is home to a number of nighttime street food markets, each with a vast selection of Taiwanese delights to entertain many a palate.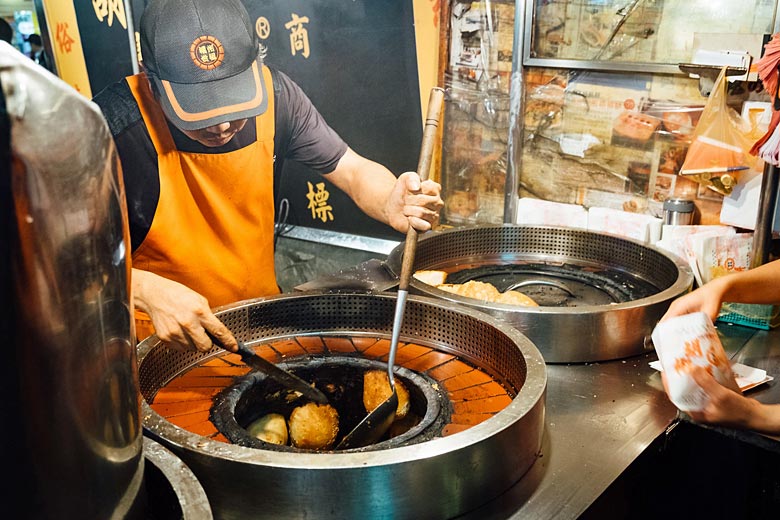 Choose your fare and sit down among the bustle on communal tables to tuck in alongside the locals. There are barbecued sausages, freshly grilled squid, black pepper buns stuffed with spiced pork and spring onions, oyster omelettes and the infamous stinky tofu - something of a rite of passage for travellers to Taiwan. Wash it all down with a tangy, fresh fruit smoothie.
Alternatively, "Taiwan Buffets" are a brilliant way to sample the country's varied cuisine. Pile your plate high with a selection of small dishes in these canteen-style restaurants and you'll likely pay no more than a fiver.
Order everything in Madrid, Spain
If you're one of those foodies who wants a bit of everything on the menu, Spain is the place for you. Tapas allows you to taste a little from a lot of choice, and go back for seconds (or thirds) with no shame.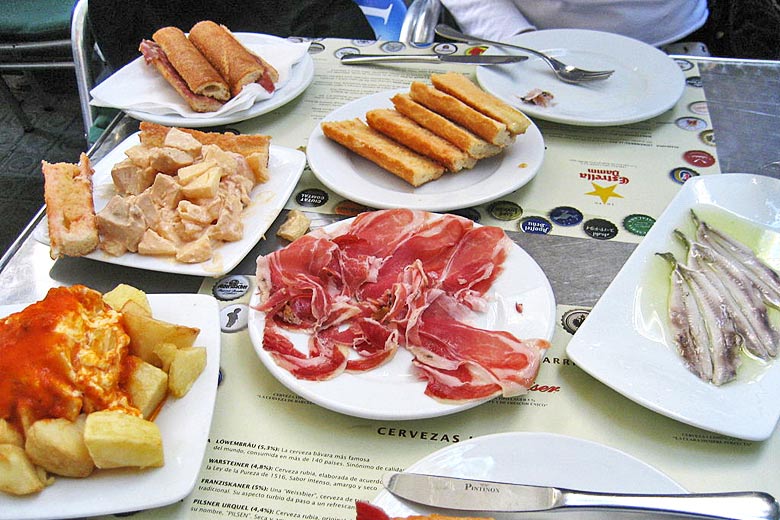 Madrid has hundreds of tapas bars littered throughout the city - some of the best are found in Malasaña - but the centrepiece of the city's foodie offering is the Mercado San Miguel. This indoor food market has everything from croquetas (croquettes) and chopitos (fried squid) to paella and cheese. Wash it down with a bottle of rioja and you've got a solid Sunday afternoon in the city.
If you're still hungry on the way back to your hotel, stop off at Chocolatería San Ginés - Madrid's oldest churros shop that's open 24 hours (because you just never know when the need for churros will strike).
Go to the grill in Buenos Aires, Argentina
Think Argentine food and it's probably steak that comes to mind first, and quite rightly. Capital Buenos Aires is known for its many parrillas where succulent Argentine beef is cooked to order on an asado (barbecue). There may be no better place for a glass of malbec and a juicy rump, but it's not all about the beef.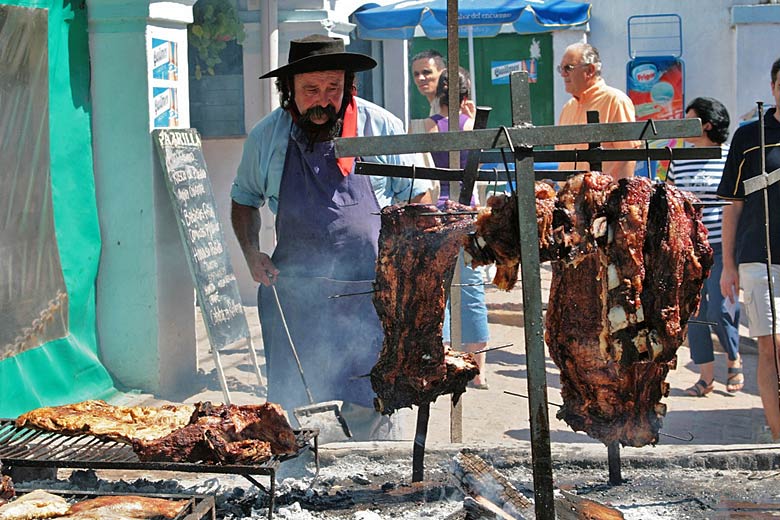 There's plenty more on the menu in Argentina. Try pork or lamb chinchulines (intestines filled with sausage meat), which are either grilled, fried or roasted, or morcilla (similar to black pudding). Don't forget a side of chimichurri either - this parsley and chili sauce is an essential at any asado.
Indulge in spices in India
The best thing about India's food is the sheer variety available throughout the country. No matter what your taste, you're guaranteed to find something delicious. Head to Rajasthan - home to some of the country's most impressive forts and palaces - for marinated tandoori meats and thick curries with rich, tangy flavours. Or base yourself in the pleasantly relaxed, quaint town of Fort Cochin, Kerala for gorgeous coconut milk-based seafood dishes.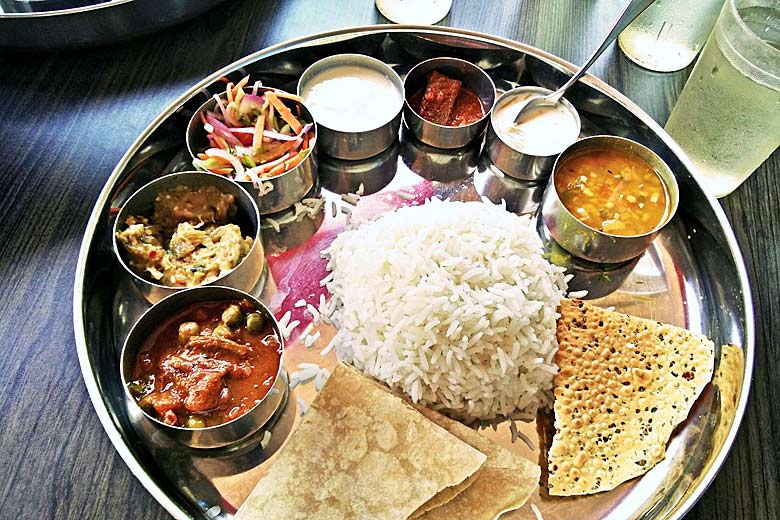 Explore Karnataka - Mysore and Hampi are notable highlights - for the biggest feast of them all: the thali, a personal platter of dishes, either served on a banana leaf or a silver plate, usually accompanied by rice or chapati.
Plus, don't forget the street snacks: pani puri (crispy hollow balls stuffed with coriander water, potato, chickpeas and tamarind chutney), pav bhaji (India's answer to a chip butty), and all manner of sweets await those adventurous enough to try them.
Taste something unusual in Addis Ababa, Ethiopia
Perhaps not the most obvious foodie destination, Addis Ababa offers a delicious insight into Ethiopia's intriguing cuisine. The food centres around the unique injera, a huge flat, sour pancake made from a grain called tef. It's generally eaten at every meal, including breakfast, and essentially acts as your plate and cutlery (eating with your hands is often the only option) as you mop up the piquant selection of stews and sauces on top. If you're a keen meat eater, try tibs (chunks of barbecued beef) or kitfo (spiced minced beef) at Yilma, the best butcher in town.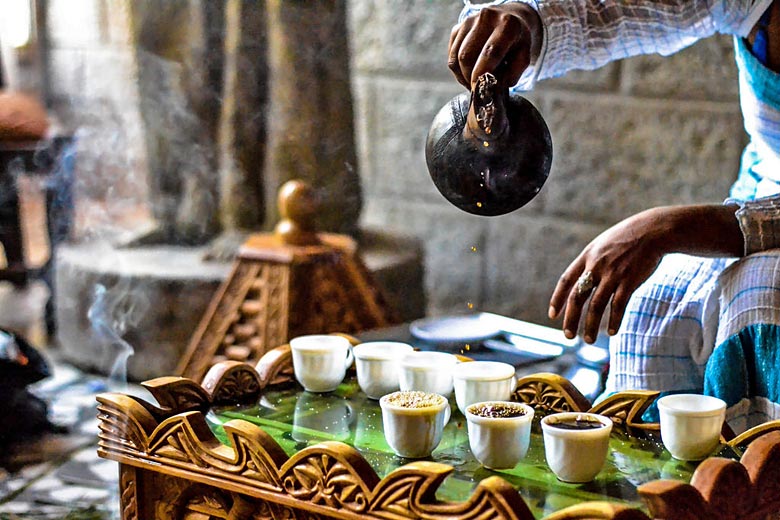 Ethiopia is also the home of coffee; the addictive dark stuff was discovered in the mountains hundreds of years ago and is now a staple throughout the country. Enjoy an espresso at Tomoca, the country's first ever coffee shop, or go for a more traditional coffee ceremony to see the beans roasted, ground and boiled at any of the establishments around the Piazza area.
If we've got your tastebuds tingling, check out deals on breaks to these destinations with the likes of Titan Travel, Explore, and G Adventures. You may well find a specific foodie tour or simply book a trip which lets you sample local delicacies for less.
Be inspired
Get your weekly fix of holiday inspiration from some of the world's best travel writers plus save on your next trip with the latest exclusive offers
We promise not to share your details
Related posts
*affiliate links: find out how we are funded and why this helps us remain free to use.